While I was at university and studying psychopathology (a subject I found most useful in corporate/advertising life ;) ) I used to have a slightly odd obsession with real crime and serial killers. I would scare myself senseless while reading about them and then have to do all sorts of strange things to make up for this heightened sense of internal panic. Every night I would make someone check the walk in cupboards in my room just in case a maniac was ensconced within my clothes and shoes and I would sleep with a pair of scissors by the bed (if I lived in America it would have perhaps escalated to a gun) and I would lock the bedroom door and then place something in front of it. Just in case...
Logic dictates that I should have just stopped reading about them but as I did have to read about some of them for university work it became somewhat of an anxious never ending pattern of scaring my pants off in the name of study. My parents, exasperated at having to check the cupboards one night told me that there weren't many serial killers in Australia.
"Also you would have heard about it by now if there was one"
"Yes but what if you're the first person that they kill? You would get no warning at all!"
They looked at me, the usual way that you do an alien child and shook their head and walked back to their room tired at being woken to check a room for the umpteenth time.
"See! You just don't know if you're the first!" I said to their retreating backs.
"Go to sleep" they said.
My fear of them would extend to wooded areas and forests because from watching movies and television shows no good can happen in a forest. That was the perfect place for them to do what they did. So it seems strange that I would in fact be quite taken with forests and woodland creatures when I have barely visited the areas myself. And from what I hear deer aren't quite the fanciful gentle creatures that one might imagine. But I refuse to believe that they aren't and I choose to cover my ears and sing lalalala. To me they're still Bambi and I wanted to make Bambi into a cupcake.
You can probably tell that making the creatures out of fondant was variable. The owls were easy-they're such a distinctive looking bird and so varied that there was no mistaking an owl for anything else. However my first effort at shaping a deer was a dismal failure. I'm not sure what I came up with, I think it was a dog. And even after several tries I don't know if I got Bambi quite right-I suspect not.
Snow White in the cupboard...ahem forest!
Nevertheless, allow me to present to you a version of a forest cupcake.  One where serial killers and other grisly creatures do not roam. The cupcake liners were a Christmas giftfrom my lovely American mum Barbara. These cupcakes were made for my god daughter and her sister and you can see that older sister Audrey was already dressed for the part. I promise you I did not impart any scary stories upon her though, she dressed up as Sleeping Beauty from the forest on her own!
So tell me Dear Reader, what scares the pants off you? Serial killers? Running out of food (another one of mine)? Public speaking or having a bad hair day?
Click to enlarge
And in some rather cool news, I was excited to see that an interview I did with Cafe Society magazine came out this month and I was a cover line-that's a fun first! I was very pleased with the way the interview came out too. And not to be greedy or an attention grabber but I was also in Dynamic Business in a feature called For Love and Money: Blogging.
Click to enlarge
But now onto something adorable because all Mondays should start with a smile...my god daughter and her sister!
My god daughter Evie who from all reports is an excellent eater!
Mmm cupcakes!
Bambi & Friends Cupcakes
For chocolate mud cupcakes
165g/6ozs. butter (doesn't matter if it's at room temp or not in this recipe)
120g/4ozs. dark eating chocolate broken up into pieces
1 1/3 cups light brown sugar
1/4 cup cornflour or cornstarch
1/2 teaspoon baking powder
2 tablespoons cocoa powder
Step 1 - Preheat oven to 150c fan forced or 170c non fan forced.
Step 2 - Place butter, chocolate, sugar, the water in small saucepan over low heat until melted and combined. Cool for 15 minutes.
Step 3 - Using a whisk, add flour, cocoa and then egg (at this stage it will look like liquidey dark chocolate ganache). Spoon into patty tins.
Step 4 - Bake for 30-35 minutes or until a skewer inserted comes out clean. Cool in tin.
Bambi figures (inspired by this site who did hers a lot better than I did):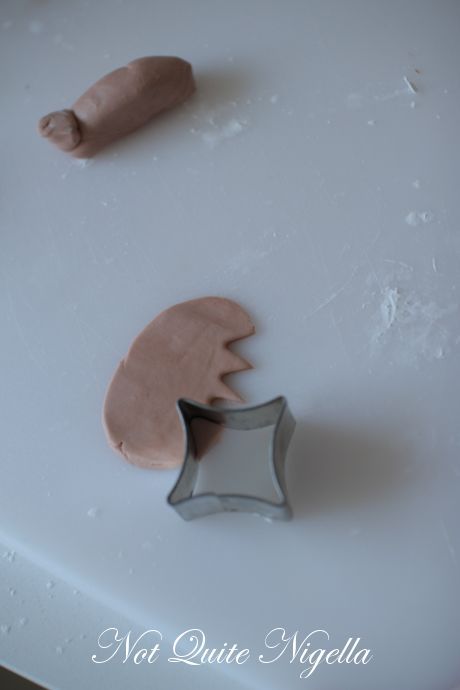 In background: a log for the body and a ball on top to place the head. In foreground, cutting out ears using a cutter.
Roll a white ball for the head and then using the diamond cutter cut out a piece of brown fondant to wrap over head. Attach the ears to the head with a small amount of water on the tip of a brush.
The head and body
Just needing some eyes and legs!
I can see!
Attaching legs
Owl figures
Roll a small ball of fondant and then flatten it out slightly to become a round edged rectangle
Pinch the tips of one end to make the ears. Use a straw to draw feathers on the chest area and make eyes using some brown and white fondant and adhere onto the face using a small amount of water on the tip of a brush. Make a beak and feet using a tiny amount of yellow fondant.