Sex. Earth. Dirty laundry. Old socks. A male swine's sexual scent.
These are all words or phrases that have been used to describe truffles (tuber melanosporum). Truffles, and I mean the mushroomy type and not the chocolate type (also worth pursuing) are a relatively new addition to the Australian scene especially when compared with the history of truffles in Europe. Revered by many for their mysterious and intoxicating aroma they are a prize that people coo and hush over. Because of their exclusivity and rarity they've been imitated with profusion and their scarcity means that they're even more highly prized.
At the top are Perigord truffles, the Winter black truffle commanding prices as high as almost $2,000 AUD a kilo here in Australia or even $4,000NZD in New Zealand. In France they're delivered in baskets woven from chestnut leaves to allow air to flow freely. There are all sorts of tales of truffle intrigue including Summer truffles (considered a lesser truffle to the Winter truffle) being sold and inferior truffles being stored with superior ones to absorb the superior truffle's aroma.
Having only eaten them I was curious to see how they are grown and found. Are they like little black gold nuggets? And do they bring pigs out to sniff out these little morsels of flavour? When I was asking if I would like to come along on a truffle hunt the answer was immediate. Absolutely! To be part of a truffle hunt is a top 10 bucket list item for me. And you're coming along with me today Dear Reader!
We've arrived at Chateau Yering in Victoria's Yarra Valley just an hour's drive from Melbourne. The drive is easy and we arrive with time to spare for the 1:30pm truffle hunt. There are 22 other people that are joining Chateau Yering chef Matthew Macartney for their second annual truffle hunt at the Tibooburra winery estate, also a truffière. Most of us are first timers and have never been to a truffle hunt before and that lends a certain excitement and mystery to the whole proceedings.
The truffle dogs: Ziva (on left) and Spice (on right)
We board a bus and take the half hour drive to Tibooburra Estate where Greg and his family have been growing truffles since 2005. Greg and his daughters greet us along with Sue and Darren from the Australian Shepherd dog club who have brought along the truffle dogs. Nowadays dogs are used instead of pigs as they are easier to handle and don't eat the truffle once they find it whereas pigs have to be pulled off the truffle once they discover it as they love to eat them. They've had a preliminary look with the dogs and tells us today that we might be able to find a couple of truffles today. Truffle hunting is never a certainty but the two Australian shepherd dogs Spice and her apprentice Ziva (yes named after the NCIS character Ziva) have been down to have a look and have indicated that there are some specimens.
Training  a dog to become a truffle dog is an interesting process in itself. Pigs and other animals such as possums will naturally feed on truffles whereas dogs aren't interested in eating them. To train a dog (and many breeds of dog can be trained to be truffle dogs) they hide a ball of cotton wool soaked in truffle oil inside the dog's favourite toy. The dog then gets used to associating the truffle aroma with play and over time seeks out that aroma and associates it with playing and treats. And even though truffle oil is a synthetic product that often has little to do with actual truffle, the dog's sense of smell nevertheless can learn to associate the smell of truffles in the ground with their toys.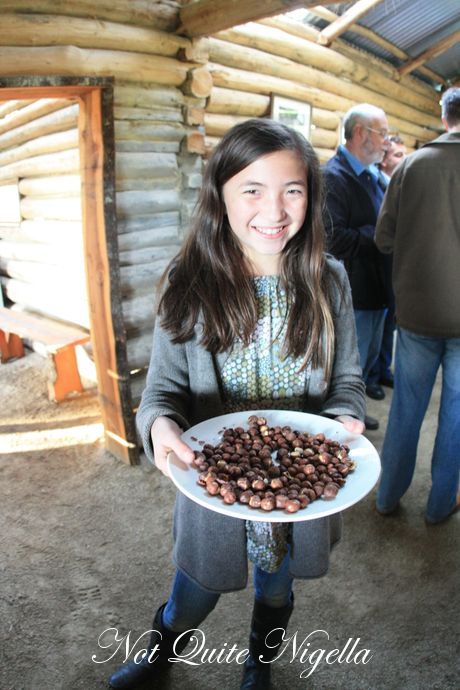 How do truffles grow? They grow in the ground underneath three types of trees: hazelnut trees, red oak and ilex trees and live in a symbiotic relationship to these trees. The trees that they grow here at the estate are a range of the three using roots from Tasmania where a thriving truffle industry already exists. These roots are injected with the spores of the Perigord truffle.  Truffles are the fruiting body of the fungi and live quite shallow underground connecting by thin filaments to the roots.
Greg tells us that he chose this particular site to grow the truffles because it is a sheltered area that gets very cold with a heavy frost. Truffles need the cold of Winter snaps in order to ripen. The soil is also a red, volcanic soil that is friable which means that that the truffles are not packed densely in the soil itself.
Once the roots were planted they ensured that there were hospitable conditions for the truffles to grow. This included getting rid of any competing funghi and putting an electric fence around the area to discourage wombats and possums and other animals that may carry the spores of other funghi in their digestive system. There are actually many native species of truffle that grow here but many aren't edible by humans but possums and wallabies feast on them daily.
Greg sniffs the ground for the telltale truffle aroma while the dogs are rewarded
There's a flurry of activity and excitement in a corner. Spice the lead truffle dog has swept away the dirt on a patch of grass under a tree and is sitting up waiting for a treat. Greg lays down a cushion on the ground and gets down on his hands and knees with a tablespoon and gently moves the dirt. He bends down to sniff the patch of dirt and there's that unmistakable smell. And experts agree that no two truffles ever smell the same which if we are to work on the batch that we gathered today that would be correct. People are said to select the truffle that they want at European markets based on their individual response to lifting the truffle to their nose. The smell is not like truffle oil but it is the smell of actual truffle which is really quite different. It is earthy, sweet and meaty. We all get down and take a sniff and we can smell it. With that confirmation he proceeds to carefully dig out the truffle which lays only millimetres from the surface.
The truffle lying quite close to the surface
Gently digging up the truffle
The truffle emerges!
He explains that they only dig up the truffle if a human can smell it. A dog's sense of smell is so acute that it can smell a truffle before it is ripe whereas our sense of smell is less so which actually helps as we can only smell it when it is ripe enough. He likens digging up a truffle to a baby with an umbilical cord. Once you dig a truffle out of a ground you cannot put it back in and it has a shelf life of 10-14 days from that point. The truffles should be stored in a cool area (not the fridge) and a good idea is to store it with some rice or some eggs and within 24 hours a good truffle will infuse through the food. Some freeze truffles whole or preserve them in fat.
He hands around the prized truffle and the smell hits you instantly. It is that unmistakable smell that is unlike any other and almost impossible to describe except to say that yes once you try it you understand what the whole fuss is all about. Everyone takes a deep breath and inhales deeply.
Spice pawing at the dirt indicating that there is another truffle underneath
Revealing the top of the truffle
Suddenly Spice is pawing at the surface of another area - dogs will indicate an area up to half a metre in distance. The dogs don't work going up and down rows but they follow wherever the aroma is. This time it's a cluster of truffles with a smaller and medium sized one. The smaller one's aroma is strong and powerful but Greg explains that the size is not necessarily a good indicator of the aroma. He says that chefs prefer a golf ball sized shape but this is more to minimise wastage when they slice it thinly. He has had very large truffles with strong aromas and this ground once yielded a 450gram/1 pound truffle!
He points out that these truffles smell a bit different. Usually they are more bovine in smell but there are more like a bittersweet tartuffo perfume. The truffles are harvested very 7-10 days during the period of Mid June to late August. This year is late because the Summer wasn't a good one as it wasn't very warm which meant that there was a delay for the spores to generate around Christmas time.
False alarm-mice!
Despite only expecting a couple of truffles the dogs find about half a dozen beautiful specimens using the same process of pawing away at a patch of dirt. Every time Greg gets down on the ground and sniffs it and reveals a truffle. There was one false alarm and that was a little burrow of mice! Before we know it, we have our haul within about 30-40 minutes.
Greg says that he tries to keep the truffles whole as the specimen value is what a lot of the price is based upon. The truffles will then be brushed off and weighed and then all of these will be used for our truffle degustation dinner tonight for a mere 22 people!  Typically chefs work  on using 5-10 grams of truffle per guest but tonight we will be receiving more than that.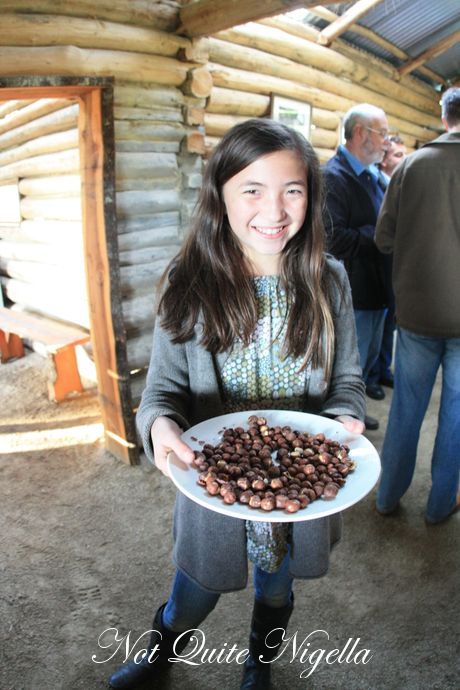 We conclude with a wine tasting at the estate in a gorgeous timber hut where a famous footballer Carl Ditterich absconded to when he went into hiding. A fire is roaring and there's a range of cheeses, Tibooburra wines (Mr NQN likes their chardonnay) and freshly roasted hazelnuts from the trees from which we found the truffles. The truffles are carefully brushed and then weighed and we are on our way back to Chateau Yering with our bountiful haul.
We have a bit more time to explore the hotel and the grounds. Chateau Yering is one of a very few Relais & Chateaux establishments in Australia. There are five C's of Relais & Chateaux hotels: Courtesy, Charm, Character, Calm, Cuisine. And most of these are going to be put to the test later tonight! ;)
The Chinese Room
Pethard Room
_
_
We make our way back to the room where we take a long delicious soak in the claw foot bath. The room and grounds are large and picturesque. Our room (the Pethard, named after one of the owners) has a large bed, quaint furnishings in a floral style and evokes the charm of yesteryear without getting into the old and dusty category. There is a welcome gift of chocolate fudge squares and a cat toy sits on the bed. And why? Well he is the Do Not Disturb sign that you put outside your door when you want privacy!
The marble bathroom is sizable and the claw footed bath fills quickly (although run it on just hot for a soothingly hot bath). There is a good range of toiletries using the new Molton Brown packaging although a bit more room to place my toiletries would be on my wishlist.
There are 32 suites in the building over the 250 acres. In the 1850's the French chateau style building was owned by the Swiss De Castella family (as in the famous runner Robert de Castella's family). The gardens were designed by Baron Von Mueller who was also behind the design of the Melbourne Royal Botanical Gardens.
Before we know it, its 6.30pm and we're getting dressed for dinner. And I know this is a strange little joy but I'm happy when we don't have to pile on layers for dinner and deal with transport to go out (my outfit doesn't suit stockings) and dinner is simply a walk downstairs.
Cameron Harris from Pommery
We go to the library where a crackling fire awaits us and join all of our fellow truffle enthusiasts. Also downstairs is Cameron from Pommery champagne who have supplied us with some very special champagnes from the house made famous by Madame Pommery. In 1838 she took over the champagne house when her husband unexpectedly died. She focused on quality first and courted the London market and within ten years Pommery sales had exceeded those of Cliquot. Cameron tells us that she created the brut (dry) style champagne which is popular today-back then champagne had 30-50 grams of residual sugar per litre which was a very sweet drop and now it has only 6-7 grams of residual sugar per litre. Now 90% of champagne sold today is brut or dry champagne in this style.
Chef Matthew Macartney
Sue who runs Chateau Yering tells us "I have some not so great news....we might be out of power tonight." This no doubt throws a spanner into the perfectly run weekend. Our fellow guest are all atwitter and all we can think about is the kitchen that is to prepare an eight course degustation, the champagne that is being chilled and, perversely, how perfect this location would be for a murder mystery dinner! ;)
We make our way to the dining room. Sue's husband Barry tells us about a fellow guest whose mother used to forage for wild mushrooms. She would cook them up and add a two shilling coin to the mixture to determine whether the mushrooms were poisonous or not. If the coin turned black, then the mushrooms were thrown out but if it didn't they would be fit for consumption. And apparently they never got sick from eating mushrooms that way!
A glorious truffle butter for our bread
Amuse bouche
Our first course in our truffle degustation dinner is a roasted lobster and truffle soup with lobster and truffle shavings. The roasted lobster flavour is sweet and bursts through and the truffle flavour gets a look in towards the end echoing the lobster's strong burst.
Kingfish
For this dish Matthew came out to show us how the kingfish was cured between two Himalayan salt blocks for 20- 30 minutes and then thinly sliced into sashimi like pieces. He considered this dish his "experiment". The dish is balanced perfectly with the snow peas, snow pea terndrils and creamy white eggplant puree and wonderfully textured fish. Truffles, not normally an item that you see with sashimi pairs very naturally with this as it is subtly done.
And as promised, the lights go down and we're down to candlelight. We're also invited to smell the difference between the Tasmanian truffle and the truffle that we picked this afternoon. The Tasmanian one is very strong in aroma and has a deep range of aromas.
Seared Hervey bay scallops, suckling pig, chestnuts, truffles served with 1999 Louise Cuvee
The Hervey Bay scallops are juicy rounds of sweet meat against the soft rectangle of the suckling pig which has a lovely crispy skin to it. It is served with a sublime 1999 Louise Cuvee, Louise being the daughter of Madame Pommery and the 1999 is a particularly notable year. A bottle of this fetches upwards of $200 and this is a sublime food match - easily the best match of the evening.
Slow cooked pigeon, confit leg, black pudding mousse, Perigord jus,celeriac served with Pommery 2000 Grand Cru
The slow cooked pigeon has a slight sweetness to it and it also has a richness from the grainy, throaty black pudding mousse. The celeriac comes as a light and creamy puree to balance the whole dish. And this is when some may have hesitated to pick up the leg in a lit restaurant. Here dark with candlelight, it feels a bit debauched and like you could do anything and the possibilities are endless. So we all pick up our legs and chew away contentedly.
We take a quick look into the kitchen. They work with gas so the cooking is fine but there's no light or air conditioning.Despite this the kitchen is humming along smoothly and from the guest's point of view, there is no delay in receiving any dishes. Along with the 22 truffle dinner guests that are all receiving their dishes at the same time, there are the regular guests who need to receive their plates too!
Char grilled Sher Wagyu fillet, roasted winter vegetables, wild mushroms, smoked bone marrow, truffle brother served with Pommery 1998 Louise Cuvee
This is pure pleasure with the wagyu fillet, mushrooms, roasted heirloom carrots, heirloom carrot mousse and discs of smoked bone marrow. At the table the truffle broth is poured and the wagyu is tender and comes in two triangle shaped pieces. It is the dish that I request even more bread for as I don't want to waste a drop (and I can't help but point out when I see a slice of truffle uneaten on a neighbouring plate-waste not!)
Brick Dauphines layered with truffle, fig jam served with 2004 Grand Cru
An exercise in indulgence and richness the cheese course is a brick Dauphines cheese sliced in half and then filled with three layers of truffle shavings. It sits on a rich spiced fig jam and a cracker. I could have used a couple more crackers and after the first cracker we just end up eating it straight with a fork. It's a lovely runny consistency and the truffles add richness and the fig jam a richness and sweetness.
Pre dessert: Passionfruit and vanilla panna cotta
The pre dessert is a neat shot of vanilla pannna cotta with a tangy sweet layer of passionfruit jelly on top. It does just the trick and convinces our tummies that we have enough room for dessert.
Tibooburra Truffle custard, Valrhona chocolate fudge, textured pear, coconut marshmallow served with Pommery 2004 Grand Cru
The custard is a deceptively large serve. The creamy custard is infused with the truffles that we picked only this afternoon. I'm a big fan of truffle in sweets - after all I did eat about four Baroque truffle macarons in a row. The custard tastes very much like a white chocolate mousse and there was a square of Valrhona chocolate fudge with tiny thyme leaves on top as well as pear and coconut rolled marshmallow squares which were lovely and light.
Petit fours
Even the petit fours had a truffle theme with the chocolate truffle ball resembling a whole truffle!
In the dark there is much table hopping and swapping and we all comment that there was a deft touch used with the truffles throughout the whole night. We thought that we might be all truffled out but it was a subtle and appropriate a use of this ingredient. We go upstairs past the candles and the light to our room and Mr NQN promptly freaks out when he sees one of the Do Not Disturb cats opposite someone's room (haha!) and get ready for bed using the lantern in our room.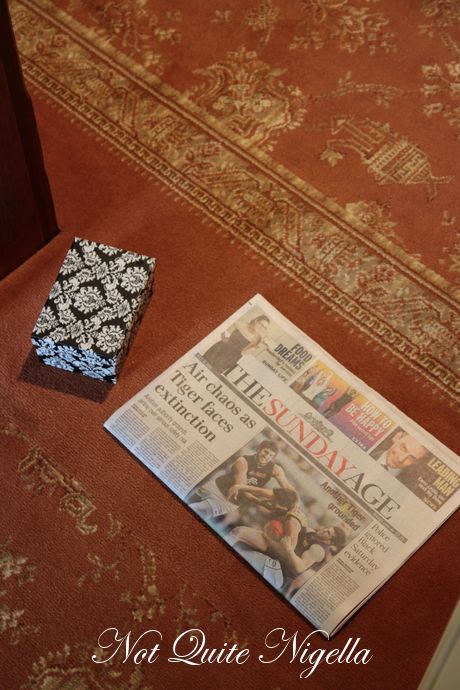 When we wake the next morning what should be waiting when we open the door but a newspaper and a mystery box! We had slept in as our wake up call had gone missing with the drama of the previous night but electricity has been restored. On the box is a note that reads that we should shave this over our breakfast and inside is a quarter of a truffle resting in a bed of arborio rice. We make our way downstairs to the breakfast room in Chateau Yering's Sweetwater Cafe. It is full and we see how big a location this is with many people we hadn't seen before.
We make our order for tea - it's quite frantic and there's a shortage of tea strainers perhaps from last night (they were unable to operate their coffee machine but could serve tea after dinner). We order our food and choose two dishes that would be suitable for the truffle and help ourselves to the continental breakfast which apart from the usual cereal , fresh and stewed fruit, Danishes and pastries also has some lovely smoked salmon and cheeses.
Breakfast tartine of smoked salmon, poached eggs and hollandaise sauce
The poached eggs are perfectly done so that an enormous Yarra Valley free range yolk bursts and gushes all over the slice of toasted bread. There is a side of wilted spinach and some slices of smoked salmon.
Omelette of the day: cheese and spring onion
They furnished us with a Microplane and we grated some of our precious truffle onto the omelette which has a a sprinkling of spring onion and a centre of gooey, melted cheese.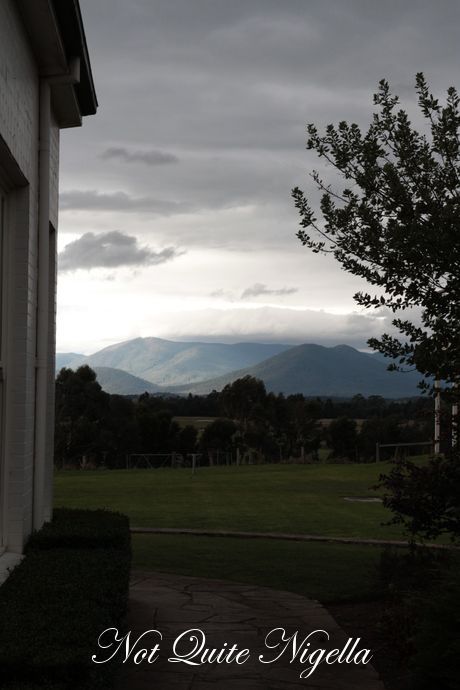 We clutch our box with our truffle knowing not to leave it in open air as the aroma escapes quickly and make plans for its use. Not only for our gustatory pleasure but also to remember what was a truly memorable, wonderful weekend. That evening I shaved some over some eggs and the following evening it was shaved over some pasta with a simple cream sauce. The rest went into a truffle butter so that I can slice it piece by piece and remember this adventure. If you see my classified ad it might now read "Desperate Seeking Truffle."
So tell me Dear Reader, what's the most luxurious thing you've eaten or wanted to eat? And what is on your bucket list?
NQN and Mr NQN attended the truffle hunt as a guest of Chateau Yering. NQN flew to Melbourne as a guest of Pommery Wines.
Chateau Yering
42 Melba Highway, Yering, Yarra Valley, Victoria
Tel: +61 (03) 9237 3333
http://www.chateauyering.com.au/
The truffle hunt is an annual event on every year. The cost is $1,175 per couple and includes the truffle hunt, one night's accommodation, a truffle degustation dinner and breakfast. Bookings are essential.