I lick my hand. I taste salty. I taste exactly like Mr NQN does after he has been out all day sailing (although he usually also smells like rubber wetsuit which thankfully I do not). Where am I? I'm discovering how salt is made. A group of eight of us have taken the two hour drive east of Adelaide in South Australia to the area of Price where we will be seeing salt being harvested and the salt farm. Yes put your hand up if you were like me and thought that salt was harvested in salt mines!
First things first. What is the difference between table salt and flake salt which is seen as the more premium salt? The taste of salt itself is dependent on its magnesium content. Flake salt is made into a brine and it is then set and crystallized and then they crack it to produce the distinctive flakey shards. It is exactly the same original product as table salt (although some table salt can have anti caking agents added to it). But between the two types, the shape of the salt crystals and its ability to melt on the tongue determine the taste. Saxa's flake salt is a softer salt than Maldon salt which is hard when rubbed between fingers. And where does the term salt mine come from? Well salt here isn't mined, it is farmed but in the Dead Sea, salt is mined as the salt is locked into the ground.
So how do we make salt in Australia? The Cheetham salt farms at Price in South Australia take water from the pure, cold Southern Ocean and deposit it in one of twelve ponds. There are six processes that occur in these twelve ponds and they tell us that salt takes a year to create from start to finish. Each of these ponds are progressively saltier. The first pond is the least salty and has fish in it and  during the months of Summer when they make salt (they harvest it during Winter) the heat from the sun and wind evaporate the water in the ponds.
First of all litres and litres of water are drawn from the ocean into the condensation pond and it moves through the 12 ponds over the course of summer with movement coming from gravity and the evaporation process. The last pond is the crystallisation pond where the water is very high in saline as so much evaporation has occurred. Each of these ponds has a unique ecosystem that supports itself with marine, plane and bird life and humans cannot disturb it. Also the pond system can never go backwards as that would encourage bacteria growth.
In the final crystallisation pond the salt drops out of the water as the water can no longer support the dissolved salt crystals and the salt settles on the bottom of the pond. The salt is then harvested and then washed with a saline saturated brine which is necessary to ensure that the salt doesn't dissolve in the liquid. If they are using iodine, they will add it after this step. The washed salt is then placed into enormous salt stacks which resemble icebergs or snow covered mountains for a year. The harvest takes approximate three months to complete.
A by product from the crystallization pond is a secondary deposit collected called magnesium chloride which they use to manufacture cosmetics and to thicken and set tofu. This looks like a clear spirit and is incredibly bitter in taste. You can find it in face creams where it absorbs moisture from the skin and air but gives the skin a moist, dewy feel. Sneaky buggers these cosmetics companies are huh? ;)
The ponds are about 1 foot deep which is optimal for UV light to get in. The ponds also have a "floor" of salt and to create this floor they sacrifice  one season's worth of salt and then everything else grows over it. We pass samphire bushes which we pick and they're similar to a very salty small budded cactus with moisture inside and also remind me of very, very, very green grapes. It gets so salty out there and there is so much salt in the air that if you spend a few hours out there you will taste salt all over you. The site is 10kms large and is bordered by national park and they own the surrounding land to that to ensure that they can control the product better so that there aren't any additives or chemicals added to the soils.
The whole process is an organic progress so it is all organically harvested but they point out that salt itself cannot be called organic as it is indeed a chemical called Sodium Chloride or NaCl.
_
_
We pass by some brown deposits that seem to float on the top of the ponds and they explain to us that this is calcium chloride which they must remove because it won't dissolve in the way that salt does and leaves a dirty looking residue The chloride from the name is the same as gyprock and they use it on the roads as a base.
And what is pink salt? Pink salt is dirty salt they say. It can contain iron ore which they can't remove from the process so instead they market it as mineral rich salt.
We finally get to the enormous salt stacks which have large pyramid shaped rocks of salt that measure about two centimetres across. The stacks that we first see are not food grade as they contain particles but are commercial grade. They say that if they find one or two rocks in a stack they will sacrifice 10 tonnes of salt for this. The pile from a slight distance from us is the food grade stack and it looks enormous and pristine white.
After our salt tour we arrive at Jacobs Creek's retreat deep in the Barossa Valley where we are to settle in and be treated to a degustation meal using different types of salt. This retreat is snugly nestled and a little hard to get to if you approach it the way our iPads were telling us to so we went around another way. The grounds are quite breathtaking. We arrived late in the afternoon as the sunset cast a golden glow over the estate. It is the ancestral home of the Nitcshke family and are made up of seven suites or cottages with four different types of rooms built in 1840's.
I'm in the fuchsia suite. We open the doors and I immediately turn on the heating  and wish that the fireplace was working. The rooms are nice with a king bed and a separate lounge room. There are antique furnishings although incongruously an antique sideboard has a flatscreen tv which should probably go into a cupboard. It is also cold although there are plenty of charming little details like the bird vents although I think the grounds are the greater allure than the rooms.
I feel like I'm in a fairytale walking through the grounds to the restaurant. Not only are the grounds just stunningly beautiful, I enter a vine and flower wrapped arch and remember my advice from the man that checked us in "Just go to the light" which sounds semi religious or like I am in True Blood's faeryland. I pass fountains and foliage and make my way down the stairs with Laura who has come to get me because my usually terrible sense of direction gets much worse in the dark and we make our way  towards the restaurant which is as the advice was given, all lit up and glowing.
Canapes are flowing and there are six varieties all made by chef Wyndham House that owns the Jacob's Creek Retreat with his wife Patricia. We enter the kitchen to see him busy preparing with one of his chefs. She's busy concentrating on rolling up leeks and he is vivacious and effusive. He remembers that I was supposed to stay here last year but because of illness had to cancel. Etch's chef James Metcalfe and his sous chef Kim Brennan are also getting ready.
I arrived a little too late to photograph my favourite canape, the South Australian Coffin Bay oyster with salt water jelly and cauliflower puree but you know me, I had plenty of time to eat two of them. They were enormous specimens with a brinish jelly and a delectable cauliflower puree which has us all going back for more and more (although the puree is hard to pick up with the oyster we end up slurping the puree eager to get every morsel).
Here painstakingly rolled up leeks were tiny half bite sensations of sweet leek stems rolled up with salted olives and anchovy.
I know the rule is that you're only really supposed to eat one of these but when I looked around I saw that everyone was minding their tummies for the ten course extravaganza we were about to have and ate only one each. As for me? I had two (which may explain why I'm having trouble sticking to a diet). They were plump and juicy and the wild mushroom powdered salt was an interesting earthy twist on salt and pepper seasoning.
I'm not usually a gazpacho person as it can taste a bit too vinegary for me but this has an excellent balance of creaminess and sweetness from the tomatoes and despite the coarse salt rim looking foreboding, it works together nicely.
The menu tonight has 10 courses including an amuse bouche and pre-dessert. It of course features salt but in a subtle, logical way so that salt highlights the main ingredient.
The little piece of buttery pastry with the many, many layers is topped with a lemon thyme flavoured mascarpone, tiny dices of green olive and flake salt and immediately remind me of the lemon crisp biscuits. I know this biscuit well as it was my favourite biscuit as a child and my parents used to give me a packet to eat in the back of the car while on road trips as it would keep me quiet. Ahh the reminiscing...ahem back to the story!
The next course was a petite cup of celeriac veloute soup which was silky and creamy with a later of bacon Chantilly cream on top and a light sprinkle of smoked salt which they smoked themselves in a fish steamer. The texture of this is lovely especially with the top layer of bacon cream but I do find that the smoked salt sits on the top so the first few mouthfuls are full of the strongly flavoured smoked salt crystals while the next ones are better. Served with a Barossa tradition, a sparkling shiraz (which apparently is great for breakfast!).
King Prawn with preserved lemon salt, rocket and salted labne served with a 2010 Moorooroo Park Vineyards Earthsong Moscato
Two courses from this menu were from Jacob's Creek chef Wyndham and the rest are from Etch's James. This was one of Wyndham's courses and featured a whole king prawn on a skewer, cooked tender and juicy with a little salted labne (yogurt cheese), preserved lemon salt and rocket on the ends. On the plate is some creeping or climbing spinach which is interesting with little pink, juicy buds.
Etch's bespoke vegetable garden might sound a bit unusual and something from a gardening magazine but it is a gorgeous looking dish, a mini vegetable patch with baby purple carrots, yellow carrots, Dutch carrots, white carrots, baby turnips and baby radish which are blanched in chardonnay vinegar and then dressed in olive oil and lemon juice. They sit upright in a bed of pea mousseline and a "soil"  made up of dehydrated Woodside goats cheese and olive, and baby lemon balm. The flavours are just right on this and this is a vegetable dish where a meat eater simply won't miss meat.
The new favourite for everyone is a dish I remember having at Etch and James comes out to explain it to us. It's is a salt, sugar and aromates cured local kingfish served simply with two purees, an avocado puree and a citrus gel with a pickled ginger dressing. He explains that they use a wet salt rather than a table salt to cure it as there are larger crystals with the wet salt and using a fine table salt would mean that the fish becomes too salty.
Juniper salt cured duck breast with crab apple and apple salt served with a 2998 Moorooroo Park Vineywards- Samuel Nitschke Cabernet
The juniper salted cured duck breast is one of Wyndam's courses and I have to agree that his cuisine really reminds me of the fabulous meals I've eaten in the Barossa Valley with lovely cuts of meat and delectably rich sauces. There are three pieces of tender duck which are Waetcher's ducks whom I met briefly the last time I was here at the Barossa Farmer's markets. There is a lick of puree and a beetroot sauce and some super finely diced apple and apple salt which is made with dehydrated apple. The beetroot sauce is actually made from the beetroot tops which one would usually throw away and it is so moreish that we all ask for another ladle and some brioche to soak it up which Wyndham happily obliges us with.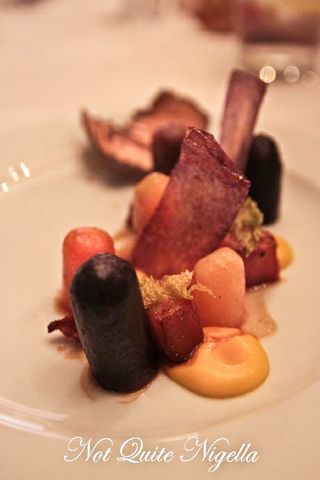 I've had this dish before at Qualia in Hamilton Island and it was actually a lovely dish and I was interested to see how it differed now months later. Here is it served with a piece of cedar wood that is lit and smoulders momentarily and is extinguished before it comes to the table. It is made up of purple congo potatoes, celeriac, swede, turnip and looks quite different from the one that we had at Qualia.  This one is paired with some incredible pieces of pork jowl which were unctuous and melted in the mouth and I adore the still strong smell of the smoked cedar wood.
Now what is a flat iron? Well I thought that it was something for your hair and I thought that the chefs had suddenly gotten a hold of someone's flat iron in the bathroom and decided to use it as a tool to cook wagyu (you can picture that right?). Well the flat iron in this case is a David Blackmore 600 day grain fed wagyu and the flat iron is part of the oyster blade cut from the shoulder which usually comes out as a square with a piece of sinew. The area under the sinew is the wondrously tender flat iron, a cut of steak that is becoming to be a very popular top cut and is named flat iron as it resembles an old fashioned metal flat iron. And here I was imagining them preparing a steak between a hair straightening iron! The cut is amazing, in fact I think this jumped to top of the favourite  list as soon as it hit our mouths. The meat is so tender it seems sous vide cooked yet packed with flavour and the wasabi lime jus lends it just a little more interest.
The pre dessert is a margarita which has a tequila jelly at the bottom and a refreshing lime granita on top.
Chocolate pudding, salted coffee crumble, caramel milk ice cream served with a 2008 Moorooroo Park Vineyards "Dolce Far Niente" Semillon
Now I'm not for chocolate desserts at the end of a 10 course meal so I tried this purely for research purposes of course ;). Look at the molten lava centre of that pudding! It is paired with a moreish salted peanut brittle and a caramel milk ice cream.
The chefs come out and take a bow to a round of applause.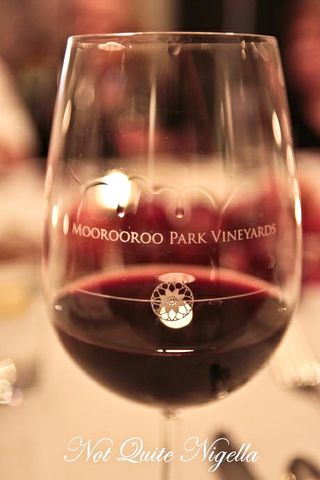 The next morning I wake up with just enough time for a quick breakfast in the restaurant. Last night I followed the light but this morning I walked through the garden and followed the music. And after breakfast we are having a sausage making lesson!
Wyndham explains that there are some basics to sausage making. He uses a mix of 80% lean shoulder pork mince and 20% pork belly as fat is needed to flavour. Salt is also needed in sausages and they use 18grams of salt per kilo of meat and for cured sausages he uses 35 grams of salt and cure it in a 8-12 degree cellar.
He divides us into two teams, girls vs boys although the boys team seems to have a great proportion of chefs although I do have the editors that I have been travelling with from publications like taste.com.au, Womans Day, Australian Good Taste, Womens Weekly, Good Food and Super Food Ideas on our side! We have a range of flavourings that we can use although there are no breadcrumbs or fillers added. There is salt, tomato paste, fennel seeds, sauteed onion, black pepper, chilli seeds and baby garlic to choose from. The girl's team use more tomato paste and herbs while the boys use dessert wine (usually they use Marsala) and sauteed onion to highlight the sweetness.
We fry a bit of each for a taste test to see whether they are right to start filling and the boys are happy with theirs but the girls want to add a little something something.
Then comes the fun bit! Filling the sausage which I've always wanted to do. "You'll be good at this" Wyndham says to Jennene from Woman's Day which prompts much questioning because of course the closest comparison is slipping on a prophylactic device! We slip on two casings which are natural casings made from pigs intestines. There are two openings at each end of the intestine and they are surprisingly tough. The trick to slipping the skins on is holding up the limp casing straight and grabbing it with the thumb and forefinger and sliding it along. And yes it does look very suggestive!
The machine has two gears, one to go forward and one to go backwards and we twist the sausages one way and then the next one is twisted be other way which will help ensure that they won't unravel.
It comes time to try them and they're delicious! If only we could bring them home with us because the next thing we know we have to leave the Barossa with a little lunchbox in tow. On the way to the airport I lick my lips again I can taste the faint flavour of salt. Dipping my hand into my pocket later I discover a small pyramid of salt, a token of our travels.
So tell me Dear Reader, do you salt your food much? And do you salt your food before or after tasting it?
Jacob's Creek Retreat
Nitschke Road, off Krondorf Road, Barossa Valley, Tanunda, SA