Ending the week on a sugar high, one of my favourite events every year for the Crave Food Festival is the Sugar Hit. This is where restaurants and hotels across Sydney put a dessert dish and a matching Brown Brothers dessert wine and open up their doors to diners from 9pm-11pm so that they can enjoy a sweet ending to their night for $20. Or you could be like me and enjoying a second, third or fourth dessert, I'm not judging! ;) Here's a sample of what's on offer:
Azuma Kushiyaka - Sydney CBD
**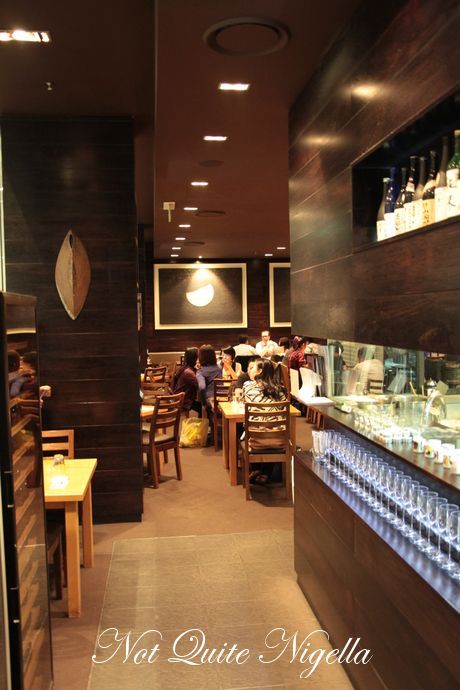 At Azuma Kushiyaki restaurant, at any lunch time chef Tetsuya could be the diner sitting next to you. In fact the first time I visited Azuma, he was sitting at a table across the room. Their kushiyaki (items grilled on skewers) are sublime but they also have a deft touch when it comes to desserts. Their Sugar Hit is a two tier Japanese lacquered box filled with lots of little tastes of Japan with traditional and modern Japanese desserts.
A selection of Eastern and Western-influenced desserts and sweets, created daily served with Brown Brothers Orange Muscat and Flora wine
There is a choice of green tea or Brown Brothers Orange Muscat and Flora wine and we opt to try both. The top layer of the sugar hit comprises of a Sake sample, a full sized green tea tiramisu where sponge fingers are generously soaked in shochu and the light cream and mascarpone layer is alternated with green tea. There is also a dark chocolate coated handmade chocolate filled with a nutty milk and dark praline and a little explosive surprise inside (pop rocks). There were also two petite butter cake bites filled with red beans and soaked in sake which I quite liked-and I'm not usually much of a sake drinker!
The second layer has a more traditional Japanese offering-anmitsu which I remember eating during the untenably hot Japanese summer. It is a mixture of sliced seasonal fruit, large bubble tea sized tapioca pearls, sweetened red beans, chewy shiratami rice dumplings coated in a kinako soybean powder (that looks like peanut powder and has a similarly nutty, sweet taste) finished off with a Japanese brown sugar syrup. It's refreshing and chewy and I think back to my time warding off fatigue by eating this. And last but not least is the white sesame ice cream which is house made and tastes and has the lovely creamy texture of a rich egg custard based ice cream with the light smokiness of white sesame.
Catalina - Rose Bay
We drive up to Rose Bay's Catalina and check out our fellow car park inhabitants. There are Porsches, Jaguars and Audis (and as a new driver I notice they are rather haphazardly parked across lines-I guess if you have one of those cars you need to show that you really park how you want!). We take a seat inside Catalina where the view of the lights reflects and sparkles on the dark, black water. Keen sailor Mr NQN whispers to me that the man sitting behind us owns one of the Sydney to Hobart winning super maxi yachts. My point? The crowd at Catalina is very chi chi indeed.
A slice of dark Valrhona chocolate and date tart with rose-petal ice-cream served with Brown Brothers Tawny Port
If you want to have a taste of a dessert at Catalina, their Sugar Hit is a nice introduction (although I have very fond memories of meals here B.B. Before Blog and it's worth visiting for the savouries too). The dessert is a slice of dark Valrhona chocolate and date tart with rose-petal ice-cream with a glass of Brown Brothers Tawny Port. The tart is rich and gooey and the occasional medjool date imparts an even richer texture rather than a flavour against the dark Valrhona chocolate. The rose petal ice cream with texture from the rose petals is ambrosial and there is also some rose petal syrup lacing the tart. And the pairing with the Brown Brothers tawny port is excellent cleansing the palate when the tart gets too rich so that you're eager to begin the chocolate feast again. This dessert is also on the regular menu for $19 so the sugar hit is a very good deal.
Hilton Hotel Glass Brasserie - Sydney CBD
**
The Hilton Hotel's Glass restaurant by chef Luke Mangan seems to be buzzing with diners this Tuesday evening and we take a seat at the wine bottle lined room and have a look at the dessert offering. It's actually a dessert on their regular menu although for the sugar hit it is presented in a different shape.
Milk chocolate bavarois, tonka bean creme brulee, caramel sorbet and salted beans served with Brown Brothers Patricia Noble Riesling
There is a two layered milk chocolate bavarois covered in a thin layer of sponge in a dome shape and there is also a layer of tonka creme brulee which is similar to vanilla bean and there is a slight hint of cinnamon in this moussey, light dessert too. It is topped with some toasted peanuts, silver leaf and milk chocolate curls and a slightly tangy caramel sorbet and a peanutty crumble. Mr NQN likes the Brown Brothers Patricia Noble Riesling wine here (although I'm driving so no drinkies for me!) with its many awards stamped on the label.
Inter Continental Cortile Lounge - Circular Quay**
**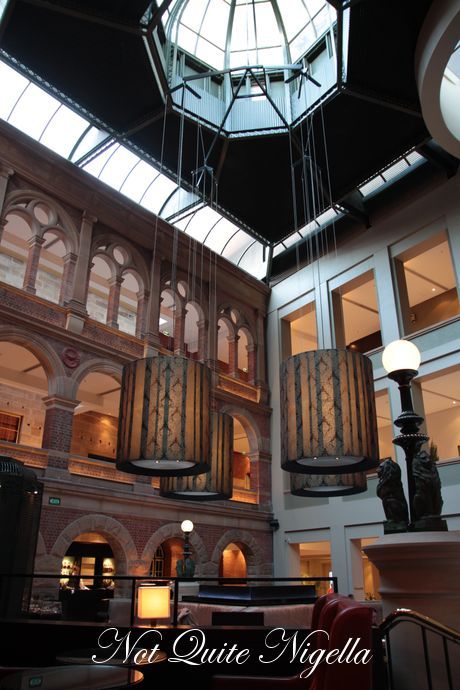 I seem to have made it to the Inter Continental's Sugar Hit for the last few years in a row despite the constant battle for a parking spot nearby. The Sugar Hit is as always on the ground level Cortile lounge where there are high banquette seats to hide behind or tables, lounges and chairs. This year's sugar hit is said to be a tribute to Spring with the use of blood orange.
Pistachio and bitter chocolate vacherin with blood orange custard served with Brown Brothers Moscato
The dessert here has quite a few components to it (we're told twelve parts) including a pressed pistachio flourless cake with bitter chocolate mousse with a layer of bitter orange jelly. This sits on top of a disc of an orange and star anise jelly which is quite firm. To the side there was a bergamot and pistachio macaron which tasted mostly of almond-I would have loved a tangier orange filling to this although the texture of the macaron is nice and light. To finish it off was a squirt of light blood orange and orange blossom flower creme pâtissière and syrup of orange confit.
Shangri-La Lobby Lounge - The Rocks
**
The Shangri-La hotel's Sugar Hit offering is located in their ground floor lobby lounge and bar and it is a slightly different concept this year. It consists of a sampler plate of their chocolate high tea menu with six petit four sized items on a long plate as well as a glass of Brown Brothers sparkling red dessert wine. The regular chocolate high tea is $62 for two with 11 chocolate desserts, tea, coffee or hot chocolate.
We start at one end of the plate with the chocolate and cherry tart which has a buttery crunchy tart base and a burst of kirsch with a whole cherry inside the baked chocolate filling. Then we try the whisky candy bar which I like because of the crunchy texture in the crispy feuilletine base and top layer of whisky infused chocolate. The next item is the white chocolate pistachio sponge with a white chocolate and rice pudding bavarois which lends it an interesting texture although I did think that this didn't taste particularly pistachioey.
The next item was an interesting one with a plastic dropper filled with smooth raspberry sauce stuck into a light chocolate bavarois cake on a joconde sponge base. The multi layered gold leaf topped gateau opera was next and there was an interesting crispy pastry layer that give this normally very rich buttercream joconde sponge cake an unexpected added texture. The last item was the gianduja macaron which needed a bit more resting time as it was quite crunchy and not soft as it should be.
Ocean Room - Circular Quay
**
Circular Quay's Ocean Room gives good room. By that I mean that when I look left there is a gaze drawing ceiling feature featuring poles of light wood and  numerous drop lights and to the right is the Opera House. Not too shabby a view either way! At 10:30pm there are still plenty of tables dining and ambling towards dessert.
_Gorgonzola panna cotta with seasonal fruit compote and shoyu caramel served with Brown Brothers Rose _
The Sugar Hit dessert is not a menu item and is a gorgonzola panna cotta with cognac infused bananas and shoyu caramel finished with some junmai sake jelly with diced orange zest. Blue cheese works well in a dessert and it lends itself to sweet flavours and there is just enough gorgonzola to let you know it is there and give it extra flavour but not enough to make you hesitate for the second spoonful. And if you get some with the shoyu (soy sauce) caramel then you don't taste much of the gorgonzola at all in the wobbly dessert. The grilled bananas are sweet with a toffee top and taste like lady finger bananas which can be a bit more floury. The plate is matched nicely with a lightly sparkling Brown Brothers Rose.
Sheraton on the Park Gallery Tea Lounge - Sydney CBD
**
What's the saying? Location, location, location? Right opposite the Night Noodle Markets sits the Sheraton on the Park hotel. We walk into the ground floor Gallery Tea Lounge where they used to do one of my favourite afternoon teas (sadly no more, the format has changed). When we walked past at 8:30pm it was empty but come 9pm it was booked tables only. And we note that their sugar hit is on from Thursdays to Saturdays only.
Dark chocolate cake with raspberry coulis served with Brown Brothers Orange Muscat and Flora
The dark chocolate cake especially made for the sugar hit is brought out and on the base is a vanilla biscuit layer and then on top is a truffled chocolate layer. The chocolate used is Belcolade and the cake has a glossy glaze on top although we both wished that the biscuit layer was thinner as it was almost 1cm thick. The Sugar Hit is a reasonable deal in the context of their menu considering that cakes are $19 here.
Spiedo - Sydney CBD
**
Spiedo is part of the new city Westfields and Sugar Hitters can expect to be seated in the outer area "under the fig tree". Those visiting on a Thursday night when late night shopping prevails may find the noise from the food court downstairs off putting though and I'd save this for a non shopping night.
Buttermilk panna cotta, strawberry granita and basil served with a Brown Brothers Orange Muscat and Flora
Wobbly - check! The buttermilk panna cotta, not on the regular dessert menu is appealingly wobbly like a woman's fleshy bosom and is topped with a rhubarb granita and a deep fried basil leaf on a bed of buttery crumbs. It's a simple dessert although the flavour of the buttermilk panna cotta is satisfying with a touch of tang and the crumbs are crunchy contrast to the smooth panna cotta. I actually preferred the sound of the other desserts on offer and at $14 (or $18 for a dessert plate) they're a good alternate option if you don't drink wine.
Tomislav - Darlinghurst
**
One thing you can be guaranteed when you visit Tomislav is that the desserts will be fun. Chef Tomislav Martinovic is somewhat of a gentle giant, he looks intimidating but he plates up fun desserts based on his childhood with a modern twist using his chef's armament of "boys toys".  His offer for this year's Sugar Hit is a choice of any of his desserts matched with a Brown Brothers dessert wine. As we had already tried the vanilla cheesecake (his signature dish based on a Sara Lee French Vanilla cheesecake) and the apple crumble and they've just sold out of the chocolate cake we opted for the rice pudding.
Warm rice pudding with spiced caramel broth and rhubarb sorbet served with Brown Brothers Patricia Noble Riesling
The rice pudding is a thick, smooth rice pudding that I want a big bowl of by itself please. Not that it isn't paired well with the thinly sliced rhubarb with grenadine (done with a meat slicer and with the texture of very thinly sliced apple) and cardamom and cinnamon spiced caramel broth. But the rice pudding where the rice is cooked in a custard and then blitzed and then strained so that it has evokes the flavour of rice pudding but not the texture is pure comfort food. And curious to make his signature cheesecake? He shares the recipes for the cheesecake and the custard pudding here.
Westin Hotel Lobby Lounge - Sydney CBD
**
Back in the city and Martin Place at night is quiet and worlds away from the bustle during the day. We walk past the hordes of skateboarders doing their moves outside the hotel and enter the Westin Hotel's lobby lounge. It is quiet this Wednesday night but the adjoining bar with patrons is livelier.
Sago and coconut soup with a chocolate and mango marquise served with a Brown Brothers Orange Muscat and Flora wine
The dessert here is a two part dessert with a chocolate and mango marquise which starts off with a thin milk chocolate base, a biscuit base, a bitter chocolate layer and a mango moussey layer and it reminds me a little of a chocolate and orange combination. it is then topped off with crunchy caramel macadamias and a sugar decoration. The other part is a coconut and sago soup sweet with vanilla and a honey flavour. Even though the two parts seem a little incongruous they actually work really well together and the soup complements the cake well. Mr NQN and a tweeter @lacewings7 who spotted us both thought that the wine match was not a good one and that the wine was too strong for the dessert.
So there you have it, a sample of the desserts on offer this month but there are more on the Crave list-I was just too sugared out and had to wave my white flag of surrender. And although it probably wasn't the most prudent idea with bikini weather coming up I went to bed every night with a smile on my face!
On a disappointing note, although we had a booking at Tony Bilson's Number 1, when we turned up at 9:30pm last night they were long closed. The Sugar Hits are supposed to be on every night from 9-11pm so this was puzzling especially given that we had a booking. We can only suppose that they closed early due to a slow night and neglected to tell those that had a sugar hit booked. Edited to add: Tony Bilson's restaurant has gone into receivership so it has been closed down.
So tell me Dear Reader, which dessert appealed to you most?
Azuma Kushiyaki
Regent Place, 501 George Street, Sydney, NSW
9267 7775
Catalina
Lyne Park, Rose Bay, NSW
Tel: +61 (02) 9371 0555
Hilton Hotel
Level 2, Hilton Sydney, 488 George Street, Sydney, NSW
9265 6068
Inter Continental Hotel
117 Macquarie Street, Sydney, NSW
02 9240 1396
Shangri-La Hotel
176 Cumberland Street, The Rocks, Sydney, NSW
92506144
Ocean Room
Ground Level, Overseas Passenger Terminal, The Rocks, NSW
92529585
Sheraton on the Park
161 Elizabeth Street, Sydney, NSW
Tel: +61 (02) 9286 6000 (Sugar Hit on Thursday to Saturday only)
Spiedo
Shop 6004-6005 Level 6, Westfield Sydney, 188 Pitt Street, Sydney, NSW
8072 9999
Tomislav
Level 2 / 13 Kirketon Road, Darlinghurst, NSW
9356 4535
Westin Hotel
1 Martin Place, Sydney, NSW
82231111