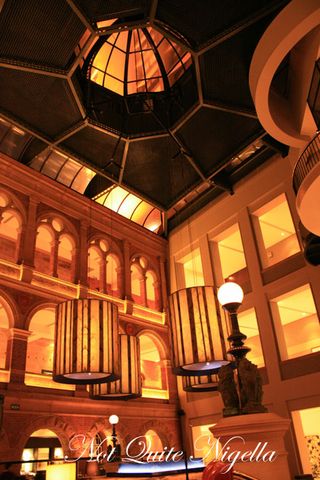 Desserts are like expensive shoes. You know you shouldn't buy more but they're just so irresistable that you just cannot say no. So when I invited my friend Queen Viv to accompany me at the Sugar hit at the Inter Continental Hotel I had no idea that she was in her final days of a detox. But like the trooper that she is, she decided that today would be the last day of her detox and if you're going to celebrate the end of a detox, you may as well do it in style.
So on this Thursday night we arrive at the Intercontinental. We find a park a few streets away and in the cold wind and the high heels we're just glad to be able to sit down and have a nice glass of something and a dessert. We're a little early for the Sugar Hit by about 20 minutes so they ask us to take a seat and they'll bring it out. We choose a banquette of course and sink our weary wind battered selves into it and before long, the waiter arrives with the dessert wine. For the cost of $20 you get a dessert and a glass of Brown Brothers Moscato dessert wine which is a lovely, very sweet drop.
Front to back: Gold Leafed White Chocolate Dome, Dark Chocolate Chilli Slice and Chocolate Hazelnut Macaroon with Chocolate Ganache with Nashi Pear Chutney & Vanilla-Honey Syrup
The Inter Continental's Sugar Hit dessert plate this year was said to be dessert chef Karl Beil's homage to chocolate. The first thing that strikes me is that it's quite small as each component is a canape sized bite but it is pretty. The manager comes over and suggests that we eat it in order of mildness to strength starting with the white chocolate dome, then the macaroon and then the chocolate chilli slice. The white chocolate mini dome is sweet, light and creamy with that unmistakable white chocolate taste.
The Chocolate Hazelnut Macaroon with Chocolate Ganache is up next. The macaroon (not a French macaron) is dusted with icing sugar. This part is essentially a biscuit with some ganache underneath it and it resembles a snow topped mushroom. It's not bad but for an homage to chocolate and given the size I'm left wanting for something more creative.
The Nashi Pear Chutney & Vanilla-Honey Syrup is delicious-it was supposed to accompany the chilli chocolate cake below but when the dessert was presented to us we were told that it can go with anything. If anything it goes best with the white chocolate mousse which benefits from an added dimension of flavour from the vanilla and nashi pear. There are 3 chocolate drops and a slender stick which are made out of chocolate.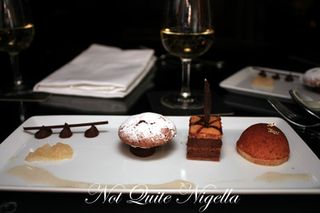 The deceptively harmless looking Dark Chocolate Chilli Slice is rich and spicy and the chilli hit is pronounced although not too hot (Queen Viv can't tolerate a lot of chilli and she deosn't mind this) but it is on the stronger side for chilli chocolate. Overall we agree that the flavours are good and it's quite deceptively rich but the dessert is a little on the small size. We sit back and relax and contemplate going outside to the cold winds and decide on a cup of delicious Mokalbari tea instead.
So tell me Dear Reader, do you like your Chilli Chocolate to be strong or mild with chilli flavour?
NQN and Queen Viv dined as guests of the Inter Continental Hotel
The InterContinental Cortile Lounge; Cafe Opera & Club Bar
Cnr Bridge and Phillip Streets, Sydney, NSW 2000
Tel: +61 (02) 92401396
Bookings recommended for Sugar Hits (runs from October 1-31st 2009)