This past weekend, for the first time ever, Sydney hosted The World Chef Showcase. When I first heard about this Chefapalooza I was excited to be invited to it and chose to attend Saturday's World session featuring many of the world's rock star chefs. I'm not simply using that as a trite term but some of them are into their music almost as much as their food. Case in point is the 18 guitar owning Spanish chef Sergi Arola, a disciple of Ferran Adria. He worked with Adria for 8 years in his kitchen and melds music with food with art. Just don't mention the word "Tapas"...
There are three sessions on this Saturday, the first being Thailand/Vietnam, the second being _China _and the third being _World _which I am scheduled for. Each in a different room of Star City's ballrooms and there is round table style seating with a stage at the front where there are two kitchen set-ups. Facing the stage, on the left is the Australian counterpart for the Overseas Chef. The first session today is with Sergi Arola of Gastro restaurant and Brent Savage of Bentley Bar. Matt Preston is at the microphone with his deep, husky voice booming a greeting to all. There are drinks on the table and mints and writing pads provided. The lighting is a little low (so please excuse the photographs).
Sergi's Coca with Foie Gras and Capsicum
Sergi tells us of his impressions of Australia which start with his first encounter: The Church's song "Almost With You" which he listened to for 3 days straight. He says that he learnt English through songs like this and interestingly enough, he even had a band called "Los Canguros" (the Kangaroos). He shows us some images from Gastro where the menu changes monthly and the food is strikingly beautiful. At the restaurant bread is made every day using organic flour and he explains the pictures of the Duck hams hanging in the cellar which drives his sommelier spare. There are photos of two kitchens - there are two, one for service and one for mise en place (where they prepare everything to cook). He then introduces us to Torsten his Swedish executive chef whom he says  hails from "The Swedish part of Spain" and whom he says is more Spanish than most Spanish.
Duck hams hanging in the wine cellar
Now his issue with tapas is related to how he feels about customers and eating. "The main part of the restaurant is the guest, not the chef or anyone else "My ego is big but that as (sic) big". He tells us that the service is the thing that separates the good from exceptional restaurants. He also tells us that "tapas is a way of life" and for Spanish, it is what you have when you're with friends. He starts to make his first dish, the Ajo Blanco with Cherry Caviar and Asparagus which is made with fresh almond milk cooked for 12-14 hours. He shows us how to make each item telling us his names for certain pieces of equipment like the siphon which he calls "Devil Machine". He uses tweezers to place everything on the dish, a rather cheffy thing to do to get the right placement.
"I try and make things more simple. Life is so complicated" he says to much nodding among the audience. He is also involved with the Oceana charity and says that he doesn't use or eat tuna in his restaurant along with shark or turtle. With the duck liver he uses, he says that he only uses a supplier that treats his animals with respect. He also declares that Spanish olive oil is the best olive oil in the world.
His version of Patatas Bravas
His last dish is the Patatas Bravas which he says is his most successful dish. Of course we know what Patatas Bravas looks like normaaly but his version is quite different. They're gorgeous little cylinders of potato with a little scooped out part at the top which are then filled with piped ail--i-oli. To get the cylinder shape he uses an apple corer on the potatoes which he calls an "apple heartbreaker" and then calls the dish "Tom Petty and the Potatoes" (that whole music thing again). This, he says is a true Tapas dish because it sits in the table and is for sharing but what's important is what you're drinking and that you're with your friends (which he charmingly calls "entourage"). Some lucky people get to try some of these (we just miss out :( ). Sergi then goes on to reiterate that the key to a great restaurant is to "respect the guest, be honest with  the guest. The only reason for opening the restaurant every day is the guest. That's the problem...forget the guest and it's only about the chef". And with that I think he has a few in the audience swooning.
The split Parmesan custard before being brought back together again
The Bentley Bar's Brent Savage follows him. "I'm too scared to use the word Tapas after what we've just been through so this is just a small plate" he says to laughter. He scales down what he's going to do as we're running out of time so he shows us the Parmesan custard he had started to prepare earlier. Essentially it's a custard that has split but then you bring it together again. He puts the custard in the Thermomix machine which at $2,000 Matt Preston intones is "cheap for a chef". He removes the air from the Thermomixed custard by putting it in a vacuum machine. "Um Brent how much is a vacuum machine?" Matt asks. "Yeah... they're quite cheap" he says. He plates it up in a V pattern, adds some asparagus and crackers (with tweezers of course) and then the session closes with a Q&A session with both he and Sergi before we break for morning tea.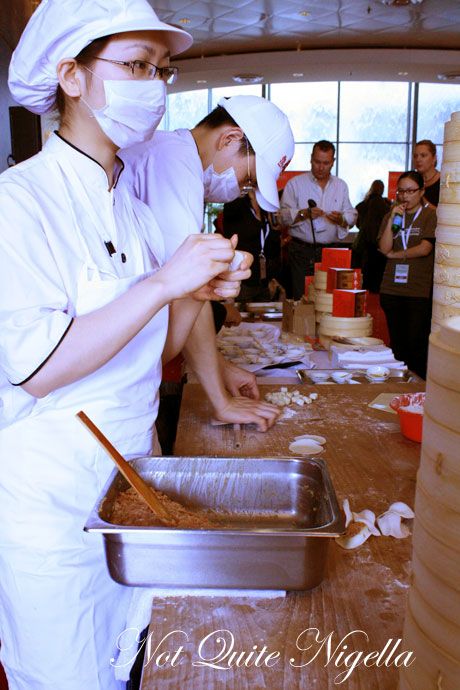 Dumpling makers hard at work
It's Morning Tea time so we wander out to try the Xiao Long Bao and sweet dumplings that the Din Tai Fung dumpling makers were making earlier. There are their signature Xiao Long Bao as well as sweet lotus and red bean buns. For someone that has skipped breakfast due to the early hour, they are a godsend and I fall upon them with much happiness.
Giovanni Pilu from Pilu
Familiar faces are mingling around and I spot Peter Gilmore from Quay, Justin North from Becasse who is in the upcoming session, Giovanni Pilu and Helen Greenwood, the SMH writer whom I chat to and thank for including me in the Foodies Guide to Sydney 2010 book. I also meet some readers which is really lovely!
Peter Gilmore from Quay
Sergi Arola and I
Before I return to the ballroom, I spot Sergi leaving so I quickly ask him for a picture. _He's obliging and friendly.
_
Alexandre Bourdas
We return to the room to see chef Alexandre Bourdas with his Australian chef (whose name I don't catch) who will help him translate. He's quieter than Arola and there are moments of silence when they are both busy cooking. Alexandre worked in Japan for 3 years at the Bras restaurant which is a time that has influenced him greatly to this day. He now has a small restaurant in Normandy with 18 seats and 7 services a week with the menu changed daily. It is called Sa.Qua.Na which is a take on the French words Saveurs, Qualite and Nature and also happens to be the Japanese word for Fish (Sakana). His Australian chef translates "My cuisine is simple. I try to put the product in the centre stage" and within 10 months of opening the restaurant he received his first Michelin star.
Make the fish bone butter
Interestingly, as Arola and Savage used tweezers Bourdas uses chopsticks. He then introduces us to his "Direct" dish which is a "Direct" of cod, brown butter and grapefruit and consists of simply 5 ingredients including salt. For his "Direct" types of dishes he tries to use 3-4 products per plate and says that too many products such as the ones in a degustation means that you don't remember what you eat and you feel unwell whilst with fewer ingredients, people pay more attention with "maximum concentration".  When the guests first see the dish they are surprised and say something like "Oh *pause* forgot something?" but any qualms are answered with the taste and the direct dishes are a favourite plate for all chefs and critics. Whilst he is cooking it, the nutty, browned fish bone butter smells divine as it wafts down among the tables.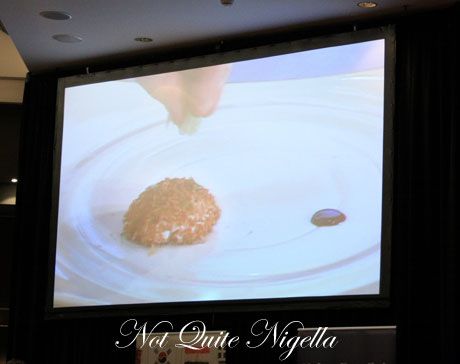 Coconut Macaroons being plated
As for being a chef, he tells us that if you start off as a patisserie chef, you can become a great cuisine chef but you can't do it the other way around because of the precision involved in being a pastry chef. Which brings us to his last dish: a Caipirinha Mousse with Coconut Macaroons (Congolais), Muscovado and Lime. He admits to experiencing some challenges working with the different dairy prodicts here and he had made this dish 6 times before today's session to try and get it as close to the version he makes in France. He shows us one tool, a fireplace grill "This is cheap" he says grinning and wows the audience with his simple techniques.
Justin North
Justin North from Becasse, Plan B, Etch and Le Grand Cafe is up next. He starts off making an orange oil which is a fascinating item as it becomes solid with the use of a product called Glice. His philosophy is very much Paddock to Plate - eating it as soon as possible after it leaves the paddock or farm. He then cooks a Jurassic Quail Slow Cooked with Aromates in a bag. He puts it in a heat resistant bag and vacuum packs it to remove the air. He bakes the beetroot in the same way in the paper (en papillote) and makes a serving of gorgeous golden beetroot before plating it up prettily.
Justin North's Jurassic Quail  Slow Cooked with Aromates in a Bag
North's next dish is the Spiced Macadamia Parfait and he refers to the Pacojet freezer and tells us that one retails for about $3000 nowadays, an "Absolute bargain" he jokes with the crowd. As they're running over time he finishes up and there's a rush to the front as autograph seekers and photographers collect their precious memories. We're all given a lunch voucher but Becca and I stay and chat with Justin - I mean would you choose getting a takeaway dish or chatting with Justin North? Exactly. With a few minutes to spare before the next session I grab a few Din Tai Fung dumplings and a Toby's Estate coffee  and settle in for our post lunch session: Korea's Edward Kwon, TV celebrity and chef and Cheong Liew of the famed South Australian _The Grange _restaurant.
Edward Kwon
Edward holding up the Wild Sesame leaves
Edward is what you would call born to be on TV. He's amusing, outgoing and with a healthy ego and he starts us with a video of Korea. He tells us that he grew up dreaming of being a priest and his session is full of one liners and jokes and revving up the post lunch audience. He shows us the wild sesame leaves that he found easily in Sydney but proved impossible to find in Dubai where he was at the seven star Burj al Arab hotel. His dish is his own take on a classic Korean dish "chilled chicken with Ginseng". He extols the virtues of the ingredients in this dish with the ginseng being a well known aphrodisiac "I'm not supposed to say this-horny?" he says laughing and the audience loves the candour. There is a huge Korean contingent of both media and fan and they hang onto his every word. "Don't make too complicate (sic) food, noone wants to make it" he tells us which seems to be the theme of the day for the overseas chefs.
Cheong Liew of The Grange Restaurant with Matt Preston in the background
Cheong Liew is up next and he's a sage, grandfatherly figure but with a touch of comedian. "After what he said, mine is the most complicated. I should be going home" he jokes wryly. His dish is a slow cooked abalone with salt baked duck, roasted garlic and sauternes which is a combination of two dishes. He uses an older method where he fries rock salt until it gets so hot it turns grey - in fact he baked the salt for 1 1/4 hours and it was still not hot enough. Once the salt gets very hot, he buries the duck inside and cooks it.
Liew demonstrates stuffing a duck
He tells us of how he takes a plastic bag sealer with him when travelling overseas where he buys spices and then seals them up. "What kind of oil did you use? Spanish I expect" asks an audience member and Cheong says "No, Australian. Of course" to much applause. Some lucky people get to try Edward and Cheong's dishes. Some Korean students of the Cordon Bleu school try Edward's chicken while eager people with questions are rewarded with a taste of abalone and duck. Both are eager to give out samples of their dish which is nice. There's a brief Q&A where we find out that the chef standing next to him is a contestant on his TV show and she won her spot to come here with him. After the session ends, the crowd surges for autographs and photos.
Sparkle Mini Cupcakes
After an afternoon tea with some petite Sparkle Cupcakery cupcakes (for me, pistachio which is lovely, nutty and moist), we watch the talk moderated by Helen Greenwood. On the panel there's Alvin Leung, the tattooed "Demon Chef" from Hong Kong; Peter Gordon from New Zealand who has restaurant in London and Sebastien Demorand, journalist and writer from Paris. They're here to discuss "Why is the West in love with the East?".
Panelists from left to right: Helen Greenwood (moderator), Sebastien Demorand, Alvin Leung and Peter Gordon
They start with discussing the food scene in Paris : "The problem with French is the French" Sebastien says. "We invented food - this is not true of course...but what goes on out there is not of interest to us". Alvin Leung chimes in "I think Chinese invented air but the French put out a lot of it" and this exchange between the two is entertaining and really sets the tone for much of the session. The conversation goes from serious to joking at times. "Exotic is an extra 10%" Leung says "If cinnamon is used in sweet it is ok but if it's in savoury it's suddenly exotic - it's a frame of mind and most food writers tend to consider the use of spices as exotic". There was also agreement that Fusion has also become Confusion which hides a further pun in itself as the word "con" is one that proabably shouldn't be translated. "We're a little narrow minded" Sebastien says and when an audience member asks, he tells us there are no cooking shows on television in France. "Nothing" he emphasises. Alvin then chimes in "You can't have much variety with three channels" and he also talks about how the East also loves the West back with particular reference to Western Blondes "We like brunettes too" he says looking at Greenwood who just happens to be a brunette.
Pichet Ong
For the last section I sneak into the Thailand/Vietnam room. I sit with Trissa where we watch Pichet Ong from New York explain how he came about to have his own place, a dessert shop and bar called P*ONG. On the screen, photos from his book "The Sweet Spot" appear with unusual creations such as a "Cheesecake croquette". His speciality is Asian style desserts and he tells us of his career journey which began with a graduate degree in Architecture to satisfy his parents and his first job in 1990 making bread. He then moved on to work at Jean Georges but knew that he wouldn't be able to make continental desserts so they agreed to trial his own Asian based desserts and they were a hit. His Ovaltine Kulfi (ice cream) was such a hit that he was flown out to California to make it for Oprah. He also likes to combine sweet and savoury such as Foie Gras Mousse, Miso Semifreddo and he has collaborated with Australia's Max Brenner. "From business perspective, sal makes you hungry again and you want more" he tells us. Also with Asian cooking, the salt is always next to the sugar on the kitchen bench and Asian dishes always include a pinch of both. Other interesting collaborations he tells us about is one with a New Orleans restaurant that served an 8-9 course bacon degustation which features bacon in the dessert.
The dish that he is cooking today is Thai Jewels Remix 2009, an updated version of a 2006 cocktail dessert. He shows us how to make the jewels using water chestnuts coated in tapioca flour and red Sala syrup. We get a sample tasting of this and it's strong stuff indeed. Both Trissa and I who aren't big drinkers agree that we'd probably prefer it without the golden and white rum as it's quite bitter. It's fitting: it is a bittersweet end as we wish events like this would roll out more often.
So tell me Dear Reader, which chef would you like to see up close and personal?
Not Quite Nigella attended the World Chef Showcase thanks to Tourism NSW.
World Chef Showcase
Sydney International Food Festival
October 9-11, 2009