"Forty seconds! It better be ready" says Alan Compton the Head Chef at Bather's Pavilion. There are 15 plates of food in front of him at the two tier pass and all of them are in various states of dress (or should that be undress?). "Thirty Seconds, are you ready?" and the younger chefs yell back simultaneously "Yes Chef!" and then "Twenty seconds, why aren't you ready?". A chef stumbles and swears and dashes around the corner to grab something. "Ten Seconds hurry up!" says Alan and faces are taut with studied concentration as the final flourishes are put onto a dish. Welcome to the wonderful world of a high end restaurant kitchen. And a little warning this story is long but interesting so settle down with a cup of tea or coffee.
This event was my number 1 pick of the whole Sydney International Food Festival programme. Having never really been in a kitchen for an extended period of time (ok I had visited the Gordon Ramsay RHR and Petrus kitchens and that was exciting but that was for about 15 minutes) but to get up close and personal was something that I'd always wanted to do. I should admit that I've never wanted to open a restaurant myself which is why I haven't really gravitated towards trying out for Masterchef, preferring to write a cookbook instead or a regular book. Somehow the hours, hard work and sheer difficulty of the business particualrly in restaurant saturated Sydney put me off. I'd also heard that many chefs were also angry, unfriendly, egomanical divas so I was a little trepidatious before entering the hallowed kitchens of Bather's Pavilion (or just "Bather's" to locals). I realise that I''ve eaten at all of Dansereau's restaurants from Kables back in the previous century B.B. (Before Blog) to the Bather's Pavilion Cafe also B.B., Bather's Pavilion Restaurant and The Bather's Pavilion Kiosk.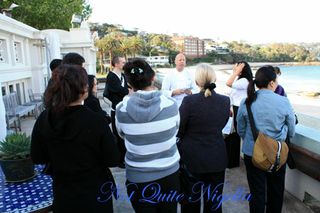 I was sent the information sheet. I was to wear black pants, a white t shirt, minimal jewelry and rubber soled shoes. Ransacking my wardrobe I realised that a) I don't have any plain white tshirts and b) the only rubber soled shoes I have are black patent leather ballet flats and c) I'd have to leave my cocktail rings behind.
At 5.30pm this Thursday night Mr NQN and I arrive along with the other 14 people that have signed up for this once in a lifetime opprtunity. This is the first year they are doing it and we are handed a blue and white striped apron. Serge emerges in his chef's whites and greets us and takes us upstairs to show us the building. We're shown the view from the upstairs balcony which is a stunning view of the blue hued waved Balmoral Beach and then sit down in one of the function rooms.
He tells us about the history of the building and his history coming to Australia and the challenges he had to face with developing new produce and how at the time it was he and Neil Perry and Stefano Manfredi who were helping each other out and sharing their new discoveries of things such as Wild Mushrooms. At the time there were only a few types of lettuce: Iceberg, Chicory and Mignonette. He talks about his partnership with Vogue editor Victoria Alexander who fought for years with the council to get the site (which was originally a changing place for people who went to the beach) to be made into a hotel and with Dansereau they finally settled on making it a restaurant.
He also shows us his next book which is yet to be sent to the printers and is in a yellow ring folder to be called the "French Kitchen" which is a more home style based book as is the trend now. His first book "Friends and Food" won the Julia Child prize for best cookbook and interestingly, all of the photography in it was done by Danserau himself after taking a short course on camera basics. He also conducts yearly tours of France on top of running the cafe, restaurant and kiosk. How he manages with two young kids is something of a miracle.
Once we're done with the talk, we get a tour of the building. There are 3 separate kitchens in the building, on top there is the pastry kitchen where Sous Chef of Pastry Mel Haseltine and Demi Chef of Pastry John Keerie tend to all of the sweet things for the restaurant, cafe and kiosk. It smells beautiful sweet and delicious up here and two of the group immediately put their hands up to be assigned to pastry. Danseareau intends to rotate us between the three kitchens to give us an idea of what things are like in each.
Upstairs is also the office where there are 8 staff members (5 full time) that tend to various aspects of the business including two accountants. All up there are 100 staff with 60 staff on during the busiest times Serge then shows us their very own laundry which allows them to use things like linen napkins rather than paper napkins and allows things to be quickly laundered to their standards without any delay. Dansereau is candid and open with no area out of access and there are no photos restrictions.
We then go through the restaurant kitchen and then the cafe kitchen where 4 of us are assigned to Philip Sajowitz the Chef de Cuisine there. He shows us all of the coolrooms and takes us through the enormous volume of food that they go through and the cost of things. Hanging is some Proscruitto from Italy which costs $40 a kilo even for them. There are biodynamic eggs which are $50 per box and $200 worth of eggs. "Is there rivlary between the cafe kitchen and restaurant kitchen?" I ask Phillip. "Yeah sure there is" he chuckles. There is a different mindset to both kitchens with different skills and he mimes the focused nature of the chefs in the restaurant kitchen regarding each plate of food with a critic's eye whereas in the cafe it's about feeding more people good but more casual food.
_
Boxes of bones and more bones!_
At the back of the cafe kitchen is the functions area where they prepare food for the functions. Serge had told us that with the Global Financial Crisis corporate functions had dried up almost entirely but weddings and launches still keep them busy. Philip shows us the huge vat of veal stock that is made every day which reduces down to a precious few litres of veal stock for both kitchens. 75-80kgs of bones are used every week. We also see their tilt eletric frypan which is huge and great for large quantity braises like you see at functions.
We're tasked with shelling broad beans and then laying out cafe bacon to be crisped up. This is a shoutout to my mother who asked me what meal I would be cooking I had to let her down gently by saying that they wouldn't be letting any of us near an actual completed meal ;).
Behind us new Chef de Partie Chris Bostock is weighing the oxtail for the ravioli. Each has to be weighed to between 9-11grams and it is then refrigerated and then wrapped in ravioli for tomorrow's wedding. Ben Amy the Head of the functions area shows us the baked beans that are baked for hours with ham hocks and other goodies to intensify and enrich the flavour.
"This is the evil box" Philip says and points to the docket box which spits out orders and others around him chuckle in agreement. The cafe has always been a success as it's more accessible price wise and when the GFC hit the restaurant patronage went down 14% but the cafe's patronage rose 2%. He tells us of the "Kelly Gang" which is a family of three that dine in every day and who order the same thing every day for breakfast, 365 days a year. It's the same order and should it diverge, the kitchen would think something was dreadfully amiss.
The sheer scale of this operation is amazing and very few things are brought in from outside, it's just vanilla ice cream for milkshakes and bread rolls for the cafe. The butter, stocks, pastries, petit fours, chocolates etc are all made for the restaurant. The cafe is open for breakfast, lunch and dinner 365 days a year (except for Christmas where they are closed for dinner) which is a conscious decision by Serge so patrons would know it's always open.
"Coolroom!" shouts 2nd year apprentice Felicity King and I ask Philip why she tells him that. He tells me that it's because when they're very busy and she isn't at her station and he gives her an order and doesn't hear back from her, he can spend crucial time wondering where she is. There is much clanging, energy and an empty pot goes flying with a loud clanging. "Throw it back!" they say jokingly.
After our stint here, we wave goodbye to everyone there. They're incredibly friendly and I'm amazed there aren't any angry or crazy chefs (or maybe I've been watching Kitchen Nightmares too much). Perhaps the divas will be in the restaurant kitchen?
We walk in and it's quiet especially compared to the frantic nature of the cafe ktichen. We're introduced to everyone there, there's the Chef de Cuisine Alan Compton and alongside there's also Nathan West, Demi Chef, Ed Lee, 4th year apprentice; Ben Ginty, Junior Sous Chef; Gunther Bustamante, part time Demi Chef and Chris who is doing work experience. Despite my initial thoughts, there are no divas here too and they're all extraorindarily friendly and happy to share their ktichen with us newbies.
Gunther shows us the licorice and lemon cured salmon which is cured in a 50/50 mix of salt and sugar and then dill and lemon zest. Chris shows us the Amuse Bouche with is a tempura oyster with a vichysoisse foam. We see the way to make a foam is just to make the soup and then foam it up and then spoon off the top of the foam and place it gently on top of the oyster. Gunther tells us how to make a tempura batter which is to mix a little yeast, soda water and flour and then slap the mixture against the bowl to create aeration as it's all about aeration for a light Tempura batter.
Chef de Cuisine, 31 year old Compton left High School at age 14 "Let's just say I didn't have much say in the matter" he tells us and trained in Ireland and spent 12 years in London before landing here as Chef de Partie and working his way up to Head Chef at the tender age of 31. He has a very friendly, open manner and he shows us the areas of the kitchen starting with the cooler back bench for the fish. There is a separate fridge for fish and seafood to avoid any cross contaimination. The temperature for this fridge is checked 3 times a day to ensure that the fish is kept at the optimum condition. We're then shown the big fridge where the oysters have to be kept as it's much colder there. There are items prepared as we're coming up to the weekend and every day things are prepped for the day or two ahead. Each day the fridges are cleaned from top to bottom. If anyone misbehaves the punishment is not a bollocking a la Ramsay but instead Compton says "I'd rather mess with their heads" and when they think they're ready to go home, he'll tell them to clean the coolrooms or fridges.
_Ben Ginty prepares the trout dish
_
He shows us the better liquor that is for cooking. "All chefs are fiends" he says laughing, "If you give them a chance they'll drink it all" but then also adds that they're all friendly even if they don't get along they will get along in the kitchen and "what happens in the kitchen stays in the kitchen". He walks past the bin and says that the two things for him are cleanliness and waste. Everything must be clean (it's spotless) and he hates waste so the amuse bouche is made up of the items that need to be used in the kitchen. He says that he checks the bins to check whether foods has been thrown out and the boys get told off if there is anything. If there's say a box of carrots which cost $30 wasted he says that he can use the $30 to use a better kind of alcohol in a dish. It's all a matter of balancing the costs.
He shows us all the chef's set ups and explains how at the end of each day they clean up and then prepare the next day's set up where dishes can be made up easily using the set up at their fingertips. We walk around the corner and the heat is palpable. Now we're getting to the fish and meat section. There's Ben, Ed, Alan and Nathan tending to these stations and it's ferociously hot. I feel like I am in a sauna with the combination of the stoves, ovens and heated passes. We watch Nathan and Ed's fingers flying as they prepare a dish going back and forth rapidly. It's the toughest station due to the heat and the fact that Alan is there and seeing everything that they do.
Alan explains the hardest part is the meat section and once they slice the meat so that the cuisson is shown (the doneness as per the customer's order), if it's incorrectly cooked, everything in that table's order must be made again from scratch. I ask him what is a bad night for the kitchen and he defines it as if they get a customer complaint or if a meal is sent back if it's cold. In terms of people with specific food allergies, they have a separate vegetarian menu so that vegetarians are well catered for. Coeliac and vegan customers can also be accommodated easily, particularly if they ring ahead. In fact the only customer request that has ever stumped them was a customer that didn't want any garlic or onion in their food.
We end up at the dessert station which is where the pastry chefs go to plate the desserts. At the cafe they plate it themselves but at the restaurant they go downstairs. Alan says of the pastry fridges "in these fridges you can find great stuff to eat" with a laugh although he mentions that he can get in trouble for raiding it too much. And who is in charge in each kitchen? He is in charge here but if he goes up to the pastry section they are in charge and likewise Philip is in charge of the cafe kitchen.
After chatting some more we are ushered into their Private Dining Room. Serge has changed into civilian clothes, a navy blue jacket, top and jeans. He's sitting at the end of the table and I'm sitting next to him. I didn't mention the other exciting part to our night? A 3 course meal with Serge himself!
Our wine is poured and it is introduced by the sommelier Sally Harper. I should mention that the ticket to this event is very well priced as a 3 course meal and petit fours is $122.50 not including the wine and tip and at $175 a ticket, it's not only food but entertainment.
Our entrees are brought to the table and they're a range of dishes from the menu. I get the Seafood casserole with Moreton Bay bug, pork and ginger dumpling, coconut shellfish sauce (comes with a $10 supplement on the menu). The serving of balmain bug is very generous with a large meaty section, some mussels, scallops and fish and a curious addition of a pork and ginger dumpling. I love the soupy coconut sauce which I chase around the bowl to get every last drop.
Serge then asks us if we'd like to go and see the mains being plated up. I don't think we've ever moved that fast in our lives. We go into the kitchen and that's when we're greeted with the countdown scene. The atmopshere is electric, there are all of our mains there and there's are 6 bodies all moving fast in order to get them all out on time. There is intense concentration and Alan is timing them in lots of 10 seconds in order for everyone to get the plates finished on time. Plates are studied, things are placed just so with furrowed brows and as each chef finishes their section they drop back and breath deeply and some sling the teatowels over their shoulder whilst some still watch the plating anxiously wringing their teatowels. Alan puts the finishing touches on the dishes and they are sent out.
My Spanish mackeral dish has broad beans, and is firm but perhaps a little on the dry side. With it are artichokes and a caramelised endive which I usually don't like but I enjoy here as it has a sweetness to offset the bitterness. We're served a glass of Lauca Carmenere 2006 Reserva to go alongside it.
_Alan plates up the desserts
_
We're then asked if we'd like to watch the dessert being plated up and the answer is a resounding yes. Everyone crowds around the section while things are gently placed on the plate. I'm eyeing off the apple dessert as I love apple based desserts and it looks wonderful with its 4 components.
We go back to the table and I'm overjoyed to get the Apple dessert. Everyone wants the chocolate one but I'm over the moon with my choice. It's a delicious gateau with a sponge and cream filling, a little masterpiece of overlapping thinly sliced and cooked apple with mint on a cracker type of crust, tiny little apple sorbet balls each dotted with a tiny mint leaf and a delectable ice cream sandwich with a buttery, caramelly, ultra thin biscuit crust. We're served a glass of Two Hands Moscato from Australia which is a lovely sweet and light concotion with some bubbles.
They're not done with us though and we have petit fours and coffee lined up. I remember how much we enjoyed the petit fours from my last meal so I open the dessert tank and try each of them. The chocolates are good but what really has me excited is the fruit pastille which is lovely, soft and richly flavoured and just melts on the tongue. The macaron is also delicate and well made and the fudge is a bit too much sugary for me at this point so I don't finish it all but it's a nice smooth fudge.
The memory card is full with over 400 images. I'm tired but still high from the fun tonight. And if it doesn't get any better we each get an autographed copy of Serge's book and a canvas tote.
Not Quite Nigella attended the Chef for a Day event at Bather's Pavilion as a guest of Tourism NSW, October 8, 2009.
Bather's Pavilion
4 The Esplanade
Balmoral 2088 NSW
Phone: (02) 9969 5050
www.batherspavilion.com.au
Open: Daily noon-2.30pm, 6.30pm-10pm