There are those who love playing games and those who don't. I come from a family that like playing board games but loathe any sort of game where they have to test their physical dexterity. Mental dexterity is fine but anything where you have to act silly or have fun making silly gestures is out. When we used to go away with Mr NQN's family and mine for Christmas and someone would suggest charades  my family would opt out and simply watch from the sidelines watching everyone have fun. I think it's a cultural thing where they were afraid of embarrassing themselves but to me, they seemed to be missing out on all the fun.
I love to participate in things and if you want to play a game I will be there although I have a firm rule: no cheating. Otherwise what is the point? I was determined to participate in this month's challenge as Lauren from Celiac Teen is one of my favourite bloggers. She's articulate, smart and mature and still at school which is a fact that constantly surprises me.
Australian bakers may relate to the frustration when we see cheesecake recipes and see that the recipe specifies graham crackers. They're next to impossible to get here although common as muck in the U.S. I was so excited to try these when I visited the U.S. many years ago that I jumped up and down in the supermarket aisle and said "Oooh look graham crackers!". People around me must have thought that I was very strange or easy to please (either that or I had just gotten out of prison) and I tried these honey and vanilla flavoured biscuits and thought they were delicious and I was excited to be able to make these again. I made sure to make a lot so I could process them into crumbs and freeze them in case of emergency cheesecake making (or to top my 5 minute cheesecake). I wasn't sure how to style these-after all they're just bars and what else can you do with a bar but then I though of the game Jenga and decided to do a Nanaimo Bar Jenga.
Nanaimo bars are named after Nanaimo, a place in British Columbia. There are three layers to this bar starting with a chocolate biscuity coconut and nut layer on the bottom, a custard layer in the centre and then a chocolate layer on the top. As Lauren is a celiac she provided us with a gluten free option using gluten free flours but I didn't have a chance to shop for these so I made these using regular flour. And like all slices like these, it's best not to know the calories of these, especially if you add a layer of dulce de leche as I did. Sorry I couldn't help myself! The taste is rich and sweet and with the addition of dulce de leche, it resembles a chocolate caramel slice although I should have tried these without the dulce de leche.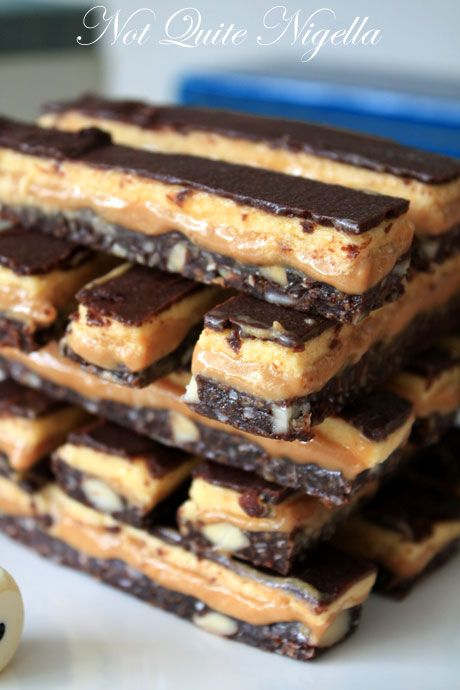 I thought that making them like Jenga bars would be an interesting idea as I stuck them in the freezer to firm up as the hot weather here meant that they would have been reduced to a gooey mess before long. In our hot, hot Australia Day weather which is when I made these, frozen was definitely preferred.
So tell me Dear Reader, are you a player or observer? And what is your favourite game and why?
Nanaimo Bars
Blog-checking lines: The January 2010 Daring Bakers' challenge was hosted by Lauren of Celiac Teen. Lauren chose Gluten-Free Graham Wafers and Nanaimo Bars as the challenge for the month. The sources she based her recipe on are 101 Cookbooks and www.nanaimo.ca.
Posting Date: January 27, 2010
Notes for gluten-free Graham Wafers and Nanaimo Bars:
• Glutinous rice flour does not contain any gluten, as it is made from a type of rice called glutinous (or sweet) rice.
• The graham wafer dough is very sticky. Make sure you are flouring (with sweet rice flour) well, or the dough will be difficult to remove from the surface you roll it out on. Also be sure to keep it cold. You do not want the butter to melt.
• I chose these flours because of their availability. Tapioca starch/flour and sweet rice flour can often be found in Asian grocery stores, or in the Asian section of you grocery store. Sorghum can be slightly more difficult to find, but it can be replaced with brown rice flour, millet flour or other alternatives.
• In the Nanaimo Bars, it is very important that the chocolate be cool but still a liquid, otherwise the custard layer will melt, and it will mix with the chocolate, being difficult to spread. Allow the chocolate mixture to come to room temperature but not solidify before spreading the top layer on.
Preparation time:
• Graham Wafers: 30 to 45 minutes total active prep, 2 ½ hours to overnight and 45 minutes inactive prep.
• Nanaimo Bars: 30 minutes.
Equipment required:
• Food Processor
• Bowls
• Parchment paper or silpats
• Cookie sheets
• Double boiler or pot and heatproof bowl
• 8 by 8 inch square pan
• Hand mixer or stand mixer (You may use a wooden spoon, but this makes it much easier!)
• Saucepan
For Gluten-Free Graham Wafers
Ingredients
1 cup (138 g) (4.9 ounces) Sweet rice flour (also known as glutinous rice flour)
3/4 cup (100 g) (3.5 ounces) Tapioca Starch/Flour
1/2 cup (65 g) (2.3 ounces) Sorghum Flour
1 cup (200 g) (7.1 ounces) Dark Brown Sugar, Lightly packed
1 teaspoon (5 mL) Baking soda
3/4 teaspoon (4 mL ) Kosher Salt
7 tablespoons (100 g) (3 ½ ounces) Unsalted Butter (Cut into 1-inch cubes and frozen)
1/3 cup (80 mL) Honey, Mild-flavoured such as clover.
5 tablespoons (75 mL) Whole Milk
2 tablespoons (30 mL) Pure Vanilla Extract
Graham Cookie Bears
Directions:
Step 1 - In the bowl of a food processor fitted with a steel blade, combine the flours, brown sugar, baking soda, and salt. Pulse on low to incorporate. Add the butter and pulse on and off, until the mixture is the consistency of a coarse meal. If making by hand, combine aforementioned dry ingredients with a whisk, then cut in butter until you have a coarse meal. No chunks of butter should be visible.
Step 2 - In a small bowl or liquid measuring cup, whisk together the honey, milk and vanilla. Add to the flour mixture until the dough barely comes together. It will be very soft and sticky.
Step 3 - Turn the dough onto a surface well-floured with sweet rice flour and pat the dough into a rectangle about 1 inch thick. Wrap in plastic and chill until firm, about 2 hours, or overnight.
Step 4 - Divide the dough in half and return one half to the refrigerator. Sift an even layer of sweet rice flour onto the work surface and roll the dough into a long rectangle, about 1/8 inch thick. The dough will be quite sticky, so flour as necessary. Cut into 4 by 4 inch squares. Gather the scraps together and set aside. Place wafers on one or two parchment-lined baking sheets. Chill until firm, about 30 to 45 minutes. Repeat with the second batch of dough.
Step 5 - Adjust the rack to the upper and lower positions and preheat oven to 350 degrees Fahrenheit (180 degrees Celsius).
Step 6 - Gather the scraps together into a ball, chill until firm, and reroll. Dust the surface with more sweet rice flour and roll out the dough to get a couple more wafers.
Step 7 - Prick the wafers with toothpick or fork, not all the way through, in two or more rows.
Step 8 - Bake for 25 minutes, until browned and slightly firm to the touch, rotating sheets halfway through to ensure even baking. Might take less, and the starting location of each sheet may determine its required time. The ones that started on the bottom browned faster.
Step 9 - When cooled completely, place enough wafers in food processor to make 1 ¼ cups (300 mL) of crumbs. Another way to do this is to place in a large ziplock bag, force all air out and smash with a rolling pin until wafers are crumbs.
Nanaimo Bars
Ingredients:
For Nanaimo Bars — First (bottom) Layer
1/2 cup (115 g) (4 ounces) Unsalted Butter
1/4 cup (50 g) (1.8 ounces) Granulated Sugar
5 tablespoons (75 mL) Unsweetened Cocoa
1 Large Egg, Beaten
1 1/4 cups (300 mL) (160 g) (5.6 ounces) Gluten Free Graham Wafer Crumbs (See previous recipe)
1/2 cup (55 g) (1.9 ounces) Almonds (Any type, Finely chopped)
1 cup (130 g) (4.5 ounces) Coconut (Shredded, sweetened or unsweetened)
For Nanaimo Bars - Second Layer
380g/13ozs of dulce de leche
For Nanaimo Bars — Third Layer
1/2 cup (115 g) (4 ounces) Unsalted Butter
2 tablespoons and 2 teaspoons (40 mL) Heavy Cream
2 tablespoons (30 mL) Vanilla Custard Powder (Such as Bird's. Vanilla pudding mix may be substituted.)
2 cups (254 g) (8.9 ounces) Icing Sugar
For Nanaimo Bars — Fourth (top) Layer
4 ounces (115 g) Semi-sweet chocolate
2 tablespoons (28 g) (1 ounce) Unsalted Butter
Directions:
Step 1 - For bottom Layer: Melt unsalted butter, sugar and cocoa in top of a double boiler. Add egg and stir to cook and thicken. Remove from heat. Stir in crumbs, nuts and coconut. Press firmly into an ungreased 8 by 8 inch pan.
Step 2 - For second layer, spread dulce de leche over bottom layer.
Step 3 - For third Layer: Cream butter, cream, custard powder, and icing sugar together well. Beat until light in colour. Spread over bottom layer.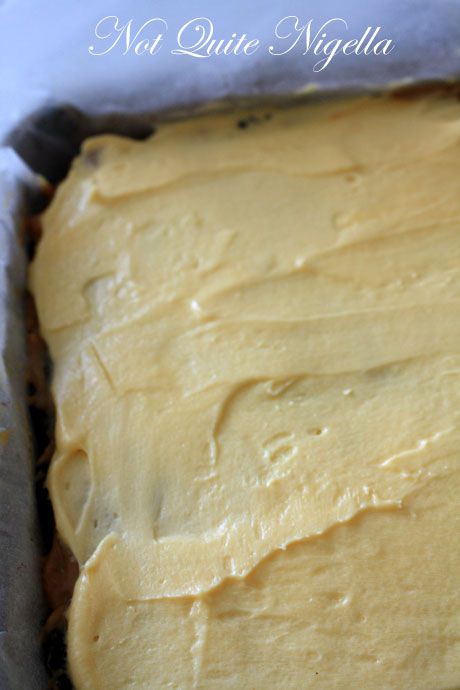 Step 4 - For top Layer: Melt chocolate and unsalted butter over low heat. Cool. Once cool, pour over middle layer and chill. To make Nanaimo Jenga, freeze the bars until hard.
Additional Information:
These bars freeze very well, so don't be afraid to pop some into the freezer.
The graham wafers may be kept in an airtight container for up to 2 weeks. Mine lasted about that long.
If making the graham crackers with wheat, replace the gluten-free flours (tapioca starch, sweet rice flour, and sorghum flour) with 2 ½ cups plus 2 tbsp of all-purpose wheat flour, or wheat pastry flour. Watch the wheat-based graham wafers very closely in the oven, as they bake faster than the gluten-free ones, sometimes only 12 minutes.
For the Nanaimo Bars, if making with wheat, replace the gluten-free graham wafer crumbs with equal parts wheat graham wafer crumbs!
Recipe Source: Graham Wafers — 101 Cookbooks (http://www.101cookbooks.com/archives/000126.html) I adapted it to be gluten-free. The adapted recipe is below.
Nanaimo Bars — City of Nanaimo (http://www.nanaimo.ca/EN/main/visitors/NanaimoBars.html)