I was staring at the woman in front of me slack jawed and my eyes full of admiration. I elbowed Mr NQN.
"Look at her, she's amazing..." I said wide eyed.
"_That _woman?"  he said looking at me and looking in the direction where the woman was.
"Yep, her" and I let out a hopeless sigh. "One day I'll learn to park like that. And did you notice that she's in a rental car too!?" I said kicking the ground with frustration.
"OK just don't clap like you did the other time. They'll think you're strange... or being sarcastic" he said.
Yes if there is one skill that I admire currently it is the ability of a person to drive a car because of course well I have no real skills to speak of. I haven't yet crashed the car or had an accident (apart from that white van backing into me that really, truly wasn't my fault Your Honour!). But there is still a yawning gap between my skills and those of a person that can drive or park just anywhere. So if you can park your car without causing a modicum of fuss then chances are that I will applaud you. Literally. Ok yes that was a strange moment and they did look at me like I had  some squirrels running around in my brain.
Another skill that I used to admire a great deal was pastry making. That's not to say that I don't now, any profession that makes buttery layers of crispy leaves deserves applause in my books (and getting up so early too!) but having made puff pastry a few times I was surprised at how easy albeit time consuming it was. The pastry mixture for croissants is the same as butter puff pastry-you simply cut it up into triangles and roll them up and within about 12 minutes you have your own freshly made golden croissant with thousands of lovely airy layers and air pockets.
_The inside of a croissant made with the _recipe _below _
As Mr NQN doesn't like croissants (I know darlings, but he's a good man nevertheless) I decided to make a variation on croissants that addressed what he did like-sweets. Specifically syrups. I decided to make morning buns using the layered buttery croissant dough instead of a denser less buttery bun recipe-and since when has adding butter been a bad thing? This is September's Daring Bakers challenge and I was only too happy when I saw croissants in the title.
Once the croissant or puff pastry dough has had its considerable time the recipe for the filling is similar to Norwegian cinnamon buns but it is based on a recipe for morning buns from the Tartine bakery in San Francisco. At Tartine they bake each individual croissant portion in a muffin tin and the result is a gooey bottomed sticky buttery bun worthy of Marie Antoinette.  If you want the sensation of freshly baked morning buns without the labour of making the puff pastry (and I'm certain there are people that don't want to spend the 12 hours doing so) you can buy a log of really good butter puff pastry like Careme and use that with the filling recipe below. I am a bit of a sucker for punishment so I made the puff pastry and baked these in a round springform tin as I actually like the parts that are joined to others as they tend to keep a softer edge on the pastry-but of course feel free to make these in separate compartments in the muffins tins if you prefer it that way. Just don't forget to upturn them once baked and admire the deliciously buttery, sweet sugar bottom of them! And clap if you need to ;)
So tell me Dear Reader, which skill do you most admire in others? And have you ever made puff pastry before?
Sticky, Buttery Croissant Morning Buns
The Daring Bakers go retro this month! Thanks to one of our very talented non-blogging members, Sarah, the Daring Bakers were challenged to make Croissants using a recipe from the Queen of French Cooking, none other than Julia Child!
Preparation time: In total, 12 hours (however, at certain points you can leave it overnight)
Making dough, 10 mins
First rise, 3 hours
Kneading and folding, 5 mins
Second rise, 1.5 hours (or overnight in the fridge)
Rolling in the butter (turns one and two), 15 mins
First rest, 2 hours
Turns three and four, 10 mins
Second rest, 2 hours (or overnight in the fridge)
Forming croissants, 30 mins
Final rise, 1 hour (or longer in the fridge)
Baking, 15 mins
Equipment required:
• Measuring cups
• Measuring spoons
• Mixing bowls of numerous sizes
• Rubber spatula
• Plastic bag
• Pastry scraper
• Counter space or board for rolling and kneading
• Rolling pin
• Plastic wrap
• Baking tray
Croissants
Servings: 12 croissants
Ingredients for the croissant dough:
¼ oz (7 gm) of fresh yeast, or 1¼ teaspoon (6¼ ml/4 gm) of dry-active yeast (about ½ sachet)
3 tablespoons (45 ml) warm water (less than 100°F/38°C)
1 teaspoon (5 ml/4½ gm) sugar
1 3/4 cups (225 gm/½ lb) of strong plain flour (I used Polish all-purpose flour, which is 13% protein)
2 teaspoons (10 ml/9 gm) sugar
1½ teaspoon (7½ ml/9 gm) salt
½ cup (120 ml/¼ pint) milk (I am not sure if the fat content matters. I used 2%)
2 tablespoons (30 ml) tasteless oil (I used generic vegetable oil)
½ cup (120 ml/1 stick/115 gm/¼ lb) chilled, unsalted butter
Ingredients for the filling:
60g/2ozs butter, melted and cooled
honey to glaze (optional)
Directions:
Step 1 - Mix the yeast, warm water, and first teaspoon of sugar in a small bowl. Leave aside for the yeast and sugar to dissolve and the yeast to foam up a little.
Step 2 - Measure out the other ingredients
Step 3 - Heat the milk until tepid (either in the microwave or a saucepan), and dissolve in the salt and remaining sugar
Step 4 - Place the flour in a large bowl.
Step 5 - Add the oil, yeast mixture, and milk mixture to the flour
Step 6 - Mix all the ingredients together using the rubber spatula, just until all the flour is incorporated
Step 7 - Turn the dough out onto a floured surface, and let it rest a minute while you wash out the bowl
Step 8 - Knead the dough eight to ten times only. The best way is as Julia Child does it in the video (see below). It's a little difficult to explain, but essentially involves smacking the dough on the counter (lots of fun if you are mad at someone) and removing it from the counter using the pastry scraper.
Step 9 - Place the dough back in the bowl, and place the bowl in the plastic bag
Step 10 - Leave the bowl at approximately 75°F/24°C for three hours, or until the dough has tripled in size.
Step 11 - After the dough has tripled in size, remove it gently from the bowl, pulling it away from the sides of the bowl with your fingertips.
Step 12 - Place the dough on a lightly floured board or countertop, and use your hands to press it out into a rectangle about 8 by 12 inches (20cm by 30cm).
Step 13 - Fold the dough rectangle in three, like a letter (fold the top third down, and then the bottom third up)
Step 14 - Place the dough letter back in the bowl, and the bowl back in the plastic bag.
Step 15 - Leave the dough to rise for another 1.5 hours, or until it has doubled in size. This second rise can be done overnight in the fridge
Step 16 - Place the double-risen dough onto a plate and cover tightly with plastic wrap. Place the plate in the fridge while you prepare the butter.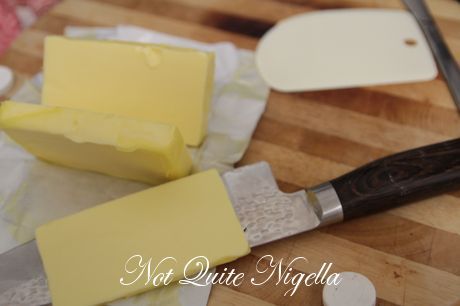 17. Place the block of butter on a chopping board-it is easier to slice it when it is not rock hard cold so allow it to stay at room temperature for about half an hour to an hour (depending on the temperature). With a large chef's knife slice the butter lengthways into four even slices as shown. Place in the fridge to chill until ready to use.
Step 18 - Once the dough has doubled, it's time to incorporate the butter.
Step 19 - Remove the dough from the fridge and place it on a lightly floured board or counter. Let it rest for a minute or two.
Step 20 - Spread the dough using your hands into a rectangle about 14 by 8 inches (35 cm by 20 cm).
Step 21 - Remove the butter from the board, and place it on the top two thirds of the dough rectangle
Step 22 - Fold the top third of the dough down, and the bottom third of the dough up.
Step 23 - Turn the dough package 90 degrees, so that the top flap is to your right (like a book).
Step 24 - Roll out the dough package (gently, so you don't push the butter out of the dough) until it is again about 14 by 8 inches (35 cm by 20 cm).
Step 25 - Again, fold the top third down and the bottom third up.
Step 26 - Wrap the dough package in plastic wrap, and place it in the fridge for 2 hours. If your dough is feeling good yo can attempt a second turn at this stage but if the dough is feeling tight and the butter is leaking then rest in the fridge.
Like a book with the "spine" or fold on the left
Step 27 - After two hours have passed, take the dough out of the fridge and place it again on the lightly floured board or counter.
Step 28 - Tap the dough with the rolling pin, to deflate it a little
Step 29 - Let the dough rest for 8 to 10 minutes
Step 30 - Roll the dough package out till it is 14 by 8 inches (35 cm by 20 cm).
Step 31 - Fold in three, as before
Step 32 - Turn 90 degrees, and roll out again to 14 by 8 inches (35 cm by 20 cm).
Step 33 - Fold in three for the last time, wrap in plastic, and return the dough package to the fridge for two more hours (or overnight, with something heavy on top to stop it from rising)
Step 34 - It's now time to cut the dough and shape the buns
Step 35 - Take a springform tin and line the base and sides with parchment
Step 36 - Take the dough out of the fridge and let it rest for ten minutes on the lightly floured board or counter
Step 37 - Mix all of the filling ingredients except for the butter, egg and honey together in a bowl
Step 38 - Roll the dough out into a 20 by 5 inch rectangle (51 cm by 12½ cm) or as large a rectangle as you can make
39. With a pastry brush generously brush the parchment on the base of the  tin with butter and then sprinkle a third of the sugar and cinnamon mixture on the bottom.
Brushing butter on the dough
Sprinkling with cinnamon and sugar mixture
And then slicing into pieces
Step 40 - Brush butter on the dough and then sprinkle the rest of the sugar mixture on the dough and roll up and cut into 12 pieces. Place them in the tin and cover with cling wrap and leave to rise for 1 hour until doubled in size.
From this...
_Risen to fit snugly
_
Step 41 - Preheat the oven to 170C/338F.
Step 42 - Mix the egg with a teaspoon of water and brush over the top of the croissant rounds. Bake for 20-25 minutes until golden. Brush with honey to add to the glaze if desired.