What's in a name? When Queen Viv and I drove past Butch Foods one afternoon we were taken by the look , a homespun inviting look but also a name. As someone that was really supposed to be called Selina but never was (and I think it suits me better) I know what a name can do to you. So  earmarked for a visit in my notepad I noted the first of that day's good omens: a miracle park outside (1 hour yes but because we were sitting in the window I could lookout for parking inspectors) ;) .
Belgian hot chocolate $4.50
Formerly a family run takeaway business for 20 years the building was built around 1886 and was infested with termites which necessitated a gutting and rebuilding using sustainable and recycled materials and equipment. The service is friendly from the young guy behind the counter who is very sweet and enthusiastic. We order a "hot chocolate with sticky marshmallows" (just regular marshmallows, I thought Sticky was a new brand!). And a chai latte which is so spiced Queen Viv's eyebrows shoot up and her eyes pop. The hot chocolate is good although it tastes more of cocoa than chocolate. It comes in a sizable mug and try as I might I can't finish it.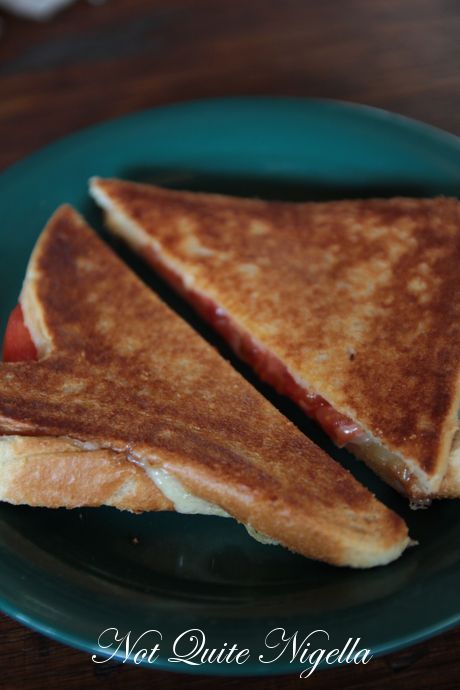 Clayton's Jaffles $4.50
I'm delighted to see a jaffle on the  menu as a homespun touch.  They're not made in those nifty jaffle makers that seal the ends rather it is done more as a toasted sandwich in a sandwich press. And although we ordered a ham and cheese one a cheese and tomato one arrives. Nevertheless it is quite good and with just the right amount of butter, enough to give it flavour but not enough to grease the fingers.
Pork and beans pie $7
A pie is next and there was a choice of pork and beans, Moroccan chicken, Thai vegetable curry and beef goulash. Queen Viv likes the sound of the pork and beans and it is based in a rich tomato and capsicum sauce with a lot of cannellini beans, moreso than the pork which I don't get much of. The pastry is buttery and it's a good size and comes with a few spinach leaves and a slice of tomato. We note that all of the cake, pies and foods are made on the premises and you can also buy free range eggs as well as take home frozen meals.
Green eggs and ham $11.90
Our last choice is mine, a green eggs and ham number with pesto and feta scrambled eggs, wilted spinach with ham on a slice of multigrain bread. I quite like this, the eggs are flavoured well and are natural mates with the ham although Queen Vic is less taken with the multigrain bread underneath it.
Lamington $3 and Chocolate and peanut butter drop cookie gluten free $1.50
It's dessert time and even though we've eaten quite a bit for lunch we try one of their homemade lamingtons covered in toasted coconut flakes which is a cute portion size. The owner comes over and tells us that she has given us a smaller slice as she heard us say that we were quite full and as such it is only $3 which is a thoughtful gesture. A bite sized gluten free cookie is chosen out of curiosity. It has a nice crumbly, short texture and copious amounts of chocolate chips although I don't taste much in the way of peanut butter.
And what about the name Butch? Well apart from their 20 year business selling dog food and dog treats it has nothing to do with the Butch name. Butch was apparently so that workers during the day could feel comfortable coming in. As such they make man pleasing foods such as pies and lasagnes but there is always a healthy home made option instead of the workers finding sustenance at a fast food restaurant.
So tell me Dear Reader, do you like your name? And were you ever supposed to be called something else?
Butch Foods
103 Church Street, Camperdown, NSW
Tel: +61 (02) 9557 3155