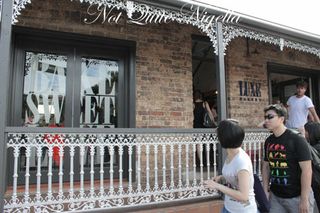 Walking in on the converted brick house turned bakery on this unseasonably warm Autumn day the first thing we notice is the buzz. You know the buzz that every shop owner wants? Sprightly waitresses in shorts and t-shirts abound fetching plates to hungry hordes. At one table there's a couple with their baby ensconced in a high chair and they're feeding him little cubes of a sourdough roll dipped in oil and he's reaching his chubby arms out for more.
The next thing I notice is that we're needing to play a game of musical chairs this Sunday. There are small tables that seat two to four as well as large communal tables so we perch quietly on seats at a communal table before spying two diners getting up and pounce for their table (well not literally, let's not embarrass ourselves). Service comes with a smile here and I'm thankful to my friend @carmr for recommending it. I do a quick reconnaissance of the front pastry display cabinet and I spy a Schulz sandwich with wagyu, pickles, cheese, mayo and cos lettuce and my mind is made up. After all as it is a bakery I'm here to try the bread. Mr NQN goes for breakfast, the two poached eggs served with baked beans and bread and opts for a pork and fennel sausage to go with it.
A coffee miraculously appears within minutes and Mr NQN sips it and gives a smile. It's good he confirms.
_I prefer this view though...
_
I asked for the Schulz sandwich to be toasted and it is toasted lightly. I take one half and bite into it and the bread is delicious with that lovely spongy yet firm texture. The thinly sliced cured wagyu, slightly sour pickles, creamy mayonnaise and Cos lettuce give it an almost Reuben sandwich feel with a twist. It's the kind of sandwich designed to knock you off your no carb kick (and they'd be perfect sandwiches for a dipping sauce a la 30 Rock).
_Poached eggs with baked beans and toast $12 with extra pork & fennel sausage $ 3 _
The two eggs are poached perfectly with a gorgeous runny orange yolk. The beans are cooked with Indian spices giving it a more interesting flavour than regular baked beans and the pork and fennel sausage is fantastically fat and juicy.
Resistance to tarts is useless for a pastry nut like me so I order a pear tart which has sweet, stewed pears underneath and a generous dollop of mascarpone on top and then a swirl of a port reduction. The whole thing reminds me of poached pears in red wine served with mascarpone in a pastry form.
As much as I love Portuguese custard tarts, there's always a place in my heart for those old fashioned wobbly custard tarts topped with nutmeg. The base is a dark baked crispy base which reminds me of the Bourke Street Bakery cases (no wonder as the owner Simon was formerly of Bourke Street Bakery). On cue as we're about to leave, he breezes in. He introduces himself and after a quick chat he shows us the kitchen where the kitchen staff greet us cheerily.
"Hey dudes!" one guy says looking up and waving from his dough. Simon shows us the sourdough in the cold fermentation fridge which he believes is  the key to the best sourdough and gives it a good crust and a nice blistering on the outside. "Everything is made the old fashioned way, there are no shortcuts" he says and he shows us the bread baking on the stone in the oven. He says that with stone they get better heat on the bottom and the steam contributes to giving it a good crust and colour, even for pastries.
Owner Cancio is 30 years old, born in Paddington and raised in Bondi and formerly worked at Brasserie Bread and Bourke Street Bakery, two icons of Sydney baking. He has dried flour edged in his fingernails and flour in his arm hair. "If you have hairy arms you need to wash them straight away" he advises and we can imagine the ensuing glue would be painful to remove. He had the idea to branch out himself about one and a half years ago and he has two business partners, one who owns the Luxe in Bondi Junction.
Business he says is based on locals and loyals. They're the ones that keep the business busy even during the week alongside the nearby hospital staff and university students. They're the ones that he says get excited when there's a new addition to the menu and he mentions that they're about to put a new strudel on the menu. His inspiration comes from visiting places such as a recent visit to the Berry Sourdough Bakery as well as his staff who collaborate with him to come up with new ideas. Everything is house made except for the cheese and the cured meat and there are huge mason jars on the shelves filled with preserves and pickles (yes the pickles are house made too).
At 4am the bakers start their baking and he takes the 4am shift 4 days a week riding in on his bike. Outside they're expanding the footpath and he is asking the council for some bike stands to be put there. And a rather cool moment was when his former bosses at Brasserie Bread and Bourke Street Bakery came in and gave his shop and bread their tick of approval. Iggy's Sourdough visited yesterday with words of praise too "When the benchmark is complimenting you, that's pretty cool".
For all of Luxe's success, there's a real otherworldly quality about him, he's slightly distracted and you get the impression that he's thinking about other things. He shows us the community garden across the road where he uses the herbs if they've run out. He peppers his conversation with the occasional expletive but he still lives with his mum in Bondi. He grew up in a Lebanese Spanish household (mum is half Lebanese and his dad Spanish) and he tells us that "I grew up with ridiculously good food". In the future, the businesses' growth will be organic and careful. They declined being in the Short Black section of the SMH as they weren't ready when they were approached by them. As we pay, he gives us a bread loaf to take away, a lovely grainy sourdough with of course you guessed it, a beautiful crust and a nice blistering on the outside.
So tell me Dear Reader, what's your Sunday brunch order? Breakfast or lunch?
Luxe Espresso
195 Missenden Street, Newtown, NSW
Telephone: none yet, they're still waiting
Open 7 days. Weekdays:  7am-4:30pm. Weekend: 8am-4:30pm.