Deusexmachina is a motorcycle shop that we've driven past many a time which peaked our interest due to the clever name and eyecatching windows. Deus Ex Machina means literally in Latin "God out of a machine" which is a rather clever name for a motorcycle shop, cum cafe, cum gallery. The way it reads on the outside almost looks like "De Sex Machine" which really catches the eye. And for those who can't quite recall what Deus Ex Machina means, it's a plot device used in books, movies or television that allows for the improbable but neat solution to resolve a situation or plot. Think Dallas and the question "Who Shot J.R.?" being resolved with "It was all a dream". I couldn't have ever imagined stopping there to have a look as I don't have any interest in Motorcycles until I read that they actually had a cafe attached to it, called naturally, Deus cafe.
One lazy Sunday afternoon we decided to have lunch there (ok it was brunch but at lunch time). As they close at 3pm we had to get our butts into gear, across the bridge and down the peculiarly numbered Parramatta Road earlier than we would normally leave the house on a cold Sunday.
Entering the huge space of the cafe you're immediately struck by the low lighting, large communal tables and the fact that it is jam packed for an area that doesn't have that much nearby. The mark of Dare Jennings, the Mambo founder is stamped across everything. It's that rustic, laidback, boy friendly but not girl unfriendly look where objects look like a collection of cool vintage and new.
We share some surprisingly soft and comfortable wicker couches with others and I go to order. I take a good 5 minutes standing (probably open mouthed) trying to decide that to order. There are specials that finish at noon, cakes, rolls, salads, breakfast eggs in all sorts of variations as well as more substantial lunch food like lamb shanks. I wanted to order the Bircher muesli with fresh stewed fruit but they've sold out, as they have with the granola with yogurt and fresh fruit. I settle on the fruit toast ($4) as I'm told it's made on the premises, a New England Clam Chowder with Deus roll ($10) and a Lamb sausage with tzatziki, tomato confit on Deus bread with chips ($12). It's order and pay at the counter and they provide complimentary help yourself filtered water. There is a huge tables of magazines from the New Yorker to the Sunday life and newspapers so I grab some and get reading.
Our fruit toast arrives first, two thick wedges of lightly toasted raisin bread with 2 squares of butter at the perfect temperature so that it spreads easily. I am glad to see that it is packed with lots of raisins and even though my husband isn't a big toast eater, whereas I am, he enjoys this as much as I do.
The New England Clam Chowder and the Lamb sausages arrive together about 10 minutes later. The clam chowder is full of lots of bacon, celery, potato and some very tiny sliced up clams. Although it's not particularly clam-my or briney, it's creamy and comforting and lovely with the freshly baked roll, which is like across between a panini and a turkish roll. I'm hoping my husband won't like it but of course he does.
The Lamb sausages sit within a split lightly toasted Deus roll with two confit of tomatoes and a generous serve of tzatziki. The sausages are strong in fennel seed and whilst it's nice, there is a little something lacking in the sandwich. I find myself adding salt which improves it slightly but not enough for me to want to eat more. My husband finds that there is too much roll for the filling and I have to agree. The french fries are actually stone cold which is a disappointment but we can't be bothered waiting to wait for a fresh serve.
We're full so we walk into the shop adjacent to the cafe where there is the distinct smell of grease and oil. Lots of motorcycles, books and interesting displays adorn the shop and for a motorcycle enthusiast, it's probably their idea of nirvana.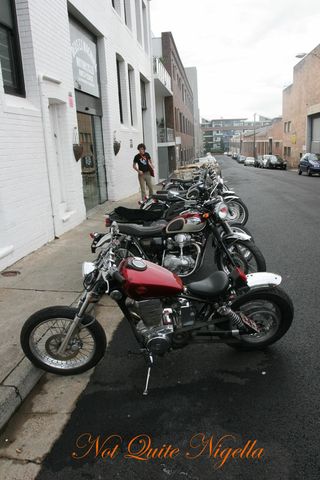 Deus Cafe, part of Deus Ex Machina
98-104 Parramatta Road Camperdown
Tel: +61 (02) 9557 6866
Parking to the right via Barr Street
Open 7 days:
Mon-Sat: 8:00-3:00pm
Sunday: 9:00-3:00pm