Getting over your holiday is probably the worst thing about being on holidays. I'm never quite ready to let them go. This week was one where I idled between being back at work and still being on holidays as Mr NQN had to go back to work but I wasn't quite ready to give up the holiday lifestyle. Instead, I sought out my friends to play with. M and her boys love the beach and when I'd heard of Bondi FM's cafe and radio station just off Bondi Beach's busy promenade, we knew it would be perfect for a sunny Summer's day - something of a rarity these past few sodden weeks.
We happen upon a miracle park just outside it on Curlewis Street which is surprisingly not charged at an extortionate rate (rare for Sydney). We follow the yellow and white thongs to the entrance and make our way past a room with a fabulous chandelier and an animal hide rug and past the radio booth where the DJ is playing music.
The man behind the counter looks at us surprised as if he doesn't expect anyone to walk in and we walk through to the main cafe area. There are comfy worn lounges, what looks to be an outdoor picnic area where a group are frolicking, an astroturfed area and seating in many styles from share benches to tables. Radio Bondi 88.0 FM has been broadcasting since 1996 and it uses an open-narrowcast license which allows them to use less than 1 watt of power. This is why only Bondi and nearby suburbs can receive it but it has online listeners from over 120 countries.
A man smiles and lets us know he'll be with us in a minute. Many minutes pass without event so we send the boys to get our menus. They are still serving breakfast at 12pm which I am grateful for as I have a hankering for French Toast and M feels like a salad. The boys are hot and tired and say that they don't want to eat anything but she orders them the chocolate fondue which comes with fruit salad, marshmallows and popcorn.
The drinks arrive, the boys have ordered mango and berry smoothies which are very large and filling. Oddly the berry one looks frozen whereas the mango one is liquidey. I don't try the mango but S reports it is good but not particularly mangoey but I do try the berry one which tastes mostly of berry yogurt.
The coffee is by The Little Marionette and is rich and caramelly with a thick, foamy topping.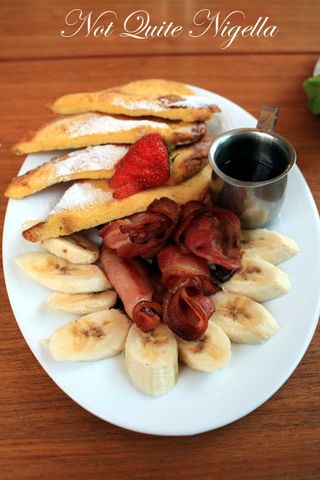 Our salad and French Toast arrives at the same time. My French Toast comes with (thankfully) real maple syrup, slices of banana and curls of bacon. I'm not familiar with banana and bacon together with maple syrup and French Toast but I'm willing to give anything a try. The eggy brioche is soft and spongey against the soft banana, salty bacon and viscous maple syrup. I'm an instant convert to the whole banana, bacon, maple and French Toast marriage and I may start ordering my French Toast with banana next time although I'm sure that that is going to garner me some odd looks.
What looks to be a great salad is unfortunately quite bland in flavour. The hommous isn't bad and the pita chips are nice and crunchy but the salad made up of cucumber, red capsicum, spring onion, radish and chunks of broken up felafel and lashings of yogurt somehow seems restrained although it looks as though it packs a punch visually.
The chocolate fondue arrives in time for dessert but is missing the popcorn. The chocolate is dark and thick possibly needing some cream to make it more liquidey and parts of the fruit salad is not chunky enough to dip in the chocolate with wafer thin batons of pear. We also thought that strawberries or cherries instead of rockmelon and orange would have been a nicer selection of fruit to go with the chocolate.
The marshmallows are the favourite although the boys are unfortunately reminded of wombat poo (they've just been holidaying in Tasmania and have a book on how to identify animal poo) and so erupt in laughter every time someone coats a marshmallow in chocolate. They bring us an upsized bowl of popcorn for the wait. We stick some of the salted popcorn onto the chocolate coated marshmallow which was a better idea in theory than the reality.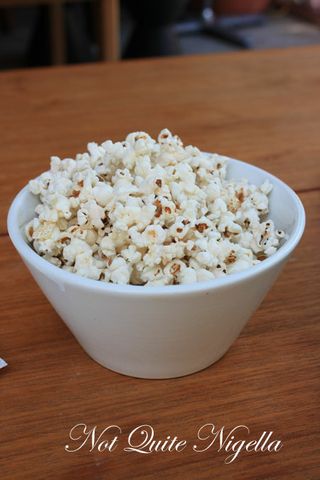 People meander in, some locals and regulars some for the first time from the look of curiosity on their faces. It's a little laidback in both in the service and the attention to detail of the food but that's Bondi Beach. The music plays in the background and M points over the fence near where we're sitting and says that she feels like the beach is just on the other side of the fence. It isn't but I don't suppose that's the point, the idea is that you do feel that it may be.
So tell me Dear Reader, what was your favourite place to visit these past holidays?
Bondi FM Cafe & Bar
Shop 2, 143 Curlewis Street, Bondi Beach, NSW
Open Tuesday to Thursday 8am-11pm, Sunday 8am-10pm. Closed Mondays
http://www.bondifm.com.au/public_interface/index.php