I feel like I need some breadcrumbs. In the maze that is the Crown Complex, I've managed to accidentally photobomb an Athletes foot convention, walk into another room and get lost. All on the way to find Bistro Guillaume. When I see the vivid green doors I am relieved that I am not going to accost any unsuspecting strangers but also because it looks so Parisian like the cover of the Rose Bakery cookbook come to life. Yes everything relates to cookbooks and bakeries. Bistro Guillaume is the newest baby for chef Guillaume Brahimi and is only a few weeks old on my visit.
Inside it looks like a classic bistro. Wooden chairs, dark tables, white napkins and wine glasses. Large menus sit on every table. There is even a French accented waiter who in a casual way asks another diner "Eeez good?" when walking past her table. "It's wonderful" she beams back at him charmed. All we need is a French poodle and a man in a beret walking past holding a baguette under one arm!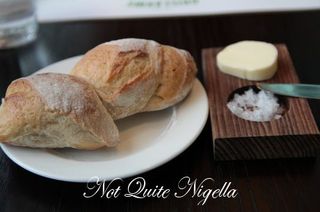 I have sort of deliberately starved myself. I know it's terrible to miss breakfast but having already stalked the menu online I know what I want to order. I meet Melissa there and given that she has eaten here previously I defer to her to order. As long as I get the steak tartare. Oh yes, I do love you steak tartare. The bread is served as two attached leaves and is very, very chewy and crunchy. There's no elegant way of pulling these apart and pulling them is like pulling Christmas crackers.
_ _The onion soup is an item that he brought over from Guillaume at Bennelong and is said to be excellent so an order is placed for a bowl of this. It arrives with three melty cheesy pieces of bread on top of a swathe of soft, fine onion shreds. In fact the soup is more onion than soup but I do love a good serve of the sweet sauteed onions. It's rich and deep in flavour with a touch of alcohol and I adore the spongey but not soggy croutons.
I wanted to order a lighter dish just in case readers wanted to eat here a bit lighter. This is a perfectly pretty salad made with cos lettuce leaves, halved baby kumatoes, Spanish onion, buttery croutons, scoops of avocado cream, enormous prawns and parsley. In fact although it is on the small side for the price it is very fresh and clean.
The steak tartare comes out glistening and packed with onion, baby capers and herbs. It's well seasoned and I even resist the urge to tamper with it with the bottle of Tabasco sauce that sits on the table. I don't need it. It comes with potato chips that in parts are slightly soft and a nicely dressed tiny side salad.
The chicken serve is huge. It is technically half a chicken but it comes out in pieces and sits in a chicken jus that taste just like aromatic roast chicken pan drippings. It needs some salt but once salted the buttery thick and creamy Paris mash and chicken go so well together. Pure comfort food.
The duck Parmentier is from the plat du jour menu. Unlike Parisian plat du jours which are usually less expensive these are the same price as the regular mains (and do come on Tuesdays for their Beef Bourguignon if you want to have you own Julie &  Julia moment _sans _breakdown). There is a bit of a service mix up as we're brought the other duck dish (confit) and a few minutes later the Parmentier arrives. It is similar to a breadcrumb topped shepherd's pie but with a herby shredded duck leg confit underneath a bed of thick mashed potato.
There is another service misstep as our broccolini order goes missing. Lucky we chased it up because the broccolini is tender, buttery and topped with toasted slivered almonds. And despite the fact that I was full and this came out after the mains I did have more than my fair share of this side.
Dessert time and there are some suggestions from the waitress. She recommends a single profiterole (you can also get a serving of three). A salted caramel macaron is chosen too and the tarte tatin because I love apple desserts.
The tarte tatin has a lovely layered buttery pastry but the apples are very soft indeed, a bit too soft really. Also the cinnamon ice cream doesn't have much cinnamon flavour at all.
I have never had a macaron quite like this. It hasn't quite been rested in the fridge enough so that the shell is quite crunchy. Filled with salted caramel it also has a wet and moussey caramel filling which makes me think at first that it isn't baked fully but it is (and besides it doesn't taste like raw macaron). It's just unusual and I can't figure out why or how it is done like this.
The profiterole comes filled with their famously and fabulously vanilla beany ice cream. The profiterole is lovely and crisp and the rich chocolate sauce is poured on top of it. At the end of a rich meal like this it's a little like scaling a mountain, you really want to but you can't given how hard you try. I content myself with the ice cream instead and wished that I had time to rest and come back to this. I wave my white flag of surrender, there's only so much a girl can eat for lunch!
And if you're planning a visit to Melbourne, from the 2nd to the 21st of March 2012 they will be holding their annual Melbourne Food and Wine Festival. This is the festival's 20th year and they have an amazing lineup including Denmark's Rene Redzepi talking about why Nordic chefs dig nature so much, New York's David Chang discovering Australia and Italy's Massimo Bottura who has two Michelin stars and whose restaurant is placed fourth in the San Pellegrino World's 50 best restaurants list!
So tell me Dear Reader, who makes the best macarons in your opinion?
Bistro Guillaume
Crown Entertainment Complex, Ground level, 8 Whiteman St, Southbank VIC
Tel: +61 (03) 9292 4751
Open Monday-Sunday 12pm to late