I only realise how strange some things that I do are when I get strange looks from Mr NQN-and he himself had an oddball upbringing. Case in point, I was talking to Mr NQN and a friend.
"Well, you know like when you used to put freezer bags on your feet as a kid and try to pretend to go ice skating across the carpet in your bedroom..."
I looked up and they looked at each other heads and eyebrows cocked as in "Who's the crazy over there?". Well apparently they swore black and blue that they had never done that. Surely I can't be the only one that did that can I? But apparently I was. I admit to a mild obsession with snow and ice, only really because we had none. Icebergs, snow and ice skating were all things that lucky kids got to see and do-never mind the fact that I hated the cold. But cold from a distance seemed much more appealing.
Are you as excited slash exhausted as I am that Christmas is coming up any day now? Or are you one of those fortunate ones that have pre-planned everything and for whom Christmas will be a breeze? Well this cake might be for those of you in both camps. Because while it looks terribly complicated, it is one of the best cakes to try for an introduction to cake making or if you are thinking to progress to making a round or square wedding or birthday cake.
The reason why is because a round or square cake needs to be absolutely level in all respects (using a spirit level is not uncommon). However, the iceberg is meant to look angular and you can actually never go wrong with any shape that you make for an iceberg. As Margie Carter points out, no two icebergs look like!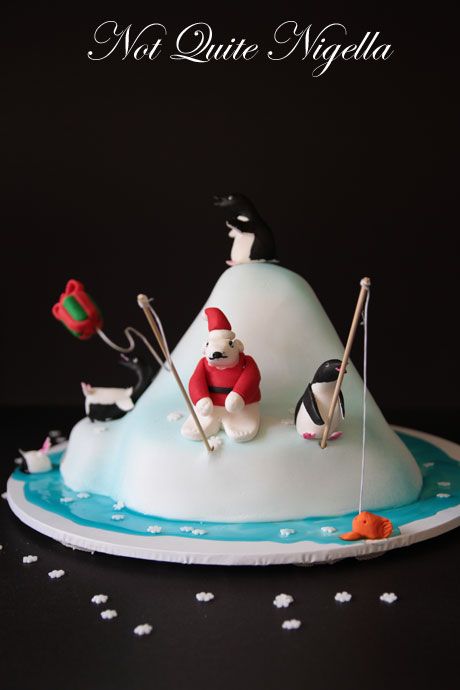 And she should know-she is the original co founder of Planet Cake (along with the fabulous Faye Cahill) and features in their current television series. She sold the business on to Paris Cutler who now owns Planet Cake. Margie now teaches at Whimsical Cakehouse which is also co-owned by former Planet Cake teacher Linda Harden. Phew, did you get that? Basically, that just means that they're cake mad much like all of the other students at the class-I mean I thought I was a cake enthusiast but these people know everything about cakes. Thankfully they don't make me feel silly if I don't know as much as they do and are happy to share their knowledge.
One Saturday morning I made my way to Whimsical Cakehouse's location in picturesque Dolan's Bay. Set in a residential area with the waterfront as a sparkly background there are a maximum of eight students per class. Apart from their regular teachers they also bring out decorating superstars like Peggy Porschen, Kaysie Lackey, Jacqueline Butler and Debbie Brown who are coming out next year and who will teach students their secrets. Everything is provided including aprons and today we will learn how to construct an iceberg, ganache it and then place fondant on it and then use gum paste to create the adorable figurines-and I had no idea how I was going to make one of those penguins but they ended up being quite straightforward. Margie is instructing the class while Linda facilitates it or is the "kitchen fairy."
So without further ado, here is a step by step on how to make a Santa North Pole cake! Set aside a day for just decorating the cake-the cake itself will need to be baked ahead of time and you can purchase pre baked "unfinished" cakes, which all of the cake decorating places use from Mondo Kitchen. Virtually any type of cake can be constructed from a round or square cake and the chocolate ganache (a mixture of cream and chocolate) keeps the cake not only moist but gives it a putty like texture that means that it sticks together and maintains it's shape.
So tell me Dear Reader, did you ever put freezer bags on your feet and pretend to be ice skating (please tell me someone else did!). And what did you dream of doing when you were a kid?
Santa North Pole Cake
Margie Carter
First of all Margie slices the cake in three across and then brushes each layer with a sugar syrup to keep it moist. She then uses a palette knife to  spread some chocolate ganache between each layer and puts the cake back together again. Slice off any crusty bits from the top and discard (or eat or save for cake pops!). We are using a large cake board covered in white vinyl as this wipes easily and is a much more user friendly base than using white fondant (which you wouldn't eat anyway).
The next step is to start carving the iceberg. Place your cake on the cake board on a turntable. You can pretty much do any sort of towering triangular shape but the more angles the better and there are three things that you need to do: a slippery slide for the penguins to slide down, a ledge for your polar bear Santa and penguin to sit on and the top needs to have a flat portion for the top penguin to sit on.
Using a serrated knife cutting downwards shape the iceberg into an asymmetrical hexagon at the base and start carving away bits. The sharper the edge the better to simulate the look of an iceberg and even if you cut away, you can always put bits back together using the very handy ganache which sticks all of the moist cake together easily.
Then you start covering the whole cake in a layer of ganache -you want it thick enough to cover any bits of cake so that the crumbs don't fall out and you get a smooth surface. At this stage you can also use the palette knife and light, firm pressure to create the shapes and define the slippery dip.
We leave this to sit under the air conditioner (it just happens to be a 36 degree day, not ideal for cake decorating) and while this firms up under the cool air, we start on our first figurine, the polar bear. We start with a ball of  white gum paste about the size of a nectarine or plum (they use gum paste as it has tylose in it which helps the figurines to set but you can use ready to roll fondant but may need to allow it to dry overnight to become firm).
Pushing out the feet
Massaging the neck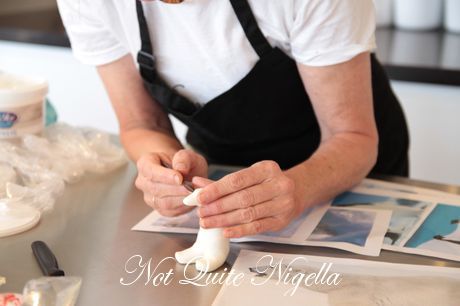 Poking the eyes
Tilting the head
The earless polar bear
Placing the ears
The finished polar bear!
Shape the ball into a thick sausage and then makes a little indent for his feet. Interestingly, Margie uses reference pictures from the internet which show the features of a polar bear from different angles-the neck is long but the head is relatively small with most of the weight on the stomach and bottom half of the polar bear.
The red arms of the santa suit
You then thin out the top of the bear and massage the neck into place and then pinch out the snout or nose of the bear and then sit him down on a surface. Using a frilling tool you then make the eyes and even though it doesn't look quite like  bear yet (think lizard or a dinosaur) once you get the ears on then it looks more polar bear like. The ears are just two very small balls that you set low and back in the head of the bear using a tiny amount of water on a brush and pushed into place gently using the frilling tool which also makes a little indent in the ear.
Making his Santa coat
Attaching his arms
And because my polar bear has a santa suit, you roll out a little red fondant and wrap his torso around it using a little bit of black fondant rolled out to make a belt. And you make the red arms of the jacket out of red using a little white fondant as the hands which you stick onto the red sleeves using a little water. Adhere these to the suit body and you have your santa polar bear!
Next comes time to hot knife the cake to create a smooth surface. Here, using a palette knife or an old fashioned butter knife as Margie likes to use, you dip the knife in the very hot water and then smooth down the rough edges of the cake using a firm hand. This is my favourite part (perverse I know and odd because I hate ironing) but I like getting out the creases and bits that stick up and making a smooth, glossy surface. We break for a quick, yummy lunch of sandwiches, wraps and fruit and most importantly Lindor balls and then get onto the fondant. And I'm glad that we did have lunch because rolling fondant is my least favourite part and requires strength that I just don't have!
Margie rolls out about 1.5-2 kilos of white ready to roll Bakels fondant. Using acupuncture needles which are finer than regular needles, she gets rid of any air bubbles that inevitably pop up and smooths down the surface. The key is to use cornflour but not too much cornflour on the rolling surface as the fondant dries out quickly. Using your arms you move the fondant between rolling to ensure that it doesn't stick to the table and sprinkle a little cornflour on the rolling surface.
Using arms to lift fondant to make sure that it doesn't stick to the surface
When the fondant is ready, make sure that your cake has has a final brush with the sugar syrup. Taking a deep breath and placing the fondant on your arms bring it over and gently place the blanket of fondant on top of your cake. Now working quickly but gently as the fondant does dry out, smooth it down over your iceberg-because it is so oddly shaped I found this part quite challenging and had to take a quick peek underneath the fondant to see the contours of the iceberg.
Then using a smoothing tool (and look out for any additional air bubbles that pop up and lance those with the acupuncture needles), smooth down the surface of the fondant. If you feel that you cake might not be as smooth as you want you can roll the fondant a bit thicker but normally about 2mm is ideal. And a clever trick to not losing your little piece of overhead transparency film is to put a blue band-aid or tape on it as they are clear (or I use blue film from a folder because I know I would lose it otherwise!). It helps to cut off the excess fondant as this can add additional weight to the icing.
My iceberg
Smoothing down the odd edges with a larger piece of fondant
Using another smoothing tool, Margie then gently buffs the edges to give it a clean edge. And a tip, to get to those little corners using a large piece of clean fondant really helps to buff the creases out!
It's air gun time! This is my first time using an air gun so I'm rather excited. The trick here is to go along the contours of your iceberg and to stand not too close to too far from the cake because you don't want to colour to look too strong. And if you are doing a lot of air gun spraying, use a mask and goggles because you will breathe some in. If you don't have an air gun you could use a brush and a little lustre dust or leave it plain without the colour.
Penguin time! I was quite nervous and we were running a little late so that tends to panic me a little. The penguin ends up being easier than the polar bears and simply require starting with a ball (ensure that the penguin is smaller than the polar bear) and then shaping it into a triangle.
Massaging the neck to make a penguin
Cutting the beak open
Sit the penguin with flat bottom and then pinch out it's head massaging it a neck. Shape a pointed beak and using scissors, cut the beak horizontally so that it looks open and push it gently open using the frilling tool. Pinch out little mounds to stick the feet to and pinch out a little mound for its tail and using the frilling tool, push out little holes for the eyes.
The next part is to make the feet using small balls of gum paste which you flatten slightly and cut  out two triangles to make webbed feet as shown. Then make the flippers using rolled out gum paste-I made it into an oval and cut this in half to make the flippers.
You need to make four penguins for this cake which are all slightly different. You need one with long flippers that touch because it is holding a fishing pole, another to stand at the top of the iceberg where the flippers are extended because of course it is an excited penguin as it is just about to go down the slippery dip. You need another one going down the slide which is the most different out of the four as you need to ensure that its back fits the contour of the base of  the slide so make sure that it does while the gum paste is still pliable and a final half penguin or really just the bottom of the penguin that has just gone into the water!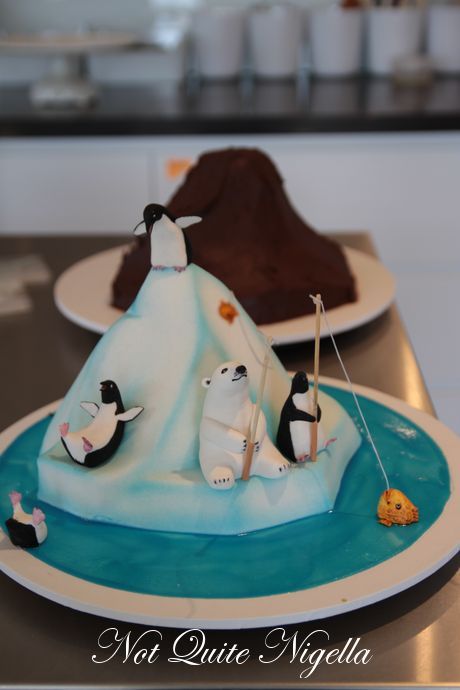 The demonstration cake
We're not done with the gum paste! One final touch is the half fish and flippers that the penguin is fishing and the Christmas present that the Santa polar bear is fishing. The poles are wooden skewers and attached to this is a length of wire. At the end of one of the wires, Margie puts a ball of glue around which I shape a present out of fondant. I just rolled a ball of green gum paste and then sliced it using a small paring knife to get straight sides. Then I rolled out some red gum paste and made the ribbon around it and let it set for a bit.
One final touch is to paint the penguins using edible black paint. You paint down the side along where the flipper starts, the head and just around the flippers to show the edge. This is careful work and takes a while to do. Then using a super fine brush and a mixture of pure alcohol and a drop of pink colouring, colour in the feet and inside the beak with pink! But the tiny eyeballs are the last touch-roll teeny. tiny balls and pop them in the eye sockets and then colour them in with a black dot.
Time to set the penguins and polar bear into place! Using cut off skewers, position them where you want the creatures to sit and then impale them into position gently as they will still be slightly pliable.
The last step is to use some clear piping gel, tint it blue and then spoon it around the vinyl surface. Then using a palette knife spread it around in a circular shapes and use a little extra to make a whirlpool for where the penguin bottom comes out of the water. Place the fishing poles into the cake between the paws of the polar bear and the flippers of the penguin and shape the wire that holds the present to make it look like the bear has just caught the present. Place the fish in the water and attach it to the wire of the penguin's fishing pole. And before you know it, your Santa North Pole iceberg cake is done! I was so delighted with how my cake came out, sure it wasn't perfect (the artist always sees the flaws!) but it was such a fun class and I loved my little penguins!
NQN attended the class as a guest of Whimsical Cakehouse
Whimsical Cakehouse
743 Port Hacking Rd, Dolans Bay, NSW 2229, AustraliaBy appointment onlyTel: +61 (02) 9501 2492