Want a fun and surprising cake this year for Christmas? This no cook snow beanie cake is cuteness personified yet is straightforward to make. The cake part is easy, especially if you buy the sponge cake and after that it's just whipping cream to fill it and buttercream on the outside. There are three layers inside mimicking a Cherry Ripe chocolate bar with chocolate, cherry and coconut. Then the piping is the fun bit as it comes together for a festive Christmas! I called her Evangeline.
I based the inside of this cake on a cake I had made growing up for Christmas and special occasions. what I love about this cake is that while the dome looks complicated, it can be done in about 20 minutes if you avail yourself of two bought sponge cakes (I won't judge). I know how overwhelming Christmas can get and if you need to buy the product rather than make it to alleviate stress, do it.
As for the snow beanie buttercream on the outside I can't lie - the piping takes patience but for me, it's pleasurable (but I'm mad), especially with an easy to pipe buttercream like the one below. Or just spread buttercream or more whipped cream and sprinkle some crushed candy canes around the dome if piping isn't your thing. Whatever works best for you Dear Reader.
It's just one week until Christmas and the year is almost over. And while 2016 did seem like the year of talented, older men dying (Prince, David Bowie, Alan Rickman etc), 2017 does appear to sadly be the year of the sex monster. Each day I'll wake up and read the news and wonder who is today's predator.
And it's not just famous people either. Early one morning last week Nina messaged me. The poor thing was aghast. "I saw my client's penis this morning. He had little shorts on and no underpants. It kept popping out. Nobody needs that at 5:45am in the morning. I'm going to go wash my eyes out now with acid," she said.
Because I listen to a lot of murder podcasts and watch a lot of Law and Order SVU my conclusion was that it was deliberate (as was another female friend of hers). Mr NQN and Garth thought that she should see if it happened again. It was all Nina could talk about for hours because she clearly couldn't unsee what she saw no matter how hard she tried.
Video: how to make a Snow Beanie Cake
We discussed it at length - wouldn't you feel the breeze on your balls? And don't short shorts have built in underpants in them? Did he cut out the fabric? Or did they just "pop out" and he forgot to tuck them back in? Mr NQN doubted that as he said that if it did pop out and was stuck, it wouldn't be comfortable. We spent a lot of time on Friday night talking about penises.
"When are you training him next?" I asked him. Because I had visions of making sure I was there so she wasn't alone with this pervert. "Should I bring a tazer, camera or a bucket of cold water?" I asked him. "Or how about all three?" I suggested as a safety measure. You can never be too prepared for errant appendages.
So tell me Dear Reader, what sort of dessert are you going to serve at Christmas? Do you like to keep it traditional like a Christmas pudding or do you prefer something different? And what have you thought of this year so far? And do you think that Nina's client is flashing himself deliberately?
DID YOU MAKE THIS RECIPE? Share your creations by tagging @notquitenigella on Instagram with the hashtag #notquitenigella
Cherry Ripe Snow Beanie Cake
An Original Recipe by Lorraine Elliott
Preparation time: 60 minutes
Cooking time: 0 minutes
2x sponge cakes (around 460g/16ozs.), around 16cms/6.4inches
1 litre/35.2flozs. pure or thickened cream
1/2 cup icing or powdered sugar
3 teaspoons gelatine powder
4 tablespoons water
6 tablespoons cocoa powder
3 tablespoons cherry jam
A few drops pink food colouring
Coconut flavouring
For Buttercream Decoration
375g/13.3ozs. butter, softened
190g/6.7ozs. caster or superfine sugar
115ml/4flozs. room temperature water
Red food colouring gel
Piping Tips #233 and 845
Step 1 - Line a 2 litre/70flozs. pudding basin with a layer of cling film with a few inches overhang. Slice the two sponge cakes in half horizontally making four rounds of sponge. Gently press one round into the bottom of the lined pudding tin. Slice 1.5 halves of cake into inch thick pieces and line the sides of the tin-you'll have one intact round and one half of a round which will all be used up.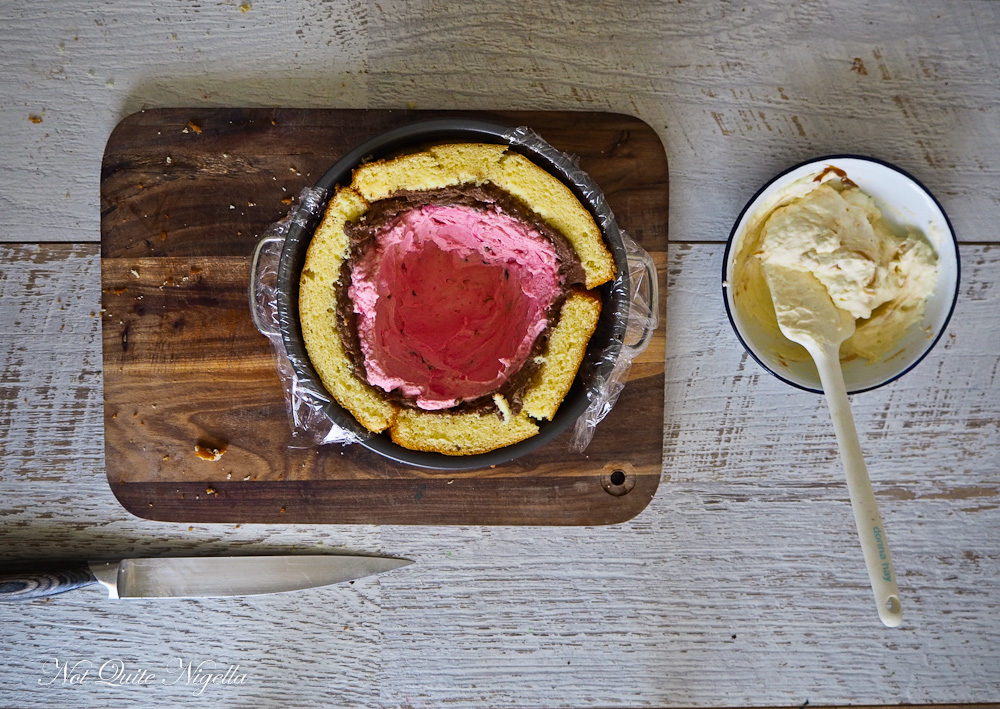 Step 2 - Sprinkle the gelatine powder on top of a microwave proof bowl of the water. Heat in the microwave on high for 20 seconds. Allow to cool a little but not set. Whip the cream in a beater with the icing sugar and then whip in the gelatine liquid and whip until spreadable.
Step 3 - Divide the whipped cream into three bowls. One bowl should have about half of the whipped cream and divided the remaining two quarters into the other two bowls. Sift the cocoa powder into the largest quantity and mix. Mix the jam and pink colouring in another one and the coconut extract into the third.
Step 4 - Spoon in the chocolate cream first spreading it around the sides and base. Then spread the pink cream and then finish with the coconut filling. Place the final round of sponge cake on top and close with the cling film. Refrigerate for 2-3 hours until the gelatine has set.
Step 5 - Make the buttercream. Using a beater attachment whip the butter on a low speed (3 out of 10) until it turns white (about 5 minutes). Add the sugar and water in two lots starting slowly and then increasing to speed 3 out of 10. Whip for 8-10 minutes until you can't feel any sugar crystals between your fingers.
Step 6 - Place the bombe on a serving plate and remove from the tin and cling film. Spread the buttercream around the bombe covering all the sides. Refrigerate. Then crumble the remaining 1/2 slice of sponge cake with a 3-4 tablespoons of buttercream and shape into a ball for the pom pom. Refrigerate this too.
Step 7 - Fit the #845 flower piping tip in a piping bag and place the white buttercream inside the bag. Pipe individual flowers leaving two rows of stars for red buttercream. When you've finished with your white buttercream place back into the mixer and beat in the red colouring. Place the cake pom pom on top of the cake.
Step 8 - Wash, clean and dry the #845 piping tip in a piping bag and fill with some red buttercream. Pipe two rows of flowers. Then fit another piping bag with the #233 tip and add some red buttercream and pipe around the pom pom (this tip can take some practise and always clean the tips as you go if the buttercream clumps together). Place the cake in the fridge to set the buttercream and then cover with clingfilm and store in the fridge.