Sometimes you just get hints that you'll like a country. For example, I knew that I'd like Vietnam when I learnt that the lunch break in that country lasts for two hours and that includes nap time. I should add that I also learned the hardest way that saying the word "Yummm" apparently that means "I like sex". You can imagine how many times I said this and was given quizzical looks by locals before I was told what I was saying!
Reclining seats
Today I am flying business class to Vietnam with Vietnam Airlines. Daily flights to Vietnam have commenced since June 2011 and there are two types of configurations to the business class area. For our flight to Ho Chi Minh city we have the two year old configuration that has three sets of two seats next to each other. Seats are wide and each seat reclines at a slight angle and seats also have an automated foot rest that extends flat so that you can feel like you're lying on a lounge seat. There is a privacy screen that you can put up to give a little privacy between the two seats.
Amenity kit
Once seated we're offered a choice of orange, apple juice or champagne and trying to be good I choose the orange juice (I know, who am I to refuse perfectly good champagne, clearly I need my head read!). The business class in flight amenity kit is comprehensive and features Clarins products including a moisturiser, shaving set, dental set, earplugs, comb, socks, shoe horn, shoe shine box and eyeshades. It's an eight and a half hour flight to Ho Chi Min city and like all business class flights, the highlight is the ability to recline and sleep and the food.
The business class area is relatively small at less than 30 seats so we don't have to wait very long for service which is gentle and deferential with the female flight attendants wearing the traditional Ao Dai tunics. They offer us seats towards the front of the cabin but as we've settled in we stay put. Each business class seat has a USB port and a power point. The luggage allowance for economy passengers on Vietnam Airlines is 30kg and for business it is 40kgs.
We check out the in flight entertainment which is audio visual on demand (economy too) and with business class they give a set of noise cancelling headphones. There are 21 movies to choose from including the latest Harry Potter film with mostly Hollywood movies. The television section is minimal though with four episodes of Just F0r Laughs and a couple of documentaries. The music selection is also quite narrow so take your iPod if you want to listen to your favourite music.
We are given the menus which list a four course lunch with choices and drinks are frequently offered. They lay down a tablecloth and a tray featuring metal cutlery and little salt and pepper shakers.
And did you know that your sense of taste is depressed during a flight so food tends to lose its sense of taste? Which is why I always choose drinks like a spicy Virgin Mary or curries as they tend to have more flavour. With my Virgin Mary comes a three part amuse bouche which is a delicate crab on a toast point, smoked salmon pocket with cream cheese and dill on a toast point and a cucumber filled with a thinly sliced pork salad, all delicious and I particularly like the crab toast point.
Hors D'oeuvre: grilled prawns, jellyfish salad with chili and cucumber
We are offered a selection of bread which includes dinner rolls, wholemeal rolls, white scrolls and garlic bread along with our entree. It is three grilled prawns accompanied with a sesame jellyfish salad with its slightly crunchy texture and a dab of mayonnaise, chilli, lettuce and cucumber although the chilli is fairly mild. The prawns are nicely cooked and the jelly fish salad a satisfying accompaniment with its sesame flavour.
I use the Italian dressing on the green salad which is a little simple and reminds me of those salads that you used to get 20 years ago with a hard tomato, lettuce and onion so I'm not particularly taken by it. The asparagus cream soup is flavoured strongly with asparagus, a lick of oil and a foamy cream and is good to dip the garlic bread into but I'm saving room for the main.
Stir fried beef with lotus root, red chilli, fried rice with egg
The stir fried beef has a good flavour although the beef is quite dry. I don't seem to have any luck with beef on planes. The vegetables are also on the soft side but the rice is flavoursome and has a good texture to it.
Dessert tray
Have you ever been tempted to say, when greeted with a dessert tray, "I'll have one of everything!". Well apparently you can here and they won't bat an eyelid. I tried a brie and a gouda and crackers, lots of fruit, a coconut white chocolate and a delicious mini apple frangipane tart.
Stir fried chicken with black pepper sauce, stir fried udon onodles with oyster sauce
After a sleep and a movie there's another meal two and a half hours before landing. There is a choice of four dishes (although none are vegetarian so vegetarians will need to ensure that they order ahead of time) and it's hard to narrow it down. I go for the chicken as I like udon noodles and although the sauce has pooled to the bottom, once mixed, I like the mild black pepper sauce, crunchy Asian greens, large, slippery shiitake mushrooms and soft chicken thigh pieces. There is also fruit to finish, bread and a salad this time with some green beans and a balsamic and olive oil dressing. Tea, coffee and wine and cocktails are offered as are those wonderful hot, wet hand towels that I wish every place had!
I'm completely stuffed and a flight attendant asks "Are you full?"
"Oh yes, definitely" I say. "Then we are happy" he says smiling. Oh yes, me too. I couldn't agree more...
We arrive eight and a half hours later and it must be said that we were feeling very civilised indeed. Of course flying business class has ensured that we don't look like we've been come out the other end of a rinse, spin and dry cycle. We make our way to our hotel for the next few nights, the Hotel Majestic in Ho Chi Min City. It is one of the city's five star historic properties and has boutiques in the ground floor lobby and has a bit of glitz to the decor. The hotel has been open since 1925.
I am offered a room on the fifth floor in the new wing but then there is another whispered offering us the President's Suite if fellow travel writer Jenna and I want to stay together. We ascertain that there are two bedrooms and two bathrooms and really,who ever gave up an offer for the President's Suite? It's room 331 and there are two rooms and the living area is a lovely decorated room with old world charm including the very cute working telephone below!
There is one bathroom with an ensuite and a spa bath and the other bathroom is well equipped with an excellent amenities kit and some divinely fragranced aromatherapy lotions and creams. Coffee lovers have quite a range of coffee to choose from although tea lovers like myself there is just Jasmine tea.
The next morning I rise and skip breakfast because I always do (I find that my stomach can only really take a cup of tea or in this case coffee) until a few hours later. We are picked up by our guide and he takes us to the Reunification Palace which has a very interesting history as it was where the President of South Vietnam lived and worked and today stands preserved in the same fashion.
Nowadays cabinet still meets here every Wednesday. The outside of the building, rebuilt in 1966 after a bombing partially destroyed one side of it, has beams representing bamboo on the outside.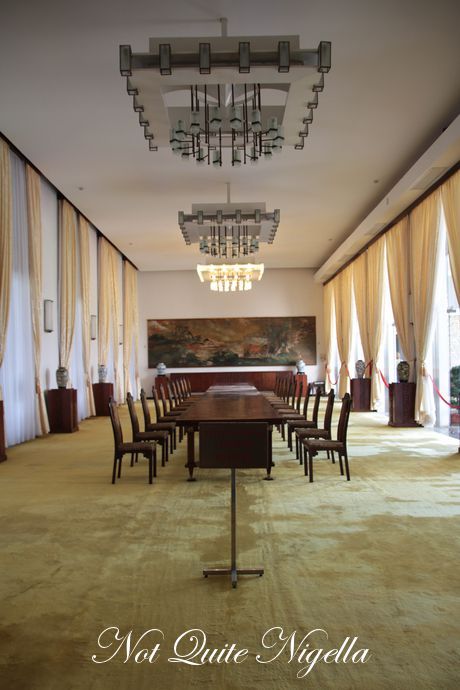 Inside there are colour schemes of yellow (the colour of the king) and red and there are portraits of Ho Chi Minh or "Uncle Ho" as he is known, a well loved figure. The palace stands as a symbol of the reunification of north and south Vietnam and was formerly known as the Independence Palace. Downstairs there is the war and map room and it's an extensive palace with four floors to see as well as the basement levels.
Credentials Presenting Room
Hi kids!
Young rice ice cream 29,000
After walking round the palace for a few hours we are all in need of a break so we just stop at Highlands Coffee for an ice cream. I try a young rice ice cream only because, well you don't tend to get this flavour in Australia. It's a very mild flavoured ice cream, like rice pudding flavoured without the nutmeg so essentially it tastes a bit like grainy milk.
I take the chance to check out the convenience store to see what snack foods they have and the first thing that catches my eye are the wafer Tim Tams-and you can bet I bought a packet to take home with me!
Notre Dame
Post Office
Our next stop the Notre Dame cathedral in the city centre. Alongside this is the Post office which is an example of the blend of Western and Asian styles. It was built in 1891 and features European scientists and the face of Louis the XVIth on the front but there is also the lotus, the symbol for Vietnam. It's a working post office and also a place where you can pick up some cute books for around $25 like these.
A book just on breastfeeding
Ahhh lunch time! And I'm starving, did I mention that? Although it is winter here the weather is hot and humid and whilst I love heat, it can be sapping of energy. So we enter Hoi An, considered to be one of the best restaurants in Ho Chi Minh City serving classic Vietnamese cuisine on the pricier end of the scale (although even this is very reasonable for Western standards). Inside the setting is very elegant and distinctly Vietnamese.
Spring rolls Sai Gon Style
We start with the spring rolls "Sai Gon" style which are a real surprise. They are filled not with vegetables but a creamy fish and seafood filling-the outside is deliciously crunchy but the inside is flavoursome and creamy with soft, tender white fish and prawns. Each plate comes with these fantastic vegetable carvings-we were all very fascinated by the fisherman and fish made out of carrot!
Lotus with shrimp and pork salad
The lotus with shrimp and pork salad came with prawn crackers which you pile the filling on. The filling was made up of halved shrimp, pork pieces, lotus root and vegetables and was crunchy and satisfying.
Sauteed chicken with lemongrass
The chicken came out aflame in a little clay pot although a modest serving, it was absolutely divine, the pieces tender and the flavour redolent in lemongrass but balanced enough with other flavours. There were still slender rods of lemongrass at the bottom and the sauce had the perfect foil in a little cup of steamed coconut rice.
Sauteed baby bok choy with oyster sauce
The sauteed baby bok choy gave the meal an additional crunch and flavour from the oyster sauce and perfectly cooked baby bok choy.
Fruit plate
I love exotic fruit but my full stomach gets the better of me as I had eaten quite a bit of the lemongrass chicken so I slip a little piece of dragonfruit into my mouth and wish I had room for more pineapple.
There are times when you wonder about the first people to discover something. Case in point is the weasel coffee where weasels or civets ingest coffee beans and the poo them out and then you wash and roast and grind these beans and serve it as coffee. This action is said to remove the bitterness from coffee. If you're squeamish about eating something that has seen the digestive system of an animal, there is another coffee called Legendee which is a simulated weasel coffee where they use enzymes to mimic the action of the stomach of the weasel. This weasel or Legendee coffee is comparatively more expensive per cup but for many of us, it is around what you might pay at home for a coffee at 73,000VND (about $3.40AUD while regular Vietnamese coffee costs 20c a cup).
Vietnamese coffee filters through a mesh sieve and then drains
We are at Trung Nguyen coffee. Vietnamese coffee can be drunk black or combined with sweetened condensed milk and I choose the latter. I take a taste and the flavour is incredibly rich and evocative. I've had regular Vietnamese coffee with sweetened condensed milk and that is very addictive but this Legendee coffee is another thing all together and has such a spectrum of flavour and is like having more senses awakened.
Crushing the sugar cane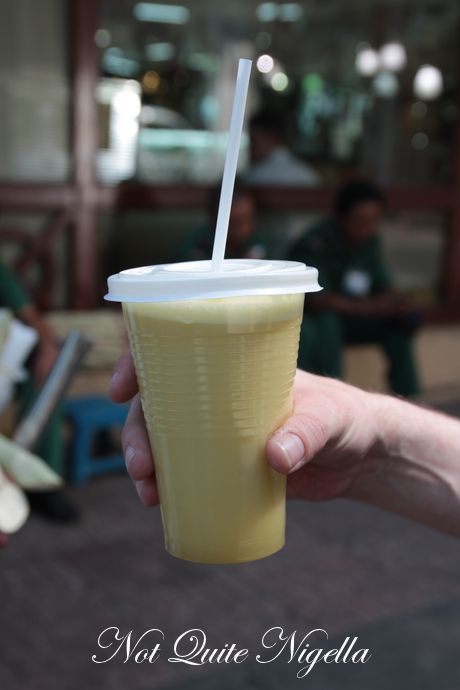 Sugar cane juice -20,000VND (about $1AUD) without ice, 10,000VND (abour 50cAUD) with ice
Of course you can't go to Vietnam without trying street food and it is on the whole safe (or at least our guide Tiger tells us it is!) as long as you don't have anything with ice. Matt, Mark and I go looking for street food. The first thing that we see is a sugar cane juice stand which we try without ice. We watch as they feed through the white sugarcane through the masher creating a khaki green foamy juice. The sugar cane juice has an almost pineapple flavour to it and is sweet but refreshing and not syrupy.
We spy a street food stall that also has a large sit down area. All of the patrons are Vietnamese and it is furiously busy so we figure that this is as good a place as any to try some street food. We stand there watching them pile plate after plate of colourful goodies, fresh rice rolls, steaming soup with eggs and we take a seat a couple of doors down. The boss speaks a little English and is friendly and hands us a menu (without prices but even if we do pay a different price from locals, it
won't be high).
We take the owner's recommendations and for good measure, order some fresh spring rolls both with prawn and then with Chinese Lup Cheong sausage. The rolls themselves are a bit hard on the outside but the sauce that they're served with is delicious and really makes the rolls so tasty. I'm not sure what was in it and wasn't able to ask but it was thick and packed full of flavour with crushed nuts in it. I will find out though! ;)
Chicken rice
Our next dish is the chicken rice, which is quite unlike Hainanese chicken rice. Here it is quite oily with shredded chicken and deep fried shallots on top and the rice slightly sticky too. And it is so utterly moreish and Matt and I find ourselves unable to stop eating it.
Our last dish is a chicken soup served with a tangle of banana flower, mint, eryngo, lettuce and bean sprouts. The soup itself is a bowl with a rich, full of flavour broth with a generous serve of chicken, noodles, onion slices and fried shallots and herbs on top. We watch a little girl pick up chopsticks and bring the noodles from her own tiny bowl, blow on them and then eat them. We ask for the bill and for the three dishes above and a "333" beer (known colloquially as "bababa") the bill comes to 120,000VND or under $6AUD!
We're not done with street food! When I was on one of my hunts with Tiger (haha I just wanted to say that) for Banh Mi, the  stall has just closed for the day and we walked past this place. He tells me that when guides wait for their group they often have a sweet soup made with ice but this isn't recommended for us as there is ice in it. However this dish is also a  popular one for lunch and we watch as a lady makes up a styrofoam container full of food for us for the sum of 20,000VND ($1AUD).
Noodles with pork 20,000VND/$1AUD
The rice noodles are paired with a nuoc mam type of chilli sauce, fried shallots, bean sprouts and mint as well as pieces of a spongey crunchy deep fried pork meat roll and the whole dish is very tasty with freshness from the mint and chilli and texture from the slippery noodles and crunchy and spongey pork balls.
I got a little bit excited when I saw this Banh Mi stand. And they really are everywhere unless of course you are looking for one in which case they will all suddenly disappear ;). I ask for a banh mi pork roll with everything and a few minutes later I am holding one in my hot little hand. According to Tiger they range in price from 15,000-20,000VND (70c-$1AUD) and this one was 15,000VND.
Banh Mi 15,000VND (70c)
The banh mi comes with pork slices, tomato, cucumber, spring onion and pate. The pate taste for this one is stronger and there doesn't seem to be much mayonnaise on this one. The bun is also softer as the stall is out in the street so humidity plays a part in it. And although it isn't quite as filled as I would like, it is still utterly delicious.
Tiger points out these women who carry food on two sides of the bamboo poles. He says that they represent the North and South of Vietnam held together by strong bamboo.
War Remnants Museum
**
Our next stop is the war remnants museum which is a sobering place. I don't know if words can adequately describe how moving and sad the images are and there are constant reminders that the effects of the war are still being seen in today's generation. All I can say is go and visit it, you will be moved terribly as I was, and seeing it all up close is certainly confronting.
On our way to our next stop, I become fascinated by the people on motorbikes that negotiate the streets smoothly. Everyone going a different direction and among the countless motorbikes you see the occasional bike and car. I see a man going at speed with his young son looking fearless at the front while dad smoked a cigarette. I see a pretty young mother on the back of a bike holding tightly onto her son while the father drives the bike. I could watch them for hours.
I try to get the hang of crossing the road-the trick is to put your hand out in a stop signal, walk at a steady pace, don't make any unpredictable moves and go! Easier said than done as stepping out into oncoming traffic is against your instincts.
Lighting a coil with your name attached to it
We stop at the Holy Lady temple where we buy a wish and write our names down on a piece of paper. They then attach the piece of paper to the top of an large incense coil and when we light it on the candle we make a wish. They then hoist it up high and the incense burns and hopefully the holy lady will grant your wish!  My wish is complicated but I must admit a bit of it included staying here for longer! ;)
So tell me Dear Reader, what makes you most fall in love with a country? The people, food or the history or something else? And what's your favourite street food?
Hanging up the incense coils with wishes attached to them
NQN travelled to Vietnam as a guest of Vietnam Airlines
Hotel Majestic Saigon
1 ??ng Kh?i Ho Chi Minh City, Vietnam
Tel: +84 (08) 3829 5517
Hoi An Restaurant
11 Le Thanh Ton Street District 1, Ho Chi Minh City, Vietnam
+84 8 823 76 94
Trung Nguyen Coffee
587 Nguyen Kiem, Phu Nhuan District, Ho Chi Minh City, Vietnam