A lot can happen in one night. The next morning when I awoke at the Hotel Majestic I found out that Jenna had had her bag stolen and Kate had an attempted bag snatch just around the corner. Others were nursing a hangover and I had just delighted and surprised myself by having my very first migraine. So it is with a pair of sunglasses that I sip a bowl of steaming hot pho upstairs at the Hotel Majestic's breakfast bar. The Pho broth is wonderfully sustaining and deep in flavour and is served with chilli, bean, fish sauce and white pepper.
Which is a good thing because we're travelling to Nha Trang this afternoon. By 10:30am when every is ready to have another bowl of Pho my migraine gets so bad that I have no choice but to sleep it off on the bus-and this is me, who has never missed a meal-ever. Hell, I even try and create meals just so I get the chance to eat more!
Mercifully, the seats on Vietnam Airlines are business class so that saves discomfort and nothing tastes as good as the lemonade that Jenna hands me to help me maintain blood sugar levels. All I want to do is curl up in a ball in a dark room and sleep.
A 45 minute plane ride later and a 40 minute car ride and we arrive in Nha Trang. The airport is actually in Cam Ranh which was formerly owned by the US Military as the Nha Trang airport isn't long enough for the amount of traffic. The weather here is perfect-lacking the humidity of Ho Chi Minh city and a few degrees cooler. It is a popular destination for tourists and some Americans stay for as long as eight weeks our guide tells us.
We arrive at the Sheraton Nha Trang with the golden sweeping curtains, high ceilings and deferential service. To be honest I didn't pay much attention to the lobby as all I wanted to do was crawl in bed and hibernate until my head would cooperate. So I went straight up to my room, number 2009 on the Starwood preferred guest floor.
View from my balcony
The room is on the compact side but it is very nicely decorated and I particularly like the open style bathroom where they bath looks onto the bedroom separated by glass. There is a balcony with a view of the ocean below (as well as some construction of new hotels).
The room is very chilly when you enter so I asked the bell boy how to turn off the air conditioning. He makes a phone call downstairs and it is turned off and I leave the balcony door open and the room comes to a perfect temperature. The bathroom has a good amenity kit and there is a list of more items should you want these and they can be sent to your room at no extra charge.
I curl up in a ball under the sheets and fall asleep although the constant beeping from the traffic below during the day means that it is hard to completely fall asleep. And before I know it, a few hours later, a welcome tray is being delivered with some dried fruit including salted plums and sugared ginger, some very, very good pistachio biscotti which is lovely and crisp, and two macarons also very good giving me the sugar hit that I need.
When we checked in, we were given a 20% spa voucher if you book a treatment between 9-10am or between 10-11pm so I booked a massage just before going to bed to help me sleep and doze off in a deep, sound sleep. The next morning I wake up completely refreshed and ready for a day of food. Guests at the Sheraton Nha Trang can start the day with a cooking class that begins with a Xic Lo ride to the local Xom Moi markets which is a real market in the centre of Nha Trang.
I meet Chef Hung who is the executive sous chef at the Sheraton Nha Trang. The Xic Lo ride is fantastic and allows you to be part of the traffic chaos that is part of life in Vietnam but the traffic is lighter and not as busy as in Ho Chi Minh city. I see women negotiating the traffic on the scooters while wearing high heels and business suits while taking on a mobile phone. My xic lo driver takes a quick phone call while driving me.
Vietnamese apples
About 5 minutes later we arrive at the markets which is a local market open 7 days a week from 4am until 5pm. We start in the fruit and vegetable section. There is a fascinating range of produce on offer and Chef Hung is great at explaining what everything is and what it is used for. There are Vietnamese apples which are harder and more sour than regular apples and he says that they eat these with some salt and a little chilli-the salt helps make the apples taste sweeter and there is just a mild chilli taste.
Chef Hung tells me that when he was young, watermelons were only available during the lunar new year but now they are available all year round. We also see a small light red item that looks a little like a cherry crossed with a wax jambu fruit and he tells me that it is called a "sori" fruit and is soft inside with a sour taste. Inside there are three seeds and this too they eat with a bit of salt to make it taste sweeter.
Sapodilla that have seeds that are dangerous because they are sharp and narrow so make sure to remove these before eating!
Black and white sugarcane -black sugarcane is sweeter and gives more juice
There are all sorts of eggs available including chicken, duck and goose eggs and I ask him about one particular egg which is between the size of a quail egg and a chicken egg. He tells me that that the hen's first egg, which are more prized and more expensive because they believe that the mother hen takes better care of her first egg!
The creamy flesh coloured eggs to the centre left of the picture are the hen's first eggs
Fresh rice noodles
Soy milk drink about 3,000-5,000 VD (about 14-24c per bag)
Turtle
Now comes the interesting part and look away if you are squeamish or vegetarian. We are in the wet part of the market which is where the seafood and other items are sold. There is a plate of frogs, all moving, tied together with string and they sell these for stir fries. Chef Hung tells me that sometimes they sell them skinned but still alive-I'm rather glad that they haven't done that today. Besides she is busy quartering up an eel. There is also a single turtle in another bowl.
Two types of anchovies
The large anchovies are softer. He also explains that at these markets, you are not supposed to linger in front of the stalls as they consider this almost a form of bad luck. You can stand in front of a stall for between 30-60 seconds without buying before they may start yelling at you. And I need to give props to my fast Sigma lenses because getting photos in these markets with the dark and light areas with action taking place all around me was a challenge-especially as I had the 30 second deadline in my mind all the while as I didn't want to get yelled at!
There are also small tuna as well as a fish that they serve skinless grilled over bbq charcoals and is said to be good with beer
Potatoes, Vietnamese yam and taro
The meat section has all varieties of meat and the women that sell them are expert at chopping them up. They use every part of the animal and we see a pork stand where there are pig's tongue, brain, liver and intestines.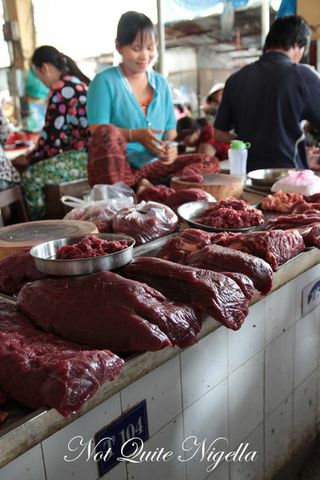 Snails and large clams
Live chickens for sale
If people want fresh chicken to take home they can buy them here-you can either kill the chicken yourself or pay someone to come over and kill the chicken for you. You can also buy a fighting chicken and have the chicken's fight and the chicken that doesn't win, gets eaten. The white chickens are actually called black chickens because they have a black skin to them and they are often boiled with Chinese medicines in a claypot and it is said to have therapeutic benefits to them.
Traditional pots
Religious offerings
We pass a stand where people buy the components for religious offerings. They are usually comprised of praying incense, rice wine, tea, a candle, salt, pink cakes, sugar cane and paper for burning.
Breakfast typically about 15,000 VND or $0.70 AUD
Flowers individually wrapped up to protect them
Back at the ranch...I mean the hotel cooking school
We take a taxi ride back to the hotel where I have about half an hour to freshen up and then meet Chef Hung on the sixth floor cooking school. The cooking class and tour package includes a four course lunch and is fantastic value at 660,000VND (about $30AUD per person). Today we will be making all four course including fresh and rolls with pork and prawn, beef noodle soup (Pho bo), fish in clay pot and sesame dumplings. The class can accommodate up to 30 people at any one time.
First up we make the rice paper rolls. Now I realised that after this lesson I was making them all wrong. Chef Hung dips his fingers lightly in water and then spreads out the water onto the surface of the rice paper roll. He then carefully turns it over and then lightly dabs the other side with water and then he waits for about 30 seconds while the water soaks in and turns the rice paper slightly wrinkly.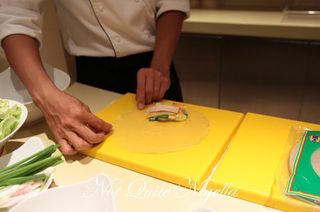 Lifting up the sides
Making sure that the lines are perfect
You then place a piece of butter lettuce, pushing it down so that the roll can be tightly rolled-that along with straight sides and good edges are the keys to a good fresh hand roll. You then place some herbs (mint, coriander and Vietnamese marjoram which is less strong than regular marjoram) , two batons of boiled pork tenderloin and two prawns, sliced in half horizontally (you can also use pork loin or pork belly) and then you need to fold both sides in using both hands and then flatten these (make sure they are straight) and then pulling back and pressing down on the filling roll it tightly, like sushi.
Stop halfway, ensuring that the sides are all tucked in and then place the two prawn halves (colourful side down) and the spring onion (you can also use chives) sticking out and then finish rolling!
Next was my turn, I'm not going to be hired to do these any time soon but I completed two-can you guess which one was his and which two were mine? His is the left most one aka the least lumpy looking one ;)
He also explains that the rice paper for deep fried rolls is different from the rice paper used to make fresh rolls. The rice paper for frying is thinner and smaller so that there aren't so many layers and means that there is no stickiness when you deep fry the rolls. These papers are also a little more yellow or brown in colour.
It's tasting time and I try the rolls with some N??c m?m pha which is equal parts fish sauce and warm water with sugar syrup, lime juice, large thinly sliced chilli and garlic added to taste. And they're not too bad if I say so myself! ;)
Our next dish is caramel fish in claypot which is a dish I remember having at Bay Tinh. Here we get some whitefish cut into 1 inch pieces (you can use red snapper or sea bass-Vietnamese catfish is used here but they find that it may have too many small bones for guests). You can also do this with chicken although Chef Hung advises that we should use more ginger if using chicken. This was definitely my favourite dish of the day and it is one that I will make at home-it is divine and I am going to share the recipe.
To the fish you add sugar, black pepper, chicken powder, salt, fish sauce (Vietnamese fish sauce which is more pungent in smell than Thai), oyster sauce, oil, garlic, finely sliced shallots and ginger. You can marinade this to get extra flavour in the fish. To a pan on medium heat, add oil and sugar and stir to melt the sugar. As soon as it turns brown, remove it from the heat and add garlic and shallots. Then add about 1/2 cup of water to the bowl where the fish and flavours were and add this to the fish to make a sauce and reduce it to a simmer adding in some of the white bulbs of the spring onion and pieces of large red chilli.
Caramel fish
Then you transfer it to a claypot or you can do this in a stainless steel pot and simmer it for 15 minutes and you have one of the most delicious dishes you could ever find. Oh and Chef Hung doesn't write out the recipes for you so you need to take copious notes but what he does do is give you exact ingredients so that if you are listening and taking notes, you will be able to recreate this all at home.
Our last savoury is the pho bo soup where Chef Hung has boiled the broth for about five hours already. He explains the various flavour components that make up the broth that start with the beef stock. To make 5 litres of stock you would need 2 kgs of beef shin bones as these have more juiciness and flavour. You use a cleaver to break up the bones but be sure to first dip these in a pot of boiling water to get rid of any blood and dirt that results from breaking them up. Then simmer the bones along with the ingredients above. He also suggests using beef shin meat and cooking this for the last four hours as this provides a firmer textured beef and a contrast in texture.
In the last 30 minutes add a stick of cinnamon (the cinnamon sticks here are enormous), 3 pieces of Vietnamese cardamom crushed lightly to open them and have been which has an intriguing smokey scent to them and four pieces of whole star anise.
When the broth is ready, place the fresh rice noodles and bean sprouts (or you can serve these raw) into a blanching basket and immerse in simmering water for 10 seconds, drain well and add to bowl along with the thinly sliced raw beef tenderloin making sure to spread out the beef well so that the hot soup can cook it. Pour the boiling hot broth over the noodles making sure to cover the beef. Add Thai basil, and a herb called eryngo which a Vietnamese coriander.
Eryngo-long leafed coriander
The pho is delicious, full of flavour with crunch from the bean sprouts and herbs and a slipperyness from the noodles. And I'm so delighted that I have the recipe so that I can make this at home for Mr NQN!
Our last course is dessert-sesame dumplings that can be done either as deep fried dumplings served with a coating of honey or maple syrup or in a sweet sugar consomme. The filling for this is green mung beans that have had their outer husk removed so that they are yellow in colour. Soak and rinse the beans in warm water for 15 minutes and then drain and cook in enough water to just cover the beans stirring constantly to prevent them sticking to the base of the pan. The filling itself is naturally quite sweet and doesn't require any additional sugar. Cool and roll into small balls. Any leftover filling can be served with some coconut milk and ice for a drink.
To make the outer coating (which can be used for a sweet or savoury filling), mix rice flour with water to make a dough that isn't too sticky-this is important otherwise this can be hard to roll. Flatten it out in the palm of your hand and place the ball of bean filling inside. After rolling them in some sesame seeds, you can then deep fry them for about 5 minutes when they will float to the top when they are ready.
After a minute in the hot oil, be sure to prick some holes in them by fishing them out with a ladle and piercing with a fork as they will expand and explode with the filling otherwise. Do this 2 or 3 times as the stickiness of the rice means that the holes close up easily. Coat them with some pure honey or maple syrup. The result is sweet crunchy balls on the outside with a soft, sticky, sweet inside.
After doing some work I meet everyone upstairs for a drink at the Altitude Bar on the 28th floor on top of the hotel. The view is spectacular and we drink it up as well as the cocktails (mock for me, I want to make sure Mr Migraine doesn't hit again) and we watch the sunset which is tinged with the blush of light pink.
Mach 5 80,000VND (about $3.80AUD)
My mocktail is a Mach 5, a lemongrass, lychee and pineapple concoction which is beautfully sweet and refreshing and strong in lychee juice.
Our dinner tonight is at Gia, a Vietnamese restaurant which a short drive away on the main shopping and eating strip.
Deep fried crispy squid with green onion grains
Our first morsels are a rather interesting green coloured balls that are filled with soft, spongey squid paste and coated in crunchy green onion flakes. They are served with a mixture of ketchup and mayonnaise which we are instructed to mix together and even though it does sound very unusual, they're rather good indeed.
Green young mustard with fish salad
The mustard sprouts are served with a tuna in oil that tastes fairly much like a tinned type of tuna. I wasn't as in love with this as everyone else was.
Ground shrimp over sugar cane
Everyones' favourite, the fresh rice paper rolls, these are brought to the table unassemabled with the plastic gloved waiter assembling them. Here he dips each rice paper roll into the water briefly before filling it with the prawn paste that was grilled over sticks of sugar cane and salad. They're frightfully addictive and it takes much strength to say no to a second and third.
Saigon BBQ ribs
The ribs have juicy and roasted with seasonings and the food here, particularly this and the next few dishes actually reminds me of food that my mother cooks at home-except she isn't Vietnamese but Singaporean. It's interesting to see the crossover of cuisines.
Roasted chicken and sticky rice
The roasted chicken is sauteed bone in in a thick sauce with plenty of onion and oyster sauce and my mother makes something just like this with tofu. However this version is served with deep fried sticky rice cakes that are puffy and crunchy and very moreish.
Beef shank hot pot
The last dish is assembled at the table and comes out on a gas burner and apot filled with broth. Our waiter places some chinese mustard greens and lets that simmer for a few minutes and then places the plate of beef tenderloin and onion in and simmers this for a minute or two with some fresh rice noodles before placing this in the bowls for each of us. The soup is rich and thick and has the distinctive mustard green flavour as well as richness from the beef stock. And the serving sizes have been very generous so most of us couldn't finish this.
Creme caramel
One last course and it's dessert-a delicious creme caramel, not too eggy but just right in terms of sweetness and wobble.
I go to bed hoping that the migraine doesn't return and that no-one else gets robbed!
The next morning I go downstairs for breakfast urged on by Kate who reported back that the breakfast selection was par excellence. It was a large spread of all things Western and Vietnamese but what caught my eye was the freshly made Banh Mi station. I adore Banh Mi, those pork, pate and salad rolls served on a crunchy bun with a mysterious umami sauce and mayonnaise. And here they make them fresh! My filing system has gone a bit awry so so pictures I'm afraid.
I order one and halve it thinking that I won't have the stomach space to eat a whole one for breakfast. But was I wrong, the roll is superbly fresh and light and so crunchy that instantly a shower of crumbage falls on my dress as soon as I take the first bite. The filling is excellent too, the pate, pork, spring onion, chilli, carrot, coriander and sauces melding together wonderfully. A Banh Mi craving ensues and I find myself on the lookout for Banh Mi stands whereever I can. I did try others from street stalls but I have to say that I really liked this one the best because the roll was super fresh and crunchy whereas at street stalls the humidity made the bun less crunchy. And I'm relieved that the migraine was a passing thing and I have my appetite fully restored!
So tell me Dear Reader, do you get migraines? What is your best advice for avoiding them? And when you go overseas, do you attend cooking classes?
_NQN travelled to and explored Vietnam as a guest of Vietnam Airlines and attended the cooking class as a guest of the Sheraton Nha Trang
_
Hotel Majestic Saigon
1 ??ng Kh?i Ho Chi Minh City, Vietnam
Tel: +84 (08) 3829 5517
Sheraton Nha Trang
26 - 28 Tran Phu Nha Trang, Khanh Hoa, Vietnam
Tel: +84 (058) 3880 000
Gia Restaurant
30 Tran Quang Khai, Nha Trang Khánh Hòa Province, Vietnam
Tel: +84 (058) 352 5220