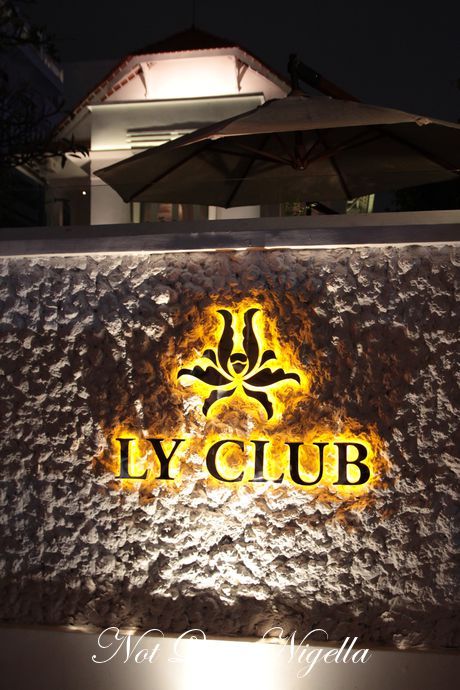 So where was I? Oh yes I was in Ho Chi Minh City seeing the sights and eating the food. The weather was hot and sticky and I was in a state of constant fullness with all of the food that we were eating. But complain? You won't hear a peep of it from me! :)
Would you like to come out to dinner with me? Sure, well follow me! Our next stop is a chic restaurant and bar a few minutes away from where we are staying at the Hotel Majestic. The Ly Club is a beautifully furnished club in the style of French Colonial that evokes poolside glamour. Named after the 1009-1225 Ly Dynasty which was one of Vietnam's periods of cultural and artistic development, the decor reflects this with whites, shimmering pools, outdoor bars and interesting lighting fixtures. We have a special group menu but their regular menu is very well priced with mains ranging from $6.50US to $19US.
We sit down and the food comes out quickly and without delay without feeling too rushed-a good thing as some of us are still on Sydney or NZ time and it is creeping towards 2am.
Blue crystal scallop soup
The blue crystal scallops are delicious, not perfectly round scallops that are thinner than Canadian scallops and thicker than Australian ones. They sit in a creamy, thick and perfectly seasoned spinach soup.
Vietnamese delights plate
The Vietnamese delights plate is a three parter consisting of a green mango salad with crispy squid - not bad although it is a bit sweet for my taste. There is also a spongy soft shell crab in crispy batter that is full of soft crab meat and my favourite, two tender, slender batons of lemongrass scented beef wrapped in piper lolot, which is similar to a spinach.
Baked river prawns with cheese, garlic rice
The river prawns are enormous with very tender, soft meat inside and a savoury baked cheese crust on top. And although this looks like a really lovely place I can't help but suck all the flavour from the shells as there is so much there. There is a round of dry cooked garlic rice on the side.
Sago pudding in coconut cream, coconut ice cream
I'm a crazy lover of coconut desserts-give me coconut cream and I can be assured of almost licking the bowl clean. This one has a scoop of coconut cream ice cream in a bed of pandan and coconut sago, soft and slightly grainy. I have to really stop myself from finishing it.
Chinatown and the Binh Tay markets
The next day we make it to Chinatown for the Thien Hau Pagoda and Binh Tay market which as Saigon's largest market, it is bustling and we take a quick tour. We weave through the narrow corridors and we look at the unusual produce on offer as well as displays of gleaming stainless steel kitchenware. Water chestnuts sit in a giant bowl on a block of ice and pre carved carrots are for sale.
Fish sauce that sits for 7 days
Banana with rice wine which has medicinal properties
A woman sells containers of spicy chilli tofu and a drink based on gracilaria seaweed which is a jelly like drink said to be good for hot weather.
Dried sea cucumbers
There are large rolls of cinnamon bark that are light in fragrance that they use in Pho as well as a stringy green vegetable that they rehydrate in water and mix in with lotus to make a salad.
Cinnamon
For the princely sum of 35 cents Matt buys a bag of sweet banana, ginger and nut snacks which are sticky and strong in ginger.
There are snacks with rice noodles and chilli flavourings as well as flavoured rice paper which I just have to buy-you eat these as they are, no soaking! They're like those seasoned seaweed snacks in texture and are nice and spicy too.
Weasel coffee
Snake wine
One last market and they are the Ben Thanh markets where we have just 45 minutes until they close. It's a large market and one where there are clothes, a bit of food and reminds me of Paddys Markets for clothes with many knockoff bags. Kate and I walk around and I settle for some cute little lingerie and shoe bags ($2 each) and a silk scarf for my mother.
They also have a lot of those pretty flower teas that open up in the pot as well as weasel coffee-like kopi luwak where the weasels ingest the coffee beans and then poop them out and you drink the coffee excreted.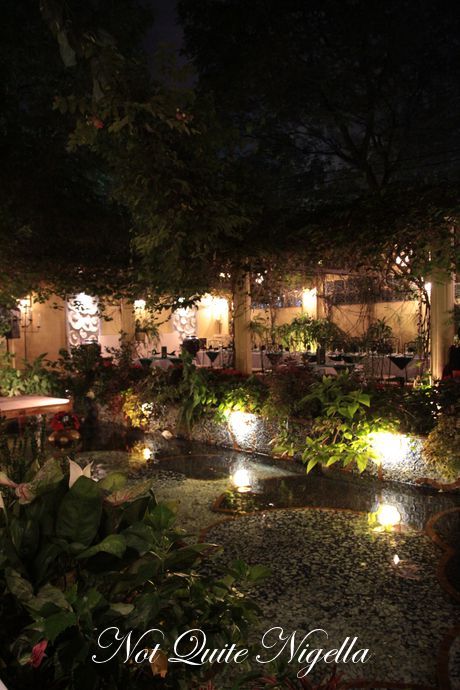 Dinner time again! We're all a bit exhausted from a busy day around Ho Chi Minh City and Indochine, with its French Vietnamese feel provides us with a nice respite from standing, walking and jostling. With a bountiful lush green garden with trailing fronds and trees facing us at every turn we take a seat in the outdoor restaurant.
Pussy food $5.50
OK I must admit I just ordered this because of the name and because I was egged on to do so by Sarah. The cocktail is a mixture of orange, pineapple, grenadine and milk and whilst I could say I took more than one sip, I didn't really like it. That's what you get for ordering a drink just for the name I guess!
Crab meat and asparagus soup
Tasting very much like a crab and sweetcorn soup this also had pieces of white asparagus amongst the crab and egg strands. It was tasty and filling and even though we have a lot of food coming, I finish my bowl.
Fresh Northern type of spring roll
I do love a dipping sauce and I notice with all of the restaurants that we've been to, they give us each a range of dipping sauces and one for each of us so we don't need to share. Here we get three dipping sauces, the third, a savoury flavoursome light brown sauce is meant for the fresh spring rolls which are, it has to be said, absolutely divine-fresh and full of flavour and pretty much trumps the ones I've had at home.
Fried prawns rolling with noodles
Most intriguingly presented, the fried prawns were wrapped around with noodles and then deep fried and then served on toothpicks on the side of a lit pineapple. Yes really! I removed a prawn and it was very good getting some crunchiness from the noodles while the prawn was simply deep fried. I would have liked another but there was only one prawn per person.
Grilled beef with honey sauce
The grilled beef portion was admittedly quite small and I did want more but there was just two of these small plates for six people. The beef was fairly tender and thinly sliced with peanuts and a honey sauce that just gave it a light sweetness.
Stir fried Chinese cabbage and mushrooms
I did like the stir fried vegetables which were flavoured simply with ginger and garlic.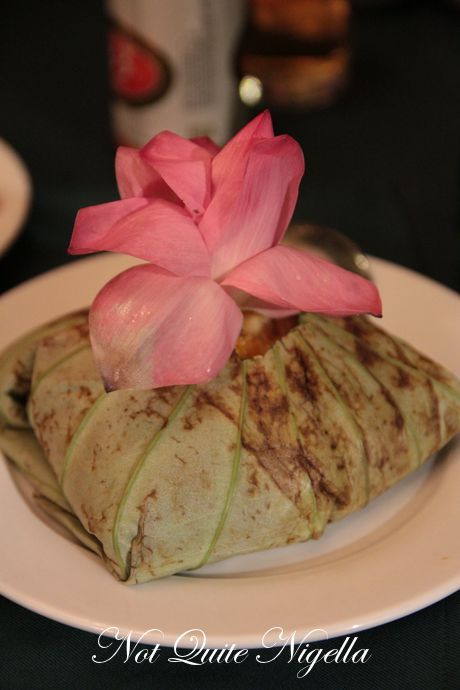 Lotus fried rice
The fried rice came out in a large lotus leaf and was a generous portion with lotus seeds, pieces of tofu and prawns inside. To serve it, they removed the flower from on top and simply cut into the soft, yielding steamed lotus leaf.
Creme caramel
The dessert is a nod to the French influence with a creme caramel which was a bit on the eggy side for me but everyone else seemed to enjoy this.
It's an early night for me. I'm exhausted but a few of my fellow travellers decide to carry on and go out that evening. And there's a surprise for me when I wake up and find out what has happened to them. Stay tuned Dear Reader! ;)
So tell me Dear Reader, when you go overseas or on holidays, do you like to hit the clubs and stay out all night? Or do you prefer to go to bed early and do more during the day?
NQN travelled to and explored Vietnam as a guest of Vietnam Airlines
Ly Club
143 Nam Ky Khoi Nghia, district 3, Ho Chi Minh City, Vietnam
Tel: +84 8 3930 5588
Ben Thanh Market
Intersection of Le Loi, Ham Nghi, Tran Hung Dao Avenues and Le Lai Street, Ho Chi Minh City, Vietnam
Binh Tay Market
Thap Moui Street in District 6
Indochine Restaurant
32 Pham Ngoc Thach, Ho Chi Minh City
+84 8 823 9256