Dear Reader, the last time you saw me in Da Nang I was busy getting massaged like a wagyu cattle and taking advantage of the Fusion Maia's all inclusive spa treatment menu. But I promise that I didn't spend every minute here on a massage table. Today I am seeing a different and varied side of Da Nang and Vietnam that I'd like to show you too.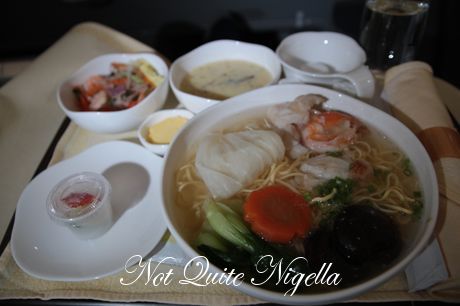 The Marble Mountains or five element mountains are a cluster of limestone and marble hills and caves that are situated in Da Nang. Among these is a Buddhist sanctuary where pagodas were erected as a dedication to Buddhist followers and monks. A monk walks past us wearing golden robes. He turns and smiles at us and asks where we are from.
A woman holding incense for sale turns to us. She smiles a beauteous yet surprising smile full of dark purple and black teeth.
The monk is friendly and tells us about the process of the incense lighting ceremony and tells us that he travelled by motorbike from Nha Trang to Da Nang just yesterday which was a very long and bumpy ride. We buy some incense and watch as he lights three sticks-you can either offer one or three sticks, the three sticks signifies the heart, the buddha and the monk or the teacher. Once lit, you place each stick of incense in the bowl in front of the gods. The incense burns and allows the soul to float up to the buddha the monk tells us. And with his yellow iPod in his ears the monk is gone.
Climbing the mountain is tiring work and you can go half way up with the elevator for 15,000VND (about $0.70 AUD) but there is still quite a way to climb. Exhausted and hot we adjourn to a coffee house in the centre of Da Nang for a Vietnamese coffee, something that it is very easy to become addicted to.
There are a range of office workers, construction workers and all sorts of people who sit down and take a break balancing on tiny stools that can't measure more than 20x20cms (smaller than a cake tin!) and people watch.
Near Cafe 3G there are several other coffee shops all plying the same type of coffee. Traditionally Vietnamese coffee is served as a syrupy thick drink a couple of centimetres in depth and served with a glass of iced, unsweetened tea with ice. You can order the coffee hot or cold and with or without milk - the milk of course being that wonderfully addictive item called sweetened condensed milk.
Lunch is at Beluga restaurant and despite the whale reference here and at last night's Blue Whale restaurant, there isn't any actual whale spotting in Da Nang. Whilst we're eating from a set meal, I take a look at the regular menu and it looks very reasonably priced with most dishes around 100,000 VND ($5AUD).
Quang noodles
The medium sized flat rice noodles come in a small amount of mildly flavoured broth, with hard boiled quail eggs, prawns, chicken, egg and peanuts as well as a crunchy prawn cracker. I'm mindful not to fill up because I can see that we have a lot of food coming as well as an afternoon tea, pre dinner nibblies and dinner afterwards!
Simmered chicken with ginger
The chicken fillet pieces are sauteed in ginger and are tender and full of flavour and go well with steamed rice.
Fried soya bean crispy
I'm not sure what they do to tofu here but it's much more favoursome here with the flavour penetrating into the actual tofu (do they season it while making it? I wonder). I could easily eat a plate of this tofu which is crunchy on the outside and soft and flavoursome inside.
Steamed sea bass with ginger
This is very much like the Chinese dish where fish is steamed with ginger and shallots and then served with soy sauce and sesame oil. Here all of the flavours are well balanced and this is my favourite course.
Soup of cabbage with minced meat
I must admit that I didn't have much of this but it did remind me of one of my mother's soups which is made with pork bones and vegetables. However I ate a bit too much of the fish so I couldn't really fill up on this.
Pineapple
We finished with pineapple slices and these are sweet and a lovely ending. Again, I wasn't expecting much, the restaurants that we've visited have mostly been empty but the food was good here.
We return back to Fusion Maia and it's time for another two treatments. Each day has a different theme at the spa using different oil blends from uplifting, nourishing, balancing, calming, awakening, energising and refreshing. This time I have chosen the yogurt splash which is where a yogurt and orange pulp is applied to my body and I am wrapped while this infuses and softens the skin. My brilliant therapist Hoa then wraps me up in a plastic cocoon and gives me a forehead and scalp massage which includes playing with my hair which is so relaxing. I shower the orange pulp and yogurt off me and my skin is soft and doesn't need any moisturiser at all.
My next treatment is a foot reflexology massage and is so blissful that I fall asleep drifting in and out and I'm sure I was smiling the whole time. I think they had to tie me down so that I didn't drift off and float away up into the sky...
Do you know what wakes you up? Afternoon tea! It is served in the bar and restaurant area between 2-5pm and is a very reasonable $15US per person. Drinks are a choice between a very extensive menu of Ronnefeldt tea (both traditional and wellness teas) served either hot or cold or a glass of rose Bottega II Vino del poeti rose prosecco. I choose a cold glass of of the wellness tea "Life and beauty" which is a herbal infusion with tropical fruit and aloe vera.
Our three tier stand arrives and it looks quite a sight, resplendent in hues of pink. The top layer has watermelon and strawberries on a skewer which are sweet and refreshing as well as absolutely divine crunchy and buttery pink sugar cookies. The second tier has a very neat salmon and cucumber roll in a thin wrap which is lovely and fresh (although as the sole savoury item, I was hoping for more). There is also an excellent chocolate and raspberry tart with a buttery crisp shell (not a small feat in this humidity) as well as a moist pink lemon lamington.
The bottom layer consists of a cinnamon scone which has the aroma of mixed spices and cinnamon. It's not quite a traditional scone, really more a round bun in a scone shape. It comes with a pot of whipped cream and a raspberry jam. There is also a pot of strawberry and ginger pudding which has an interesting flavour to it and is quite strong in ginger. There is one item missing from the list and it is quickly furnished. It was one we were all intrigued to try, a cherry liqueur milkshake which is thick and ice creamy and worth chasing down every drop. The liqueur taste isn't very strong in this but there is a slight hint. We lie back on the lounges and think about what a lovely day it has been indeed...
After afternoon tea, I leave the rest of the group behind and I'm off on a little trip of my own this afternoon. Joel, the General Manager at Fusion Maia has a degree in "make it happen" and when I asked if there was any possibility of doing some experiences that connected me with local people he quickly made it happen. Fusion Maia has a Fusion Friends programme that allows guest to connect further with Vietnamese culture and people (hence the fusion part). They offer two experiences to allow for this and the first is sitting down to a meal with a Vietnamese family, often one of the staff member's families, and experiencing real family Vietnamese cuisine.
So today I am meeting my "Fusion Friend" staff member Nicky Nguyen and she and the executive chef at Fusion Maia Dung (the clever chef that made the sweets that we just ate) are taking me to his home nearby. However chef Dung tells me that his wife has prepared the meal because as the executive chef he would most likely give it a resort Fusion Maia feel whereas the whole point is to eat what the every day Vietnamese eats. Normally, if you do this experience you would spend the whole day with them and shop and cook with them but as we have such a short time here they've already prepared the food.
We drive to their house which is less than 10 minutes away. We walk past two young men making signs, a hairdresser and arrive at their house. His wife Suong is in the kitchen with chef Dung's mother in law and they are busy cooking. His wife normally runs a shop that sits on the side of their house and is open from 6am-9pm 7 days a week. But now it is eating time and the smell is delicious as we walk through the very neat, nicely furnished house decorated in the Vietnamese style with lacquer tables and flowers.
Chef Dung explains that on the table is an array of salads including a bowl of banana flower. To this tangle of banana flower he adds a sauce which is a blend of oil, black pepper, sugar, lemon juice, garlic and fish sauce and he offers it to me for a taste. The sauce sings with flavour and he tells me that the key to this sauce is to whisk it for 10 minutes to dissolve the sugar and combine all of the elements. He then spoons some of the dressing and a big handful of mint into the thinly sliced banana flower and combines it with gloved hand. To this he adds some river prawns that have been marinated in fish sauce, chilli and sugar and cooked through.
Our next course is the fresh spring rolls. Nicky explains that for lunch and dinner, there usually is a soup and rice course. Most Vietnamese people eat out for breakfast and it will eat either a Western or a Vietnamese one but for lunch and dinner they always need rice.
Chef Dung rolls a rice paper roll
Chef Dung shows me how to make the rice paper rolls. There are big papers so he simply breaks each disc in half and then dips them into the water quickly and then allows them to rest on the side of the bowl for about 10 seconds. You can then fill them with the cucumber, spring onion, eryngo (sawtooth coriander), salad, beans sprouts and pork and then the pork tenderloin. The 'nuoc mam' sauce is simply fish sauce, water and chilli and he explains that you can make up a big batch of this and then just keep it in the fridge for up to five days. The pork tenderloin is marinated in five spice, lemongrass, fish sauce, sugar, garlic and oil for half an hour before being cooked in a frypan.
I try my hand at rolling the rice paper rolls
Everyone takes a half and does their own although Chef Dung makes mine for me and they kindly keep giving me these delicious rolls filled with fresh salad. The rolls are so crunchy and flavoursome I don't mind a jot! ;) His mother in law watches us make them and then retreats once she sees that we can do it. She's a vegetarian so she doesn't eat with us.
We finish off with slices of pomelo which Chef Dung tells us is very good for digestion. The pomelo is served as sheathed segments and he removes the white membrane by cutting them with scissors and then peeling it off. And so ends one of the best meals of the trip. I bid the very talented and lovely Chef Dung and his wife Suong goodbye as I'm off to visit a Vietnamese orphanage.
"Hello!" I say and there's a giggle from a little girl and her friend and they hide behind each other.
"Hello!" they echo back shyly. A boy walks out from his room, looks at me surprised and when I greet him with hello, a broad smile crosses his face and a bright "Hello!" and a wave comes back.
I'm at the Hoa Mai orphanage (meaning cherry blossom). Many of the kids are just coming home from school now-they have half days for school either from 7am-11am or 1pm-5pm and whilst the young kids are there, the high school kids aren't yet back.
This is a no adoption orphanage and fifty children from the ages of five to sixteen live here. There is one manager and seven staff for all of these charges. We watch as a small group of young boys are kicking the ball in the yard.
The dining room
The kitchen
Six to seven children sleep in each room grouped according to age and gender and the rooms are kept neat and tidy. We also visit the mess hall where they eat which hasn't been set up for dinner yet. Outside, they have a vegetable garden where they grow food to eat. We are also shown the shed where they grow oyster mushrooms that they sell at market so that they have food to eat. Before we leave, we make a donation to them of cash as well as pens, pencils, books and sweets and it is graciously accepted.
The mushrooms growing to sell at market
The next morning we rise early to get a flight to Ho Chi Minh City and then back home.
On our Vietnam Airlines Business Class flight to Ho Chi Minh City we get a tasty canape snack and drinks and then we board our Business Class flight home to Sydney. It's quite late in the day so we have two meals, a supper and a breakfast (although the Banh Mi to tide me over between flights may not have been necessary ;) ).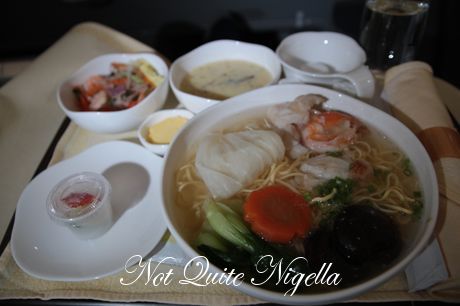 Like the incoming flight, the menu choice is divided into Asian versus Western meals with a three course meal plus breads for both. I go for the Asian meal and it consists of a prawn and agar salad which has a good balance of flavours. The agar jelly is an unusual ingredient and reminds me of jellyfish. The main dish is the seafood noodle soup which is just the ticket with some of the chilli sauce that they provide with it. The seafood is very tender and the prawns have an added ginger glaze to them. And although I am completely stuffed I love the water chestnut dessert which is made up of sweet mung beans, finely diced water chestnuts, sugar and coconut. I know some people find Asian desserts with beans strange but I love them.
I brush my teeth, pop in my earplugs and fall asleep easily as it has been a busy week in Vietnam and the flat lying beds  afford us some sleep. About six hours later I am being tapped awake and the cabin lights brighten gradually to show that it is morning in Australia. We're given a warm, wet hand towel and breakfast.
Again, there is a choice of an Asian or Western style breakfast and I choose the Asian style. It comprises of fresh fruit, yogurt with strawberry sauce, a very tender and saucy five spiced beef with noodles which was delicious and full of melting texture and flavour  but perhaps a bit heavy for non breakfast eating me that was still full from the dinner. Breads were also offered but I didn't have room for these. I arrived home feeling human and well rested.
My purchases: blue suede Zara heels, lingerie and shoe bags, bangle and art deco style ring
And lastly, I mustn't have had my usual shopping mojo because I realised that I didn't end up buying all that much (apart from food). Above was my entire haul! The shoes were about $20AUD,  the bracelet $10AUD, the ring $5 AUD and the linen and shoe bags were about $2 AUD each.
For Mr NQN, who always says not to buy him anything, I bought a 1 kilo bag of lollies in flavours like ginger, corn, pandan and durian which he demolished in about a day!
So tell me Dear Reader, have you ever tried Vietnamese coffee and what do you think of it? Which country makes the best coffee in your opinion? And have you ever had the chance to dine at a local's home in another country?
NQN travelled to and explored Vietnam as a guest of Vietnam Airlines.
Fusion Maia Resort
Truong Sa Street, Khue My Ward, Ngu Hanh Son District, Da Nang City, Vietnam
Tel: +84 511 3967 999
3G coffee
16 Ba Dinh Street Hai Chau district, Da Nang City, Vietnam
Beluga Restaurant
84 Road 2/9, Da Nang, Vietnam
Hao Mai Orphanage
25 Tr?n ??i Ngh?a, Ng? Hành S?n District, ?à N?ng, Vietnam