The UNESCO world heritage area of Hoi An's ancient town is a popular place for tourists. The 15-19th century buildings are well preserved and offer a glimpse into the former trading port. Although thick with people weaving in and out of the streets, selfie stick wielding tourists and pickpockets, it still retains a charm nevertheless and some fantastic food can be found in this picturesque area. It is easy to navigate and is laid out in a grid pattern. There are two sides of main area of Hoi An straddled by an 18th century Japanese wooden bridge that spans over Hoai River. And Hoi An is said to be the home of Vietnam's best banh mi as well as other specialty foods.
Banh Mi
I can't hide my love for a good banh mi-I have been known to eat one for lunch and then one for dinner and then make puppy dog eyes at Mr NQN for a bite of his. We even did a Banh Mi dash across Sydney to find the best Banh Mi in Sydney. A banh mi is more than just a sandwich - at the basic level it's a crispy long crunchy bun filled with layers of colour and texture that sing together like an chorus. And Hoi An is said to have to incredible places to have banh mi-some say that they make the best banh mi in Vietnam. And there are two women in Hoi An who inspire countless imitators.
The banh mi is the culinary result of two cultures and the influence of French colonialism in Indochina. The French gave the baguette and pate while the Vietnamese added components like chilli, pickled cucumber and coriander. Literally translated Banh Mi (which was originally called Banh Tay in the late 19th century) means bread of wheat. Banh Tay was a much simpler version made with butter and pate mainly reserved for the upper class and sold in French bakeries.
The banh mi of today evolved once French rule ceased and they added a host of local ingredients to the mix replacing the butter with mayonnaise, adding pickles, coriander and salad as well as slices of Vietnamese cold cuts. And now they are sold by street vendors made to order on the spot. They can be sold by mobile banh mi vendors or permanent street stalls.
A little closer to the centre of the action in Hoi An on Phan Châu Trinh (past countless cơm gà or chicken rice stands) is Banh Mi Phuong, our Helen Wong tour guide Chu's favourite banh mi place. The lines don't lie, and the queues are thick with glassy eyed excited tourists (us included) but they churn out these beauties in record time. In less than a minute I am handing over 35,000VND/$2.13AUD for a roll. It's the most expensive roll she sells and the prices vary depending on your fillings and range from 15,000-35,000VND/$0.91-$2.13AUD.
It's warm and I sink my teeth into it. My goodness it's good, great even or superb. I'm sort of lost for words here as I am busy crunching into the bun wondering how it stays crunchy in such a humid environment. That's the role of the rice flour in these rolls as it absorbs humidity, certainly an adaptation of the French baguette suited to Vietnamese weather. There is such a great interplay of flavours that it's hard to discern what is in it from one bite.
There's plenty of sauces-that's part of the appeal of Hoi An's banh mis. You can expect to find your clothes covered with shards of breadcrumbs and splashes of dripping sauce but these sauces ensure that the baguette is never comes across as too dry or bready. I prise it apart reluctantly, not wanting to stop eating. There's pate, carrot, cucumber, pork, egg omelette, cha lua sausage, other cold cuts, herbs and chilli. Phuong's stand is so popular and she starts work at 3am every day making all of the components of the banh mi from scratch including her own mayonnaise and nước siêu or super sauce. She can be found at the stand working hard alongside her sister and other staff . She is also said to do a wonderful vegetarian banh mi.
A bit further away is Madame Khanh's run by an 81 year old banh mi vendor called Nguyễn Thị Lộc. Alas she is taking a nap at the time of my visit but another woman sees my interest and taps me gently on my arm and beckons for me to follow her. There's a picture of Madame Khanh today (she looks very youthful belieing her years) and on the wall hangs a portrait of her as a 33 year old-her image could be at home on a box of soap.
There is often a lot of debate as to who does a better banh mi: Madame Khanh or Banh Mi Phuong and if you're looking for somewhere to sit down and eat then Madame Khanh has a large sit down area. The banh mi are heated on a grill prior to serving and they are generous with the filling.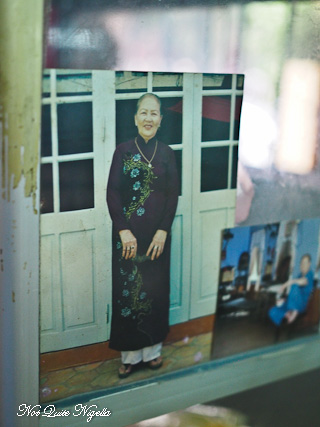 The banh mi here are 20,000VND/$1.22AUD and feature pork, pate, egg omelette as well as the sauces and the salad. Like Banh Mi Phuong the bread is superbly crunchy-even in this humidity it shatters with every bite. The flavours are strong and saucy and gutsy (and they make some of the banh mi we get in Australia seem muted by comparison).
And if I had to choose out of the two? Banh Mi Phuong pips it. But I loved sitting and eating under the picture of Madame Khanh in her youth and taking the weight off my feet.
Cao lầu
Hoi An has several specialties and one of the most popular is Cao lầu, a noodle dish that is said to be only found here. To find Hoi An's reputed best you cross the bridge to the quieter side of the Hoai River and continue along guyễn Phúc Chu. It will look like there isn't much there round the corner but then you will find a collective of street stalls. Ms Nam's (meaning Ms number 5) is the second stand along. She makes everything fresh to order and her specialty is Cao lầu. So what is it?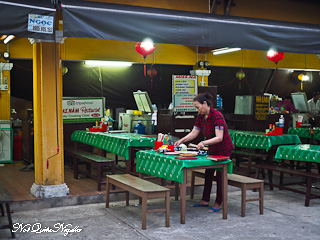 It's a fried noodle dish that has so many variations and versions that no two are the same. Indeed if you google picture of it it looks like a different dish in every picture. And hers just happens to be fantastic. It has a slight sweetness to it and has a caramelised char from the wok. There is pork and prawns in this and you can also customise your cao lầu to add whatever meat you like. It's hard to stop at one serve. The noodles themselves are square in shape rather than being round like regular noodles. They're close to soba but quite different indeed. And one of the very special things about the dish is the way that the noodles are made: rice flour is mixed with ash from the Cham Islands and the water used comes from specifically Ba Le well in Hội An. Or so the legend goes...
White Roses
Another Hoi An Specialty is a dumpling called "White rose" or Banh Bao Vac. Inside the silky translucent white layers is a shrimp filling. They are fashioned so that they resemble white roses and are topped with garlic chips. They are absolutely delightful and widely available throughout Hoi An.
Cargo Bakery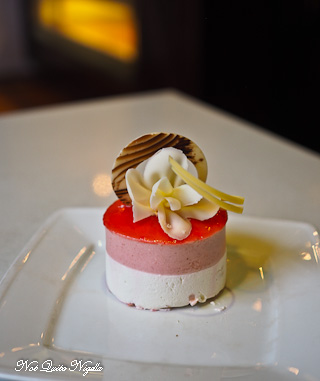 The impact of the French on Vietnamese is seen at Cargo, a patisserie that serves French style cakes in the busiest "gourmet strip" in Hoi An. Owned by Ms Vy (who also owns the acclaimed Morning Glory restaurant here), the cakes are simple but fresh and they're definitely in the Western flavour spectrum. I think I was hoping for some more Vietnamese ingredients but I choose the only one with some: a strawberry, lychee and coconut mousse cake with the perfect balance of sweetness and flavours. I couldn't wish for anything better down the white chocolate frangipane on top!
Seedlings
One of the things about travelling in some countries is that you see people who are living a very different sort of life to you and of course you want to help. Seedlings is the Banyan Tree Hotel's charity that helps disadvantaged youth find work in hospitality. They operate under the adage, "Plant a seed, change a life." This means that the staff are learning and sometimes service may need a gentle prompt but they are all wonderfully friendly, accommodating and eager to assist. In fact they're more enthusiastic and helpful than staff in other restaurants.
So how is the food? It's excellent and can stand on its own - the kitchen is led by professional, trained chefs. A lemongrass salad hits the spot in terms of freshness while a fish soup with tomato and okra is soothing and well balanced. The prawns are a tad overcooked but the garlic black pepper sauce is moreish and you want to scoop it all up onto your rice.
To get around and get your bearings: Helen Wong's tour guide Chu took us on a 30 minute cycloped ride around Hoi An stopping at four different cultural stops. It's a wonderful way to see the streets and orient yourself and is a great way to get photos.
So tell me Dear Reader, have you ever visited Hoi An? Do you have a favourite street food? Do you ever eat banh mi and if so which filling do you choose? Would you eat at an enterprise like Seedlings?
NQN travelled to Vietnam as a guest of the Banyan Tree Hotels but all opinions remain her own. All of this food except for Seedlings was eaten and paid for independently during free time in Hoi An.
Banyan Tree Lang Co.
Lộc Vĩnh, Phú Lộc, Thừa Thiên Huế, Vietnam
Phone:+84 54 3695 888
Helen Wong's Tours
17, Town Hall House, 456 Kent St, Sydney NSW 2000 Phone:(02) 9267 7833