It's our second last day before leaving Vietnam and Sheridan and I maneuver our hips snaking between bodies careful not to jostle or bump anyone. Vietnam is charming but you need to keep on your toes. Sheriden has had her wallet stolen in Hoi An and we are on alert. The heat is thick, especially under the tarpaulin covered Dong Ba markets. The gaps between the tarpaulin are patched by cardboard boxes, sodden from a recent downpour. Dong Ba Market is the biggest commercial center of Thua Thien and it is a market as much for locals as tourists - in fact one complaint we overheard from other tourists is that it "too local" a market!
A pile of dried fish lays on a plastic sheeting, the vendor taking advantage of the rays of the sun to naturally dry the fish. The markets are bustling and any time we show interest in an item, several sellers pop up like meerkats. Fans, sweets and lottery tickets are offered. Some pat you on your arms, others graze past you fanning the goods in your direction.
"You Vietnamese?" one woman says to me. "You have the eyes," she explains. She follows us around the entire market and with her excellent English she translates some of the items. She is helpful but we know that soon we will be asked to pay a price. That is, with a visit to her shop.
"How old you are?" another woman says.
"You have children?" she says and when I shake my head no she tries another tack, "I like your atmosphere," she adds. The sweet talk is all part of a lure to buy. Upstairs near the apparel stores one woman is getting her nails clipped by another while their stall neighbour kneels down and sorts her water spinach into two bags.
The apparel stores often involve a hard sell so we retreat back downstairs while our earlier friend yells out across the floor a protest that we haven't bought anything from her stall. Downstairs my eye is caught by a purple drink. All food items seem to be 20,000VND/$1.22AUD each although that's a tourist price. The woman spoons some taro paste, palm seeds, chewy rice balls, red beans into a cup and finishes it with a scoop of coconut cream. She ends off with some ice and I take a sip and it's refreshing and sweet. We squat on the low red plastic stools and enjoy the respite for our feet.
The market at Hue has a lot of Hue's regional specialties. There's banh khoai or "happy pancake" which is a pancake that resembles a taco. It is a rice flour pancake filled with beef, pork, pork liver and shrimp and vegetables. The pancake is deep fried and then cut up and served atop salad leaves with a sauce poured over it.
My favourite morsel is the Banh Loc Tran bought from a vendor who carries the food around the market on her shoulders. The clear rice dumplings hold a shrimp filling as well as a bean filling and are covered in a translucent tapioca coating. The little scoop of chilli gives it a sweet chilli punch.
It's time to join the rest of the writing group. We are seeing more of Hue with our Helen Wong tour guide Chu and the bus ambles along and turns left into a nondescript narrow road. The street turns a vivid green and trees overhang a canal offering dappled shade. A woman wearing a nón lá conical hat pushes her bike and butterflies flutter past.
For lunch we are visiting Ancient Hue, a restaurant that specialises in Royal Vietnamese cuisine. Royal Vietnamese cuisine was refined by the chefs of the 13th and final emperor of the Nguyễn Dynasty. It is particularly relevant in Hue as it was the country's imperial capital during this time. The emperor's chefs refined it and it was a cuisine accessible to non royals too.
Royal Cuisine is also known for its fruit and vegetable carving. Carvings of the dragon denote the king while a Phoenix represents the queen. The restaurant has an elegant feel to it as well as beautiful gardens. As we are part of a tour all of the food is pre-ordered which can be a bit frustrating when you want to try something a bit more adventurous.
The pomelo salad is well balanced and refreshing with shreds of chicken and a sweet, sour and fresh dressing.
The grilled pork skewers on sugar cane are also wonderful with a fish based sauce flavoured with peanut.
Sautéed chicken with cashew nuts is a bit less exciting and bereft of chicken. I wouldn't have ordered this if given a choice.
The favourite main is the stewed fillet fish with lemongrass and turmeric. The sauce on this is particularly moreish and the turmeric lends it a bright yellow colour and a touch of flavour too.
The grilled eggplant with minced pork and a tiny jug of soy is soft and luscious.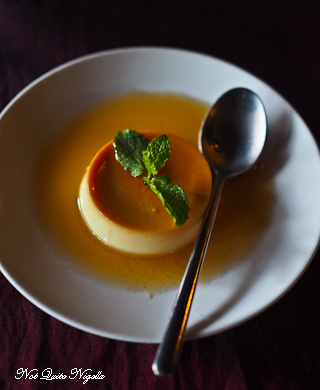 To finish is flan, an eggy set creme caramel custard. It was all very nice but my main issue with tours is the inability to choose what you want to eat and after 6 days of travelling and having all your meals picked out for you, I was quite frustrated. Having said that, the quality of restaurants with the Helen Wong tour was excellent.
We return to our hotel, the Banyan Tree Lang Co in Phu Loc. It's a slightly hidden away resort near Lang Co Bay but is well situated for both travel to Hoi An and Hue with each being 1.5 hours away from the hotel. We pass by farms with workers and herds of cattle line the side of the road. Ducks waddle in the distance - they eat the pests in rice paddies. The Truong Son Mountain Range looks off in the distance.
Main room
The Banyan Tree's sprawling estate is built along a Crescent Bay and has its own private beach. It comprises of pool villas each around 131 square metres in size. My lagoon pool villa #165 is impressive, self contained and private. Each room has a small infinity pool that sparkles in the sun and a day bed as well as lounges and breakfast table.
There is also an outdoor shower and the area looks out into the wild lagoon. The villa is equipped with complimentary wifi and there is also a small complimentary mini bar selection (mostly juices) although snacks and alcohol are extra.
I sink down into the large king sized bed quickly messing up the floral welcome. It is so comfortable with smooth sheets that I almost pass out. The pillows are a tad high but there is a pillow menu available to order others.
The bathroom is spacious with two sinks and gorgeous toiletries. The stand alone bath looks inviting and I run a bath, luxuriating with the sumptuous products. I particularly like the smell of these products and I consider buying some to take home with me.
One of the biggest strengths of Banyan Tree Lang Co is the staff. They're very intuitive and eager to help and nothing is ever too much trouble. When it rains they take me to my door and there is one thing that really impressed me. Whenever I receive a pre-check in email asking for special requests I ask for a framed photo of Prince on my bedside. Most hotels ignore this but waiting for me is a framed photo of The Purple One!
The food offerings at the hotel are also excellent. Breakfast in the villa is a highlight-you simply order it the night before (or on the day (although it can take about 45 minutes to arrive without notice) and the staff call and let themselves in and set it all up by the pool for you.
The Vietnamese breakfast has a range of everything you could want: a beef pho soup, Vietnamese pancake, bread, fruit and I also added on a mini banh mi (not so mini in size though!) and a Vietnamese coffee.
Even the casual restaurant is also full of great offerings, in particular the green papaya salad that has us all very impressed and begging for a recipe.
All Banyan Trees have a restaurant called Saffron and here, it is the fine dining restaurant located near the new Hilltop villas. When they enter women are offered fresh orchids that the staff gently place behind their ears. Cocktails are given quixotic descriptions.
We start with a sampler plate. I only wanted to have a small taste of thingss but everything is so delicious I end up finishing it all.
After this our waitress brings around a jug with jasmine scented water and invites us to wash our hands in the water that she slowly pours over them. I mean honestly how am I going to go back to real life after this?
The main is a beef and potato curry that is served on a tray with two crispy roti triangles. It comes with a tray with four types of rice: black rice, saffron, pandan and white rice. The curry is wonderfully soft and especially good with the crispy roti. The beef melts in the mouth.
It's getting late and we have an early flight so dessert is sent to my villa. It is a tasting platter with sticky rice filled spring rolls, coconut ice cream and a creme brulee. I taste a little and then realise that I haven't yet gone for a dip in the pool yet (oh the horror!) and we are checking out at 6am the next morning. So I slide open the doors and bring my plate of desserts and listen to the wildlife while soaking the pool. Yes, how will I ever return to real life?
So tell me Dear Reader, is there a place that you consider heavenly? And do you prefer for your meals to be chosen or do you like to choose your own? Do you go on many organised tours?
NQN travelled to Macau and Vietnam as a guest of the Macao Government Tourism Office, Helen Wong Tours and Banyan Tree Hotels but all opinions remain her own.
Banyan Tree Lang Co
Lộc Vĩnh, Phú Lộc, Thừa Thiên Huế, Vietnam
Phone:+84 54 3695 888
http://www.banyantree.com/en/ap-vietnam-lang-co
Helen Wong's Tours
17, Town Hall House, 456 Kent St, Sydney NSW 2000 Phone:(02) 9267 7833
http://www.helenwongstours.com/
Ancient Hue
104/47 Phu Mong , Kim Long | Vietnam, Hue 10000, Vietnam
+84 54 3590 356