What are the rules of packing for a trip? Start packing a few days ahead and leave your suitcase open to fling in the otherwise forgotten items when you think of them or come across them in usage. It seems to have worked for me most times and I usually learn to pack pretty well (considering the amount of camera and computer equipment that I bring). But unfortunately three triangles of material did not make it into my suitcase for this trip to Vietnam. Yes I forgot my bikini. But that doesn't matter because I am at Fusion Maia resort and I have my own pool to myself.
Fusion Maia is Asia's first all inclusive spa resort where all guests can use the spa, facial and massage facilities for free as these are included in the room tariff (around $330USD per room). Everyone is guaranteed of two treatments a day per person minimum and they can do up to 40 guests an hour. Could this be the most perfect resort on earth?
Welcome plate of fruit
It is also a hotel where you can have all day breakfast anywhere in the resort. Which means that three of my favourite things are at this resort-spa treatments, breakfast in my room and my own private pool. I swear I really am a sociable creature but it doesn't sound like it does it?
But don't worry about me, I'm just trying to figure out how to make myself a cup of tea. Fresh milk needs to be ordered from room service and with a cup of tea I settle in and try to work one of those minimalist iPod docks to no avail.
OK I'm back and I had a skinny dip in the pool.I've also had a chance to look around the room (#2702)a bit. Each pool villa is 50-60 square metres inside with 33 square metres outside. There are also 2 four bedroom spa villas and 2 three bedroom grand beach villas. There is free wireless internet and an iPod docking station that I still can't work out for the life of me (there are also complimentary iPads for use in the lounge bar or they can be rented on a daily basis).
There is a king sized canopy bed with a television that swings around so that you can watch tv while in the bath or in bed. Mini bars can be customised to your preference and check out is a civilised 12 noon. The only thing that I find curious is that there aren't as many amenity products on the sinks, just a standard set including the dreaded shampoo conditioner combo. I find a pouch of additional amenities although there is a tag on it saying that there is a charge if you take this with you although I'm not sure if they mean the pouch itself and the use of the items inside it.
I have quick chat to the journos that are travelling with me who are situated in the same section and we're all similarly smitten. One loves her room so much that she hugs the staff member that has taken her there. Each of us bid each other farewell over the next few hours while we take up residence in or around our respective pools.
Apart from the 16 room spa there is also a spa library, yoga room, steam bath and sauna and swimming pool. Outside, facing the ocean there is also another swimming pool with deck chairs. At the spa there are 13 therapies available that cover the usual massages and foot reflexology and there are unusual body treatments like a yogurt splash where they cleanse and condition the skin using yogurt or a aroma flower bath. There are also facials, hair and manicure and pedicure services.
After some work and finally calling guest services to ask how to use the iPod dock (oh yes, that was embarrassing), I make my way to the spa. It's enormous and takes up much of the size of the resort. It is a spectacular looking building in white with floating sheer fabric panels and staff member floating by in grey outfits. There are groups and couples awaiting their therapist. We fill in forms and they give us a glass of water while we are waiting. Guests can also take part in meditation, yoga, tai chi, aqua fit and zumba.
They then introduce us to our therapists who lead us into the changing room where we undress and get changed into a pair of knickers, robe and slippers. We then make our way to the treatment room which is actually up a couple of flights of stairs (yes it's big!) and I settle in for my 50 minute natural living signature massage and 50 minute aromatherapy facial for dry and sensitive skin.
My therapist Xin starts by washing and scrubbing my feet in fresh mint water and then using a salt to exfoliate. She then starts the massage on the massage bed concentrating on my areas of concern (sore legs and feet from walking and arms and hands from typing) and she uses a medium pressure massage checking with me about the pressure (always a good thing!). It's a very relaxing massage and they use their signature oils and products throughout the treatments.
She then starts on a facial which is my favourite treatment as she incorporates a lot of face pressure point massage and my favourite part, a head massage. The products smell delicious, particularly the mask which dries hard and at the end of the massage she even takes a hot wet cloth and gently but firmly wipes away the excess oil from my limbs so that I am not oily or sticky in the heat. She even puts my hair back up in the elastic and then does the same for my back. I float away slightly dazed to dinner...
We're dining at a nearby restaurant called Blue Whale although I'm so zoned out it could have been two hours away and I probably wouldn't have noticed...
Set along China Beach (the one that the television show was supposed to be set and also said to be the place where the Americans first landed) there are tanks for live seafood out the front. Inside it looks quite elegant and they ask if we'd like to sit outside. It's a bit "fresh" with the breeze but the sounds of the waves crashing puts aside any dislike of lip gloss in hair moments.
Banana flower salad with shrimp and pork
I adore banana flower salad and I always order it if I see it on the menu. Here the version is slightly different than the Thai version which we get in Sydney which is topped with coconut cream and poached chicken although the spicy chilli seasoning with the pungent kick of fish sauce and crunch of peanuts is similar. There is also a generous serve of prawns and pork in the dish and it is served with moreish sesame crackers.
Crispy calamari
The crispy calamari came out in a thick layer of batter, the calamari underneath tender but the ratio was mostly batter rather than calamari.
Grilled shrimp with bacon rolls
The prawns come grilled with bacon and whilst everyone finds them quite tasty I did find that the bacon really overpowered the prawns completely.
Sweet and sour freshwater fish broth
I can't say that anyone was a big fan of this and it was discreetly sampled and after one mouthful it was pushed away. Not for the faint hearted.
Stewed pork in claypot
The pork came out as slices of pork with a little thick flavoursome sauce that needed some of the boiled rice and eggplant below.
Grilled eggplant
I did find that the eggplant whilst it had a good texture needed more seasoning but this was where the full flavoured pork came in and mixing the two dishes resulted in a satisfying main.
Creme brulee
Not really a brulee in the true definition, more a set bavarois with a toffeed top it was nevertheless quite good and worth finishing off every spoonful.
I'd love to tell you that I awoke the next morning for breakfast but the bed was a bit too comfortable and I was still full from the previous night to contemplate more food. I chose to have a cup of tea in the room instead.
Our next morning is a busy one spent at Hoi An, a small city about 30 minute's drive from Da Nang. There are 100,000 residents in Hoi An and it's a busy shopping area for tourists and it is classed as a UNESCO heritage site for the buildings and streets. The inhabitants are also keen business people and this is where you go if you want to get clothes or shoes made up with same day service.
"Gucci, move aside!!!"
Cars or buses are not allowed down the streets here so instead there are plenty of bikes and scooters and you have to be careful when negotiating the streets and the pathways that end suddenly that you're not suddenly going to step into the pathway of a scooter. Formerly a trading port it now relies heavily on tourism.
Hoi An River
A fisherman along the Hoi An river
Everyone does a little shopping, we check out the temple and walk along the Hoi An River which is a brown shade. There are plenty of stores that can make all manner of clothing - currently there are lots of coats and long sweeping dresses with draping.
Less common are the ready to wear stores which is a shame as we are just here today and I haven't brought along anything that I want made up. Apart from boutiques, there are also market stalls which are cheaper than in Ho Chi Minh City with t shirts about 60,000VND ($3AUD).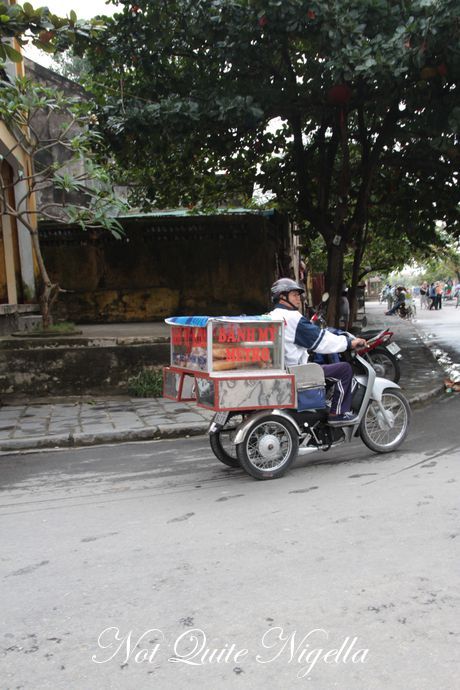 Japanese bridge
Once we've finished shopping we take a quick cruise along the river - cruises are usually for three hours but I think 1 hour is plenty quite honestly. There isn't a lot to see during the cruise.
Thanh Ha Pottery Village
We get off the boat at Thanh Ha pottery village where much of the pottery that is sold in Ho Chin Minh city is made. There is a worry that this is somewhat of a dying art and we watch them at the wheel shaping pots while another person stands and turns the wheel with their foot. With entry to the village is a whistle shaped like the animal in your birth year. I am born in the year of a rat and despite the connotations, it is actually a very good year and they tell us that it is one of the more auspicious animals to be born under as rats! Defensive moi? ;) ).
I'm back in my room for scarcely a minute but with just enough time to shower and change for dinner. Fusion Maia has a sister property in Hoi An where their guests can have breakfast and have spa treatments at no extra charge. The restaurant there is situated in the heart of the action along the banks of the Thu Bon River and offers Vietnamese food with polish.
Fresh spring roll with shrimp and crispy pork roll, coconut pumpkin soup nad mini herb salad with passion dipping sauce
The spring roll is super fresh with the rice paper supple and delicious and filled with shrimp and crispy pork pieces. The coconut pumpkin soup comes as a thick layer of pumpkin soup puree and a topping of coconut cream. When stirred together it is thick, creamy and well seasoned. The mini herb salad with the passion fruit dipping sauce is the only thing that I don't really go for although everyone  else seems to like it (although I'm not one that really goes for fruit and protein or savouries unless it is pork or duck).
_
Seabass fillet with bok choy, shrimp sauce and stir fried noodle with garlic_
The seabass is perfectly cooked and with a tasty shrimp sauce. It was supposed to be paired with stir fried noodles but they were boiled noodles with a garlic and turmeric.
_Lemongrass and ginger brulee
_
To finish off our three courses, we have a lemongrass and ginger creme brulee. I really like the Asian flavours given to the brulees as it suits the climate and the preceding flavours.
After all of that, it's off to bed to get ready for our last day in Vietnam. And it's a goody! I break away from the group and do a bit of exploring of my own including visiting a local's house for dinner and more! Stayed tuned my lovelies! ;)
So tell me Dear Reader, what would a hotel or resort need to have in order to be perfect in your eyes? And what turns you off in a hotel or resort?
NQN travelled to and explored Vietnam as a guest of Vietnam Airlines.
Fusion Maia Spa Resort
Truong Sa Street, Khue My Ward, Ngu Hanh Son District, Da Nang City, Vietnam
Tel: +84 511 3967 999
Blue Whale Restaurant
Son Tra Dien Ngoc Str., Da Nang 10000, Vietnam
+84 511 3942 777
Hoi An
30 minutes from Da Nang centre. The Fusion Maia Resort operates a free shuttle bus for guests.
Fusion Maia Hoi An
Truong Sa Street Khue My Ward, Ngu Hanh Son District