"Feel free to jump in the water"  Jane says to us as we stare mesmerized at the view from our table at The Janning Tree. Sometimes when you travel and are in a hurry, you look around, realise that there is something special going on where you are and just sit and stay for a while. And that's what happened to the lovely Julie and I this sunny afternoon at The Jaaning Tree.
Chef Clayton Donovan
Situated right on Nambucca River, Jane, the maitre'd and wife of chef Clayton Donovan tells us that often between service they go for a dip in the river to cool off. And the lifestyle is partly why they have moved back to Nambucca Heads where he grew up because he wants his kids to experience the life that he had growing up.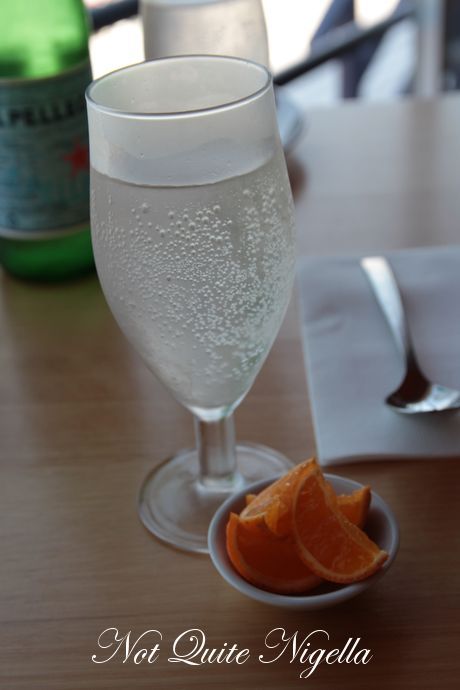 Orange native bush limes
The water is served with native bush lime which resemble a tiny orange or mandarin but is in fact like a salty lime (perfect for a cocktail!)
Freshly shucked Nambucca River oysters: Asian $16 half dozen and Natural $14 half dozen
Of course we had to try the local Nambucca Heads oysters. The natural oysters are lovely and we use the native wild lime from our drinks to give it a fresh kick. The Asian ones however with pickled and fresh ginger, coriander and wasabi are the pick with a lovely balance of flavours and a delicate hand. The salad in the entree is also a nice complement to the oysters and features violas and nasturtiums from their home garden as well as apple berry flower which is a native fruit that kangaroos like.
Clayton picked some up nearby and he tells us that as kangaroos like it so much, if you find kangaroo tracks then there is a chance that you have an  apple berry tree. The apple berry flower has a texture like a green apple skin but a flavour like celery. While the actual apple berry itself has a flavour like quince and Clayton tells us that it tastes like bubblegum!
Apple berry fruit which is will turn a deep purple colour and sweeten when ripe
Citrus cured crocodile carpaccio $17.50
The crocodile is one of their signature dishes and once we try it we can see why. Here it is served carpaccio style cured in light citrus juice. It is draped between crispy wonton rounds with rocket, ginger and Spanish onion with a dollop of wasabi creme fraiche and a chilli and coriander dressing. It has a lovely fresh aspect to it and is full of flavour.
Cheese and macadamia nut beignets $17
We decided to go for three entrees and one main in an effort to still fit into our clothes and they had recommended these dishes to us. The cheese and macadamia nut beignets comes as three neat parcels of choux pastry mixed with cheese and crushed macadamias and they remind me of a bite sized cheese scone. They are served with turned baby beetroot, fondant potato and a balsamic & wattle seed reduction and a Davidson plum reduction as well as a choice of powders including a carrot, asparagus, beetroot and wattle seed powder and a toffee apple gel. I don't know if it needs all of those powders though.
It is decorated with more apple berry flowers that he picks from the garden and areas nearby. "I spend half the day picking flowers" Clayton says . He tells us that he picks and dries lilly pilly flowers to make them into a sherbert and these are popular as cupcake decorations.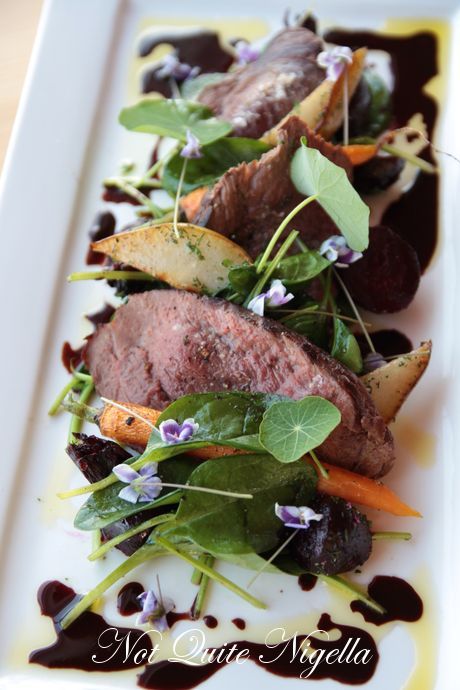 Smoked kangaroo loin $35
The kangaroo is lightly smoked in lemon myrtle and then sous vided and still retains a pink centre and it so very tender tender. It is accompanied with sweet flavours from the organic local baby beetroot to wilted spinach, caramelized carrots and pears. The sweet flavours go well with the gamey kangaroo and to finish it off there is a chocolate sauce that at first we think is balsamic from the look and then one taste and the unmistakable flavour of chocolate comes through. The serving size is very generous with three fillets.
Native pepper berry and ginger creme brûlée $13
The creme brûlée is lovely and silky with a crunchy toffee topping and a native pepper berry and ginger which is subtle. The pepper berry is an unusual ingredient and it is like a chameleon. With beef is takes on a different flavour and smelling it it almost has a mint flavour. Here it is paired with a vanilla ice cream, carrot sherbert which sings and pops and a wattle seed powder and an aniseedy Opal Nera sauce and a toffee apple gel. Again, there are quite a few sauces and flavours on the plate and I don't know if it needs all of them.
We also can't leave without buying some jams for gifts that they make here. I buy a Bush lemon and bush lime marmalade for $5 and an onion relish with aniseed myrtle for $6. And before we leave we have to ask what the Jaaning Tree means. Clayton and Jane laugh and they give each other a significant look. It is a blackwattle tree with a golden sap that native Australians use as a "bush lolly" or when children are teething. When Clayton was young and would get into trouble he would hide in the tree. "It was my naughty tree" he says. He would spend the time eating the sap from the tree. He wanted to call his restaurant the Jaaning Tree but they couldn't find how to spell and it was only when they finally came across the spelling that Jane agreed to calling it The Jaaning Tree.
So tell me Dear Reader, have you tried much native produce? Do you have a favourite native ingredient?
NQN and Julie travelled and dined as guests of Tourism NSW and Mid North Coast Tourism
The Jaaning Tree
1 Wellington Drive, Nambucca, NSW
Tel: +61 (02) 6569 4444
Breakfast 8.00 -11.30 Sat & Sun
Lunch Noon Fri, Sat & Sun
Dinner 6.00 - Late Wed-Sat
http://www.jaaningtree.com.au/