"That's my supermarket" Mark Flannery of the Gumbaynggirr tribe of indigenous Australians says spreading his arms wide. He pulls up a stem from the ground and offers it to us. It a reed of saws sedge, with has a sharp edge that could give a paper cut easily. I take a bite of the end that was just moments before in the ground and it is soft, mild flavoured and slightly nutty. The red seeds from the plant can be crushed to make a flour for cakes.
Mr NQN is going home. Well, for three days I mean. As a Coffs Harbour native, he hasn't been 'home' for a few years now and the chance to go back and explore a bit more of what the mid North Coast has to offer food wise proved too irresistible. Over the next three days, we will try the best of the region and share these goodies with you, starting with this bushfoods tour, arranged through the Discovery programme at the National Parks.
Here, we meet my friend Julie from Gourmet Getaways and her husband Mr GG. Mark tells us that the way indigenous people use bushfoods are as food, medicine and resources. They consider themselves as part of the cycle as much as the land, water and sky. Through generations of knowledge, they sort the edible from the inedible and using judgement nibble and sample on things while getting from point a to point b using particular foods as medicine to alleviate any woes.
Sweet sarsparilla
Mark holds out some some sweet sarsparilla (not related to the sarsparilla drink) which is high in Vitamin C and is said to be good as a blood cleanser and good for asthmatics. I take a green leaf and chew on it (pink leaves are ideal as they are younger) and it is sweet at first becoming a little bitter. The flavour stays in the mouth for a while and they make tea with it using lukewarm water.
He tells us that bush foods are available all year round and when one item stops, another one becomes available and there is plenty to eat even during winter although spring is said to be the best time to sample them. They also know to avoid hunting wildlife during spring as this when the babies are born and to hunt them now would mean depleting their food supply later.
A hole from an echidna digging for grubs
He spots a hole in the ground from where an echidna has been digging for grubs to eat. Echidnas are a delicacy and underneath the quills lies a soft area of the echnida. The meat itself is so soft that it is often reserved for elders although Mark admits to not being able to bring himself to kill any echidnas.
Looking at the river at some fallen trees, he tells us that within these trees usually lies a cobra worm. They are as thick as a thumb and can be as long as a metre. Apparently after removing the head, these are delicious and similar to oysters with people eating them bit by bit-the soft meat means that they too are good for the elderly along with hangovers! ;)
We pass an enormous nest that brush turkeys have made about two metres long and about a metre high. A male bush turkey stands nearby guarding the nest as is their role once the female lays the eggs. Mark brushes the paperbark tree and tell us that it is called "blackfellas foil" as they wrap food to be cooked in it. As it is still August, some of the fruit hasn't appeared and we pass sandpaper fig trees which will bear maroon fruit and native blue ginger plants as well as a spicy sarsaparilla which is also called a "dinner leaf" which tastes like the skin of a grape.
Dinner leaf
Two popular bushfoods are aniseed myrtle and lemon myrtle and both heady and deliciously strong. The former is also called "blackfella speed" as it gives energy. He tells us that they even make Sambucca from it!
One important rule? Don't touch or eat anything that you don't know is safe because some of it can make you seriously ill or kill.
As if to demonstrate that, we are at the beginning of the bushfood walk and at the front of the Botanical Gardens.A Burrawong Palm tree displays its colourful seeds. Unless the seeds are treated properly which involves washing under running water, crushing etc, it is toxic. Captain Cook saw the Koori people eating this and allowed his crew to who promptly fell ill.
Cabbage Tree Palm
Also, eating something may kill the actual plant itself. An example is if you eat the shoots from the Cabbage Tree Palm (pictured above) you will kill the plant. So it's best to have a guide showing you before you eat anything ;)
And it goes without saying that no trip to Coffs Harbour is complete without a stop at The Big Banana! Ahh memories of when Mr NQN's brother Manu used to drive the train there...
Now cheese lovers, have you ever tried making your own cheese?At the Cheesemaking Workshop in Emerald Beach, they hold 1 day workshops that teach you how to make camembert, feta, mascarpone, quark, yogurt and ricotta cheese. Each class runs from 10am-3pm, 7 days a week (minimum 2 people, maximum 6 in a class). There are also advanced classes which teach how to make blue cheese, havarti and cheddar. Each class starts the very best way - with sampling the cheeses that you will make.
On the plate are two types of Persian feta, one with chilli and garlic and one with lime. There's also a rum and raisin quark coated in flaked almonds, a camembert and a "bucca" blue cheese. I like the blue cheese and the lime feta although it has a slightly different, slightly spongey texture to it that is soft and dissolves in the mouth upon a bite.
Mr GG stirs the milk (and yes, he is tall as you can see!)
Barbara shows us how to make ricotta which is the simplest cheese to make which is ricotta. To make it, you can use any type of milk including goat's milk. You place 2 litres of milk in a pot and then heat it stirring constantly until it starts to reach a rolling boil. Have 100ml of acid ready (vinegar or lemon juice) and once you get it at the rolling boil, add the vinegar quickly and stir it twice. Check the whey, if it is clear, then you've added it at the right time, if it is milky, you've added the acid a little too early. To overcome this, turn up the heat for 10 seconds.
Wait for 20 minute and once this is done you can drain it. And always reserve the whey - it's great for the skin if you have skin conditions like eczema. I always bathe in whey when I have it and you can use in recipes where you need milk or water. Waiting for the 20 minutes means that you get a better yield and for every litre of milk you should be able to get 200grams of ricotta.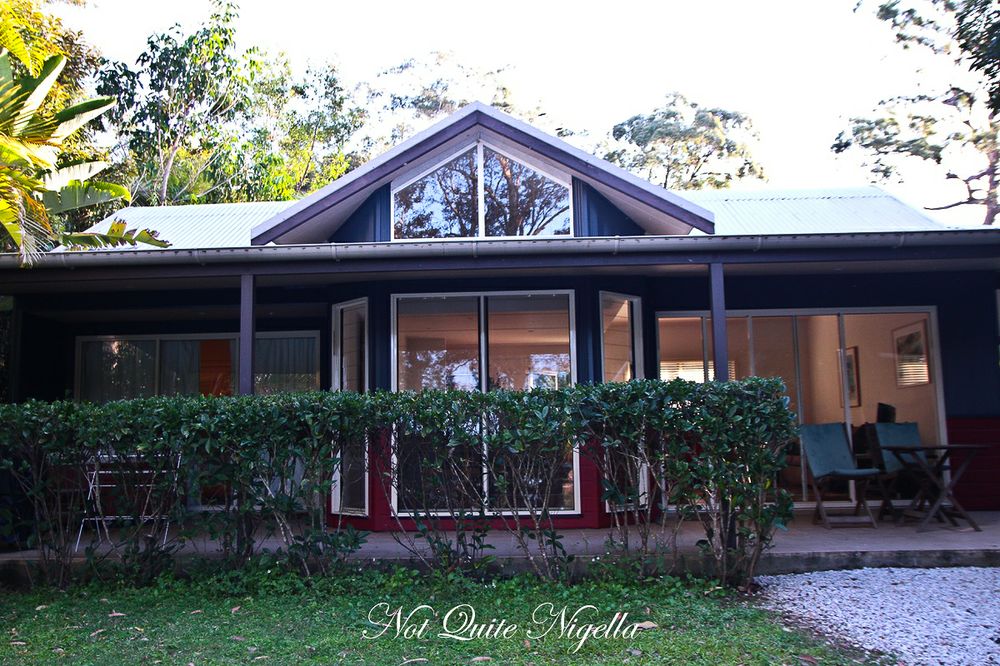 Just nearby is our accommodation for the night. Lake Russell Luxury Retreats sits right along Lake Russell. I'm aware that I've just been pegged the crazy city slicker because I've asked for the internet but alas I need to write this busy day up whereas most just come here to relax. Friendly owner Bob comes over with the internet connection and muses aloud "you know I don't think anyone has ever asked for internet..." Mr NQN takes the opportunity to jump in the spa that has just been heated for us and when I pop in to see how he is doing, I watch as he stares at the water watching the occasional pair of ducks float past. The nearby highway is the only thing that interrupts the silence.
There is a large open living room with large windows and doors where artworks competes against the tranquil view. In the well stocked kitchen is what has to be the biggest country sized breakfast I have seen. There are eggs, mushrooms, tomato, bacon, sausages, toast, butter, fruit, yogurt and cereal for us to make in the morning. The only thing possibly missing is some juice.
Breakfast provisions
The bedroom is calming and serene and just outside the sliding doors is the spa bath. Opposite this is the bathroom with a large open shower and two sinks. There are sachets of shampoo and conditioner and soap provided. I sit down and make myself a cup of tea while I do work, occasionally stealing glances at the view outside.
I had a few chocolate covered strawberries while I was working. Aren't these Wicked Berries strawberries gorgeous? Who knew that there were this many ways to decorate a strawberry with chocolate? Apart from Belgian chocolate coated strawberries, they also do cake pops or cake bombs as they call them here in seven different flavours. There's no shop front but you can buy them online at their website www.wickedberries.com.au.
It's a couple of hours work before my stomach starts to yearn for something to eat. Tonight's dinner is at Latitude 30, a place that Julie and Mr GG recommended and they are joining us for dinner. As Coffs Harbour locals, I was grateful for the recommendation. It's situated at the marina at the fisherman's co-op wharf so you know what that means...lots of seafood for a seafood monster :D
We walk past the murals and into the dining area. It's quite busy this Friday evening with about three quarters of the restaurant full. We defer to Julie and Mr GG's experience with the menu when choosing. The menu has tapas or shares plates as entrees and a page of mains and the menu selection is quite large with an emphasis on local seafood from the co-op. All of these entrees also come as a main size but we ordered the entree size. Service is very good, particularly from the young waiter that looks after our table.
Jimmy Chew $15.90
This was the perfect cocktail for me-sweet and not too strong there were raspberries and lychees, pink grapefruit juice, Bombay Sapphire gin and a bit of rose syrup. Such a girl's cocktail!
Lychee lemongrass martini $15.90
While Julie has a lychee lemongrass martini which reminded me of tropical holidays. The boys had beer as they weren't having any of the girly cocktail action.
Oysters natural $16.90
Oysters with pickled ginger and wakame $16.90
The Piccolo oysters were from South Australia and the natural were fantastically fresh and delicious. We ordered half natural and half with the pickled ginger and wakame but one taste of the latter made us wish we had ordered a dozen of these.
Cheese and Almond Crumble Brie, almonds, cherry tomatoes, confit garlic,and rocket $12.90
I was quite intrigued by the idea of a savoury crumble-for cooking ideas of course as well as eating ideas. The cheese and almond and oatmeal crumble topping hid a layer of potato, halves cherry tomatoes and confit garlic. It was a nice idea although I think I might have liked potato, sweet potato or pumpkin under the crumble topping as the tomato was a bit of a surprise tang.
Seafood Mezze King prawns, smoked salmon, oysters and Morton Bay Bugs (G.F.) $24.90
The seafood mezze plate was an entree version of their seafood platter and came with a fresh selection of prawns, smoked salmon, oysters natural and halved Moreton Bay Bugs with a thousand island dressing, lemon wedges and a fab little crusty mini loaf of bread with a soft inside.
Smoked salmon blini, smoked salmon, potato blini, cive cream & watercress $13.90
The potato blinis were deliciously authentic and came with smoked salmon, a quennelle of chive cream and watercress.
Blue Cheese Salad Gorgonzola blue cheese, caramelized walnuts, dried figs, eshallots and rocket (G.F.) $10.90
The rocket salad had a generous amount of creamy Gorgonzola blue cheese which was countered with the sweetness of caramelised walnuts and pieces of delicious dried fig. This was no light salad although it was very popular at the table.
Royal Thai Yellow curry Morton Bay bug tail, local prawns, scallops, bok choy and steamed jasmine rice (G.F.) $33.90
Mains, we learn are sizeable. Julie's order, the royal Thai yellow curry comes with an aromatic yellow curry sauce full of depth and richness. The seafood is cooked separately so that the texture is perfect and not overdone and it comes with two bug tails and some local prawns.
Paella with chicken, chorizo, rice, saffron, scallops, mussels, squid and prawns (G.F.) $34.90
I tried some of Mr GG's paella which is enormous, with a layer of saffrony rice and a generous amount of seafood including plump scallops, prawns and mussels as well as chicken and discs of chorizo.
Lamb papardelle
I must admit that I wasn't quite prepared for the papardelle having gluttonised (yep that's a word mkay? ;)) myself on entrees but once it arrived, I dove right in. Both the ragu and the papardelle had a beautiful texture and I adored the soft cooked meat which separated in strands and clung to the silky, house made papardelle.
Tuna with pork belly
Mr NQN lets me order for him but of course I have to be mindful of his preferences when I order (one time I ordered him a pork knuckle and he let me know how vastly unhappy he was :P ) but knowing that he loves tuna I ordered this dish for him, especially as Julie and Mr GG had had it before and loved it. It was a very pretty dish with a layer of cubed, sweet and sticky pork belly on the bottom topped by a tuna steak and an Asian vegetable salad on top. To finish it off was an utterly lickable black pepper caramel sauce.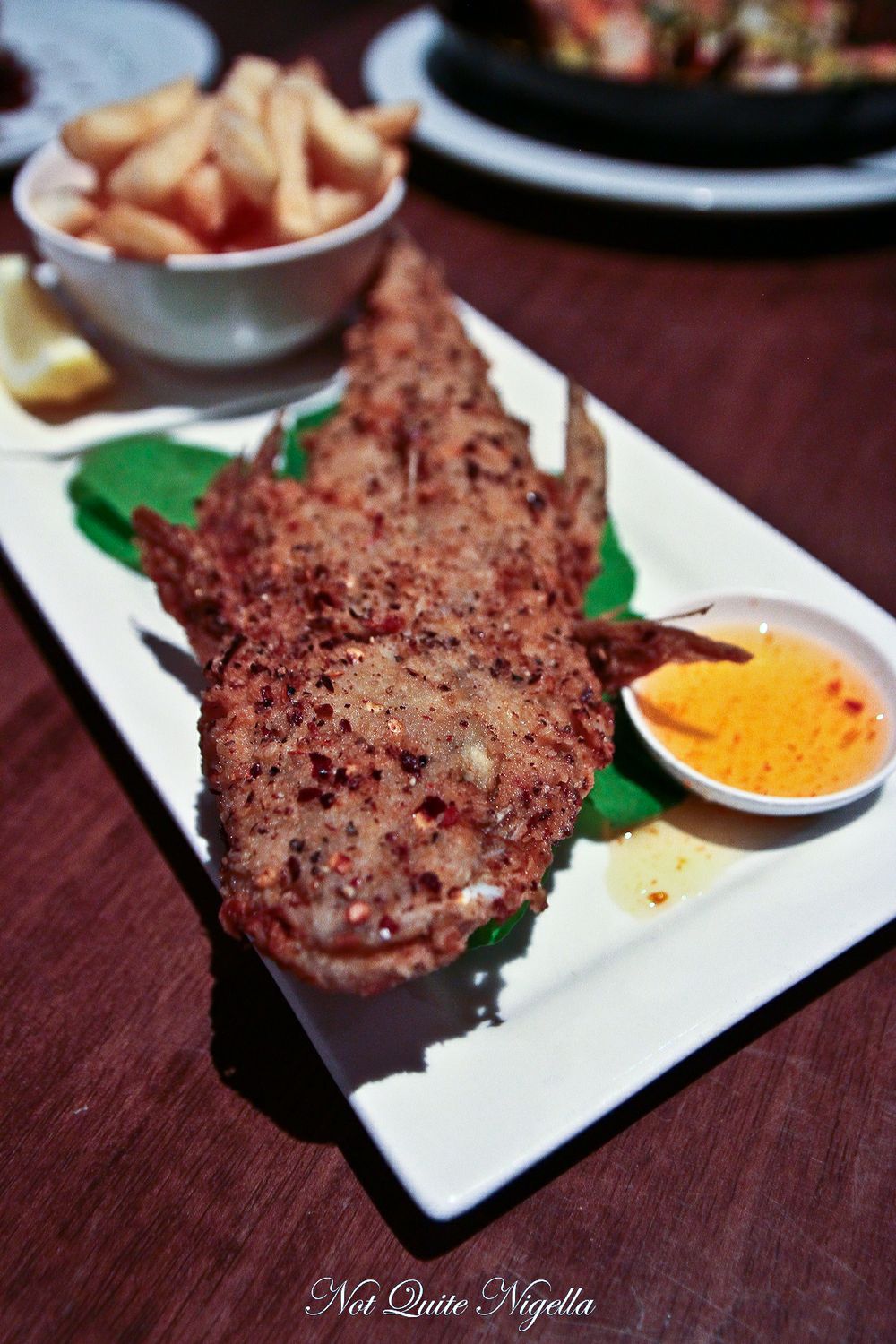 Flathead with salt and pepper crust (market price)
The flathead was an extra main that was from the kitchen as it was said to be a signature dish. It's a whole deep fried flathead fish with a crunchy nubbly burst of flavour from the salt and pepper crust. The flavour of the crust was good although the fish was a tad on the dry side inside. It also came with a bowl of fluffy crunchy golden chips.
Bread and Butter Pudding Blue berries, Brioche and vanilla bean ice cream $14.90
The bread and butter pudding was enormous - I think you would just expect one slice of it on a plate but here it came with twins. It was surprisingly light and fluffy and not stodgy like some can be especially as it was made of brioche and served with a vanilla bean rich ice cream.
Chocolate assiette plate $23.90
This chocolate assiette plate had many different components including chocolate pudding, chocolate creme brulee, white chocolate cheese cake,white chocolate pannacotta, chocolate parfait and a white chocolate pot. I particularly liked the chocolate creme brulee and white chocolate cheesecake and the aromatic white chocolate pot with chai spices although the white chocolate panna cotta was a little too sweet for me.
Pistachio Biscuit and marinated Strawberries pistachio praline and vanilla icecream $14.90
A very pretty dessert with absolutely perfect strawberries, this was layered with house made pistachio studded biscuit squares and a a creamy pistachio praline between the strawberry towers. By now though, I was getting really, really full.
Prune and fragipane tart $14.50
But I had enough room to try the prune and franigpane tart which was two slender pieces of buttery pastry with a soft prune and almond and vanilla frangipane filling. Again, the serve is large and it also comes with a scoop of vanilla bean ice cream, just the trick for this lovely tart.
At 10:30pm the restaurant is just us with everyone having left and we take the 20 minute drive back to Emerald Beach, stuffed full of good food. We get back to the sweet quiet of the cottage although this is slightly interrupted when I see a huntsman spider out of the corner of my eye. I know that they're not poisonous but they're enormous and hairy so when it hides behind one of the paintings, Mr NQN gently relocates it outside with another friend and we get a good night's sleep.
The next morning, we wake up early and I let Mr NQN snooze for a while I prepare breakfast. I crack some eggs, do some whisking, peel off some slices of bacon and turn some sausages and before I know it we've got a big country sized breakfast! Just the thing before we embark on our next leg of the journey...to the very surprising town of Bellingen!
So tell me Dear Reader, have you ever tried bushfoods? And if you could learn to make one type of cheese, which one would it be?
NQN and Mr NQN visited the Coffs Coast as a guest of Coffs Coast Marketing
North Coast Regional Botanic Garden
Hardacre Street, Coffs Harbour, NSW
Tel: +61 (02) 6648 4188
The Cheese Making Workshop
62 Lake Russeel Drive, Emerald Beach, NSW
Tel: +61 (02) 6656 2335
Lake Russell Retreat
12 Smiths Road, Emerald Beach, NSW
Tel: +61 (0) 408 627 718
Latitude 30
Unit 8/1 Marina Drive, Coffs Harbour NSW 2450
Tel: +61 (02) 6651 6888