The next morning after our food trail of Port Macquarie's producers I startle awake. The sun is shining in my room and I'm worried that I have missed my morning appointment-judging the Mid North Coast Signature Dish competition. Thankfully that's just the light streaming in through the blinds and I haven't overslept (always a risk with these action packed sleep deprived trips). There are a total of twelve chefs from the Mid North Coast area from as far as Foster to Woollgoolga and each is the head chef at their restaurant.
Their brief was simple: to create a dish that exemplifies the mid north coast. It had to have a protein, a carbohydrate and a sauce component and each had to be matched to a wine. They each had one and a half hours to complete it and they could prepare some of the stocks in advance.
It's all very calm in the TAFE kitchen, the site of the preparation and judging and also where I meet my fellow two judges-owner and chef of Zest restaurant in Port Stephens Glenn Thompson (who was a twice previous winner of this competition) and David Baker the head cooking teacher at the TAFE campus. There are some rumblings-apparently some chefs have quite stretched the boundaries of the pre-prepared food and a lot more is being brought out of their supply than raw ingredients and some only have to make one or two components to their dish. Naughty!
Things move at a smooth pace and some of the chefs even have time to chat whereas other ones are consistently working and we can see their knife skills at work and see how well neatly they keep their stations. We notice that most of them work very neatly.
We discuss things among the judges and at about 20 minutes before they are due to plate up, the aromas come wafting across and things really start to smell good. Things really ratchet up a notch or two and even at five minutes to the plating time vacuum sealed bags are being opened and things are being furiously sliced up.
We make our way to the tasting room. Now apparently this is serious stuff. When a television crew wants to film us discussing things, they are politely and firmly told that filming is only to be done at a distance and without any sound. We shut the door and take out tasting implements in a jug of water around to each table. Each contestant has plated up two complete dishes-one to go to us and one for photographing.

Then while we are busy tasting these dishes and rating them according to our criteria (presentation, taste, colour & texture, degree of skill, creativity, jus or sauce, temperature, starch component, gastronomic balance of ingredients and wine matching) another table has been set up for the people's choice awards where a mix of sponsors and their guests and the public are given small tasting plates of everyone's dishes to choose their favourite.
Step 1 - Lee O' Carroll from Bonville Golf Resport, Coffs Harbour: Roasted Hastings Valley organic chicken breast, boudin of chicken and basil, tomato consomme, sweet corn puree, baby carrots
Step 2 - Clinton Hunter from Opal Cove resort, Coffs Harbour: Duck assiette, cured duck breast with Asian herb salad and macadamia praline, crisp duck confit with shiitake mushrooms, five spiced duck breast on braised wombok drizzled with spiced plum sauce using organic duck from Coffs Coast and locally grown Asian vegetables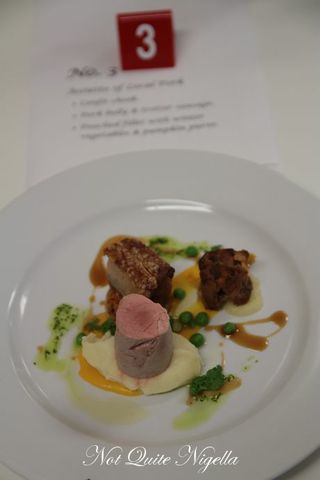 Step 3 - Todd Richardson from The Corner Restaurant, Port Macquarie: Assiette of local pork, confit cheek, pork belly and trotter sausages, poached fillet with winter vegetables and pumpkin puree
Step 4 - Luke Justin Cameron from Sandpiper Restaurant, Nelson Bay: Port Stephens snapper fillet with smoked prawn, basil and feta tortellini, roast cherry tomatoes and verjuice emulsion sauce
Step 5 - Robert English from Avé restaurant Bellingen: assiette of local squid, sauteed local squid with saffron mussels, local tomatoes and broad beans with local smoked port foam, squid ink risotto with crispy squid tentacles tossed in orange paprika salt and local wild violets_
_
Step 6 - Joe Fallon from The Rustic table, Woolgoolga: Pan roasted local goat rump with banana skordalia, fresh local rocket and blueberry tzatziki using Dorrigo goat & potatoes, Wauchope yogurt, Sandy Beach rocket, Woolgoolga blueberries, Halfway Creek garlic, Woolgoolga banana  and Sandy Beach herbs_
_
Step 7 - Kien Nguyen from Rendezvous Brasserie, CEX Coffs: Supreme of Gaian Duckling pocketed with lemon oil infused local king prawns on a chutney of garden fruits and Lakeview fresh mushroom with black truffle shavings and a Cassegrain Edition Noir 2008 durif reduction, sided by a timbale of green apple jelly and crisp rice paper garnishing_
_
Step 8 - Chris Macleod from The Restaurant at Cassegrain: Ballotine of locally farmed rabbit, deboned rabbit leg with herbs, vegetables and rabbit farce prosciutto wrapped loin and celeriac puree and game jus
Step 9 - Stefano Mazzina from Fiasco Ristorante and Bar, Coffs: trio of red mullet. Steamed red mullet on a bed of fennel and garlic puree, zucchini caponata and veal reduction; zucchini flower filled with red mullet mousse on a cherry tomato salsa and manzanilla olives and red mullet and lard tartare with quail egg and red mullet foam._
_
Step 10 - Joel McCulla from Zulu's restaurant and bar, Coffs Harbour: Cricket and coconut crumbed prawn platter. Local prawns in a coating of ground roasted crickets and shredded cooconut served with African roasted capsicum sauce, Mumamba a peanut sauce, salsa verde and lemon foam and a berbere chilli paste_
_
Step 11 - Dustin Bowie Ford from Saltwater Restaurant and Bar, Emerald Beach: Assiette of Dorrigo capretto, butternut pumpkin bread, butter pudding and jus fume
Step 12 - Scott Evans from Sundowner Tiona Tourist park: Sizzling garlic salt and peper squid with spring onions, coriander, baby potatoes, lemon verjuice served with oyster bomb
We take our time trying the dishes and discuss the dishes with each other. There are some clear favourites but we did find that with quite a few of them, they lacked seasoning. In fact, while we were watching them cook, we didn't see a lot of chefs tasting their food. Overall all of the dishes really looked spectacular and there were some excellent wine matches. Some felt that the black plates didn't show off the food to the best ability and that since they were allowed to choose the dishes ahead of time and practice them, some of the presentation or flavours that just didn't work together should have been ironed out.
There were some very creative dishes including the "experiment" which was prawns covered in coconut and ground crickets (yes, the insects) and it came with some capsules that you emptied into a beaker and added a liquid to as well as some sauces in little tubes. It certainly was creative although the presentation did flummox David a little and it was certainly a talking point!
And the final winner? Well all of the dishes were certainly within points of each and it was a virtual tie between two dishes -the red mullet and the assiette of local squid. They both fullfilled the local component and the mid north coast brief and both dishes had great presentation and appeal. Debating the two for about 30 minutes we tossed back ideas and went through the criteria before Glenn had the deciding vote and awarded it to the assiette of squid with tender tendrils of squid, a spring like salad with broad beans and blossoms and a squid ink risotto with a beurre blanc sauce.
The winner Robert English received a copy of the Good Food Guide, a Shun knife, a cheque for $1000, advertising space in three publications and marketing advice. And then the people's choice winner? It was chef Kien Nguyen who arrived in Australia 18 months ago-his apple jelly was apparently quite a hit with the public!
Our dinner that evening is at The Corner restaurant which is where one of the finalists is the head chef. Julie and I decide to have an early dinner as we want to retire early this evening to sleep. We are the first patrons in the restaurant aside from one gentleman having a coffee and within the next half an hour it will fill up with more people.
The chef Todd makes his own sourdough and our waiter tells us that he is rather proud of having created the mother or starter from scratch. The sourdough is a light one with a thin crust to it and almost reminds me of a Turkish bread roll. It is served sliced into three and warm with Myrtleford butter, confit garlic (my favourite along with the butter) and a spiced caramelised onion which they also sell in jars here.
I can't help but order reef fish as it is usually so fresh and moist. Today, it is snapper and is simply grilled with an anchovy butter and then served with a really lovely carrot risotto which has some texture from the carrots.
_ _There are three orange dusted prawns, all quite good and juicy in texture and they are paired with a trail of fresh ricotta, peas and a twice cooked ricotta souffle which is a little dry as are the peas.
This dish is more a sum of its parts and the flavours come together when the veal is combined with the mash, tomatoes, salsa and olive salsa on top.
I found that there was a bit too much liquid with this poached pear and I usually like pears with a bit more texture.The leather wood honey ice cream is redolent in that distinctive Leatherwood taste and sweetens the moscato poached pear even further although to be honest I don't think it needed that much sweetness.
Visually we can see four layers in the five layered chocolate cake but we're probably nitpicking. The cake itself is rich and dark chocolatey and induces a chocolate craving. Lucky I had some brownies with me in the fridge back at the hotel! You know, just in case of emergency...
So tell me Dear Reader,  what would you always put in your emergency food stash? Chocolate? Brownies? Chips?
The Corner
11 Clarence Street, Port Macquarie NSW
Tel: + 61 (02) 6583 3300
Open Weekdays 7am-8pm; Sat 8am-6pm; Sun 8am-4pm