"Oh look over there! That's where I made Araluen eat that chilli when I was nine years old!" Mr NQN points out excitedly to me. We've just arrived in Bellingen, a town of just over 2,700 people and of Mr NQN's former homes. It's a picturesque town with a population a curious mix of hippies (aka Mr NQN's family) and farmers. It is said that in the 1970's the hippies moved into town and helped to revitalise the town. Now, decades later, it has evolved to have  some of the best food you can find on the Mid North Coast area.
All images taken on a Sigma 17-50mm F2.8 EX DC OS lens
Bellingen's easy going but engaged nature is almost designed by nature to lure people to live there and the moneyed and celebrities have settled in. To see this diverse mix of people first hand, our first stop to survey the food scene is at the Bellingen Grower's Markets which are held every fortnight on a Saturday.
The tropical climate of Bellingen and the cooler climate of nearby Dorrigo means that much of the produce sold is grown locally. Local is important here with most vendors selling produce from nearby areas, some items even have the farmer's names on them. Organic is big here and much of the produce is organic. I buy some freshly ground peanut butter and some organic puy lentils. Mr NQN buys some dried bananas and South African donut pastry, a koeksister made with fig and lychee syrup. A Sicilian purple cauliflower catches me eye and we buy some along with some organic kale (which I later made into kale chips, it was so fresh that it easily survived the trip home).
Arms weighed down with food, we deposit it into the cooler bag and make our way to the town centre. Hyde Street is the main street and this is crossed with Church Street which also holds culinary treasures.
I walk past the Steiner School shop and buy a net of the locally grown Kalang garlic.
Wild berry damper $2.60
For morning tea, we stop at the Swiss Bakery for a wildberry damper, a light, sweet roll dusted in icing sugar and studded with plump blackberries and raspberries.
The macadamia and fruit bread at HearthFire is worth stopping for although if you do want a loaf, you'd best reach there by 9am or your prized load may be sold out. We managed to snag a loaf at the nearby IGA and it also stocked at the Kombu health food store.
Bellingen gelato
If the weather is warm, and even if it is freezing, retro themed Bellingen gelato makes some brilliant gelato, all on the premises. We try a scoop of gingerbread with tiny pieces of aromatic gingerbread as well as a divine caramel gelato with the caramel being brought to just the right amount of caramelisation.
There was a touch of retail therapy in Im Wunderland which has some of the cutest, unique children's gifts, many from Sweden, Germany and France. I can't resist buying French artist Nathalie Lete's cube puzzles. I know I don't have children but perhaps I'll play with them myself!
I also wandered into The Vintage Nest Cafe after catching sight of its window display. It' ans irresistible vintage store with very reasonable prices as well as a cafe. I wished I had the stomach space to sit down on a comfy chair underneath a camera display and try a cake and tea.
By now, it is lunchtime and we walk up Church Street to Avé restaurant. Housed in a former church, it is a charming restaurant started by Hunter Valley couple Amanda and Rob who moved here-she tells us that she always had a dream of living in Bellingen. It is their first restaurant and Rob runs the kitchen while Amanda the floor with a ready smile and sweet professionalism. Since we dined, Ave has moved premises and are reopening tomorrow at a new address (details below).
The decor is eclectic with vintage finds. Named Avé, after the fact that it is housed in a former timber church, it has charm in spades. A wishing tree stands in the corner replete with colourful wishes. And apparently there's also a High Tea here if you book ahead.
Church baked ciabatta with flavoured hand churned butter, olive & anchovy, chargrilled chilli $9 for 2
The lunch menu has a neat selection of dishes gleaned from the dinner menu. We start with their church baked bread which comes as two slices with a range of hand churned butter. They tend to do a lot in house including smoking their own caviar and the three butters: plain, olive and anchovy and chargrilled chilli are divine, the plain and the chilli being favourites along with the crusty soft bread.
Kangaroo loin with smoked caviar, asparagus, beetroot, watercress, crème fraîche and a port reduction $16
This was the perfect sized for lunch as we had been busy gobbling our way through Bellingen's culinary delights. The kangaroo loin in pieces and served rare on the inside was paired with asparagus, watercress, beetroot balls and smoked caviar, creme fraiche and port reduction. It was a perfectly balanced dish with the sweetness of the beetroot complementing the kangaroo and the luscious house smoked caviar and creme fraiche adding much to the dish too.
Beetroot risotto with forest mushrooms, hazelnuts, grilled spring onion, witlof and Pinot Noir dressing $22
Also beautifully presented was the beetroot risotto which came with a range of shimeji, shiitake and raw enoki mushrooms and topped with toasted, chopped hazelnuts. It was the kind of dish that I'm sure vegetarians wish they got served instead of mushroom risotto and the kind of dish that meat eaters wouldn't miss meat eating.
Liqueur macerated strawberries, yogurt chiboust with pistachio crumble, apricot jelly, passionfruit curd and strawberry sorbet $14
On Amanda's recommendation, we order the chiboust. The weather is warm and the chiboust is like a refreshing cloud of the airiest yogurt. It was as if fairies made a yogurt cheesecake that was so light, you needed to tie it down. Sorry, I was getting carried away there... It came with macerated strawberries, passionfruit curd, apricot jelly and semi dried strawberries on the side as well as a crunchy, buttery pistachio crumble.
Caramelised brioche with blue cheese, guava dressing and micro herbs $14
The caramelised brioche comes as two petite squares of sweet caramelised brioche with a rich blue cheese, micro herbs and flowers and a guava dressing. The blue cheese is a strong one and the sweet guava dressing is a sweet contrast and the prize is the crunchy caramelised square on top.
Edible community garden in front of real estate agent
No rest for the wicked as we have one last stop before we check into our accommodation for the evening. Bellingen's community gardens are a feature throughout the town and they pop up in the most unlikely places-for starters, in front of a real estate agent is not where you usually see a community garden!
We are meeting with Nick Denshire, the president of the Northbank community garden. Part of an umbrella group that manages edible street-scapes among other things, they try and connect people, particularly kids with the idea of growing food through the many edible gardens scattered among the town. Four years ago, they regenerated an overgrown community garden which has been left due to a lack of funding.  Two years ago they planted 28 mixed citrus fruit trees alongside a sports field. The group is a not for profit that looks after the gardens on a volunteer basis.
The large edible garden sits in Northbank, about 5 minute's drive from the town centre and an astonishing amount of fruit and vegetables are grown there, all for people to help themselves to with their open gate policy. Thankfully people don't raid the garden as he tells us that they get more foragers than harvesters. Nick estimates that about 100 people make use of the gardens every week and the produce is all grown using volunteers using organic principles and patchwork planting.
We walk through the gardens and they have a fantastic range of produce from mulberries, tamarillos, white sapote, saba, malabar chestnuts, loquats, apple mint, elderflower, wampi, taro, fennel - even a cotton tree is thriving along with the usual fruit and vegetables. The two things that they find a challenge to grow are tomatoes and potatoes.
Yacón or Peruvian ground apple
Pepino
We also try a pepino fruit which looks like a light green roma tomato but tastes like a less sweet version of a melon. Yacón or ground apples are also delicious and have a sweet, crisp texture to them and these sit on the end of a root system. The garden is so bursting with life that I become inspired to plant my own community garden.
We also go for a quick drive to The Promised Land which is near where celebrity residents David Helfgott and George Negus live.
There's a gentle call from a bird and then moments later, another bird from across the river calls back and the two duet for so long that it ends up fading into the background. The smell of port wine magnolia, its sweet port wine jube scent fills the surrounding air. We are mountain top at Lily Pily Country House, a stylishly decorated house with three rooms facing Kalang River. Melbourne couple Bruce and Jeannette took up ownership of Lily Pily house and relocated here to the 80 acre property which runs sheep and chickens.
The open plan main area is stunning and is designed to maximise the views. A fireplace burns during winter and you are invited to come and go as you please. I apologise constantly for locking myself away and writing and doing work but both Bruce and Jeannette tell me "don't worry, you can do whatever you like."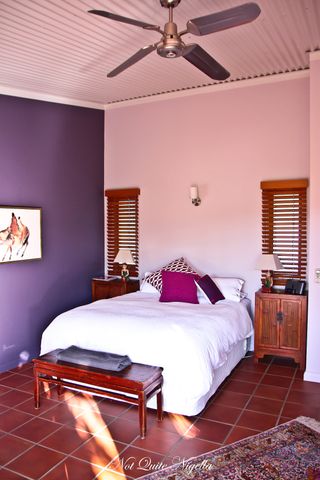 Our room, the first attached to the main cottage is warm and is decorated with Balinese and Indian themes with a pink decorating scheme as befits the name Lily Pily. A beautiful silk rug from Darjeeling lies in the centre, a memento from their travels. Each of the three rooms is decorated slightly differently in different colours although they all retain a warmth with the dark golden wood and armoires. Ours is more pink and has a queen bed with a sound dock on the bedside and this looks out onto the balcony beyond that which sits native bottle brushes, the Kalang River and an orchard of silvery pecan trees.
The bathroom is spacious and this is also about the views with a large spa bath with a large window. The amenities are shampoo, conditioner, lotion, cotton buds and pads. Fluffy robes keep you warm (I love!) and a chest holds the tea and coffee. There are also biscuits and a bottle of port.
A spot of work (wifi access is included and is best from the main room) and then afternoon tea is served on our balcony! It's a glass of sparkling wine and an almond and orange friand from Ave.
A restaurant that is certainly punching above its weight consistently is No 2 Oaks street. Holding one chef's hat for 7 years and in 2012 being the recipient of two hats, it's also a family affair. Mum Toni who recently survived breast cancer and broke her hip was maitre'd of the year in 2007, father Ray was the chef, son Michael has taken over the reigns as the chef (his sister Shani jokes that dad is now in the corner doing vegetables) and now that Toni has retired, Shani runs the floor. We're dining tonight with the local tourism body representative Rowan.
It's a simple room in a timber cottage with a crackling fireplace. To nab a table on a Saturday evening requires booking
weeks ahead and after opening the red door with the number 2, the atmosphere in the restaurant is very welcoming. Service is deferential but never stuffy and glasses are kept constantly topped and needs attended to without feeling overworked.
Oak Street potted bead with oven dried tomato salsa and roasted garlic oil $5.50
We take a look at the menu and there is a neat amount of choices. Jeannette from Lily Pily had recommended the potted bread, something that people can overlook in favour of entrees and mains. It turns out potted bread is served in a glazed pot, sliced in half and is light inside with a thin crust on the outside. It is served with butter, sun dried tomato salsa or a
roasted garlic and balsamic olive oil, the latter being the pick as it simply melts with this.
Sydney Rock Oysters with wasabi granita, lemon and ginger dressing $20
The Sydney Rock oysters from Nambucca Heads come with a small bowl of smooth wasabi granita, more with a sorbet texture than a crystally granita. The wasabi hit is just right, not sinus clearing and the sweet lemon and ginger dressing makes these hit the spot.
Seared scallops with sweet corn panna cotta, toasted almonds, pork jelly, ajo blanco and quinoa $25
The seared scallops came three to a serve with a wobbly savoury corn panna cotta which was quite mild in flavour with a little black quinoa on the side. The scallops were well cooked and the panna cotta very wobbly so I made use of the spoon for the next dish to eat this. There was a little rectangle of pork belly with crunchy quinoa which was so good and I would have loved more of this to balance the dish. Ajo blanco or white garlic soup finished this off.
Twice baked Maffra cheddar cheese souffle with wilted greens $19
Crispy skin twice braised duck leg with buk choy and mushroom consomme $42
The crispy twice braised duck leg fell off the bone much like a confit duck leg and came on a bed of buk choy and mushrooms in a light mushroom consomme. It was a mild, comforting dish and I think I chose it because I had had so much rich food over the past few days.
Oak Street House made Potato Gnocchi, fresh sage, wild mushrooms and herb butter $42
Mr NQN was craving something less meaty so he chose the gnocchi. It was Shani's recommendation as her father makes it. The gnocchi were feather light and pan fried so slightly crispy on both sides. It came with sage, a wild mushroom medley, herb butter and shavings of cheese and it was rich and also a comforting dish, just on the richer side of the spectrum. All mains came with a choice of a lightly dressed green leaf salad or steamed vegetables.
Red wine braised beef cheeks with potato puree, Dutch carrots, spinach and confit eschallots $42
Warm layered apple cake with caramelised macadamia ice cream and mascarpone $18
This was the cake that gave me PTSD. I had made it once and Mr NQN had fallen in love with it but I told him that I was never making it again because it took so long :P So when it featured on this menu, I knew he had to order it because this was his only chance to try it again. The thousand layered apple cake was layers of apples and sugar baked and then cut into perfect squares. Served with a caramelised macadamia ice cream and mascarpone, he let me have a little taste and it was lovely.
Baked honey and citrus custard with Anzac biscuit crumble, candied orange and local fresh honeycomb $18
My dessert was the baked honey and citrus custard with a topping of Anzac biscuit crumble. This was ambrosially light and fluffy almost like a cheesecake but reversed with the crust on top. It comes with sweet orange segments and dabs of syrupy local honeycomb.
Pear tarte tatin with vanilla bean ice cream $18
We look around at the crowd, surprisingly, only two tables are local and much of their business is from Sydney siders or from Coffs Harbour. Shani tells us that locals tend to look at it like a special occasion restaurant. Lucky them...
Just nearby, we drop into No 5 Church Street. If only we had another night to stay here because there are more places I would have loved to have explored in more detail. Their philosophy is local, seasonal and simple good food. Indeed Nick tells us that they often buy produce from the community garden project. Every fortnight or so, bands play and it becomes an alternative venue to the local pub for people to enjoy music and a drink without getting too messy.
Tonight Scott Collins, a popular local bluegrass musician and singer is playing with his band and the atmosphere is charged. When we arrive, they've finished their set and the eclectic and perhaps at times, slightly eccentric crowd is in a jolly but friendly mood. When he sings Where I Found My Home, a couple gets up on a table and dances and it's like an old fashioned ho down to bluegrass music.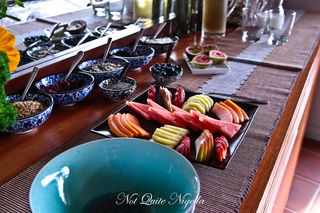 The next morning, a kookaburra sounds and that's our wake up call here at Lily Pily House. I make my way to the main room to use the internet. There's a continental breakfast waiting for us which includes fruit, cereal and a delicious organic yogurt with honey.
For the hot breakfasts, Mr NQN orders the French toast which comes with golden syrup and fresh blueberries and I go for the Lily Pily poached egg from the property's chickens with a small side of bacon, mushroom and tomato (and Jeannette shares a tip for the tomatoes-add a little raw brown sugar on top! ;) ).
It arrives on a slice of toasted sourdough bread and famished,as if we hadn't eaten for days, Mr NQN hoovers up the French toast and I make good work of the poached egg. It's a sad goodbye to the intriguing, lively town of Bellingen.
So tell me Dear Reader, if you had a community garden near you, would you use it? And where did you grow up?
NQN and Mr NQN visited as guests of Coffs Coast Marketing
Bellingen Growers Markets
Bellingen Show Ground
Cnr Hammond and Black Streets, Bellingen, NSW
www.bellingengrowersmarket.com.au
Avé Restaurant
117 – 121, Hyde Street Bellingen, NSW
Tel: +61 (02) 6655 0070
www.averestaurant.com.au
Northbank Community Garden
33-39 Hyde Street, Bellingen, NSW
www.northbankgarden.org.au
Lily Pily House
54 Sunny Corner Rd, Bellingen, NSW
Tel: +61 (02)6655 0522
www.lilypily.com.au
No 2 Oak Street
2 Oak Street, Bellingen, NSW
Tel: +61 (02)6655 9000
www.no2oakst.com.au
5 Church Street
5 Church Street, Bellingen, NSW
www.5churchst.com