How does the saying go, that good things come in small packages? Well, good things can also happen in small places. About 30 kms from Bellingen is the town of Dorrigo, population 967 people. Despite the modest sized population, there are some interesting things happening here.
In 2007, scientist David and his wife Susie started up a distillery making vodkas and liqueurs. After trying their hand at fruit wines, they decided to make use of David's scientific background and as Susie mentions their "five degrees between us" and try their hand at distilling.
Their flagship product is potato vodka and is apparently the only potato vodka made in Australia. They have on average 3-4 vodkas and about 8 Italian style liqueurs available at any one time. Everything is produced in small batches using seasonal produce. Their Nocino, a green walnut liquer (more on that drop later) is almost running out and they won't be able to be produce any more until next year when they can obtain green walnuts.
Their vodkas and liqueurs are sold in travelling bottles with thick bases so they are ideal for transporting or as gifts and range from $44-$70 a bottle. The Lemoncello is wonderfully smooth, without the inevitable burn that usually comes from many limoncellos. The blush pink hued rosolio is a quince based spirit with rose that reminds of Turkish delight (and the blush colour is naturally occurring) while the ginger liqueur has a deep effect felt at the back on the throat and an aniseedy aftertaste. And the favourite Nocino is like Christmas pudding in a bottle, smooth as silk and one drop and you'll feel like taking the tinsel out and decorating the tree.
Across the road is Dorrigo Wholefoods who have a fascinating array of local and organic items. About 80% of the produce is organic and browsers are encouraged to "see, sniff and taste" items and then just scoop up just what they need into brown paper bags. Owner Kenton says that he is encouraging people to buy what they need rather than overbuying and letting things go to waste or expire.
Dried watermelon
There are fascinating items such as dried organic watermelon - the red part is delicious although the green edge can be bitter. Their range of teas are excellent and there are interesting teas like cornsilk tea, globe artichoke tea and oat straw tea. Along with that are items like freshly ground peanut butter. Almond crackers are crunchy bite sized rice crackers with the goodness of crunchy almonds added to them. It's one of the best stocked stores of its kind I've come across.
A bottle of raspberry vinegar has white raspberries at the bottom, their colour imparted into the vinegar. The saffron vinegar with a sunburst of orange strands has a sunny shade and prices are surprisingly reasonable with this 580g jar of honey for $4.35. They also stock items like a rain fed rice grown in Casino where they only use natural rainfall rather irrigation to flood the paddys. Alas, they don't sell online or I would be placing regular orders. And their customers? "We get the barefoot to Sister Mary from the Catholic Church" says Kenton.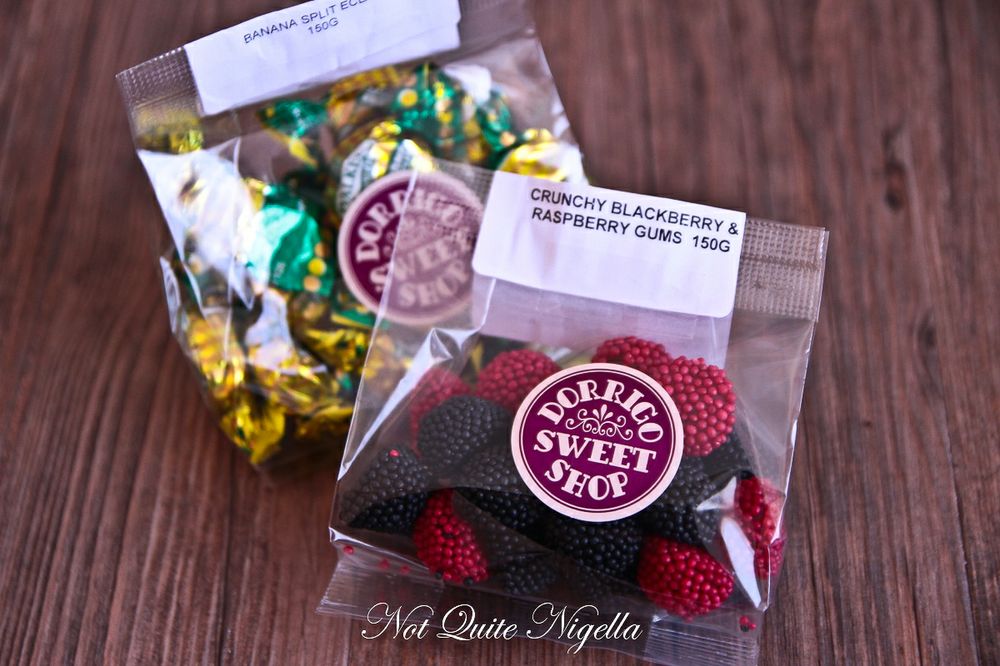 Just nearby is Dorrigo sweet shop, a lovely little sweet shop that sells some good quality lollies, many classics but some that are slightly different including banana eclair lollies and crunchy blackberry and raspberry gums.
I was left peering into the window of the enormous Dorrigo Antiques store, a enormous Aladdin's Cave of treasures. Nothing is priced and everything is by negotiation. Alas, it was closed and yes I was the one whimpering "pleeeease let me in" to no-one except Mr NQN who just looked with sympathy (and perhaps some relief that the credit card was spared).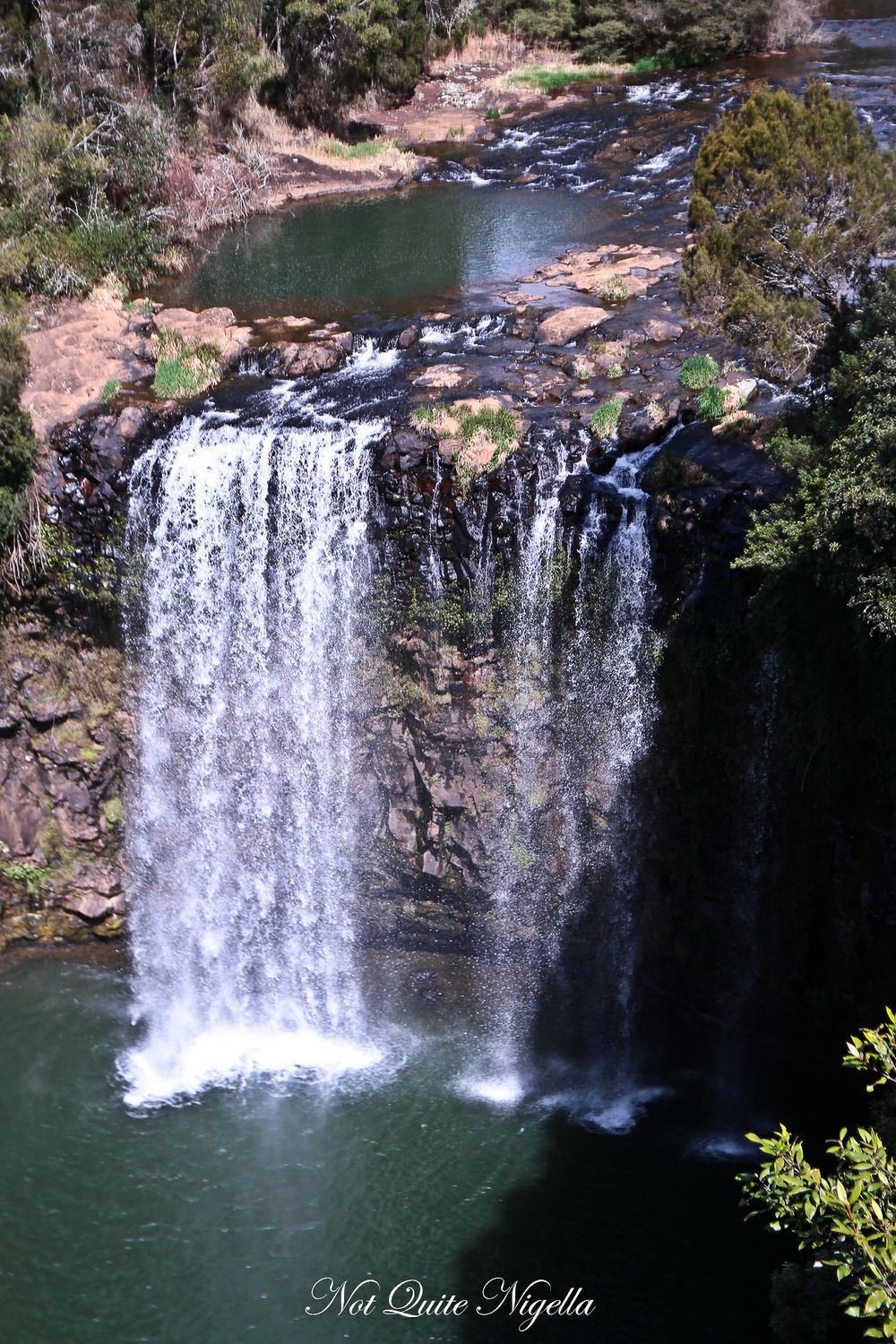 Just a short drive away was Dangar Falls where we stop for a photograph before heading to the Rainforest Centre. Here, the World Heritage rainforest is part of the Gondwana rainforest. Each year about 230-250,000 people walk through the rainforest which stretches for 12,000 hectares. The Skywalk and boardwalk paths are paved and requires an average level of fitness. To our left a male whip bird signals its call, a loud whistle that sounds like "whiiip!" and the female responds with two beats. We hear the courting ritual around us with different whip bird pairs.
Can you see the antechinus? It's just to the right of the foremost branch
We see a small antechinus burrowing through the thick layer of leaves and dirt. The rainforest is chilly as much of it is shaded by the enormous canopy of trees. There's a tree that looks like one from a fairytale with a trunk so large and roots so high that you'd swear people live in it. Around it wraps a strangler fig with its vines killing the tree. Kerry, our guide tells us that when a tree falls in the forest, the vines quickly grow over the ground which is critical for the rainforest ecosystem.
A prominent tree is the giant stinging tree whose large green leaves when young are the size of dinner plates. As it gets older and taller, smaller leaves will grow, and if you are tempted to touch one of the leaves perhaps lured by the pretty lacy leaves which are made by an symbiotic insect, spikes that inject a concentrated acid lodge into your skin. The antidote? Just old fashioned sticky tape to remove these.
The giant stinging tree
Fungi as large as a dinner platter protrude from a tree branch several metres high. Kerry tells us that the way to tell a rainforest plant. If you find a plant has shiny leaves, it is quite likely that it is a rainforest plant as the rainforest has evolved that way as they need the rain to slick off the leaves quickly. Soil in a rainforest is also typically quite poor. There are also edible plants such as tamarind and crabapple grown here although these aren't to be eaten. For those unable to do the walk, there is also a lookout with a screw to position cameras to take panoramic photos (entry is $2 for this).
It's lunchtime and after all of that walking, we head towards Canopy Cafe where chef Wolfgang Zichy and his partner Catherine McDonald took over the formerly government run cafe. It's busy this lunchtime and we take a seat at a table outside. Brush turkeys wander past us and tiny little birds take a drink from the nearby fountain. Service is very friendly and cheerful and breakfast is served all day. The menu is extensive and items are marked vegetarian and gluten free. They bake their own Turkish bread here and Wolfgang tells us that he figures that when people are travelling, they are on holidays and as such, they should be able to have breakfast when they want. We like that idea :)
Apple & ginger juice (left) and beetroot, carrot, apple & ginger juice (right) $6.50 each
You can choose a juice combination and these come out with a small amount of ice. I ordered the beetroot juice on the right while Mr NQN rehydrated after the walk with the apple and ginger juice.
Dorrigo goat fillets, slow braised with apricots, dates and almonds $18
We wanted to try some Dorrigo produce so we went for one of the specials, made out of local Booma Boer goat. This was a sweet African style curry with delicious cubes of tenderly soft goat, halved sweet dried apricots, flaked almonds and carrot. It came with a neat round of herbed couscous.
Poached eggs on sauteed spinach and potato roestis $15.50
This roesti was crispy on the outside and dense and creamy on the inside with melted cheese interspersed throughout it. On top of it sat some sauteed spinach and two runny yolked Dorrigo plateau poached eggs.
Ginger and lime creme brulee $12.50
And the dessert that I couldn't stop eating? That had to be the ginger and lime creme brulee. Lighter and airier than your typical creamy custard brulee base, this had just the right amount of ginger and lime and a thin, crunchy layer of caramelised sugar on top.
Tamarillo tart 
The tamarillo tart was unusual. I thought that it might be like a  frangipane tart but cutting into it, it was almost like a large, buttery sweet biscuit. There was a single halved tamarillo in the centre which always reminds me of tomatoes. To the side was poached vanilla rhubarb and vanilla ice cream.
Lucky we walked all that way right? ;)
It's a 45 minute drive back towards Coffs Harbour, to Bonville and our little expedition is coming to an end. Just one more night at the Bonville Golf Resort and dinner at the Flooded Gums restaurant. Now I'll be honest, I'm not much of a golfer, I've never really tried and we haven't had the time this weekend to do so but when Julie's husband Mr GG read that we were staying there, as a golfer he was very impressed as it is said to be one of the best golf courses to play at in Australia.  The owner of the golf resort also happens to own Jonah's in Whale Beach, the stunning retreat perched high on the cliffs.
We drive through the grounds, all impressively lush and green. There's the low hum of chatter in the lobby restaurant and public areas of golfers, mostly men. We are given our keys and drive to our room following the path. Our room, number 20, an executive spa room is one of the last ones on the path and we park our car outside and slide open the door.
The room was fairly basic. The bed was comfortable and king sized and the cases and sheets looked new but the rest of the room reminded us of a motel. We supposed it is more for a guy's weekend away playing golf as the prominent "No Party Policy" sign says. There is no internet signal in the rooms, only at the clubhouse and to access this, you need to ask reception for a password.
There was a mini bar although we had plenty of food so I didn't really look into this. The vanity was outside the bathroom facing the bed which was a strange design. There was a large spa bath and a shower and some nice Sanctum products but there wasn't that much to say about it as there weren't many features. Also, the view of the golf course is obscured by the view of your car. However, it was very nice of them to arrange a fruit platter to be sent to our room as we were leaving very early the next morning.
Any surprise we had at the room accommodation was contrasted with the meal that we had at Flooded Gums, the golf resort's newly hatted restaurant. Named after the gums that surround the clubhouse (not some strange dental procedure), the atmosphere is that of a country club. At 6:30pm we are the first diners but soon after, other couples arrive. Service is warm and professional-our waiter has everyone summed up from the second they sit down.  And since we have an early departure at 5am, we ask for 'no gaps' between courses and this is handled well by the kitchen.
We start with an amuse bouche, a sea scallop with salsa verde and a little dot of aioli. It's an appetising start to our meal.
Coffs Coast Prawns and angel hair pasta, dried chilli, lemon zest, garlic, saffron and Parmigiano Reggiano $19.50
Lovely, simple and well balanced, the angel hair pasta had a good amount of Coffs Coast prawn pieces and a nice zing from the lemon and parsley and a sprinkling of richness through the reggiano cheese although the chilli was very light in this.
Braised veal pithivier, green pea purée, caramelised eschallots, rosemary jus $19.50
The veal pithivier was a cute little dome of soft braised veal with some sweet caramelised eschallots and a rich, slick and shiny rosemary jus. Mr NQN found the eschallots a bit too caramelised but I think the sweetness was a good match for the rich veal and pastry.
Caramelised beef cheek wrapped in brick pastry, sautted basil, potato puree, olive and wild mushroom $42
The beef cheek was an enormous portion of soft, strands of rich beef cheek surrounded by a layer of Tunisian brik pastry. There was a medley of mushrooms including black fungus, pitted black olives and a creamy potato puree. This was a rich dish but so good that you had to finish it.
Pan seared Kingfish fillet, potato galette, avocado aioli, salt & chilli squid and orange and fennel salad $39.50
Alas, as much as we loved the beef cheek, and we really loved it, the kingfish was a tad dry inside and the pairing with the salt and pepper calamari and avocado aioli wasn't quite as tasty as we would have liked. It felt like there was almost a missing element or flavour to the dish.
Blistered green beans, porcini butter and flaked almonds $8
The green beans were perfectly cooked (although not really blistered) and served with porcini butter and flaked almonds.
Chocolate tart
"I'll just have one bite of dessert" I told Mr NQN. And then the monster appeared. The chocolate tart was a light chocolate mousse encased in a skilfully thin buttery case and topped with a thin layer of chocolate. Mr NQN looked at me in alarm seeing his half disappearing quickly.
Panna cotta
Ahh the famous Jonah's wobbly booby panna cotta. It's a still a goody and here it is a vanilla bean panna cotta with pieces of lychee and a honey sauce. Simple but effective but I had to give most of this to Mr NQN because I had effectively eaten most of the chocolate tart. Oops! But somehow, it seems right to end the weekend exploring the Mid North Coast on a gluttonous note...
So tell me Dear Reader, do you like stopping in small towns during road trips? What's a small town that impressed you?
NQN and Mr NQN visited the Coffs Coast as a guest of Coffs Coast Marketing
Red Dirt Distillery & Lick the Spoon Cafe
51-53 Hickory Street, Dorrigo, NSW
Tel: +61 (02) 6657 1373
Dorrigo Wholefoods
28 Hickory Street, Dorrigo, NSW
Tel: +61 (02) 6657 1002
Danger Falls
Coramaba Rd, Dorrigo, NSW
Dorrigo Rainforest Centre
Dome Road, Dorrigom NSW
Tel: +61 (02) 6657 2309
Bonville Golf Resort/Flooded Gums
North Bonville Rd, Bonville, NSW
Tel: 1300 722 444