Last week Mr NQN spent a not so delightful 10 hours at the emergency ward of the Prince of Wales hospital. The poor thing had an accident on his bike on the way home from work and he came home with a gash on his face, abrasions and bruises. The gash was about a centimetre long and we thought that it required stitches (well I've never had them but it was bit, it was gushing and it was on his face so we guessed they were necessary).
So with haste I pulled on the nearest dress and a cape (fashion cape, not super hero ;) ) and we went straight to the hospital. When we flew into through the doors of the emergency department people stared (they're bored I later realised) and I said to Mr NQN "Do I look weird?" "No, it's probably the cape" he replied before adding "I'm glad you stopped wearing the fangs." And I know, I know, it's terrible that I stopped to pause and ask about my appearance when my beloved was bleeding and I'm sure I'm going into the bad wife hell for that.
In case anyone didn't know, hospitals are depressing places and will test the patience of the most patient, that is Mr NQN. I left at his urging after a few hours and Mr NQN stayed for a lengthy 10 hours. We understood that as his injuries weren't life threatening and as such, he was low on the priority list although other patients ran and one even skipped when they were called. We tried to find a medical centre but alas none nearby were open at night. At 3am Mr NQN finally lost patience and asked how much longer he would wait. They pretended that they had tried to call him, however he was sitting right in front of them. And the next morning when he should have been getting up for work, after waiting for over 10 hours the doctor gave him 10 minutes of his time, told him he was fine and that he wouldn't put stitches in and then did a light examination and sent him home. And there was no lollipop given (I asked).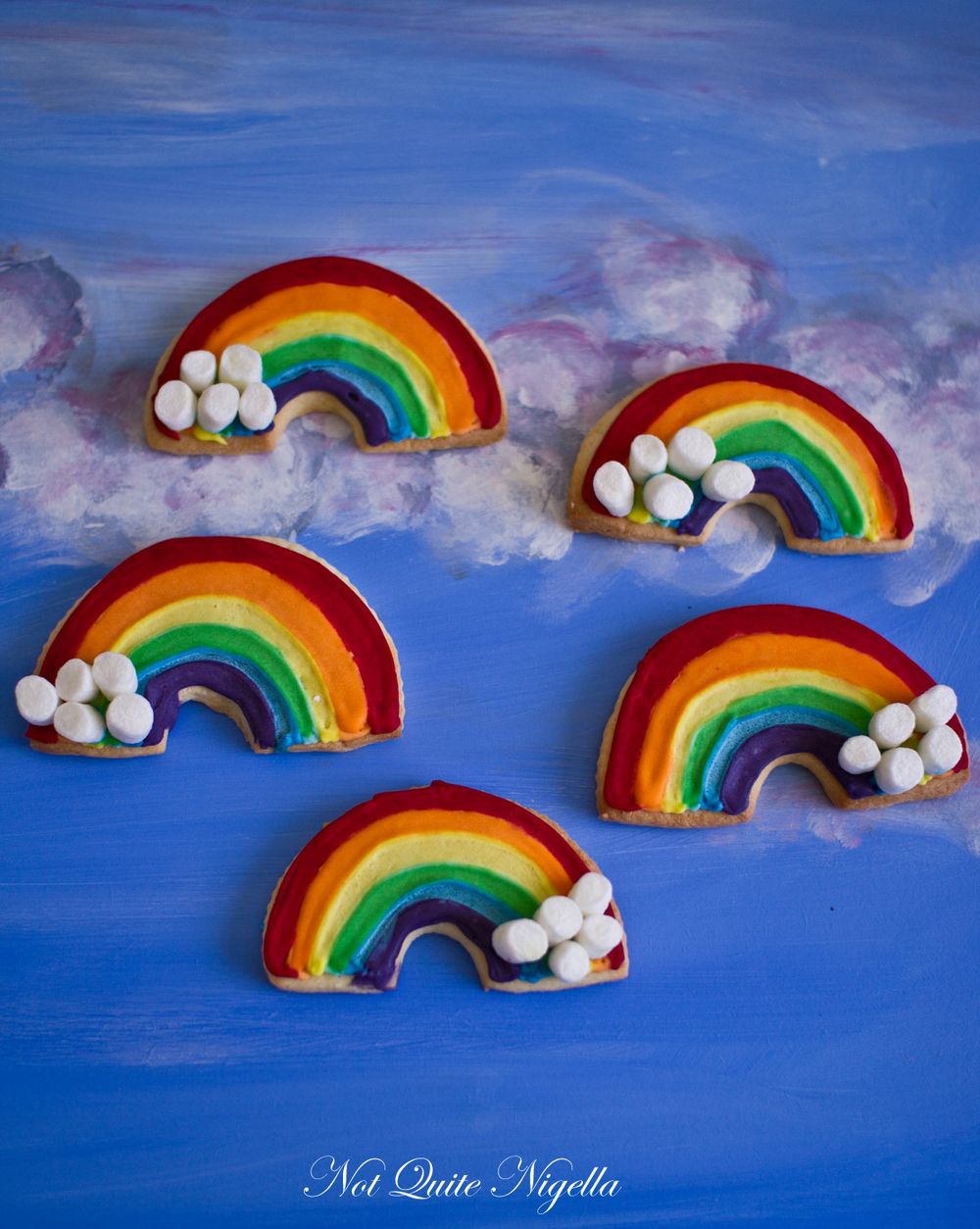 When I got home the previous evening, I fretted quite a bit and needed to do something therapeutic. Earlier that day I had visited Flour and Stone bakery in Woolloomooloo and spied some rainbow cookies and that afternoon I mixed up some dough and cut and baked some rainbow cookies. I looked at the table and there they were, baked and ready to be iced. There's something soothing about concentrating on something else during times of stress and I found the repetitive activity immensely helpful. I thought that this would be a nice thing to greet him with because rainbows follow the rain and signal the sunshine to come.
The rainbows themselves are easy to make and just requires two round cutters. The royal icing is fiddly admittedly especially if you want to do all seven colours (I stopped at six) and flooding each thin area with coloured royal icing took time and I would say that if anything, try and make the rainbows larger than smaller. Mr NQN is feeling remarkably better so perhaps he did find his pot at the end of the rainbow :)
So tell me Dear Reader,  do you ever find that people look at you oddly for no reason and does it bother you when people stare? And have you had any similar waiting experiences in a hospital?
Rainbow Cookies
An Original Recipe by Not Quite Nigella
85 g/3ozs butter, softened
140g/5ozs white caster superfine sugar
1 egg, at room temperature
180g/6ozs  all-purpose flour
1 teaspoon ground cinnamon
For Royal Icing and decoration
1 egg white (30grams/1 oz)
1-2 teaspoons lemon juice
150grams sifted icing sugar
Food colouring gels or liquids in various colours
small white marshmallows for clouds
DIRECTIONS
Step 1 - Make cookies. In a large bowl, cream together butter and sugar until smooth. Beat in egg and vanilla. Stir in the flour and cinnamon. Cover, and chill dough for at least one hour (or overnight).
Step 2 - Preheat oven to 400 degrees F (200 degrees C). Roll out dough on floured surface 1/2 an inch thick. Cut into round shapes with the large round cookie cutter and then cut out a small circle in the centre. Using a sharp knife, cut these in half as shown. Place cookies 1 inch apart on parchment paper.  Bake for 8-10 minutes in preheated oven. Cool completely.
Step 3 - Make royal icing by beating egg white with lemon juice until foamy on low speed increasing to medium speed. You want two textures for the royal icing, a stiff one to pipe the outline and a runnier one to "flood" the outline. Add sifted icing sugar by the spoonful while beating until desired consistency is reached. You want it a little stiff in order to pipe the outline however, if it is too stiff, add a tiny little bit of warm water.
Step 4 - Divide into bowls as you will now mix colours into these. Rainbows have seven colours to them and it's up to you whether you want to do all of the colours (the more you do the fiddlier and more time consuming they will be). Stir the colours in well making sure that there are no streaks. Always cover your royal icing with cling wrap as it dries out easily. Some strong colours need some time to settle or they will be a bit blotchy so make your royal icing ahead of time if you can.
5.  Spoon some of the royal icing into a piping bag or a strong ziplock bag and pipe a a border for each colour (as shown). Allow to set a little for 20-30 minutes. Add a little water (not too much) to each of the remaining bowls of icing to make the flood icing and using a small spoon, fill in the edges making sure to prick any air bubbles and fill in any holes.
Step 6 - Place white marshmallows to the side to simulate clouds.