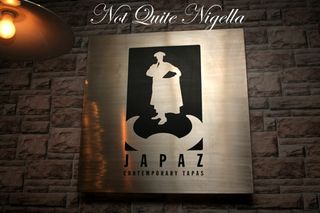 My stomach was growling and I was sure everyone could hear me. I looked around but everyone else pretended to be doing other things. I had specifically saved my stomach for tonight. No matter how much I was tempted, I had to keep focused and my eye on the prize. The prize being a dinner as a guest of Japaz along with some of my fellow bloggers thanks to the fantastic Yas from Hungry Digital Elf.
I dive right into the dishes - there's no time to waste with my stomach urging me to go for gold. I love my oysters and these plump, creamy Pacifics are perfectly paired with a wakame dressing.
I had seen Razor Clams while at Borough Markets and they're curious looking things. Long and cylindrical they're shaped like a traditional Barber's razor and so unlike the round clams we are familiar with here. These clams are meaty in texture, undoubtedly so, and if you didn't know what you were eating you'd think something like chicken in texture but with that unmistakeable brine from the sea.  The preserved lemon dressing is light on this dish.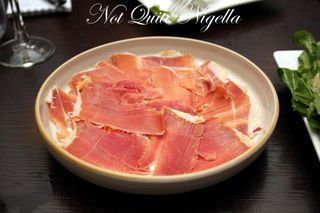 We spied the large leg of jamon suspended from the ceiling at the front of the restaurant along with garlic and dried persimmon. The thinly sliced pieces are lovely and flavoursome.
One of my favourites of the night, this deep fried eggplant is freshly cooked and crunchy by way of the deeply bronzed panko breadcrumbs and the honey infused balsamic giving it a lift and a sweetness. It has us trying to steal extra pieces from other plates.
_Patatas bravas with soy marinted grilled chicken and pesto mayonnaise View 1
_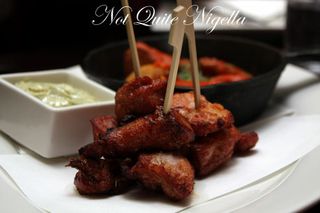 _Patatas bravas with soy marinted grilled chicken and pesto mayonnaise View 2
_
I have to admit I'm not a huge Patataas Bravas fan, it's okay most of the time but I often find the tomato sauce a bit lacking. Not here, it packs a nice spicy punch and is rich and reduced down. The Soy marinated chicken is succulent and moreish especially when dunked deeply into the basil pesto mayonnaise.
After the complexity of the previous dishes and particularly the dishes on our first visit this seems a bit simple for our taste. The contrasting textures of the crunchy wood ear and the spongy shiitake and silky enoki are nice but I'm not a huge fan of the chickpeas in the dish and the simple seasoning which is just garlic and olive oil.
The filling for this is a surprise as I am used to rice filled cabbage rolls. This is filled with a sturdy mince and isn't bad but of all the elements I prefer the richly flavoured tomato sauce.
The lamb meatballs have a similar flavour and texture to the filling of the cabbage rolls. The more I try them the more I like them. They're strong in cumin which always seems to enhance and pronounce lamb flavour to me and they're also strong in rosemary.
_Cucumber pinchos seafood Yuzukosho and miso _
I'll admit I didn't go for this dish at all. I couldn't taste the crab meat, scallops and prawns and it ended up tasting like a very salty paste to me on top of large cucumber chunks.
The fat portobello mushrooms are sliced into quarters and are delicious but would be great with a sauce or a squirt of Japanese mayo.
One of the favourite dishes of the night, the delicate pieces of quail with their tiny bones are grilled perfectly and served not with savoy cabbage which is the usual accompaniment but with Tortilla Japaz. We all murmur contentedly and agree that the Tortilla Japaz is a perfect accompaniment to it.
Ffichiban, Howard and Yas are looking for meat and Ffichiban is reluctant to ask for the famous beef cheeks so not wanting to miss out on them myself, I ask for them. With an almond sauce on top these gelatinous beef cheeks are delicious and oh so soft. One thing is that the seasoning doesn't go all the way through the meat which is what we experienced previously.
After a little break someone notices that there is some blowtorching action happening so we all jump up to snap photos of the Creme Catalana being blowtorched.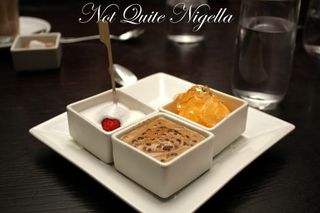 Strawberry and lime infused coconut cream, Peach sorbet and apple cider jelly and Crema Catalana with tapicoa pearls washed with vodka
Our dessert trio is certainly tempting looking. There is a simple strawberry and lime infused coconut cream which is so simple in execution but so perfect in eating. Why we don't see this combination more often we don't know. The Peach sorbet is sweet and nicely complemented with the light apple cider jelly and the Crema Catalana's telltale bumpy ridges at the top are courtesy of the tapioca pearls. The vodka taste is strong and it's sweet and creamy but perhaps a bit too alcoholic for many at the table.
The night takes a turn when Ffichiban who is fascinated by my Handbag Butler (in fact the guys are more interested than the girls!) models it Queen Elizabeth II style.
Yas takes a forkful of the soft beef cheeks and gives us a Yas Gone Wild food orgasm shot. We realise that it's probably time to go then!
Thanks to the team at Japaz for a fun night full of delicious food!
So tell me Dear Reader, what food gives you a food orgasm?
NQN dined as a guest of Japaz
Japaz
165 Wycombe Road Neutral Bay
Tel: +61 (02) 9904 0688
Lunch Thursday-Saturday, 12-3pm. Dinner Monday-Saturday, 6-10pm
Vegetarian options: 1 or 2 only