A couple readers of mine (Carolyn and angevb)  recommended Sakae to me and as I always do, I write all restaurant recommendations in my black moleskine notebook. This evening, Mr NQN, The Assman and I are in search for good food after an afternoon geo caching (geo caching for them, reading cookbooks in the car for me - yes I am not an outdoorsey person). As a student, the Assman's criteria was that it needed to be less than $20 per person and it had to have some vegetarian options. Realising quickly that we might have to travel a bit for our meal given these conditions, we decide that Sakae it is!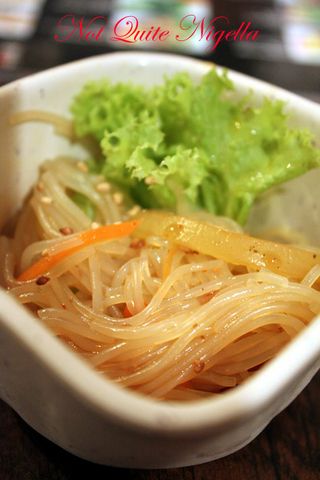 A small rectangular shaped room it's busy with diners. We're given our complimentary appetiser, a little bowl of noodles. These are not too bad although a little sweet and a bit bland. But it's free and we're hungry so we aren't complaining.
My husband tries the Ramune - that is Japanese for Lemonade if you sound it out and he and the Assman are both intrigued by Katakana and how the Japanese pronounce western words for which they don't have a sound (eg the "Le" in Lemonade is "Ra" here). They're also a bit intrigued by the bottle where you take the top off and push down the glass ball to break the seal and are rewarded with sweet, bubbly lemonade.
The Agedashi tofu, often underseasoned is done well here with just enough flavour. The Assman is very please with his choice.
We start with the Beef Tataki which is what reader Carolyn recommended and we're asked if we want the Ponzu sauce or the "homemade" sauce. I ask the waitress which one is better and she firmly replies "homemade". The beef is deliciously soft and tender and melts in the mouth.
This is a generous serving of fresh sushi with 8 pieces of inari sushi and some nori wrapped maki with salmon as well as two pieces of California Roll. It's fresh and tasty and very good value although I have to admit that California Rolls aren't really my favourite.
The maki rolls in particular are my favourite (I'm a seaweed fiend) and I particularly like the combination of tuna and salmon.
We finish off with the chicken katsu meal which is a thin layer of chicken breaded and deep fried. It's crunchy and not bat at all although I think that our other two dishes were more satisfying.
The Assman's choice perhaps looks healthy and a touch boring but when I try it I am won over. The stock is delicious and the delicate green tea flavour in the soba is subtle but gives it an interesting flavour. He and Mr NQN are pleased that we ticked the boxes and I'm glad that we discovered a new place :)
Japanese Dining Room Sakae
138 Rowe St, Eastwood NSW
Phone (02) 9804 7420
Open 7 days
No credit card, cash only