The challenge: to find a restaurant in Sydney that has been open since the 1980s that we hadn't yet visited. A harder task than one would think. We needed somewhere to eat that matched Viggo's car-a mint condition black Trans Am a la Kit from Knight Rider. I asked friends and Teena came up with the idea of Harry's Singapore Chilli Crab in Surry Hills and it was an excellent suggestion. Open since 1982, the year that Knight Rider started, it seemed entirely fitting.
There is a large illuminated sign with Harry's face on the outside and a flashing neon red open sign. Attached to the Triple Ace Bar the entrance is to the left hand side. There are signs with vivid pictures of the dishes and people - not celebrities but regular people from companies such as Arnotts and British Airways. I chuckle, I can imagine my dad saying "Look they work at big companies like Arnotts and British Airways, they must be a big deal."
We walk up the stairs and there are hard shelled crabs in Styrofoam boxes in the foyer. There are pictures of celebrities lining the glory wall (I'm afraid I just recognise The Veronicas but I'm hopeless at sports people). The crabs sit there their pincers tied up with pink plastic twine, their eyes occasionally twitching and darting around. Sorry Crabby, you are cute but you are also the subject of the restaurant's name and I suspect you're not feeling very lucky tonight...
Viggo and Louise are sitting waiting for us. The room looks like a cross between a home crossed with operatic set style curtains in various places. The restaurant is full of people this Saturday night. We notice that Viggo has an ice bucket with six beers in it. "Thirsty?" we inquire laughing but no, apparently diners that order beer are offered an ice bucket of six cold bottles and a bottle opener so that they can help themselves whenever they want.
Dining during Chinese New Year means that two raffle tickets sit on the table. Louise explains that these are for the draw where they give out prizes and they didn't need to buy the tickets, they were just given out. The menu is a laminated two side menu, one with set meals or platters (the top row looks a bit pedestrian whilst the bottom row looks better with the mud crab options). But of course you can't really go here without trying the mud crab cooked in Singapore chilli sauce which is a sweet, spicy and slightly vinegary thick sauce. We order a range of dishes including a medium sized mud crab-around 2.5 kilos. Cocktails include every fruity cocktail you could think of as well as a "blonde porn star" and "dirty carpet disco" along with their Singapore Sling in a jug or a glass.
The salt and pepper calamari comes out first and it has a good amount of seasoning as well as chilli, green onions and finely diced garlic on top. The calamari is tender and crunchy but not greasy at all.
There's quite a long wait and then the salad appears. And I must admit that I was very worried when I saw that this was our Gado Gado salad. Because as you can see it is a mixed green leaf salad with coins of cucumber and a sweet satay sauce. There's none of the other adornments of a gado gado salad and the only thing I can think is that this is what Mr NQN might make if left to his own devices to make a gado gado salad.
We are given our implements, a pair of sturdy claw crackers, a double sided picker and a thin plastic apron to protect our clothes. The crab came out without the usual inspection process where you see the crab and take stock of how it looks. Nevertheless we can't complain as the crab is enormous with two gigantic pincers and a large carapace filled with meaty, succulent pieces. The sauce is rich and thick with a sweetness and when we ordered it they asked us how spicy we wanted it. We said medium to hot and a rating of 7 although I think this was perhaps more an 8 which I'm not complaining about as I really liked the heat.
Crispy roti were ordered to go with the crab and these came out as two rounds cut in half and they actually go quite nicely with the crab although noodles are always my favourite.
Each half a peking duck comes with six pancakes with the pancakes thin, eggy and crepe-like with small squares of duck meat. It's not crispy as befits a Peking duck but they're not bad. Although I don't think any of us gave these a second glance as we had the crab present.
The sang choy bau came out later too and it is worth noting that there are only two sang choy baus given per half peking duck - extras are $5.50 each and this wasn't mentioned to us. There is a lot of filling in these although there is the strong flavour of diced celery which I found overwhelmed the rest of the flavours.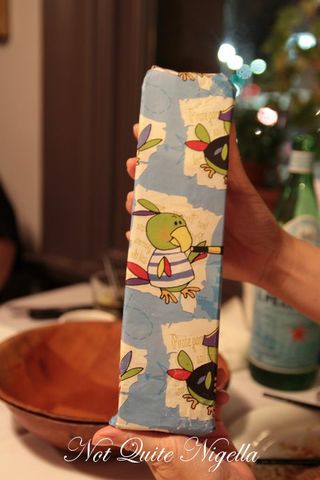 Harry comes out and hands a package to each table. "Everyone's a winner in the draw!" he says and offers us a gift wrapped package. And what should be inside?
Why a pack of Arnott's Gaiety biscuits!
Now we should have perhaps heeded the warning, when a waitress pulled back the dusky pink velvet curtain next to our table and took a Sara Lee strawberry cheesecake from the freezer. Desserts are not a strong point it must be warned and whilst they never really are at Chinese restaurants, they really get a little strange here.
"Is that... a Monaco bar?" I ask prodding the bar that looks just like one except covered in chocolate sauce squiggles. Yes it is, not exactly a cake and well what can I say, it really was a Monaco bar covered in not at all great chocolate sauce. I think they should have called a spade a spade and called it a Monaco bar on the menu instead of yummy ice cream cake as you can't help but be disappointed.
Mr NQN ordered these in the hope that this would be lychee sorbet but alas no, this was about a third of a tin of lychees on a plate of ice cubes.
Viggo fared better with the deep fried ice cream with his choice of chocolate sauce. It has a crunchy outer layer and again that not great chocolate sauce but at least it was what we expected. We stared out the window and looked at the Colombia convenience store and figured we would have had better luck there. In fact after we left Harry's, we crossed the road to check out what Colombia had and not only did it have Colombian cheese bread mixes, guava paste, crackers and all sorts of Colombian goodies, there was a drool worthy selection of American and British candy. A case when the unexpected was a good thing ;).
So tell me Dear Reader, do you usually order dessert at Chinese restaurants or do you skip it? And if you do, what do you order?
And here is today's wallpaper for Wallpaper Wednesday! It is the raspberry and coconut layer cake from yesterday! xxx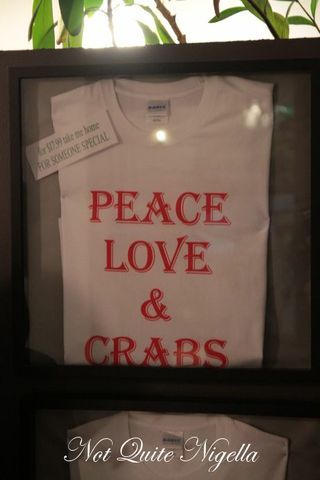 Harry's Singapore Chilli Crab
198 Elizabeth Street Sydney NSW 2000
Tel: +61 (02)9281 5565