The quest to find a Chinese restaurant that is new and interesting enough to please a discerning, overseas relative is a difficult one. Between everyone in our family, we've tried so many and coupled with the fact that it had to be close by to home so any treks or adventures would be out, meant that the dot landed one day on The Celestial Chinese restaurant in Bligh Street in the city. It was a restaurant that none of us have visited, or indeed heard about but intrigued by the many mentions of the decor meant that we were curious enough to try it.
Booking a table can be confusing. My mother asked me to book a table on a certain date. They told me that they don't open for lunch on the weekend. I was confused, I thought that I was booking for a week day and the conversation went around in circles before they fetched a calender and realised that they were indeed open and the date that I had requested was a week day. Okay, that was sorted.
The other problem was parking. It was a week day and even though Sydney is generally quieter over the Christmas period, that doesn't mean that spots are free. There's no validated parking for Celestial guests and you either park across the road at the parking station or take your chance and walk. Or take a bus or taxi.
To get to the restaurant, follow the neon sign, walk down two spiral sets of stairs and you end up in a version of a Chinese village with a bridge, pond and Chinese pagoda structures. The colours are pale aqua and salmon which reminds me of the 80's. Tables are set at different heights-there's a section above the pond and there are also two large tables that are shrouded by pagoda rooves. We're sitting at one of these. Service is efficient and they furnish us with our drinks and sauces before we take a peek at the menu. It's a fairly classic selection of Cantonese dishes with the house specialties at the front of the menu.
Wasabi Steak $26.80
The wasabi steak was tender as promised and came with a sweet wasabi mayonnaise which wasn't too strong. The serving for this was quite a good size and the steak itself had flavour from the marinade.
Spicy oyster fritters $29.80
I usually enjoy oysters eating raw with just a bit of lemon juice but I was curious to see what these oyster fritters were like and so was everyone else. They're coated in a crispy crunchy golden batter and served with a salt and pepper mix to dip them into. Inside, the oysters are zincey and briney and they end up being a favourite at the table.
King prawns with House made chilli sauce $26.80
The prawns tasted very similar to my mother's Singapore chilli prawns. They were succulent, the chilli sauce not particularly hot with a tangy element to it.
Toothfish $42
The toothfish was a dish that doesn't actually appear on the menu. We originally were going to order the gold and silver fish but the market price for that dish was $88 which seemed quite high (there are also no crab dishes and a couple of lobster) so the waitress suggested this instead. You can either have it deep fried or steamed with mushrooms and meat and we ordered it deep fried upon the waitress's recommendation. It ended up being a real hit with the table. The flesh of the fish was smooth as silk with two large pieces of meat with a spring onion and chilli topping.. There were also less bones than what you might get in other fish dishes with mostly just the backbone which you can remove in one piece.
_Pan fried stuffed scallops $29.80 _
I have to admit that these were not what I was expecting because I was expecting...well scallops. These were more balls filled with prawn and scallop meat. They weren't bad but I always feel that when they make things like scallop and prawns into balls, then you don't really get the flavour or texture of either.
Steamed bean curd with crab meat $21.80
A generously portioned dish, there was plenty of silky soft tofu rectangles underneath the crab meat and egg white sauce on top.
Fried rice $21.80
Fried rice was portioned out for us already and it was a good foil on which to plonk sauces on. The prawns in this were very large and the lap cheong Chinese sausage plentiful.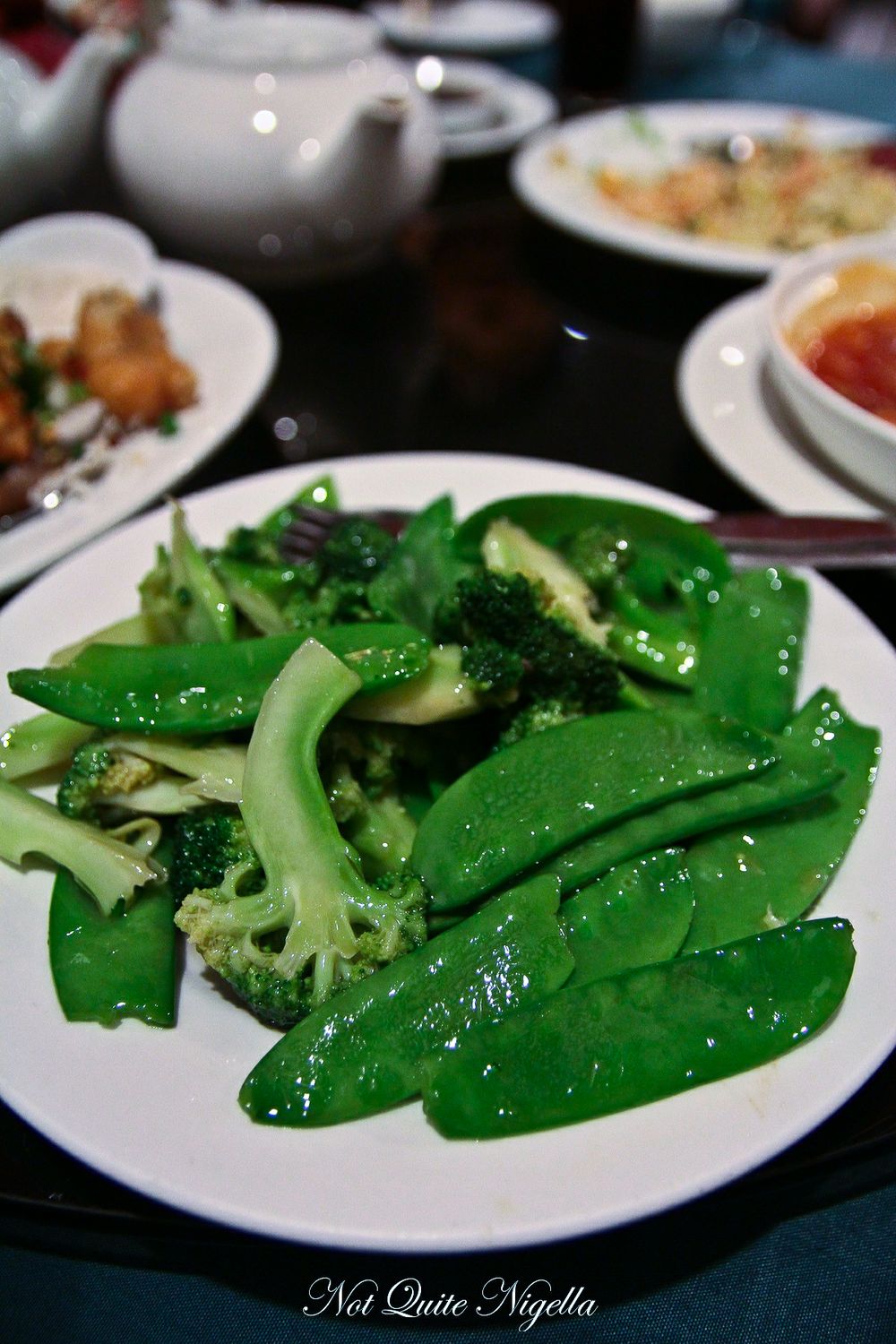 Stir fried snow peas and broccoli $19.80
We ordered these because sometimes you realise that you've got a meat and seafood fest but no vegetables. I really wanted to order the vegetables with Portuguese sauce because I was interested to see what the Portuguese sauce was, but my parents didn't want to so we ordered stir fried snow peas and broccoli, all cooked well and tasting and looking healthy.
Deep fried ice cream $8.20
Desserts were a mix of items like deep fried ice cream, lychees as well as cheesecake and bombe Alaska. The more interesting ones had a minimum order of two serves and were a little on the pricey side so we went with a classic deep fried ice cream and a banana fritter. We only realised when they brought it that it didn't come with a sauce which makes it quite dry. It sat on a bed of lychees-one for each of us and there is a crunchy outer layer and still firm vanilla ice cream interior.
Banana fritter $7.60
The banana fritter, looked upon the wrong angle produced some sniggers but alas, it was quite floury and dry inside and generally a bit of a disappointment.
There's no plate of fruit at this restaurant which is curious because there is usually is at most Chinese restaurants. Instead there's a big plate of orange and mint chocolates and then a short walk across the bridge...
So tell me Dear Reader, do you order dessert at Chinese restaurants or do you usually pass? And would you prefer a fruit or chocolate plate?