It is day two of our journey from the Great Ocean Road in Victoria to South Australia and after leaving Port Fairy we take the two and a half hour drive to Coonawarra stopping by the lovely Blue Lake in Mount Gambier, South Australia which changes colours depending on the time of the year from a startling blue to a grey. At the moment it is a lovely bright blue shade.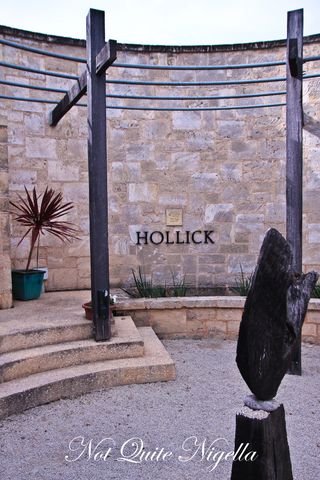 We arrive at the Coonawarra region which is a wine region known for their cabernets due to the soil profile (terra rossa on top of limestone) and cool climate. It's a warm, sunny day and we stretch and make our way into Hollick wines.
We are dining at Upstairs at Hollick which is the restaurant attached to the cellar door. The restaurant is open Wednesday to Sunday for lunch and Saturday nights for dinner. The dining room seats 75 people and opens out onto the vineyards where the first thing that strikes you is how flat the land is here for a vineyard! Also an intersting site is the soil profile that they've dug up to show you exactly how layered the soil is and how the bright orange terra rossa sits on top of the white limestone.
Cream of Wilgha zucchini and basil soup, sour cream, basil oil served with 2010 Hollick Sauvignon Blanc Savignin Semillon
The menu focuses on local Limestone Coast produce and they also use produce from their farm both here on the property as well as another property 800 metres away called Wilgha Farm. The soup features the Wilgha farm zucchini and is creamy with a hint of basil, two small dollops of sour cream and a drizzle of basil oil. It has a bit of texture still in it from the vegetables and is a generous serving size.
Roasted chicken breast, green pea nad chervil risotto, green beans, chardonnay cream sauce served with 2010 Hollick "Bond Road" Chardonnay
The roasted chicken breast was quite moist and I liked the crunchy edged pea and chervil risotto cake. It was served with a Chardonnay cream sauce and it was served with a Chardonnay to match.
Scotch fillet of local beef, potato maxim, broccoliini, salsa verde butter, shiraz and rosemary jus served with 2009 Hollick "Tannery Block" Cabernet Merlot
The scotch fillet was a little tough for me although I liked the potato maxim with the middle layer of beef.
But without a second to waste we are off to visit some wineries in the area! Our first stop is the rustic and charming Kidman Winery where the cellar door is housed in a 1850 cottage. Susie Kidman greets us and it has been an exciting day for them as a cow gave birth to a calf this morning. They run livestock (their lamb is stocked at Coles) as well as the winery and Susie tends to the livestock while Sid tends to the vines.
They have four wines in their selection and have been supplying to Cellarmasters for 20 years. Mr NQN tries the 2011 Sauvignon Blanc which is very popular. He also tries the 2010 Reisling, 2008 Shiraz, 2008 Cabernet Sauvignon and he particularly likes the Sauvignon Blanc and the Shiraz.
"If you want to get reincarnated, come back as one of Susie's chooks" Sid says and we take a quick look around the farm where the newly born calf sits next to his protective mother who has cleaned him expertly. Off in the distance we see lambs and in another paddock their mums.
Our next stop is pure glamour whereas the Kidman's was all about rustic charm. Rymill Coonawarra has a stunning drive  under rows of Oriental Plane and London Plane trees and the building is a stunning sight with two bronzed stallions doing battle to the right. Rymill is the largest family run winery in Coonawarra and the design of the cellar door is no accident.
There is red to represent the terra rossa soil, white to represent the limestone and pine to represent John Riddoch, who generations ago owned the area from Mount Gambier to Coonawarra and brought pine to the area. Other generations are keen  show jumpers so the horse theme pervades throughout. All of their wines are made using 100% estate and 100% family grapes and we meet their French winemaker Sandrine who creates wines with a French influence.
What is quite remarkable is that if you walk upstairs anyone can walk in and see behind glass a working winery. All of the offices have glass windows and anyone can meander through and see everything in action without having to dodge forklifts or don protective gear or clothing.
Interestingly,the best selling wine at the cellar door is the Sauvignon Blanc where it accounts for 60% of sales whilst in bottle stores, the Cabernet sells well because people associate the Coonawarra region with cabernets. There is also a range of food suited blends, three in total given the monikers 'gt' (for gewurtztraimer), 'sbs' (sauvignon blanc semillon) and 'mc2' (merlot cabernet sauvignon, cabernet franc).
Our last stop before dinner is at Wynn's where we will put on some white lab coats and mix up our own wine blends using cabernet, shiraz and merlot. These classes are open to the public and 24 hours notice is generally the time frame they will need. There is aa minimum of two people and the cost is $55 per person. Winemarker Luke explains what we will be doing. There are four glasses of wine on our pieces of paper, one of the Wynn Cabernet blend with Shiraz and Merlot.
There are also four empty wine glasses, a funnel and two measuring flasks, one 100ml and one 400ml. The idea is to make a blend that suits you or you can of course take up the challenge of finding the percentage match that they use in their Cabernet Shiraz Merlot (CSM) blend here.
First you taste Wynn's CSM blend and then you try each of the Cabernet, Shiraz and Merlot and with some playing and experimenting, arrive at a combination that you like and make this in the 100ml size and mark down the percentages. Once you have three 100ml samples to choose from, you select the one that you like the best and make it up into the 400ml size and then pour this into your bottle which you get to take home. They advise drinking this after two days where it will taste better but not letting it wait for over 3 days as there are no preservatives in the wine. And before we know it, we've got our very own bottle in a bag to take home with us!
We check into Must at Coonawarra which is clean, modern and well appointed. The shower is welcome as are the fragrant toiletries and hooray there is free wifi! After the shower we head to dinner at Piper's of Penola which is a beautiful restaurant housed in an old church and this evening it glows with a warm welcome. We are dining with some of the vignerons from the Coonawarra Vignerons Association and having a three course dinner.
Our amuse bouche, a welcome surprise, was oak smoked tuna with soba noodles. It was a neat mouthful with an excellent balance of flavours. A good start to the evening!
I adored this bowl of rich, flavoursome beef tendon consomme so deep in flavour and given texture and body from the shaved squid and thin pieces of ox tongue.
Another dish with an excellent balance of flavours was the local yabbies which were soft and sweet and rich. They were paired with soft mouthfuls of gnocchi, horseradish accented peas and a basil foam on top.
The beef is wonderful and comes served medium rare. It is a very generous portion too especially when compared to the entrees and there are two large eye fillets to the portion cooked perfectly and tender as tender could be. A diced ratatouille sits on top and there is a scoop of pommes puree and truffled mushroom duxelles.
I have to confess that as much as I adored the beef above the duck, luscious and fall apart soft, soft enough to be confit is my favourite. It is spiced with Asian spices and servedwith a sauteed gingered Chinese cabbage with shiitake mushrooms, a quennelle of sweet onion jam and a sauce Cumberland. It hit the spot perfectly.
To finish was a selection of cheese including a Comte semi hard cow's milk cheese; Bleu de Laqueuille blue which was amazingly smooth and a Jindi camembert with white mold. My favourite combination was the Comte with the poached quinces.
Well fed and ready for bed, we sleep like babies...
The next morning we had some breakfast with some of the Limestone Coast producers at the lovely Vintage cafe in the heart of Penola's main street. Mayura Station's chef Kirby Shearing is cooking us breakfast and it is an absolute treat. We start with some muesli made with local ingredients including an intriguing rhubarb paper, Kalangadoo organic apples.
This is how chef Kirby Shearing described it. "'A muesli' is a textural play on the typical fruit and oat combination. Here I roast the oats with the local honey until slightly caramelised. The quince is served two ways, sous vide without any flavourings and cooked in native pepper then pureed. The rhubarb is also served 2ways, pickled with rainwater and spice and also a leather is made by cooking out the rhubarb also in rainwater then I add some calville blanc d'hiver apple for the extra pectin. The apples are presented sous vide as well, one way we just cryo vac with no flavouring the other is vacuumed with grey goose vodka, this is called cooking with compression. With the labneh I used English lavender to bring a floral note to the dish."
Mayura Station is known for its award winning full blood wagyu beef so the bacon wasn't bacon but in fact wacon of wagyu bacon. The thinly sliced wagyu was smoked with native rosemary and caramelised in the oven. Kirby tells us he then makes an onion soubise which is onion and smoked fish stock enriched with Limestone Coast Cheese Company milk. The eggs are cooked first at 63°C for 2hours, chilled overnight then re-heated at 52°C for 4hours.
The texture was swoon worthy - soft and creamy from the egg and soft yolk while the wacon gave it saltiness. Before you know it, after two or three spoonfuls, the small glass has finished and you're making moon eyes at your other half hoping to get his share (no luck).
We also meet Michelle McColl from Kalangadoo Organic which is an organic only orchard that grows apples based on taste and disease resistance. They have no cold storage facilities at all and their apples are super fresh and guaranteed for a period of 4 days if purchased.
"If it's gnarly, brown and odd, we'll grow it" says Michelle. They specialise in heritage apples and she talks about how consumers associated crispness with freshness which is not always the case. Their apple juice comes in two varieties, a premium apple juice which I fall in love with - what a gorgeous bottle and the large 2 litre glass bottle which is sweet and fresh tasting.
We also meet Francesca Zema who was born in Italy and emigrated to Coonawarra with her family. She now runs Zema Estate which has several varieties of wine and what "started as a hobby just got stuck." Now they produce Cabernet Shiraz, Sauvignon Blanc as well as a fiery chilli paste, olives and other foods based on her native Calabria.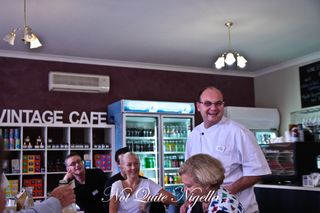 Jason Van Leuven is the pastry chef from Van Leuven that has brought a tray of delicious pain au chocolat and croissants that are so light, buttery crispy and flaky. My intention was to try a corner with the Vintage Cafe's lovely thick fig jam but I changed tack and ate the whole croissant once I see how lovely and buttery they are. He tells us that he wanted to cook "real ingredients...we can't stand food snobs and tosspots" and finds it far more rewarding cooking here than in Paris or Sydney.
He delights in making foie gras and serving it his customers who have never tried it before. The Border Mail journalist Sue Wallace visits his bakery later that afternoon to chat to his French wife and reports seeing labourers and truckies coming out with glistening delicate cakes, flaky French pastries, breads and filled rolls.
Daniel Dunford is a rock lobster crayfish fisherman. Can you see how excited I got there because you know that I love seafood and sweet, delicious crayfish is at the top of the list. Most of his catch is live exported to Asia where it must be in perfect condition. He considers himself just "passing through" and takes great efforts to ensure minimal impact on the species so that the industry can sustain itself for generations to come. "I want your kids to be able to buy my business from me one day and make themselves a good living" he says.
If there hasn't been a book written about Kate Spencer, I'm not sure why and after meeting with her, I think all of us wanted to write a book about her. In 1967, she was the first woman to receive a British "Good Food Guide" award for her restaurant Knight's Farm and she was the first to open up a restaurant in Coonawarra in 1982. Today, she lives next door to the post office where she makes use of their scales to weigh her peaches and these enormous golden orbs are used as barter - if you help her out on her property you are likely to be paid in gold, that is a tray of golden peaches or a cake.
Kate  started the National Trust community garden in 2007 as a response to hydroponic farming which she is passionately against. She feels that hydroponic plants lack structure and possess a weak flavour compared to their soil grown counterparts. Her community garden provides bags and scissors so that people can help themselves to herbs. She harvests the vegetables and puts them on the bench and people can donate to keep the garden if they take something.
The aroma of white lavender pervades the garden and we all realise that we hadn't even seen or heard of white lavender before so Kate gives us all some cuttings to take with us. And by the way, if you ever have the chance to try them, her peaches are divine without any stringyness at all. They're absolutely enormous and so sweet and perfectly textured that you will just want to eat the whole peach in silence. And Mr NQN was glad of the five minutes of silence from his chatterbox wife ;).
And we can't forget Vintage Cafe who make all of their goodies on site. Mother and daughter team Carol Marcus and Linda O'Connell run the cafe and there are a great range of items including their best selling chicken, mushroom and champagne pie which comes proud and highly domed. We can't resist but grab one of those delicious pies for our road trip as we're back on the road again!
So tell me Dear Reader, which is your favourite winery and wine to drink? And would you make use of a community garden if you had one near you?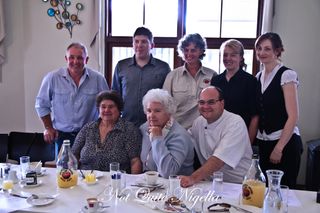 Upstairs at Hollick
Corner Riddoch Hwy & Ravenswood Ln, Coonawarra, S.A. 5263
Tel: +61 (08) 8737 2318
Kidman Wines
Riddoch Highway, Coonawarra, S.A. 5263
Tel: +61 (08) 8736 5071
Rymill Coonawarra
Riddoch Highway, Coonawarra,
South Australia 5263
Tel: +61 (08) 8736 5001
Wynns Coonawarra Estate
1 Memorial Drive Coonawarra SA 5263
Tel: +61 (08)8736 2225
Must @ Coonawarra
126 Church St Penola SA 5277
Tel: +61 (08)8737 3444
Piper's of Penola
58 Riddoch Street Penola SA 5277
Tel: +61 (08)8737 3999
Vintage Cafe
50 Church Street, Penola, SA 5277
Tel: +61 (08) 8737 2967