_John in his Daimler
_
I love tour guides that do bespoke tours. There's nothing like seeing an area with a person that is local enough to know all of the "real" places and being shown just what you want to see, and not what other tourists want to see or worse still, what your guide thinks you want to see but don't. And there's nothing like going on a driving holidays. Except errm of course I don't drive so having a guide drive you is the next best thing. This morning, after a not long enough sleep, I meet my guide John Baldwin from Barossa Daimler Tours for a four day chauffeured tour to the Adelaide Hills and the Barossa Valley. Voted #2 in "Australia's Top 20 Tours" by Australian Traveller Magazine it was only pipped by an Arnhem Land tour.
The good thing about Adelaide is that the scenic and green hills area is only a mere 15-20 minutes away by car so within the space of a very short ride, you're suddenly in greenery. Our first stop today lovelies is the town of Hahndorf! It was originally settled by Dirk Hahn who was wealthy and wanted to give the Prussian Lutheran community village (dorf means village).
And did you know that Australia, as a convict land, only had one non convict state? That is South Australia and they were the first to have a female high court judge, to give women and Aboriginals the right to vote, legalise homosexuality and the first to decriminalise marijuana! ;)
Harris Smokehouse
_Richard Harris and his two sons
_
Our first stop is food related (well of course, you didn't think I'd start going on about anything else did you?). We stop at one of the most famous businesses in the area, Harris Smokehouse. The business is a fourth generation owned family business that originated in England. Richard Harris's grandfather started a business smoking fish and his father, he and now his son Adam, owns the business. There are also businesses back in England run by other family members.
Over the years you may have seen their product on the supermarket shelves under the labels Springs Smoked Salmon. They supplied to Coles and Woolworth nationally and were known for top quality smoked salmon. Their smoked salmon was always fresh and never frozen. They used Tasmanian salmon and produced on average about 30 tonnes a week (even getting up to 70 tonnes one Christmas). Since then, they have sold the Springs business and after waiting the necessary time, they started another. I guess the smoke is always in the blood!
The top three shelves have the supermarket grade smoked salmon with the brown pieces trimmed off, the fourth and fifth layers are for the food trade
Here instead of employing 120 people, there are six of them inducing Richard, his two sons and two other staff members. They concentrate on the premium market and smoke items such as abalone, salmon, trout, prawns, kingfish as well as the English favourites of cod, haddock and mackerel. They only use fresh, top grade Tasmanian salmon and they trim all of the brown pieces off so that all you get is the lushest coral smoked salmon. There are also tastings offered for customers of their smoked salmon and smoked mackerel dips (fabulous!) as well as the other fish available. Prices are reasonable here and they do an overnight freight service through their website which costs $18 for delivery.
Moisture being removed by salt
We go through the back and see how the smoking is done. They start off deboning the fish which is finished off with a machine doing all of the painstaking deboning of the pin bones. This removes 85% of the bones and they do the remaining bones by hand. The smoked salmon then has all of the moisture removed by a coating of salt where it will sit for about 6-8 hours before hitting the smoker. The more you dry the fish, the less profit you make as the final product is sold on weight. Fish can also be brined using a brine injector which has little needles of brine that pierce the flesh below the skin.
They do two types of smoking here: cold smoke and hot smoke. Cold smoke which is done at 22C is the way we normally see smoked salmon and this is the bright coral salmon on the right. Hot smoked salmon is done at a 65C core temperature for 30 minutes and is cooked all the way through. However hot smoked salmon also start off being cold smoked. How long it is smoked depends of course on the size of the fish. The smoking is all done using oak chips which is the traditional method in the UK. The total time depends on the size of the fish but a typical rainbow trout can take up to three days to produce from beginning to end whereas a salmon may take five days. Smoking the fish without the skin produces a strong smoked effect.
Trout being cold smoked
Trout being hot smoked
The brine injection machine with needles
Richard tells us that the best time to eat salmon is from August to February and that in March the salmon that you will see will be leaner. They buy the salmon on the colour and oil level and the thickness of the belly. In March salmon will start to live off their body weight so their belly isn't as full. Ahh the life  of a salmon!
Hahndorf Hill Winery
Our next stop is at the "Choco Vino experience" at the Hahndorf Winery. Here instead of combining wine and cheese which is a common pairing, they decided to pair chocolate and wine. After doing a lot of research into chocolate and pairing the chocolate with the best wine they decided to stock chocolates from five overseas brands: Amadei, Francois Pralus, Michel Cluizel, Dolfin and Valrhona as well as Haighs, a South Australian company.
Customers can choose from a range of menus and we are starting with the "Discovery" which matches 2 wines with 3 squares of chocolate. There is also a palate refresher with Tasmania's Cape grim water which was rated as the purest water in the world (it's that Great Southern Ocean water John says).
There are three types of cacao beans: criollo, forastero and trinitario. The criollo is the rarest and most expensive and the Amadei Chuao is primarily made from this. The forestero is a high yield cacao bean that really responds to the care taken whilst the trinitario is a hybrid of the two from Trinidad.
We start with a wooden box (I'm a sucker for presentation) and in the box there is a roasted cacao beans. For cacao beans to be used they must be fermented in a mucilage, dried out, usually in the sun and then roasted until they get to this state. We try a roasted cacao bean and it is nutty and quite palatable with a slightly bitterness.
There are also apple slices and a square of Haighs 32% Milk chocolate which is a blend of forestero beans from Ghana and trinitario beans. I then try the Valrhona 40% from France which is a Jivara milk made from forastero beans from Ecuador.
We then try two wines matched with three chocolates. There is the Amadei Chuao matched with the HHW Chardonnay 2008 and there is also the Pralus (pronounced pra-loo) matched with the HHW Shiraz 2004. I adore the Amadei Chuao as it's a dark 70% chocolate without a hint of bitterness. It's purely smooth and gorgeous. To be honest I didn't know about the matching of these wines with the chocolates as I didn't find that they went that well together and I preferred them separately but I guess wine and chocolate matching can be subjective and who is ever going to complain when eating good quality chocolate? ;)
We finish off with a mini match which is a bar of the Dolfin earl grey tea chocolate with a pinot gris which I prefer of all of the wine types. The Dolfin chocolate is gorgeous with tiny little pieces of Earl Grey tea and the wine matches very well. This is my sort of people ;) . But as always, we need to make a move!
The Lane Vineyard and Bistro
It's lunchtime! Our very next stop is The Lane Vineyard and Bistro where the Edwards family have a vineyard, cellar door and bistro.
Oysters $3.40 each
I'm an oyster nut from way back although I'll admit I hated them as a child. So when I see that there's a new variety of oyster on the menu called a Pristine Oyster I am excited. The pristine oysters are deliberately grown to two thirds of the size of regular oysters to concentrate their flavour. Here they are served au natural with the shells on top. And I'm glad to see that they come with a lot of the brine too which a lot of places wash away with they shuck them. Oh my, these are heaven. The are strong and intensely salty and hit with a fantastic flavour. Jason the maitre'd then pours some of The Lane The Gathering Sauvignon Blanc Semillon 2009 which goes very well with the strong, salty oyster. I find champagne sorbets and dressings too strong but this intense oyster stands up to the wine perfectly. There are also oysters with a deep fried shallot, chilli and cress topping which are nice but the natural oysters have won my heart.
_Salmon tartare, egg yolk, chives, cauliflower cream $14
_
I know, it's perhaps not the best value for money item being that it is in a shot glass but it was delicious even if it wasn't that practical to scoop it out of the glass. The salmon is fresh and the cauliflower cream gives it an ambrosial smoothness and creaminess and the chives and quail egg yolk finish it off well.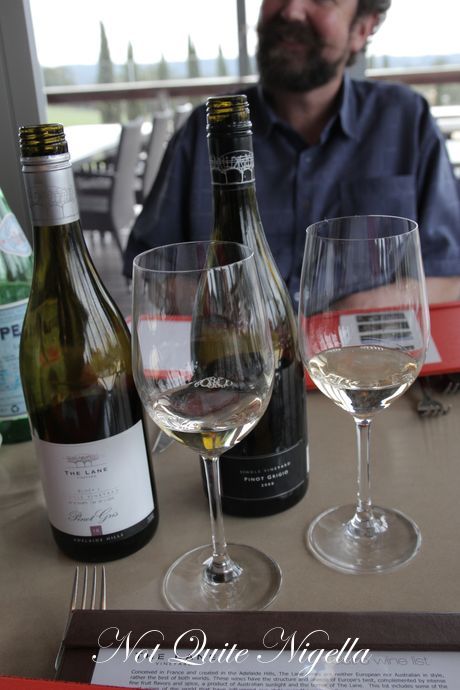 Jason pours some of the wines and shows us the Block 3 and the Black Label wines.The Black Label wines are their prestige wines that are exported all throughout the world. One of their most famous supporters is Gordon Ramsay who features the wine in some of his restaurants. A typical cellar door price for a black label wine is $39 whereas in a restaurant here it may be $50-$90 and in the UK 70 GBP. I really like the Block 2 2010 Pinot Gris which they kindly give me as a gift to take home with me! Oh and did you know that they are the only winemaker to put their geographical coordinates on their bottles? As each grape variety is grown in a different area of their vineyard, the numbers all differ slightly-clever!
Confit duck leg, seared breast with artichoke cream, pistachio and thyme $37
I try some of John's confit of duck breast and it is beautifully cooked and well balanced with the artichoke cream, pistachio and thyme. I can see why this is such a popular dish.
Grilled King George whiting with smoked sardine, coriander, pine nuts and lemon $42
I went with the King George whiting as John reminds me that we don't see this particular fish much in the Eastern states (isn't he fantastic?). It comes topped with Harris's smoked sardines, pine nuts, baby capers and lemon. The grilled whiting is expertly cooked, retaining the moisture throughout. I find that the smoked sardine ribbons are perhaps too strong for the whiting so I eat them separately. The salted and strong sardines provide a nice foil for the sides: green beans with goat's curd and pine nuts and button mushrooms with porcini and herbs.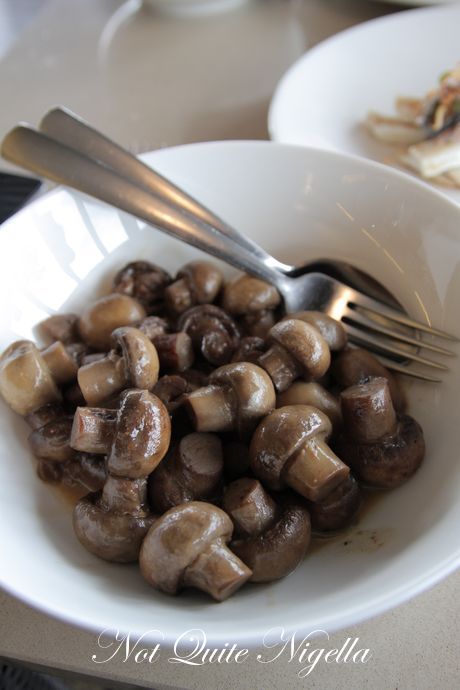 Mushrooms with porcini and herbs $10
Green beans with goat's curd and pine nuts $10
Stuffed to the gills we need to make a move onto our next stop!
Udder Delights
We stop at Udder Delights, a gorgeous little cheese shop in a sandstone house. They make their own cheese in nearby Lobethal as well as importing some and there is also a free cheese tasting for customers. For today's tasting I try three goat's cheese and three cow's milk cheeses.
We start with a Udder Delights dairy goat's curd which is one day old. it is very light and fresh and without that signature "goaty" aroma. We then try their ash de chevre which is rolled with coconut husk ash. The last goat's cheese is my favourite, a divine Chebris from France which is a goat's and sheep's milk blend.
We try three cow's milk cheese including an Udder Delights brie, a dauphoise pepper Fromant and an Udder delights Heysen blue. My favourite is the Udder Delights brie which is wonderfully complex.
I'm dithering, we have a lot of driving but I want to buy the Chebris and the Brie so screw it! I'm buying them, live life on the edge (ok  buying cheese without refrigeration isn't exactly hard core). And for good measure since I am living it up, I buy some white anchovies. Yes just me and these cheeses and the white anchovies in the suite tonight ;) The next thing you know I'll be shaking my booty in a rap video and trashing hotel rooms...
Chocolate No. 5
Our next stop is chocolate. See where I'm guiding you? Cheese, chocolate, smoked goods...stick with me and it's goodies all the way ;) We're off to Chocolate No 5. just down the road. Alison who owns the shop satisfies hungry and thirsty locals and visitors with her hot chocolates and very special chai teas.
Alison, whose list of former occupations is as varied as a box of assorted chocolates (a former dishwasher, secretary, paralegal, builder, sheep farmer who also home schooled her kids) emigrated from South Africa in January 2007. She stocks chocolates by a range of chocolate makers including local Steven Ter Horst, Just Bliss, Chocolatier and Cocolat and cakes are baked on site including their signature No 5 cake which comes in four different flavours (orange, raspberry, hazelnut and chocolate).
But the real temptation is in their hot chocolates and they do a milk and a dark hot chocolate. Initially I chose the dark chocolate as it can be gorgeous in a thick, rich hot chocolate but I'm convinced by the barista that milk chocolate is the go. John solves the problem by suggesting we get one of each. I'm converted, the milk hot chocolate is divine. Just the right amount of sweetness-it is sweet but not cloyingly so.
Alison from Chocolate No. 5
Alison tells us how they have perfected the hot chocolate recipe. Many places make one big batch of hot chocolate at the beginning of the day and let that keep heating which makes the cocoa butter rise to the top. Here they make each cup to order and I have to say that it is fabulous indeed. The other secret is the local unhomogenised milk that is free of additives. They were also voted the best coffee in Hahndorf and use Veneziano coffee.
Calmer Sutra wet chai
Alison also shows us a wet chai that they use from Calmer Sutra in Melbourne which she has used to make a white chocolate chai latte. and why is it called #5? I know you may have been thinking of Chanel No 5 but it is because it sits on #5 Main street! And she is lovely enough to give me a couple of boxes of chocolates which I share with Mr NQN-they are both fantastic with two of each flavour in each box (to avoid arguments I think).
Petaluma Winery
And fpr our last stop, a trip to the Hills wouldn't be complete without a visit to the world famous Petaluma winery where the cellar door is next to the picturesque Bridgewater Mill. Here they make Croser champagne- except ahem we're not allowed to call it champagne. In fact we're now not even allowed to call it Method Champenoise. It's Method Traditionelle now. Andrew is kind enough to give us a tour of the fascinating back of house where all of the riddling takes place. Riddling? Allow me to explain with an anecdote.
Traditional riddling stands
You may know that I don't drink a lot of alcohol and that is because I get quite sick and turn red if I drink too much but French  champagne is the only thing that I could seem to drink without feeling terrible. But of course you know how terrible that sounds when you tell people "I can only drink French champagne darlings" (especially when you call people darling at the end of the sentence). You may as well have "Diva" tattooed on your forehead then. A waiter at Quadrant restaurant then told me that it was because French champagne removes the yeast from the bottle which can cause allergic reaction (sulfur and preservatives can also do the same). So ever since I feel like I could explain that as my excuse for only drinking French champagne...darlings ;)
The yeast that gathers at the bottom of the bottle
So anyway, this riddling is the process of getting rid of the yeast. For the Croser, which is produced using the same method as champagne, they tip the bottle at an angle and every two days they move the bottle along to get the yeast to settle slowly. They then freeze the bottle and then "disgorge" the bottle by freezing the neck of the bottle and popping the bottle cap and the yeast pops out on its own and then a cork is inserted. This used to be done by hand but they have a machine to do this.
Modern riddling machines
The whole process for this takes 2 years in total and they also hold back some bottles for 10 years so that the flavour becomes more complex. The cellar door price isn't very different given the extra years with the two year variety being about $35 and the 10 year being $50. After sipping some Croser in the cellar door, we leave, on our way to yet another destination. Stay tuned!
So tell me Dear Reader, do you like taking guided tours or do you like to wander or drive around yourself?
The Petaluma Restaurant
NQN travelled to and explored South Australia as a guest of the South Australian Tourism Commission
Barossa Daimler Tours
Phone / Fax: +61 8 8524-9047
baldwin@barossadaimlertours.com.au
http://www.barossadaimlertours.com.au/
Harris Smokehouse
37 Main Road Hahndorf SA
Tel: +61 (08) 8388 7000
Hahndorf Hill Winery
Lot 10 Pains Road, Hahndorf, South Australia
Tel: +61 (08) 8388 7512
The Lane Bistro and Vineyard
Ravenswood Lane, Hahndorf SA
Tel: +61 (08) 8388 1250
Udder Delights
91A Mt Barker Rd, Hahndorf SA
Tel: +61 (08) 8388 1588
Chocolate No. 5
5 Main Street, Hahndorf, Adelaide, SA
Tel: +61 (08) 8388 1835
Petaluma at Bridgewater Mill
386 Mt Barker Rd, Bridgewater South Australia
Tel: +61 (08) 8339 9200