Dear Readers, just one quick announcement before starting today's story! Next week from Tuesday the 5th of June to Friday the 8th of June, I will be touring Queensland with the Queensland Writer's Centre showing people how to translate food into words and how to blog with their creative food-writing workshops!
The tour schedule is as follows:
Ingham – 10.00am, Tuesday 5 June at Ingham Library, 73-75 McIllwraith Street, Ingham
Bowen – 10.00am, Wednesday 6 June at Bowen Library, Herbert Street, Bowen
Charters Towers – 12.00pm, Thursday 7 June at Charters Towers Excelsior Library, 130 Gill Street,
Charters Towers
Ayr – 10.30am, Friday 8 June at Ayr Library, 108 Graham Street, Ayr
I'd love to see you there so please feel free to sign up! See more on: http://foodtales.slq.qld.gov.au/
Lorraine
xxx
And now...back to the story!
Setting off from Goolwa at about 10:30am, with our roadie box of lovely snacks from Juliet at The Australasian in tow, Mr NQN and I have on stop in mind: Kangaroo Island, population 4,500 people (and apparently 1 person per thousand sheep!).
Packing our bags into the Audi convertible we stop by cute little seaside towns like Middleton and Port Elliot which we had to really stop at because of the name! ;) Sadly there wasn't quite enough time to stop by the Flying Fish Cafe which is supposed to be great but we had the Kangaroo Island ferry to catch and if we missed that, then we would be in trouble!
The ferry from Cape Jervis to Kangaroo Island leaves every hour and you need to book ahead, particularly if you're driving a car on board. The tariff isn't cheap, it's $400 per car with two people for a return trip. To use the ferry, the driver drives the car onto the ship and the passenger takes another ticket and walks on board using another entrance. The trip takes 45 minutes total and there are various snacks to eat on board of the sausage roll and pie and bun variety as well as chips and chocolate.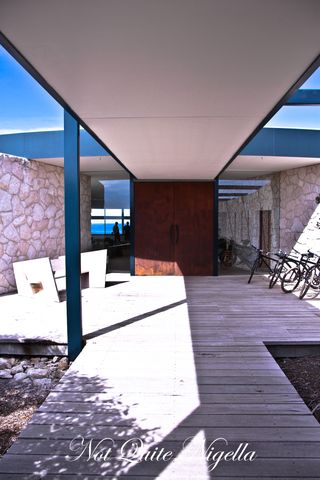 We will lay our head for the night at the legendary Southern Ocean Lodge. A bucket list item for me, I had seen the famous photo of the lodge and like Liz Lemon I said silently to myself "I want to go to there" and pointed at the photo. Years later we find ourselves driving up the dirt road (in my experience the longer the driveway the more spectacular the end will be ;) ) kicking up dirt and making sure the convertible top was up.
We arrive at the lodge where staff are waiting for us and somehow,  somewhere our bags are whisked off to our rooms and we are ushered into the "Great Room" which is the breathtaking lobby where we all proceed to pick up our jaws from the floor and use them to help sip a glass of bubbly while waiting. There is a suspended fireplace to warm you during winter (although the weather currently is absolutely perfect and we couldn't have asked for better) and an array of comfortable looking lounges and chairs to choose from. There are recycled timbers and white limestone floors and outside there is an infinity pool.
There are 21 rooms at Southern Ocean Lodge and they're all facing the ocean. The tariff includes all meals, mini bars and selected experiences. You can help yourself to drinks and the bar and mix up your own cocktail or pour your own wine (from an excellent selection) or have them pour it for you. Owned by the Bailie family, they bought it from the previous owner who sold it to them on the proviso that the land was to be used.
In the contract, he stipulated that if the land wasn't developed over the next 10 years, he was able to buy it back from them at the price at which he sold it. They developed it to the lodge it is today with South Australian architect Max Pritchard and the brief was to have as little visual impact as possible so the lodge is completely unseen from the road. They have only developed 1% of the land and have donated the rest to the National parks who look after it.
When I filled in the form for our room, I saw the magic words "Osprey Pavilion" but I didn't dare get too excited just in case. You see when I had stalked the lodge the pictures most seen are from the Osprey Pavilion (and this is the first shot in the longer version of the Kangaroo Island ad with music by Eddie Vedder-swoon!). But I didn't hold much hope for getting the Osprey Pavilion because I knew that there was only one room like that and that it was $3,800 a night for two people.
"Your room is right at the end" Alison says to us and my eyes widen. We would be staying in the Osprey Pavilion! Now are you as curious as I was to see what a $3,800 suite looks like? Well, come along with me!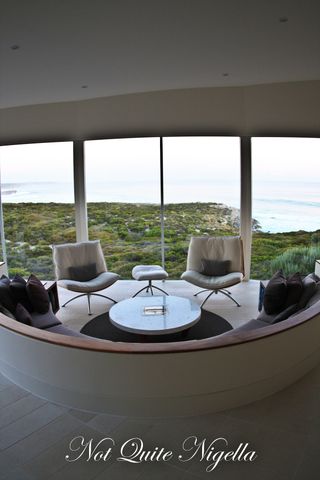 The Osprey Pavilion's place as the last room at the end of the lodge means that this has the most spectacular views of the coastal panorama. Measuring at over 120 m2, the unique curved sunken lounge has a built in Ecosmart fireplace in the coffee table where naked flames create warmth and ambience while dancing in front of the pristine ocean view. The lounges are soft and comfortable and there are all sorts of interesting books to read including a book on all of the shipwrecks off Kangaroo Island (all of the rooms are named after Kangaroo Island shipwrecks).
You have your own Vaio computer and internet to use, a plate of four fresh, fluffy lamingtons sit waiting plus there is a fully stocked complimentary mini bar which is full of a range of South Australian and K.I. products. All of the water on the property is rainwater. There is also a Bose sound system that extends to the whole pavilion with three remotes for control.
And that's just one room...
It looks out onto a balcony with our own private plunge pool and spa on a private terrace-there are three suites that have these at Southern Ocean Lodge.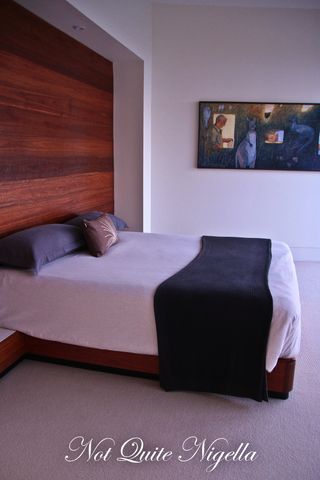 The king bedroom is spacious with smooth sheets with quality thread counts and goose down fluffy pillows (non allergenic wool ones are also offered) and things are logically designed -an example is easy access power points next to the bed-a small thing but oh so practical! The walk in robe is generously sized and this is where we find our luggage and two very covetable robes which I immediately want to purchase as well as a multitude of hangers for a celebrity sized wardrobe (and the official stance on celebrities? A very discreet with a "we don't have any celebrities staying here" although we know that they do! ;)
I'm a bit obsessed with bathrooms as I love baths and showers and this one's a beauty. I caught sight of her from the lounge room, well actually I first saw the stone egg shaped bath and the view of green forest as far as the eye could see (as well as their resident wallaby family). On the side of the tub are containers of mineral salts, bath crystals and lavender bath milk. The two person shower is next to this where there are two shower heads per person with a total of two regular massage shower heads and two monsoon shower heads on top.
There are double sinks and clever brushed stainless steel dispensers that contain their own brand of hand wash and body lotion which is silky and moisturising and in cold weather, heated limestone floors warm cold tootsies. And it is then that we decide that we just can't leave and have to sit and absorb the room. I'm a complete hotel room freak and I adore exploring hotel rooms with zeal!
A shower and some quick changing is necessary (the ylang ylang conditioner and lemongrass and mandarin body lotion are particularly good) and we join everyone for dinner in the restaurant which is next to the lobby of the lodge. Included in the rate is a four course dinner with matching wine and the chef Tim Bourke is formerly of Jasper's in Hunter's Hill. Service is deferential and friendly. The white wine served is a False Cape "Silver Mermaid" Sauvignon Blanc from Kangaroo Island 2010, the red is a Tscharke "Only Son" Tempranillo from the Barossa Valley 2010 and the dessert wine is a Bethany Late Harvest Riesling from Barossa 2007.
99.9% of the food and beverages are local to Kangaroo Island or South Australia, the only exception being the bottled sparkling mineral water and branded spirits. The produce featured on the menu highlights their surrounding producers as much as possible and a list of the main suppliers sits opposite the daily changing menu. The locally caught mulloway is a lovely, silky textured fish, more like a sashimi than a dried pancetta (I wasn't sure what to expect) and it is highlighted and perfectly seasoned with salt, black pepper, chives, lemon and a local olive oil said to be from ancient wild olive groves on the island.
The agnolotti, house made silky pasta filled with light, whipped goat's cheese, nubbly almonds and a sweet raisin puree in judicious amount finished with brown butter is superb. The nuttiness of the butter is enhanced by the other ingredients and I'm glad I still had some roll left for the butter! :)
This plate, so pretty in execution, is last meal material. Now I'm not a huge raddichio person but it's sweet here and perfectly balanced with the marron oil infused cream, tender marron meat, pickled red onion and halved grapes.
Another last meal dish is the pan roasted fillet of murray cod, so soft and delicate. It is paired with a char grilled fleshy white leek which is soft, savoury and aromatic, small mouthfuls of parmesan gnocchi and a smooth cauliflower puree. Everything is so perfectly balanced you really don't want this dish to end.
Although I love pork belly, this was good but we definitely preferred the fish over it. There were two small medallions of soft roasted fillet, a rectangle of confit pork belly which was two mouthfuls of bliss with its crunchy top, a breaded crispy cheek for contrast and some wild fennel, apple and parsnip and a black pudding crumbs.
The lemon thyme cream cigar had a thin, crispy pastry shell that reminded me of nutty, buttery baklava and a lemon thyme. The green apple sorbet was puckeringly tart and refreshing and the lemon thyme crumble was buttery like lemon accented shortbread with little flecks of green lemon thyme leaves.
I try a little of the four cheeses, an Udder Delights "Adelaide hills" camembert, an Island Pure "Cygnet", and there are also two Woodside Cheese Wright's cheeses, an "edith's" cheese and a "pompeii. All four have a good range of textures and flavours.
As much as we enjoy the company, I am just dreaming of the egg bath and can't wait to get back to the room to relax. When we return to our room, turn down has been  performed and the fire in the centre of the coffee table has been lit, their signature essential oil is burning and there a jar of Kangaroo Island ligurian bee honey on the bed. I choose the lavender milk bath and soak away before collapsing into bed.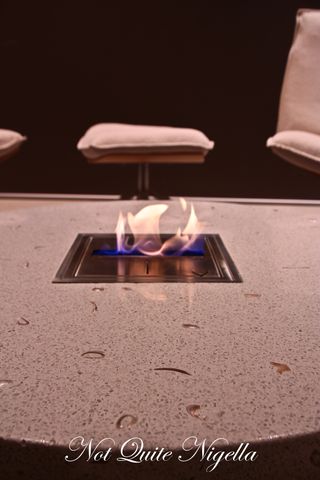 The next morning I awoke to the sound of the electric blinds being pulled up. Mr NQN had set the alarm early to take photos of the sunrise and take a walk. I must admit that I went straight back to sleep thinking that I would take a walk with him in "spirit" and that he should have a great time without me!
Breakfast at the lodge is from 8am-10am so around 9:30 we make our way to the restaurant. There is a wide selection of bread and baked goods, about ten varieties in total as well as a selection of jams including native Muntrie berries which are quite tart and native current jam (divine!) as well as Kangaroo Island honey in stringybark and cap gum.
Other menu items are ordered a la carte and the first "course" are various types of mueslis and the second course is made up of classics like big breakfasts or more interesting offering like a fine herb omelette or a smoked salmon plate which I chose because the smoked salmon is smoked here and they featured a soft boiled Kangaroo Island egg.
We check out of our room and if you ever stay in the Osprey Pavilion you will probably find my nail marks from being dragged out of there most reluctantly by Mr NQN (along with similar marks from other guests I suspect). We do some work in the lobby and help ourselves to refreshments. The only less than stellar moment of the stay is when I accidentally pick up a sandwich from a plate next to the drinks at the bar (there are nibblies offered and I assumed that this was for everyone) only to be brusquely tut tutted by a staff member who says loudly "They're not for you, they're for guests!!" making me feel about 5 years old, especially when everyone turns around.
Lunchtime rolls around and we have our last meal at Southern Ocean Lodge. It affords us a bit of time to look around the lobby area with a striking curved limestone wall that took Kangaroo Island resident stone mason Scott Wilson one year to complete. There are also stunning leaf mandalas by Janine Mackintosh each leaf painstakingly sewn onto the canvas.
Lunch is a three course set menu with a choice of two items for the main dish. Kangaroo Island eggs are known to be truly free range as there are no foxes on the island to hunt them and this is a beauty all soft poached languid golden oozing goodness dressing the frisee (which I always find a little impossible to eat elegantly) and small flavour filled bits of lardon.
I wasn't really wowed by the fish as it needed more seasoning so the tangy dressing came in handy. The hand cut chips were excellent though.
Out of the two mains, I preferred the roasted breast and leg of chicken, tender and flavoursome and nicely paired with the tarragon salsa and raddichio to balance.
And the ideal perky pick me up to end our wonderful stay is the affogato!
So tell me Dear Reader, what or where is on your bucket list? And have you managed to tick off many items?
NQN and Mr NQN travelled to and explored South Australia as a guest of the South Australian Tourism Commission and Audi
Southern Ocean Lodge
Hanson Bay Road Kingscote SA 5223
www.southernoceanlodge.com.au