"Hmmm that's four pairs of shoes for five days away... that sounds about right." I say out loud, more to myself than anyone else. Mr NQN looks at me. "You know I'm not coming so you'll have to carry those" he warns. The poor dear can't come with me so I am flying solo and luggage is the bane of my existence when I travel and this issue with my luggage rears its ugly head when I travel solo. I put a pair of boots away reluctantly and try to carry my bag. It will do.
A few hours later I find myself in Adelaide, for the very first time. The driver takes me to the Crown Plaza Adelaide where I check in. The porter deposits my bags by the reception desk and I am given my key. When I start to reach for my bag (admittedly grizzling about the extra pairs of shoes) a voice shouts out "Madam! Madam!" and rushes over. "You shouldn't have to do that" he says and takes my bags. I couldn't agree more :P
The room is modern and nicely furnished although there is an odd smell coming from the bathroom. I call reception and they send housekeeping up to spray it with lots of air freshener as there is a bit of a drainage problem in some of the rooms.
I'm running late (of course, I got lost) to meet with Mark Gleeson, a former chef and restaurant owner who now owns a stall at the Adelaide Central Markets and conduct's chef's tours of the markets. Formerly from Sydney he has lived in Adelaide for the past 20 years. The Adelaide Central Markets themselves have run for 140 years and the grounds are actually owned by the people of Adelaide with the caretakers being the council. It is also the most visited destination in South Australia and sees 1 million people through its doors a month. There are 80 stalls in total.
We start off with the camera loving and flirtatious barista at Zedz where they have a new menu every day. They source ingredients from around the market and design the menu according to what is best on the day.
What I didn't realise was that there was such a large Asian population in Adelaide. Of course this may be because the Adelaide Central Markets are alongside Chinatown too but there is also a large student population of 40,000 students. There is a Korean/Japanese stall run by Sun Mi who is an ex Olympic volleyball champion. And why is the Taxi Driver's Bibimbap named that? Because it is easy for them to eat it in the taxi! :)
We walk past the Seven Hills deli-Seven Hills is an area in the Clare Valley. It started off as a Polish deli but now has food from all over Europe including a tongue wurst and capsicum pariser as well as quark cheese and kefir.
Mark Gleeson
Mark picks up a tomato from the Green Side stand. The owner is also a grower and his fruit and vegetable look real-not those identical specimens you see at the supermarket but what you might find at a farmer's market.
We stop by two cheese shops-one of them is called Say Cheese which features more accessible cheeses where The Smelly Cheese shop features more expensive imported cheeses, many from France. Lulu who works there offers Mark and I a sample of an English cloth bound cheddar.
Soumaintrain
We then spy a new cheese called the Soumaintrain which comes from the same makers of Epoisses and we try a sample of this too. At first it is a mild flavour but then quickly develops on the palate to become a full bodied concoction with a strong pungency and creaminess.
_Kangaroo Island eggs _
Kangaroo island is about three hours away from Adelaide and their eggs are popular as there are no foxes on the island so that the chickens can truly run free.
We then stop by Marino's which has been here for 35-40 years and brings the best of Italian food to the customers. There is Tony and his son who is the third generation of the family working there. They make 1,200 prosciuttos a week and these sell all over Australia in stores like Norton Street Grocer, Woolworths and IGA.
The Grind stall where they sell a lot of fair trade coffees
Feast stall's offerings
Greenslade and Saskia Beer chickens
There is also the Feast stall that sells all sorts of goodies from a Dorper lamb which is a South African breed of lamb that likes a lot of the native grasses including saltbush. They're also said to sell the best chickens of all-the Greenslade chickens and Saskia Beer chickens (Saskia being the daughter of Maggie Beer).
House of Organics
The House of Organics sells fruit and vegetables using a three colour coding system. Blue means minimum spraying, green means organic and red means the traditional way of growing using sprays.
The mushroom shop with fresh truffles
Mmm truffles!
We spy some truffles at the Mushroom Shop as well as some wild French mushrooms including chanterelles, mousseron, trompet and pied de moutton at $150 a kilo! There are two types of  truffles to choose from, a Tasmanian winter truffle ($45 for 15 grams) and a French Summer truffle ($15 for 15grams).
We stop by Mark's stand where I spy some very cute, plump apple pies made by a lady in Lenswood which is an apple growing area in South Australia.
Lucia's is an institution here. In 1957 Lucia arrived in Australia as a post war migrant where she started the business. The menu hasn't changed for 50 years and it is a place where people gather and meet and form clubs like the "spaghetti club". It is now run by two of her daughters and encompasses three businesses within the markets including a shop next door (where I sneakily buy some sugar flowers for cupcakes ;) ).
I stop by the Mettwurst shop where I make some purchases. Mettwurst is a strong, smokey, aromatic German sausage usually made from pork and is slightly different to salami. I buy some Bum Burners from chilli loving Mr NQN (and I know he'll get a kick from the name ;) ) as well as some delicious garlic mettwurst (although I didn't buy that jumbo one!).
The Russian Piroshski stall
Piroshki $3
I absolutely love Russian food so I try this piroshski for the princely sum of $3.00. It's fantastic-freshly fried and filled with a flavoursome mince and the outside is a soft, chewy deep fried dough. If only I had the stomach space to try some of their many variations including a burger piroshski!
The dough bread stand
The Olive Tree
Exotic fruit and vegetables galore including this unusual fruit
Buddha's hands and vanilla persimmon
As well as that smelly Durian!
I wonder if anyone has counted how many sausages there are hanging up here?
Seven Brothers fruit and vegetables where they are very friendly!
All of this food is making me hungry so I'm glad when we go somewhere for lunch.We stop by Fresh which is a little eatery serving Vietnamese food.
Young coconut juice $3.50
The sweet young coconut juice is tasty and refreshingly good. There is a touch of a freezer taste to it so I'm assuming that it is from frozen.
Broken rice $9
My broken rice (which is less "broken" than I've had it otherwise and resembles regular rice) comes with a juicy, flavoursome pork chop which I adore. I thought that it might be tough due to the thickness but it is not. It also comes with a fried egg, some tangy cabbage pickle, a bowl of nuoc cham and a slice of tomato and cucumber.
Large beef noodle soup $8
For dessert, we stop by Bread top (which is new to Adelaide's shores) and try some Hokkaido milk ice cream which is rich and as Mark describes "Cowy"! :P
So tell me Dear Reader, when you visit a new city, do you visit the food or shopping markets?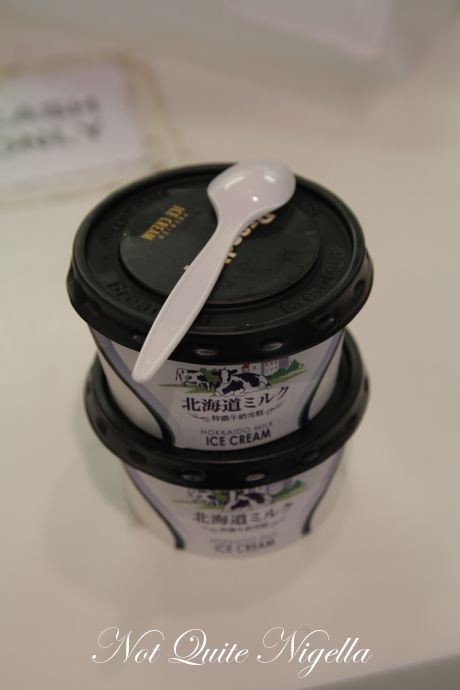 NQN travelled to and explored Adelaide as a guest of Tourism South Australia
Adelaide Central Markets
Prices for tours are $55 per person
Gouger Street, Adelaide, SA 5000
0402 165 800
http://centralmarkettour.com.au/