It's our last day on Kangaroo Island and we have free time with which to explore the large island. With the mantra of "never underestimate how large an island Kangaroo Island is" and "make sure you are at the airport at 5:30pm" we slide my P Plates on the Audi and I take the wheel. And when I start driving around Kangaroo Island I keep thinking to myself why on earth did I not get my license here as we pass the occasional car and the roads are smooth and mostly straight lines? None of this tight reverse parallel parking here!
The ad for Kangaroo Island promises getting close to nature and when you drive around the island what you see above is pretty much what you will see. We never saw any houses although we did see a lineup of fifteen mail boxes. For those who want to escape to nature, this may be heaven.
Andermel Marron
Our first stop is the Adermel marron farm which is a fascinating place to visit particularly as we had eaten marron only the night before at the lodge. Marron are only found in Australia and originally came from Western Australia. Fifty years ago, someone brought some marron to Kangaroo Island and they promptly dispersed and populated. Unlike yabbies, they're a species with a low tolerance to pesticides and the wrong temperature conditions so they're considered harder than others to grow. They only breed once a year in August and give birth in January.
Marron were so named by the French because of their chestnut brown colour similar to a chestnut or marron in French. However, there is an incredible version of them that comes in a range of hues from purple to blue as well as pink tinges. Caused by a recessive gene, they call these the albino versions. I couldn't help but tweet a picture of these beauties. I know some people were recently outed as being paid to tweet things from Kangaroo Island but they failed to disclose that they were paid tweets. At no stage was I paid or offered to be paid to tweet _anything. _
They harvest 6 tonnes of marron a year and these are sent off to the local market and restaurants as well as overseas to Dubai, Singapore and Malaysia. They are all exported live and they can even send these to Sydney (although sending these to Victoria is problematic). The meat is prized because of the texture. Said to be similar to prawn, it can be less chewy or tough than lobster and Martin who is showing us around reminds us that a 3 kilo lobster is 30 years old so the meat is going to be tougher. Here they sell them no more than 1 year old from 60grams to 700grams. Also marron have a good meat to shell ratio at 43% and they also have some meat in the pincers.
Prices here for the live marron range from $36-$48 and their cafe also sells cooked marron as well as marron meals. The marron salad above is $16 and features a tail of marron on a bed of salad with their own signature dressing. Also part of the marron business is the Two Wheeler creek winery where Mr NQN tries a very nice sauvignon blanc (I couldn't try it as I was driving).
And they're great climbers too! Martin tells us that he once found one in the car park!
**Island Pure **
Our next stop is a short one at Island Dairy where they make four kinds of cheeses: a brine cured feta which is less salty than regular feta, kefalatori, halloumi and cygnet. The cygnet is similar to a parmesan. It starts off as a soft curd cheese and they coat it in salt and mature it for 5 months to produce the cygnet cheese.
There are 1,500 sheep all on the property and we grab ourselves a little snack for the plane ride home. For $9.95 you try three of their four cheese, some slices of their salami, a tiny pot of beetroot relish and a packet of crackers.
KIS (Kangaroo Island Spirits)
Not far away from Island Pure is Kangaroo Island Spirits who are a multi award winning gin and vodka distillery that produce their gin using a variety of ingredients including a local juniper berry. On the eve of our visit, they had just won silver medals at the San Francisco spirits show for their Zenzerono (ginger and orange version of a limoncello) and their anisette (aniseed vodka). Their London style gin is award winning and sublime when served with the caviar beads of finger limes.
Jon gives us a quick history of tonic and quinine which is made from cinchona or "fever tree" bark powder. They found that in large doses it created effects similar to malaria but in small quantities, it treated it. For their tonic syrup, they add citrus peel and sugar and the tonic is actually delicious (and I'm not a tonic water fan normally). The tonic's effects are enhanced by drinking gin as it requires gin or alcohol to make the alakaloids more available to the human body.
Apart from vodkas and gins, there are six liqueurs in the range and they feature locally sourced native juniper (boobialla, Myoporum insulare), samphire (lending the vodka an unsual salty flavour), lemons, honey, wild fennel and herbs. And his bestselling product at the store? The divine sound honey and walnut liqueur which is an alluring shade of dark caramel.
Island Beehive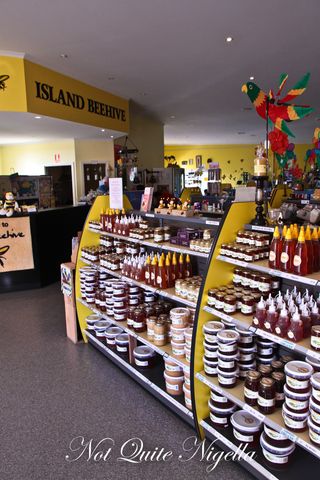 No visit to Kangaroo Island is complete without trying some honey. The bees at Kangaroo Island are said to be the purest strain of ligurian bee and it is known as the oldest bee sanctuary in the world. This is because other bees simply cannot get across to Kangaroo Island from the mainland due to the distance. In 1884-1885 the government passed a legislation to preserve the current strain of ligurian bees.
Their lugurian bees are so prized that they sell the queen bees to other countries like France, Denmark, Sweden, America and soon Holland. The bees themselves are gentle and they try and breed for hardworking and gentle bees. This year has been amongst his most challenging as there were large weather variations with cold followed by hot days which is not ideal.
Island Bee Hive owner Peter Davis was a former sheep farmer that had hives of bees but has now swapped life with sheep with bees. There are several honey types and they all sell well and given the sunny weather the ice cream doesn't do too badly with many of us craving the honey ice cream. There are ribbons of honey throughout the ice cream as well as little crunchy hokey pokey crunch explosions. It's our last taste of food on the island.
If you're looking for nature encounters of the animal  kind rather than food, there is a sea lion colony about a 90 minute drive from Penneshaw wharf. Here a large group of sea lions sprawl all over this conservation area. This is the only place to find this particular type of sea lion and they are considered endangered and only 14,000 remain in Australia. Out of 200 sea lion pups, 70 won't survive and they have a 18 month gestation period.
You can either walk down the pathway and watch the sea lions from a distance or take a guided tour which takes you closer to the sea lions and costs $30 an adult. Did you know that sea lion mums leave the pups for periods of 2-3 days when they go into the water in search of food? At this time, the sea lion pups are the most vulnerable.
As if to illustrate this point a sea lion pup follows and watches his mother go into the ocean and lets out several plaintive bleats to her. Without looking back, she disappears into the water and the pup sits on the beach for 10 minutes staring out at the water looking for his mother to return. She doesn't and he makes his way back to the beach.
So tell me Dear Reader, do you like holidays where you get close to nature or do you prefer city escapes?
NQN and Mr NQN travelled to and explored South Australia as a guest of the South Australian Tourism Commission and Audi
Andermel Marron
Harriet Road, Central Kangaroo Island, SA 5223
Tel: +61 (08) 8559 4128
Cellar Door & Marron Shed
Open Daily from 10.30am to 4.30pm
Island Pure
Gum Creek Rd Cygnet River SA 5223
Tel: +61(08) 8553 9110
Tours available at $6.50 per adult
KIS
856 Playford Highway, Cygnet River, SA, 5223
Tel: +61 08 8553 9211
Cellar door open: 11am-5pm Wednesday to Sunday, seven days during school and public holidays
Island Beehive
59 Playford Highway , Kingscote, SA, 5223,
Tel: +61 (08) 8553 0080