I emailed Mr NQN
"Hi Honey,
I'm off to the Barossa today. I hope you have fun at work. Sorry."
I feel sorry for the poor bugger, so I try to apologise for delivering what may seem to be gloating news.
I had just eaten breakfast at The Stirling Hotel where I was given a $50 breakfast voucher (although my huge plate above cost less than $15) . I meet my wonderful tour guide John from Barossa Daimler Tours. He and Emily from The Stirling help me with my bags and he probably thinks that I'm daft when I excitedly show him the clever light switches in my room.
Nepenthe Wines
Our first stop is Nepenthe Wines who have been making wines since 1999. I went to a Nepenthe event a couple of years ago at Aria  and it was a lovely drop indeed. They're known mostly for their Sauvignon Blancs and Julia and Steve greet us. Nepenthe, because I know you may ask as I did, is a word from Greek Mythology from Homer's Odyssey and means a drink so powerful that it eased grief and banished sorrow from the mind. So save that one up for your wine drinking buddies and stun them with your knowledge of Greek Mythology if they try and throw too many wine terms your way ;).
Julia leads us through a wine tasting. I just have a little taste of her most recommended selection. Julia is lovely and she's also a reader of Not Quite Nigella (which just goes to prove my theory that my readers are fabulous!). She was going to bake me something but she didn't know when I was arriving. She also did a presentation at university about me-isn't that sweet?
Back to the wine! We tried the 2010 Sauvignon blanc which has a passionfruit and pineapple aroma and the Petraea (Petraea is the species of oak that is used in the barrels). The Petraea is a cellar door only wine and it most suited to drinking with food as it is richer and fuller flavoured and with more "texture". What does texture mean in terms of wine? It means that it has more mouthfeel and a creamier texture and Steve makes the comparison of drinking a low fat milk versus a full fat milk which would have more texture or mouthfeel. I really like the Petraea  and the Ithaca Chardonnay 2006. And as we're leaving, they are kind enough to give me a bottle of each! Ah Mr NQN will be a happy husband :)
Pindarie Wines
Our next stop is for lunch! We're stopping off at the 3 month old new Pindarie Wines which has an incredible view of the Barossa. Housed in a historic building, it has been painstakingly restored by Wendy's husband Tony who is out in the shearing shed. There is a friendly couple from Sydney who are interested in watching the shearing taking place and I have to chuckle-it's the kind of thing I want to see too as I've only seen it done at the Easter show.
Wendy shows me the grounds and the building. They've kept as much of the original structure as possible including and have employed the use of sustainable materials. They've used rejected jarrah wood which was downgraded because it had knots in it and there are slate tiles from the farm. There are also the original buckled tiles for when the horses used to stay in the stables. They needed them to be uneven so that...how do I say this delicately-they didn't slip and fall on the horses's poo!
The rain buckets down and we order some pies to taste. There are three varieties including a beef pie with red wine, a lamb pie and a curried vegetable pie. They are served with a rocket, orange and dry roasted almond salad with a sweet orange and balsamic dressing and olives. The pies are filling and warm and of the three I prefer the lamb pie but they could do with tad more sauce. They also serve a grazer's plate.
"I'm going out to feed the shearers" Wendy says and she lugs a big basket full of lamingtons, cheese toasties, coffee and milk. The sheep shearers put their tools down right on the dot of 3 o'clock and they would get rowdy if there was no food to feed them. Wendy explains that many farmers who have young sons that are "doing it hard on the land" often do stints shearing sheep where they can earn up to $400-$500 a day.
Now that my tummy is full we go onto some tastings.  Wendy was the former senior viticulturisT for Penfolds wines. We try a Traminer Riesling which is lovely and spicy and is said to go well with Asian food as it can stand up to the spice. They're known for their Tempranillo variety and we try a Bar Rossa Sangiovese which has won some awards and the Black Hinge Reserve range (which has a gorgeous bottle, ok I notice these things). It is called Black Hinge as the stable doors have black hinges on them.
Apex Bakery
Now that we've had some wine and food, now onto dessert! At Apex Bakery in the Barossa, their bakers race cars and live a rock and roll lifestyle. I'm standing in the kitchen of Apex bakery, one of the most loved bakeries in the Barossa Valley and checking out their huge wood fired Scotch oven. It is at least five metres long says Brian, the oldest brother who runs Apex along with brothers Jon and David who are twins. Above us are 5 metre long oven shovels that are used to place the bread in the oven. There is a separate fire box which sits on the right hand side of the oven and the fire's flames reach above the oven.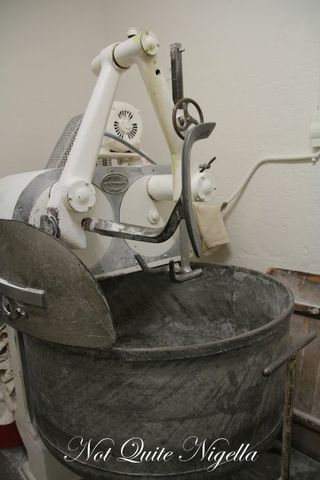 They work on old recipes from the turn of the century that remain unchanged to this day and to match these they use 1950's machines which are rare and hard to find (and obviously have no replacement parts to speak of). In fact they needed to source special flour that would work well with these recipes and techniques as their recipes require a harder wheat flour whereas many common flours today are soft flours. Each loaf takes six hours to make and they use a slow rise process.
Apart from the three brothers, there is their 97 year old dad. Brian shows us a table where his dad used to mix each batch of dough by hand for two hours. Legend has it that he would lay the dough out on the bench and then cover the dough in hessian bags and then sleep on top of it. As it rose, he was knocked off the bench and he would then wake up and punch it down.
"But what happens outside of the bakery is more interesting" Brian says. John tells me of their time racing cars and "parking" (aka crashing them) them on famous tracks all around the world. In 2004, Brian and his son Cory, crashed their car on the famous Nürburgring race track in Germany while driving at a speed of 270kph. They became airborne and came to a stop with the car wedged in the trees (as you do). The car was left at the track. Then there is their music career where Brian played in the Battle of the Bands. Who knew about the secret life of the baker?
Of course this was many moons ago and there hasn't been a lot of car racing. Nowadays, at 1o'clock every Friday they have a ritual which has been going on for 20 years. They fire up the oven, the butcher brings some meat which they bake in the oven, some oysters are opened and everyone shares a meal together.
And then I remember the famous Bienenstich cake or the German bee sting cake. I've heard that theirs is excellent and Brian gives me some to take with me. I try some later and it is a soft, buttery bread (much like those sweet Asian bakery buns and softer and airier than brioche), covered with some custard and a layer of honeyed almonds. Oh me oh my. I need to make this at home (and I've got a recipe-stay tuned!)
**Lyndoch Valley Fine Foods
OK now we've done the wine, lunch and dessert, how about a bit of shopping? At Lyndoch Valley Fine Foods it's all about the pork. Here everything is done traditionally and the smokers here are traditional using traditional salting techniques. They've also won accolade after accolade for their smoked ham, bacon and mettwurst. Pete shows me the smokeroom. Here they use redgum and mallee wood to smoke the meats.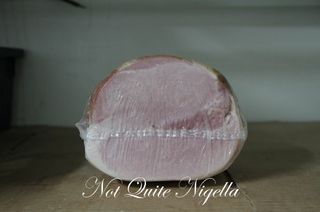 Award winning smoked ham
_ _
They also do boiled hams which are traditional English hams as well as polish sausage and their famous Lachsschinken which literally means salmon ham as it is treated like smoked salmon down to the thin slices when serving. it is delicately smokey and lightly salted and the paper thin slices are delicious and would go oh so well with cheese. If Mr NQN is lucky and I haven't eaten it all I may put some in his sandwich.
_Now that's real bacon! _
Pete give me a great sampling of his goodies including an amazing sopressa, garlic mettwurst, the smoked ham (divine, I can see why it has won awards), the boiled ham and the famous fritz which is the SA version of devon (which tastes pretty much like devon!).
_The smoke room
_
The Branch
It's time for a little break and I am having a late lunch today with Tess from Yalumba wineries. John drops me off at the The Branch which is a former bank branch which it is named after (not a tree branch). Having sampled it seems, half of South Australia,  I am not particularly hungry but I like the sound of the Barossa tasting plate. It has cold meats from the Barossa region and the Barossa Cheese company baby bert which is actually a mini camembert. There are also pickled onions, dilled cucumber and the Branch's own tomato and onion relish and pate. The standouts are  the pate and the tomato and onion relish which are just gorgeous. The baby bert is served quite a bit too cold so that it is quite hard.
I also try  some of Tess's pizza which is topped with smoked lamb backstrap, pumpkin, halloumi and caramelised onion. The base is nice and thin and the toppings are delicious together. I sometimes find pumpkin and cheese pizzas a little lacking but the sweet, caramelised onions and smokey lamb balances it out perfectly.
Peter Lehmann
Although South Australia is the driest state in Australia which is one of the driest countries in the world, you certainly could not tell from the last few days of rain. When we arrived at Peter Lehmann's cellar door for a taste of wine and a food platter, they tell us that there was significant flooding just yesterday. Peter Lehmann is known as "The Baron of the Barossa". About 80 years old, he is a personality that has survived bowel cancer, stroke and is a keen gambler. That is why his logo is the Queen of Hearts and the Queen of Hearst theme echoes throughout all of the paintings in the cellar door. Nowadays he doesn't get out and about much now and Judy shows us around the premises before we settle down in front of the fireplace with our taste of the Barossa Weighbridge platter with all local ingredients. Yep I must have put on some kilos after this trip!
Lehmann was known for ensuring that grape growers got a decent remuneration for their grapes. While he was working at Saltram wines, deals with the grape growers weren't done by contract, it was more ad hoc. There was a grape surplus in 1978  which meant that he wasn't able to buy the grapes from the growers which left them with a lot of stock that would go unsold and also meant that he had to go back on his already made promise to buy the grapes from them. He refused to go back on his word and with the financial backing of friends and family created a new company to buy these grapes and to make wine. It was called Masterson after the Damon Runyon character Sky Masterson who was the Queen of Hearts.
He took 140 growers from the bigger companies and floated his company on the stock market which was over subscribed at 2.4 million shares. He told the growers for this first lot, who typically only get one payment when vintage starts, that he wouldn't be able to pay them until he sold the wine. They agreed to that, he sold the wine and they all received a decent price for their grapes. The weighbridge platter was created because Peter used to go down to the weighbridge himself at vintage and share a meal like this with the growers. During vintage, the growers, staff, drivers etc would be fed with often 50-60 people a night. I adore John who is such a font of knowledge and tells me all of the background stories for each of these places.
There is also a famous story when he was at his doctor who was seeing him for bowel cancer. He lit up a cigarette in the surgery and when the doctor objected, he protested that he was smoking from my mouth, not his bottom!
On the weighbridge platter are Linke's Mettwurst and Lachsschinken, Zimmy's beetroot relish, Kurianda's Pear Chutney, Zimmy's Dill Cucumbers, Kalamata Olives, local almonds, Apex bread, matured cheddar cheese, Barossa Valley Cheese Company's "Baby Berts" and Barb Buggy's "Barosa Bark" (a lavosh bread). Judy recommends the beetroot relish with the mettwurst and cheddar while the lachsschinken pairs up with the pear chutney (which is made using Mark McNamara's recipe when he had Pear Tree Cottage) and the baby camembert. We pair it with a Black Queen sparkling shiraz which is a single vineyard vintage wine.
Barossa Valley Cheese Company
We stop in quickly to the Barossa Valley cheese company where I have a quick cheese tasting with four of their cheeses. There is one called Harvest which is made using a geo trichome culture and they only make when there is extra milk. That is my favourite. There is also a Washington which is washed in culture, a Wanera which is gooey and ripe and ready and I also see an aged goat's cheese which I haven't seen before. I try it and it has that distinct goat's cheese flavour but with a firm and creamy texture much like Danish feta.
Everything is made on the premises here and in the Barossa Valley they can only make soft cheese. This is because the state is so dry and the cows don't get to eat enough grass and pasture to get a high enough fat content to be able to make hard cheeses. They get their milk from several local sources.
Ri's chocolates
Our second last stop is at Ri's chocolates. Ri stands for Richard Carman, who fell in love with chocolate making and baristaing after seeing the film Chocolat. He's a very interesting, friendly, slightly nervous gentleman who simply wants people to appreciate good chocolate. He tells us that people still don't have a full appreciation of dark chocolate and when he removed the word "bitter" from a chocolate's description, sales went up. I try a selection of his chocolates. We start with the star patterned Illusion which is an idea that was inspired by Mark McNamara at the Appellation (his influence really does get around!).  It is a salt and pepper chocolate in milk chocolate. The chocolate is wonderfully smooth and the salt and pepper flavour really comes through in the end.
We then try a 75% dark chocolate. A high % dark chocolate like a 75% can be bitter but this one is delightfully smooth, much like the Amadei Chuao. I ask him which chocolate he uses and he remains mysterious on the matter ;)
The next one is a bitter one which is made using Maggie Beer's Seville marmalade and a blend of 99% chocolate and 55% chocolate. "It's an adult's chocolate" Richard says. Next is my favourite, the beautifully textured Vintage truffle which is to match a Seppeltsfield 1989 Tawny Port. It is a soft edged truffle and the texture of the truffle slowly melts in the mouth while remaining in one piece spreading all over your tongue and upper palate-it is absolute sensuality in a truffle. The last  one is a "Self titled" one which remains nameless and is a muscat ganache. He's clearly proud of them and has good reason to be "They're my babies" and you can really feel how much he wants you to appreciate chocolate.
I then try a spiced hot chocolate which again he remains mysterious on. It is scented with chilli and cassia and you put however much 55% dark chocolate you want in it. It's spicy but never too much so but also smooth and creamy.
"It's like the devil sliding down your throat in velvet pants" he says "That's a quote!" he says smiling.
Maggie Beer Lunch and the Farm Shop
Well of course no visit to the Barossa is complete without a visit to Maggie Beer's Farm and shop and it is my final stop in my visit to South Australia. We've left it a little late as we've stayed so long talking to all of the producers but when we arrive Maggie's daughter Elli wearing jeans, a black cap sleeved top and black boots greets us and says that the timing is good as they are frantic. "I could kill my sister!" she says referring to her sister Saskia Beer who isn't there. Working with family in such a way must have its challenges and it's good to know that they're as human as we are.
It is Father's Day and it seems like many of the Barossa's wine making and food producing families are here to celebrate father's day. Held in "The Farm's" function hall there is a four course set meal in place. Next  to us is a friendly couple called the Riedels (not the wine glass family although he tells us that that got his son a table in hard to get NYC restaurant once using the name-haha!). They are celebrating his birthday and as they are about to leave, he graciously gives us his bottle of Greenock Creek wine, which is said to be one of the most respected wine labels available and also has a cult status attached to it.
John tells me that they're so hotly contested that they often sell out of their Cabernet Sauvignon. They only make 2500 cases a year and they were once offered a very large sum of money for a barrel of their. As the story goes, in the late 1990s, the owner of the Top of the World Restaurant (the one that sat on top of one of the World Trade Tower), offered owners Michael and Annabel Waugh $US200,000- for one barrel of 'Roenfeldt Road' which is their top wine. Michael had only made two barrels of that wine so he had to let that offer pass. The Roenfeldt Red sells for $190-200 per bottle and usually sells out on the first day of opening.
The amuse bouche today is quail tulip (leg) stuffed with foie gras and porcini, sauteed in beurre armangac. It is a small morsel of delectable goodness with the fattest part of the tiny leg stuffed with a measure of foie gras. Maggie Beer's husband Colin raises the game birds like phesants and quails.
The entree is an assiette of prawns prepared three different ways. There are poached prawns with verjuice, mayonnaise and baby salad, prawn ceviche with basil, lemon and salmon roe, tempura prawn and daikon with chili and tamari sauce. I like the tempura prawns which comes paired with an Asian style salad fragrant in ginger and chilli. The poached prawns are nice but there is some thyme in the salad which is a bit too strong for me and the prawn ceviche is also nicely textured but requires fishing out of the spoon or you too may end up inelegantly wrestling with the spoon and the prawn and trying to get some of the tangy ceviche juice (or maybe that was just me).
The main event is rich and enormous. In fact plans are quickly made to pack this for my impending plane trip back to Sydney where no doubt, given the option of eating a flavourless meal, other passengers may riot when the smell of this wafts down the aisle. But I'm willing to risk losing a limb. The black angus beef is thickly sliced and comes with a combination of two sauces, a bearnaise sauce and a caramelised creamed onion sauce. It is paired with lemon and rosemary waxed roasted potato slices.
The spiced figs are amazingly soft and delicious and can be bought at the shop next door. They come with a thick scoop of Jersey cream and a single chocolate and almond biscotti. You'd think I would have no room for this but I do manage to get a taste of this before this too is packed up for my journey home.
I take a quick peek into the Farm Shop next door where people can sit and eat meals and it looks like all of her products are able to be sampled. I sadly bid farewell to my wonderful tour guide John (do not visit the Barossa Valley without him!) and to the Barossa and South Australia and think of the fantastic meals I had and the intriguing, friendly and open personalities that I have met on the way.
So tell me Dear Reader, do you plan out where you'll eat before you go on holiday?
Barossa Daimler Tours
http://www.barossadaimlertours.com.au/
Nepenthe Wines
Jones Road, Balhannah, South Australia
Opening times:
7 days, 10am to 4pm
Closed Good Friday, Christmas Day and New Years Day
Telephone: (08) 8398 8899
Pindarie Wines
Corner Gomersal and Rosedale Rd, Tanunda, SA
Te; +61 (08) 8524-9019
Apex Bakery
Elizabeth Street, Tanunda SA
Tel: +61 (08) 8563 2483
Closed Sundays
Lyndoch Valley Fine Foods
36-38 Barossa Valley Hwy
Lyndoch SA 5351
Tel: +61 (08) 8524 4078
Peter Lehmann
Para Road, Tanunda, SA
Tel: +61 (08) 08 8563 2100
Barossa Valley Cheese Company
67b Murray Street, Angaston, SA
Tel: +61 (08) 8564 3636
RiChocolate
Suite 41
Seppetsfield Cellar Door
Seppeltsfield Road, Seppeltsfield, Barossa Valley, SA
TE: +61 (08) 8568 6243
Maggie Beer Farm Shop
Pheasant Farm Road, Off Samuel Road, Nuriootpa SA
Tel: +61 (08) 8562 4477