I have a little black book. A little black Moleskine actually that I write down places that I'd like to eat. It's full of recommendations and I often  flip to it for inspiration and regularly consult with it. And one place that was on the top of the list and the very first entry was Brasserie Bread. It remained uncrossed off for ages, mainly as they are open during hours that I just don't or can't really get to Banksmeadow (near Botany) closing at 2pm on Saturdays. But this one Saturday morning, we had to be in the general area early at 9am and I immediately scheduled in a visit there for breakfast. And they're now open on Sundays too.
It's kind of in the middle of not very much and I don't wish to offend residents of Banksmeadow but by that I mean there aren't a lot of shops or a lot to do out there aside from visit. And visit they do. This Saturday morning the communal tables and separate tables are full. There's a large gaggle of mums relaxing - and you might be wondering how a bunch of mums can relax. Easy, take the kids to Brasserie Bread where at 10am and 12pm, they can learn how to make bread for free and take home the goodies they make. Needless to say classes are booked months in advance and I can only imagine the mums relief at the day rolling round where they can offload their kinder if only for an hour to relax with a cup of Allpress and have a child learn the valuable skill of bread making at the same time. In the cafe area, the banquettes are said to be the right height for kids to stand on and peer into the kitchen windows and watch the bakers doing their thing. There are also adult classes for $130 per person.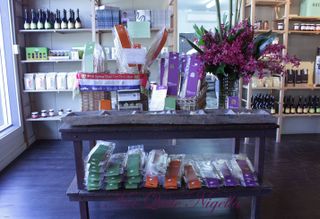 The front display has their award winning pane croccante which we tried as part of the Easter Show deli bag which was fantastic. Although we tried a packet of the Nigella seed croccante, the Rosemary flavour is the award winner. Samples for these are generous and the rosemary is indeed the best out of the two.
There are also samples of their sourdough and lemon and garlic flavoured olive dips which are also delicious.
Having wanted to go here for so long and stalking the menu, I know what I want. Ordering and paying at the counter, we're lucky to snag a table quickly. We order the sourdough pancakes which we can have with either raspberries and double cream or maple syrup and bacon. I choose the latter - nothing stands between me and bacon. We also order a Croque Monsieur and the Organic Sourdough toast with avocado, tomato & goat's curd. All eggs are free range organic.
The Organic Sourdough toast with avocado, tomato & goat's curd is a DIY breakfast. Spread the rich goat's curd, ripe avocado and tomato slices (3 thick ones, could we make it 4 thinner ones please? I need 2 pieces of each slice) and crunch away to a delicious breakfast.
My husband looks grumpy when he tries this and makes a face. He looks unhappy and when I ask him what is wrong he says "It's terrible" and then says "You might want to just eat yours". I smell a rat - my husband is a terrible liar and his acting prowess only goes so far and before long his grin stretches across his face and I see that he is lying. I ask him how it really is and he says "Pretty damn good" (Mr NQN speak for fantastic).
The croque monsier is filled with ham, heidi gruyere cheese and rocket. I didn't realise and wasn't asked if I wanted an egg on it (I did) so it feels a little empty when I get it although it's not bad but it's only one piece, not the two pieces that are shown in the picture on the menu so I'm a bit disappointed on both counts.
For good measure we buy two of their very famous breads, the sour cherry loaf and the caramelised garlic loaf. The caramelised garlic is done so in a sugar syrup with balsamic vinegar and pepper and these are baked in a soft Italian dough fermented with unbleached organic flour, olive oil and milk.
I slice this up for sandwiches filled simply with Beerenberg's Strawberry jam and cheddar cheese and it's delicious, particularly lightly toasted. And worth getting up early on a weekend for.
Brasserie Bread
1737 Botany Road, Banksmeadow, NSW
Tel: 9666 6845
Open 7 days