I don't get any late night cravings for Sourdough but should you be struck with insatiable Sourdough lust later in the night, take note of this bakery: St Honore on Miller Street in  North Sydney is open until 8pm every night. I'm visiting at lunch time so that I can try some of their filled sourdough rolls as well as various pastries and of course, cakes.
It's a small but well stocked bakery with many varieties of bread, filled baguettes (smoked salmon, chicken and vegetarian) pies, pastries and a displayful of cakes with plenty of the old favourites such as sour cherry tarts, apple tarts, french pudding and creme brulee as well as more stunning "couture looking" options such as a white and dark chocolate mousse. After much umming and aahhing, particularly over the cakes, I purchase my selection and bring them home.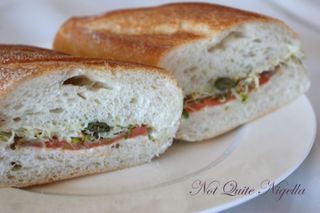 The pastries aren't warm so I need to heat them up before eating them so I start with the smoked salmon baguette ($5). It is spread with cream cheese, a thin slice of smoked salmon, alfalfa and dotted with capers. Although the smoked salmon at first does not look like enough, it's quite perfectly proportioned. The crunchy sourdough goes well with the ingredients and I find myself craving this after it's long gone.
I try the slice of sourdough pizza ($2.50) next - unfortunately the pizza dough doesn't seem to be particularly sourdough-ish at all, it looks and tastes just like regular pizza dough. The topping is alright but nothing particularly blissful. If I can be blunt the topping is similar to what you'd find at Coles in the bakery section. For $2.50 for a 10x10cms slice it's not bad value though.
I'm hoping for better when I try my namesake Quiche - Quiche Lorraine ($3.80). It's smallish and very eggy and the bacon/ham flavour is very strong throughout with some thinly sliced mushrooms. The ham is very finely diced throughout it and the crust is good.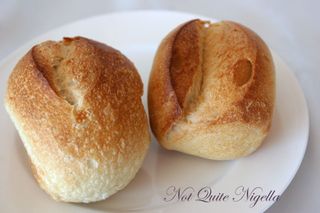 I have also bought 2 small sourdough dinner rolls ($1.20 each). They're good and crunchy although not as "sour" as I like it. They would be great alongside a soup although I confess that I think they're a touch on the pricey side given their size. The Luneburger 90c Champion roll is much better value and a lot bigger.
The last of the savouries that I try (and I shared these with my husband so I didn't just eat 4 of them hehe) is the Ham and Cheese croissant $3.50). This croissant is buttery and flakey, just the way I like it and if it were freshly warmed and baked, it would be superb. With some judicious reheating it's very good, juicy, crunchy, crispy and creamy (the creamy being the cheese spread inside).
We're onto the cakes last. The first cake, I had tried before and enjoyed it a great deal. It's the white and dark chocolate mousse ($4.80). It's a chicly presented chocolate globe which is lightly dusted in cocoa then given the white chocolate stripe treatment. Inside, the mystery is unveiled. It's a thin disc of chocolate sponge, a layer of sweet white chocolate mousse and on top of that, a layer of bittersweet dark chocolate. It's then enrobed in a thin layer of dark chocolate with white chocolate zigzag lines. The sweet white and bitter dark chocolate work beautifully together and are as light as air or the fluffiest cloud.
The Opera ($4.20), one of the more difficult cakes to make due to the ultra thin layers seems like a fitting conclusion to the gastronomy-fest. Its lovely with the almond sponge alternating with ganache, coffee and cream (although the texture of the whipped cream is almond mock creamish) with a splash of alcohol.
In a weird way I feel comforted knowing that if I have any late night pastry or bread cravings, a delicious solution is close at hand.
St Honore Sourdough bakery
50 Miller Street, North Sydney , NSW (opposite Greenwood Plaza)
Tel: +61 (02) 9929-4388
Open 7 days