"Let me tell you as someone that's always here this is good and so is this and this and this," says a friendly customer at The Tin Pin on Bondi Road. This was moments after I asked the barista, another friendly guy what was the best to order. "Me!!" he said enthusiastically.
You see I was standing in front of the display and not knowing where to look or what to buy. In a suburb full of hipster eateries the Tin Pin is a bit refreshing. It's a bakery with a rolling pin as the front door handle. Service is friendly and they bake everything themselves and there are no superfoods in sight (it's Bondi).
The offerings are also very well priced and we heard about it as it's one of Nina and Garth's favourite haunts. He is a fiend for their pastries and once a year Nina will buy one for herself. They're sitting outside with Mr NQN and Mochi while I go inside to order. There are also bags of flour for sale and organic free range eggs.
I decide on four little things to nibble on because we've just had breakfast. The first thing is sort of like breakfast-it's a filo pastry cup filled with vegetables and topped with a poached egg and hollandaise sauce. And hello lover! This is really good. With a crispy buttery base and the tangy hollandaise and a soft boiled egg it's everything I want in a compact sized breakfast. I'll be back for this I say to myself determinedly (in an Arnie accent).
You know genetic engineering is not really a good thing but a hybrid of a pain au chocolat and an almond croissant is. This is the best of both worlds and an godsend for those undecided on which pastry to choose. Garth is in love.
I have a weakness for vanilla slice. The custard is fresh and wobbly and the pastry is crisp. And I do like this one indeed although it seems that I'm the only one that's really digging into this after breakfast.
There's a bit of a gap as they're busy and it looks like the pineapple strudel has been forgotten so I enquire about it. That gets our table onto the topic of games, particularly Charades. Nina and I decide to team up against Mr NQN and Garth and we decide to ignore the stares of passersby and play charades while sitting at the tables outside. Because it's a Sunday and we just have things like grocery shopping to do.
Then comes the strudel. They explained that a woman that bought one this morning came back to buy 10 of them with the intention to freeze them as they were so good. That probably explains why there were only two pieces left. It's filled with pineapple, currants and nuts. It's like a tropical strudel-a bit unusual but not in a bad way.
A couple of weeks later Mr NQN and I return for a few things. We try the Love Nest again-this one isn't as warm and it's still good but warmed up is the key.
We also try the chorizo roll which has a layer of sauerkraut that goes well with the chorizo meatballs. They did offer to heat it up for me but it came out cold so I'm not sure what happened there.
Neither of us are really big muffin eaters but it looked so good that I had to order the apple topped muffin. It tastes freshly baked so that it's still soft and moist inside with a lid apple slice on top! And then it's off for some market and grocery shopping!
So tell me Dear Reader, have you ever played games at a cafe? And is there a hybrid food that you've really enjoyed?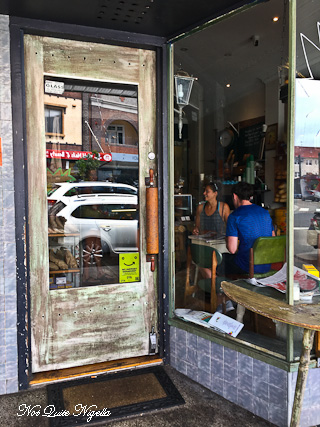 The Tin Pin Bakery
296 Bondi Rd, Bondi NSW 2026
Phone: (02) 8065 5494
Open 7 days from 5am-5pm