Dearest Reader, I confess that I mistakenly, unintentionally married into a good looking family and I cannot tell you how annoying that can be. They're tall and athletic, the boys chiselled and handsome, the women naturally pretty and of course I stand out like the odd one out with my goth inspired looks. I am literally the black sheep.
Mr NQN's little brother Manu is a sweet guy who is always willing to lend a helping hand. He also is quite innocent to the effect to his looks on the womenfolk. I think he had all of my mother's friends fanning themselves in delight at our wedding - the effect was so significant that their chest heaving flirtatious behaviour made it through the fog of newly wedded bliss.
Later, we watched with amusement and then concern when a woman invited him to be her flatmate and when we met her, we were even more alarmed. She introduced herself and told us "I own him" and held his arm possessively. I think Mr NQN and I wanted to grab Manu's other arm and get him the hell out of dodge because that didn't sound normal at all.
What these women don't know is that the way to get the Manu's attention is to be a peace-loving hippie vegetarian rather than a seductress. You see whilst Mr NQN broke away from the family's vegetarian lifestyle, his brother is probably the strictest sibling of the family in terms of adhering to the lifestyle and doesn't drink even Coke or coffee. Despite this, he is quite a delight to cook for as he eats copious amounts and is very sweet and complimentary so when I knew that he was coming over I decided to make a vegetarian san choy bau.
You may be familiar with the meat version as the second course of Peking duck where they use the meat from the duck to make a filling that is served in crisp iceberg lettuce cups. It's one of our favourite courses and I remembered going to Fu Manchu restaurant years and years ago and having one of their vegetarian sang choi bau. It was every bit as good or better than the meat version which can vary a bit. I wanted to make one that was not only vegetarian but healthy too and packed with vegetables while being low in fat.
The ingredient list may seem inordinate but if you have a food processor or a mini chopper then this is really easy as everything has to be diced. In this recipe, I used red lentils which cook quickly and provide a meaty texture in place of the meat and you get the essential crunch from carrot and water chestnut and umami flavour from the shiitake mushrooms. And the sauce ingredients give this seemingly healthy and austere vegetable combination a power punch of flavours-you don't even need to use hoi sin sauce and I loved these just as they were.
So tell me Dear Reader, are you the "black sheep" in your family or immediate family?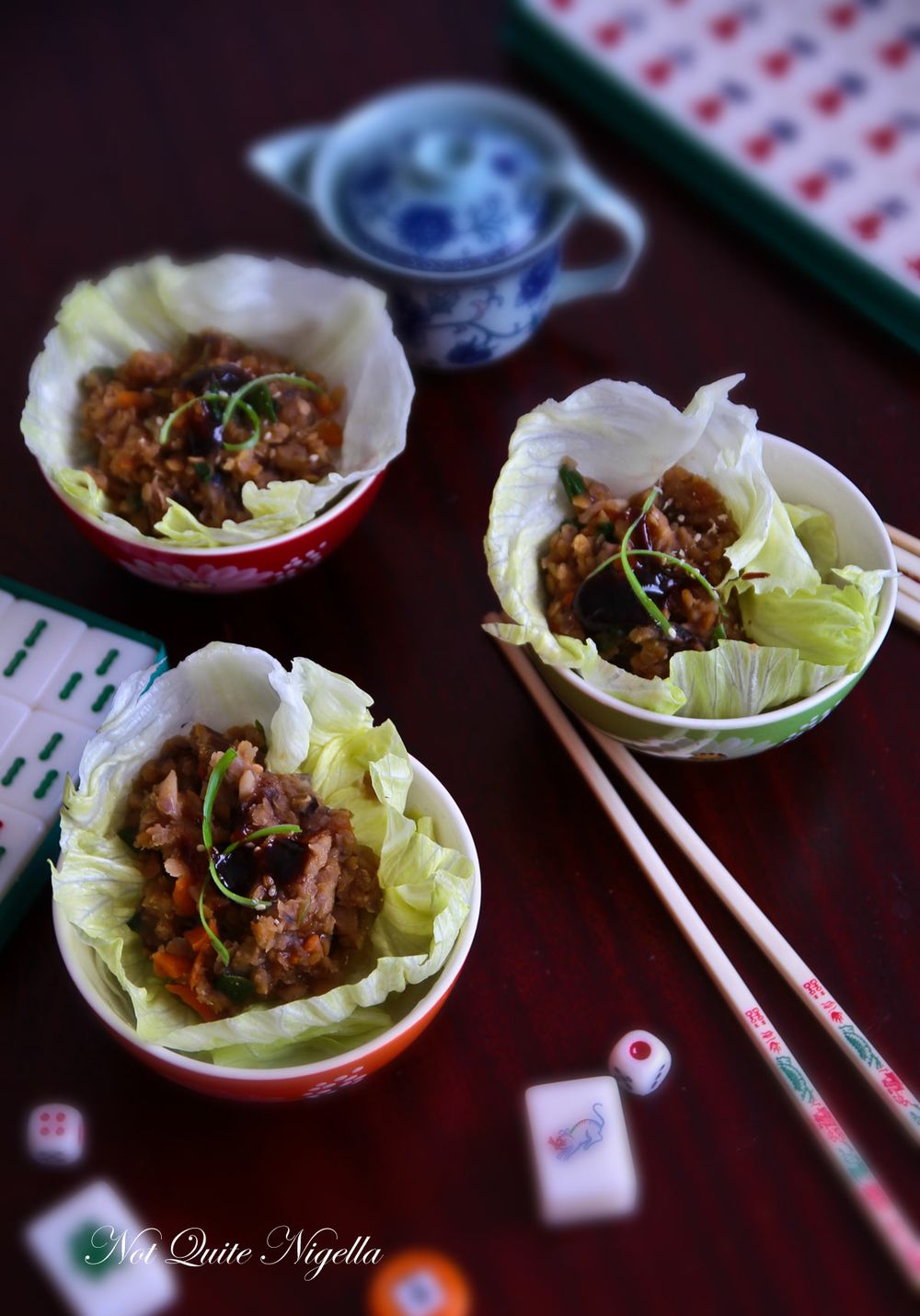 Healthy Vegetarian Sang Choi Bau
An Original Recipe by Not Quite Nigella
Preparation time: 20 minutes
Cooking time:  15 minutes
Makes 4-6 serves
1 inch piece of fresh ginger, diced
1 cup red lentils, rinsed until water runs clear (about 5-6 times)
230g/8 oz. tin of water chestnuts, diced
1 medium sized carrot, diced
6 whole shiitake mushrooms, diced (I use dried ones and rehydrate them in some boiled water for 15 minutes)
1 1/4 cups vegetable stock (I used the soaking water for the shiitakes too)
2 tablespoons Shaoxing cooking wine or sherry
2 tablespoons soy sauce (regular or light)
2 tablespoons oyster sauce or vegetarian version
1 tablespoon caster or superfine sugar
a few drops of sesame oil
some white sesame seeds to garnish
Hoi sin sauce to garnish (optional)
Tip: As there is so much dicing, do all of your dicing beforehand and this recipe will be easy! I used my mini food processor on pulse to dice everything.
Step 1 - In a large saucepan on medium heat, add 2 tablespoons of oil. Add the onion, ginger and garlic and saute until fragrant and translucent-a few minutes should do. Add the lentils,  water chestnuts, carrot, shiitake mushrooms and stock and simmer with lid on for 10 minutes stirring to prevent the lentils from sticking at the bottom. Add the green onions in the last 5 minutes.
Step 2 - Add the cooking wine, soy sauce, oyster sauce and caster sugar and stir to combine and taste. Sprinkle a few drops of sesame oil to taste and set aside.
Step 3 - Take the whole ice berg lettuce and remove any extra leaves on the outside. Remove the core and run cold water down the centre of the lettuce and allow to sit for a minute. The water gently separates the leaves. Peel off lettuce leaves one at a time and trim if desired. Serve the mixture inside the lettuce leaves with hoi sin sauce and some white sesame seeds.