Mr NQN is a man of simple tastes. After all he is a boy that grew up in the country and his life was unfettered with the fuss and options that city life brings with it. A birthday cake was not a towering croquembouche but a simple raw cake or in his older years, an apple pie. Every year he asks for an apple pie and I'm more than happy to oblige (although one year I did give him a handbag cake much to much protest but alas I had no energy to whip up a cake). In exchange I only ask that he makes me laugh.
One night during summer, we left the windows open as it was so hot. There was a huge gust of wind that knocked something over. I woke up instantly as I'm a light sleeper and Mr NQN moved about still deep in sleep. He grabbed our monkey soft toy and swivelled its head back and forth on the look out for any potential burglars and somehow satisfied that there weren't any interlopers via his trusty soft toy friend's powers of observation, put him down and went back to sleep peacefully. I laughed so hard I was sure that the bed was rocking.
'
Mr NQN really does try and for one of my birthdays he knew that I wanted a Tiffany & Co ring and against his better, thrifty instincts, he visited this shrine to girly fantasies and purchased the ring for me. It would have been a hilarious sight. This tall, lanky slightly awkward country boy wearing a sailing cap, t-shirt, shorts and sneakers getting on the Manly Ferry. His big hands with long fingers were holding a tiny Tiffany & Co duck egg blue bag.
So whenever I can, I bake him apple pie. His preference is actually for more filling than pie crust, which he usually leaves behind (and I happily gobble up). I received a bushel of Australian apples to experiment with and thought that this sour cream apple pie, which is made without a crust, would fit the bill nicely. It's simple, the apple pieces are left deliberately chunky and tossed with flour, sugar and sour cream. While it is baking you mix up a streusel topping heady in cinnamon and add this to the baking apples and cook it for another 10 minutes and there you have it. A pie that isn't a pie but one with creamy goodness and soft, sweet apples.
So tell me Dear Reader, did you grow up in the country or city? And when you eat a pie or crumble, do you prefer the filling or the crust?
Sour Cream Apple Pie
4 apples, making about 3.5-4 cups
2/3 cup plain all purpose flour
3/4 cup caster or superfine sugar
1 teaspoon vanilla extract
For topping
100g/3.5 ozs cold butter cut into cubes
4 tablespoons caster or superfine sugar
4 tablespoons brown sugar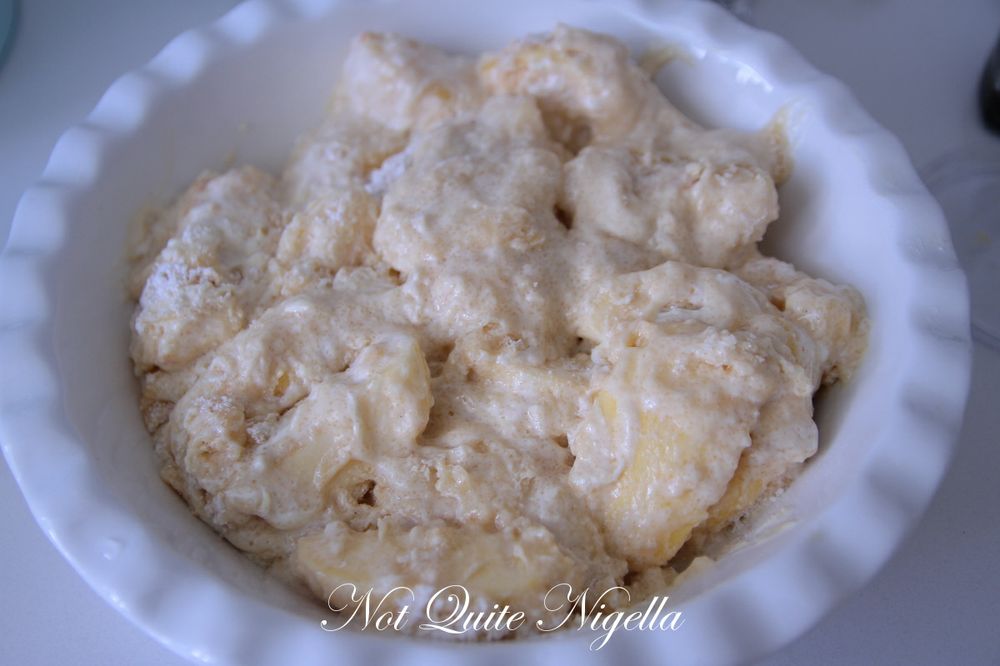 Step 1 - Preheat oven to 180C/350F and have a pie plate ready. Peel and core the apples and halve them. Cut each half into four or six pieces and place in a large bowl. Add the flour, sugar and salt and toss to combine. In a jug, whisk the eggs, vanilla and sour cream. Mix this with the flour coated apples and place in pie tin. Bake for 40 minutes until apples are soft.
Step 2 - Meanwhile place all of the topping ingredients in a food processor and whizz until it becomes mixed up and looks like a streusel topping. Place in fridge until ready to use.
Step 3 - After the 40 minutes is over, remove from oven and sprinkle the topping over it. It will melt so don't worry about making patterns, just try and distribute it evenly. Bake for 10-15 minutes.