I get excited when I meet people for the first time. Especially other bloggers whose blogs I adore and have read for a long time. Like people, you are drawn to certain blogs because you feel a connection with the person writing them. Sometimes you meet up with them in real life if circumstances and the stars align but where do five people that haven't met before go? That's a tricky question. When I first visited 4Fourteen for a wine launch, I knew that I had to come back and try some more and that the people that I would come back with would be my new real life friends.
At the former location of Le Pain Quotidien, Four in Hand's chef Colin Fassnidge brings his love of the pig to 4 Fourteen. For starters there is the chalk outline of the pig in the front entrance. There are pig tales on blackboards and there are even two pigs rendered in wood in flagrante delicto. There is a pile of leaves in the restroom and there are exposed, rough hewn bricks making up the walls. It's all so delightfully now.
The kitchen is an open one where the chefs including Fassnidge, stand around an island plating carefully. The menu bears similarities to Four In Hand in content although here it is broken down into fish, meat, salads and starters and pastry instead of entree, main and dessert. And there's a chalkboard sign outside that warms the heart: "Yes, we take bookings."
Chicken wing $7.50 each
My first visit here is for the launch of Fickle Mistress wines, a pinot noir from Central Otago in New Zealand. Said to be a good match for the hearty but delicate food; particularly the suckling pig and washed rind cheeses.  We start with one of the popular snacky items which you can order per piece. It's the crispy  chicken wing, deboned and served on a squirt of airy liver parfait which in turn sits on a triangle of crispy tortilla. Sweetness is provided with the quince chutney and the balance of crispy, sweet and salty is nice indeed.
Citrus cured kingfish, vanilla buttermilk and celery $18
Usually plated on a long orange plate, the kingfish has a lovely hit of citrus and is velvety smooth. It comes with a vanilla buttermilk cream which gives a tangy note and diagonal slices of celery and leaves and seaweed. I must admit I'm not a big raw celery eater so I probably wouldn't have ordered this but the kingfish, buttermilk cream and seaweed are a good match in themselves.
Suckling pig, prunes, sage and pistachio pesto and cabbage salad $32
The signature dish here is the suckling pig along with the pig's tail. The suckling pig comes sliced with a crispy rind that crunches appealingly. Added to this are Calvados and Pedro Ximinez poached prunes (which I could just eat a whole jar of) and an unusual but lovely pesto combination with sage and pistachio. A few leaves of cavalo nero sit just so on top.
Steamed kipfler potatoes, lemon and herb dressing $9
The steamed kipflers go well with the suckling pig or even by themselves and long after the pig is gone, we find ourselves spearing pieces of tender potato.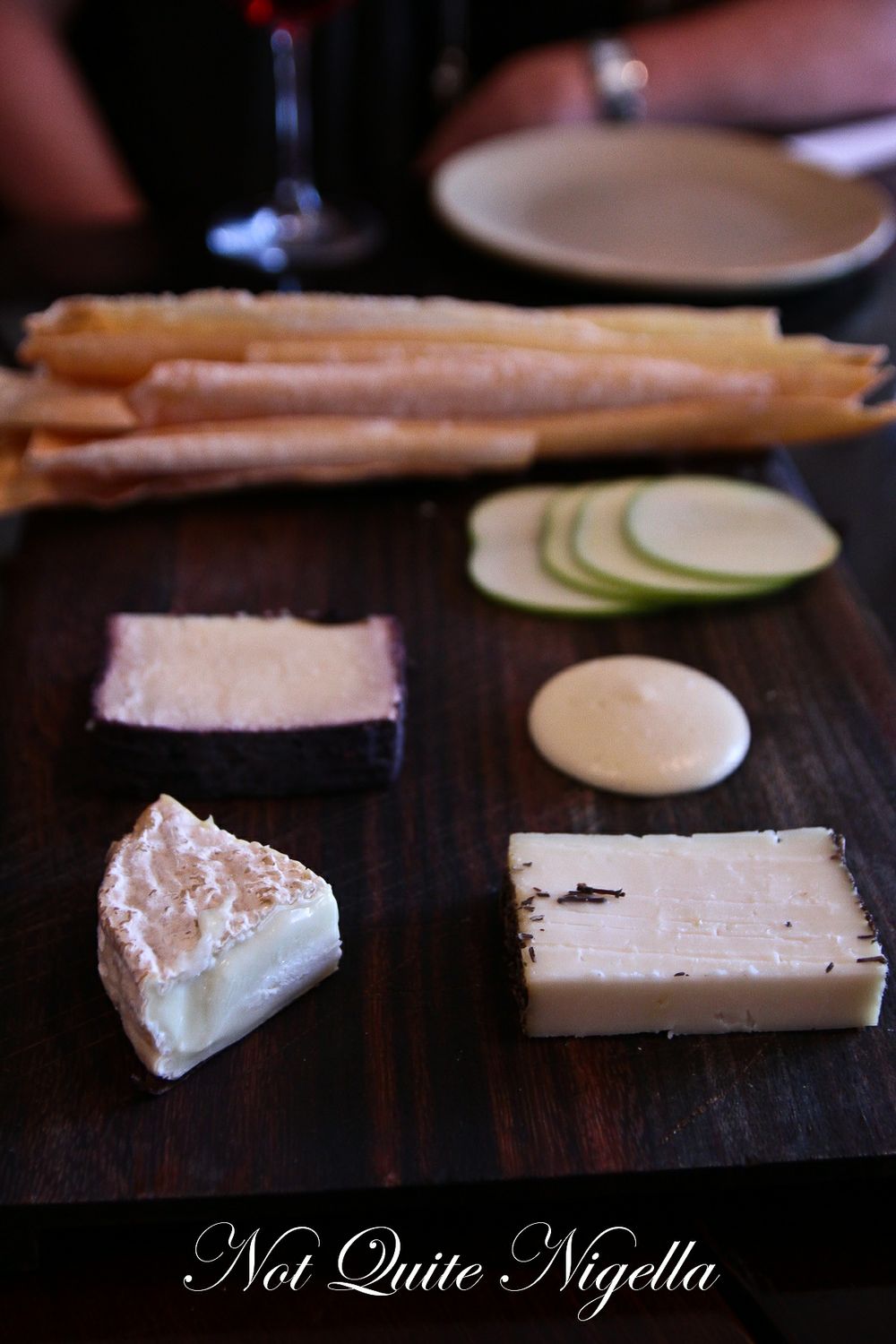 Cheese plate
The three cheese are an interesting range of cheese from Barbaresco sheep's milk cheese which gets its distinct purple colour from wine must, a beautifully fragrant Oveja al Romero rosemary cheese and a delectable Mothais-sur-Feuille goat's milk cheese. These are served with a silky apple vanilla puree, thin slices of green apple as well as paper thin house made crackers.
I was so intrigued that I decided to go back with my blogging gals Celia from FigJamandLimeCordial (whom I had met before), Charlie from HotlySpiced, Rebecca from IntolerantChef and Brydie from CityHippyFarmGirl. Already planning my return here to try more of the menu 4Fourteen seemed like the best place for all of us. A consideration was we wanted a place that was central to many (except for lovely Rebecca who flew in from Canberra to have lunch with us-I felt so special!) and one with space between tables as Brydie was bringing her adorable baby. The service is polite and knowledgeable although it lacks warmth from some staff members. These lovely lasses trusted me with the job of ordering which I was happy to do!
Warm crab roll $14.50
Holy heck, I'm glad we ordered enough for each of us as I was considering cutting these in half and that would have been very silly indeed. The soft, lightly toasted buns are filled with a lemon crab filling, all delicious sweet meat and piquant lemon. All very nice in itself but spread with a lick of the avocado puree and the whole bun comes together like a well thought out tale.
Crumbed pig's ear, remoulade $9.50
We decided to go from the top of the pig to the bottom and the pig's ear is pieces of gelatinous cartilage crumbed and deep fried. It is served in squiggly bronzed pieces on top of a creamy remoulade.  Every little piece of the piggy went into our mouths and even Charlie's charming teenage son Archie wanted a taste (and they're both as hilarious as they are on her blog).
Crumbed Pigs Tail, Crab and Corn Salad, Avocado Puree $22
The crumbed pig's tail is a thick piece of the tail meat which is all soft and textured and is similar to oxtail in texture although this is without bones. It comes with a slick of avocado puree and a crab and corn salad. It's nice although out of the two, we all seem to prefer the pig's ear.
Licorice beef and bone $60 (for two)
Served in a red cast iron pot, the licorice beef and bone was a softer than soft slow cooked beef with a remoulade stuffed marrow bone. There were also pieces of radish and carrot and rather large pieces of parsley which I didn't end up eating and just really left on the plate.
Roast Spanish Mackerel,Crisp Eel, Beetroot Jus $28
This dish was a surprise as we hadn't really looked at ordering it but we were persuaded to by our waitress. It ends up being one of my favourites with pieces of crispy roasted Spanish mackerel, a crispy smoked egg fillet tempura and beetroot squares flavoured with star anise as well as thinly sliced beetroot and beetroot jus.
3 Hour Celeriac '3-Ways' $14
Since when is a side dish a main dish spectacle? There were three types of treatment of celeriac, that wonderful winter vegetable. There was a celeriac puree, a three hour disc of celeriac and celeriac crisps on top. We all adored this and I even ended up licking the serving cutlery at the end for the creamy puree -I think Celia saw but she was too polite to comment ;)
Mixed grain salad $12
The mixed grain salad had a host of ingredients including almonds, puffed wheat, red and white quinoa, sunflower seeds, spring onion  and slices of fennel but it's hard to compete with the celeriac side and out of the two, every drop of the celeriac side was eaten while much remained of this.
Bounty $16
Based on the Bounty chocolate bar, the bounty is a chocolate and coconut fantasy made with a chocolate and coconut mousse, crunchy shaved coconut, white chocolate and coconut curls and little chocolate ganache half moons.
Roast pineapple, cinnamon and star anise ice cream $14.50
The pineapple is sweet and sticky and served with a scoop of cinnamon and star anise ice cream which has been rolled in roughly chopped toffeed nuts. Whilst the flavours were great, if on the sweet side, the pineapple wasn't cored so we really needed a knife for this and there were quite large pieces of cinnamon quill and star anise still in the syrup that ended up mixed with the nuts.
White chocolate sandwich with dulce de leche $14
The simplest dessert the white chocolate ice cream sandwich was beautifully creamy with a topping of sweet dulce de leche along with a squirt on the side. It was topped and bottomed with a wafer thin toffee crunch wafer. A sweet way to spend a wonderful day with these fab gals!
And this post is dedicated to a fellow Australian food blogger Barbara Harris from Winosandfoodies who passed away on Saturday. I met Barbara just a couple of times but she was friendly and lovely. Here's to friends, new ones, old ones, blogging ones and all xxx
So tell me Dear Reader, do you have friends that you've never met in real life yet? Have you ever met up with any bloggers? And do you ever revisit a restaurant straight away because you are intrigued by the menu?
For the first meal, NQN was a guest of Fickle Mistress, the second meal was paid for independently
4Fourteen
414 Bourke St. Surry Hills NSW 2010
entrance via: 72a Fitzroy St. Surry Hills
Tel: +61 (02) 9331 5399
Opening hours: Tuesday – Saturday 12pm – late
Sunday 12pm – 6pm
4Fourteen and Fickle Mistress have paired up to offer a wine and cheese platter deal. For $20, you can choose any three cheeses including; Cashel Blue, Colston Basset Blue, Eppoisses Washed Rind, Fleur de Marquis, Mothais Sur Fuille Goat, Roy de Valles and Quickes Cloth Chedder to have with a glass of The Fickle Mistress Pinot Noir 2011.