What's the most challenging type of restaurant for the permanently confused? I should explain that the permanently confused in question is me and the area in which I am permanently confused is direction. So when I'm in Melbourne one evening and my friend Christie suggests going to the notoriously hard to find Izakaya Den I'm not sure if it's such a great idea. We walk slowly following the iPhone GPS which tells us where the restaurant is supposed to be but of course it isn't and we ask several people who are friendly but have no idea.
"Do you think it's here?" I ask her pointing at an entrance way with a flight of stairs leading downwards. A man stands
outside and asks us "are you looking for Izakaya Den? It's just there, we got lost the first time trying to find it too" and
then makes his way into the apartment block adjacent. Phew, well at least it's not just us.
The door showing the elusive sign for Izakaya Den hides a long black curtain and behind that, we can hear the repetitious beats of rap music. "This must be it" we say to each other as the curtain parts and the rap music gets louder.
There's no irashemase's here, they're too cool for that, but service is very friendly and we're shown to a place at the long
bar that runs most of the length of this long rectangular space. There are some tables to the right hand side but we love sitting at the bar where we can watch the action taking place. We're offered two scrolls of paper, one large containing the drinks and cocktails, the smaller with the food menu. Both have Japanese on one side and English on the other.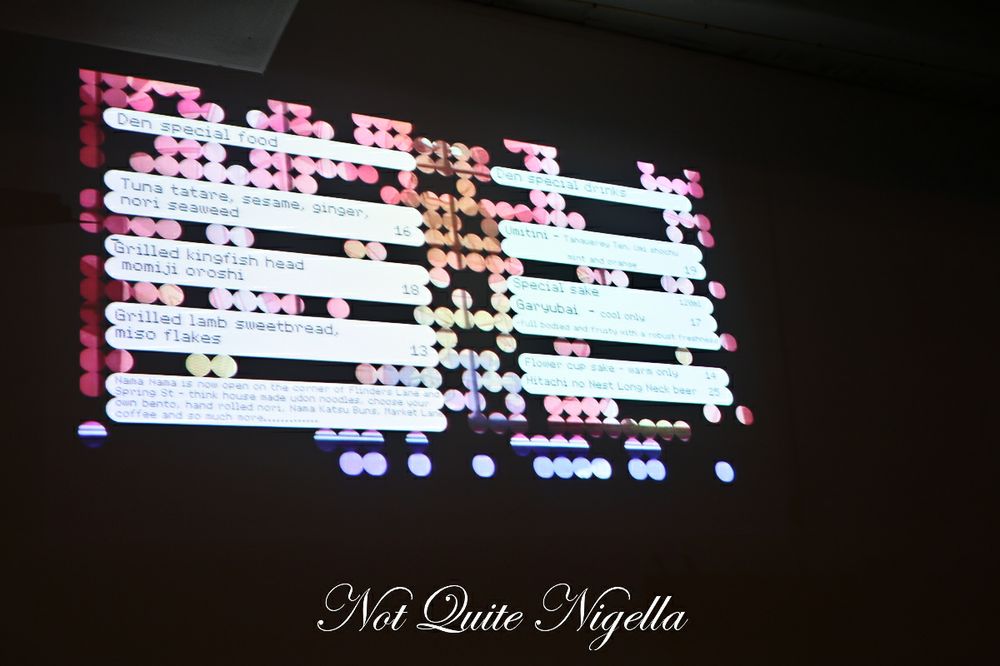 Everything is cooked in front of you by one of the young bandana wearing chefs and izakaya food, a favourite of mine when I lived in Japan, is meant to be shared and eaten alongside alcoholic refreshment. Prices are very reasonable as befits an izakaya.
We ask the waitress for her recommendations and she gives these easily. The food starts arriving about 10 minutes after and while waiting we cleanse our hands with the oshibori hot towel. Specials flash up on the walls occasionally alternated with patterns and subtly announce the arrival of Namu Namu, Izakaya Den's owners new udon restaurant.  Right in front of me, a cloth draped bowl hides a stash of king mushrooms.
Sweet corn kaki-age $8
Looking a bit like molecules, the sweet corn appetiser is a favourite of both of ours. The corn is sweet and juicy with crunchy bits of batter which prompt us to wonder how it is made. It is served with a green tea salt which packs a salty punch as it is very fine so go easy on it but it adds a salty contrast to the corn's inherent sweetness.
Den fried chicken $11
The Den fried chicken is essentially a golden chicken karaage with a light thin batter and moist chicken inside.
Spicy tuna tataki, garlic soy $19
The spicy tuna tataki comes as six pieces of gorgeous, thinly sliced raw tuna seared on the outside. It comes on two sauces, a wasabi cream and another cream sauce that tastes very much the tuna sauce in vitello tonnato. I prefer the latter although wasabi lovers might prefer the wasabi cream one.
Steamed eggplant, minced chicken chilli miso $16
The discs of steamed eggplant pieces and minced chicken with chilli miso had a strong flavour not unlike mapo tofu which is made with a fermented bean sauce. There were also bits of cucumber pickles which gave it a refreshing sweetness and our waitress recommended that we have this with rice which was a good idea as it is very rich and flavoursome.
Zucchini and pickled ginger temprura $7
This was an unsual tempura with a cooling disc of cucumber with a centre of pickled ginger. It's unusual but not bad
and I'm glad that we ordered it as an unexpected palate cleanser. It came with a small side bowl of grated daikon radish.
Japanese omelette with cod roe $12
The only dish that we both didn't love was the Japanese omelette with the cod roe. The cod roe was quite strong inside the omelette (I usually prefer cod roe in Japanese pasta dishes where it isn't so concentrated) and the omelette was a bit watery and not sweet as it usually is.
Kurobuta pork belly $19
The Kurobuta pork belly, so luscious and tender is simply grilled and presented in four pieces. Alongside this is a slice of
lemon and some salt. Both are the perfect foil to cut through the fattiness of the pork.
Ox tongue, spring onion $15
This was Christie's first time trying ox tongue and it's a beauty. The thin slices of ox tongue are superbly juicy and
tender and topped with a spring onion and sesame topping. It has a lovely char from the grill and ends up being one of our favourite items.
Salted caramel fondue for 2 $16
The salted caramel fondue is a clever and current version of the chocolate fondue. To accompany it are squares of butter cake and halved frozen grapes. The salted caramel sauce is thick and salted just right and we could just eat it on top of vanilla ice cream.
Warm tofu cake, brown sugar ice cream $12
The warm tofu cake was quite unusual, for those that don't like their desserts too sweet. The texture was like that of a
Japanese soft cotton cheesecake-very light, fluffy and not sweet and it was topped with candied nuts and raisins. On the side was a very grainy brown sugar ice cream.
The bill? It's a very reasonable $138 for the two of us although we didn't drink so that would have contributed the bill. And the best thing about getting lost finding a place? Just retrace your steps and you'll find your way home. Or just get a cab like we did ;)
So tell me Dear Reader, do you like to seek out hard to find or interesting places to dine? Or do you see that as a barrier and potentially offputting? Have you ever tried tongue and do you like it? Is there anything that you wouldn't want to eat?
Izakaya Den
114 Russell Street Melbourne VIC 3000
Tel: +61 (03) 9654 2977
Open lunch Mon-Fri 12-2:30PM (bookings taken)
Dinner Mon-Sat 5:30PM til late (no bookings)
The subtle signage to look out for