As you may know, I've been compulsively reading Fifty Shades of Grey trilogy. On planes, I position my iPad so that my fellow travellers can't see what I am reading (for obvious reasons ;) ). I know it's not going to win any awards for literature and the three books repeat themselves a lot. I mean how many times can you hear about Christian's jeans that hang from his hips (the last time I checked, jeans don't hang off chins or shoulders), Ana's fingers fisting his tousled hair or how she is Icarus flying too close to the sun. Despite this, it is one of the most compulsive reads in a long time. I compare Fifty Shades to hot chips, you know that it's bad for you but you just cannot stop.
One thing that the protaganist Ana talks about is her "inner goddess. I suppose we all have them but mine is perhaps more aligned with inner domestic goddess. The inner domestic goddess finds satisfaction in making things from scratch and giving these to people. I have no decorating or sewing skills to speak of and so my enthusiasm is channelled towards cooking. The first time I made bread, cheese and yogurt spoke to my inner domestic goddess and she sat there beaming and proud. She even winked at me and gave me the thumbs up. Obnoxious trollop ;)
A friend of mine, Don Draper once asked me why lavosh or lavash crackers are so expensive at the store. I didn't have an answer and the next time I went to the supermarket I took a look at the display of lavosh. They ranged from $4 to $8. I turned them over and took a look at the ingredients. Nothing too flash or unusual. So I set about looking for a recipe for it. My surprise was when I saw that they were incredibly easy to make.
This is based on a recipe by Annabel Langbein's from The Free Range Cook which I was sent a copy of a while back along with a jar of her lovely chilli jam. I cannot recommend these enough; they are divine and surpass anything that you could buy at the store.  You know how pushy I can get Dear Reader and today I'm going to plead with you to take 25 minutes to make these yourself at home. The prep time is 10 minutes and cooking time 15 minutes. The dough is a cinch to work with and the flavour and crunch are divine. Your inner domestic goddess will love you for it too ;)
So tell me Dear Reader, do you have an inner domestic god or goddess? And have you ever tried making your own bread, cheese or yogurt? And what do you think of the whole "Fifty Shades" phenomenon and who do you think should be cast in the film?
Episode 1
Episode 2
Oh and I have to tell you about the filming news from a few months ago. Well, it was for Dilmah's High Tea challenge and they asked me to host my very own high tea and interview people about it! There were four episodes filmed and the first two are out now on Dilmah's facebook page! I was so nervous seeing myself on screen and it's true the camera does add on pounds although so does eating cake and biscuits! :P But I hope that you like it- the production company did a great job with it and it was so much fun to film too. Many of the clothes that I wore were from Alannah Hill whose clothes are just perfect for High Tea. The wonderful team of Elly Hanson and Joel Philips from the amazing Stevie English Hair did my hair and make up and I adore them both to bits!
P.S. "Afternoon tea" purists, I know that it's strictly called afternoon tea and high tea is the heavier meal for the working classes. I did want to call it afternoon tea and there were discussions about that, but it seems that so many purveyors in Australia have adopted the term high tea and I was overruled :P
Made from Scratch: Sesame Lavosh Crackers
Adapted from Annabel Langbein's The Free Range Cook
Preparation time: 10 minutes
Cooking time: 10-15 minutes
1.5 cups plain all purpose flour

2 tablespoons sesame seeds

1 teaspoon salt

1 teaspoon white sugar

1/2 cup warm water

1/4 cup oil

1 teaspoon sesame oil
Step 1 - Preheat the oven to 175C/347F. Line two trays with baking parchment (you will make four lots but you can make them after each other but line four trays if you want) and take out a rolling pin and a butter knife. In a bowl, add the flour, sesame seeds, salt and sugar and with a fork stir to combine. In a jug, measure the warm water, oil and sesame oil and add this to the flour mix. Using a fork combine these and knead gently for about 30 seconds.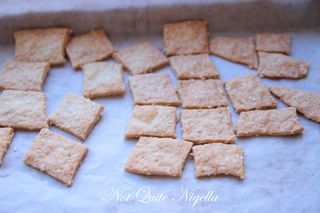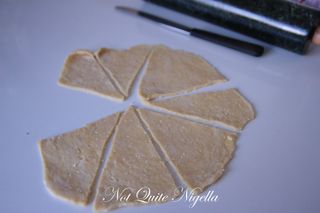 Step 2 - Divide the dough into four pieces. Roll these out with the rolling pin-you can make shards, circles, small rectangles, whatever you like. The smaller the shape, the quicker they will cook though and so a whole round will take perhaps 20 minutes while the small rectangles like the supermarket ones take about 10-15 minutes (and I liked these best). You can also roll this out very thinly but I preferred them this sort of thickness. Bake until golden-about 15 minutes but check for colour. Cool completely and store in an airtight container.
Bird bowl by Dandi