Dear Reader, what are your favourite things about Winter? Is it the warming food, coats or boots? Yes to all of those for me but also add winter's short lived black diamonds aka truffles to the list. I'm standing at Vue de Monde in Melbourne, about to partake in a masterclass held with Audi ambassador Shannon Bennett. Selected Audi buyers have access to these events throughout the year through Audi's collaboration with their ambassadors which also includes Kylie Kwong, Matt Moran and Collette Dinnigan. Our fleet of cars starts off by taking us to a truffle farm where we will start our day. There's a breakfast box in the car waiting for us as well as very useful seat warmers (it's cold!).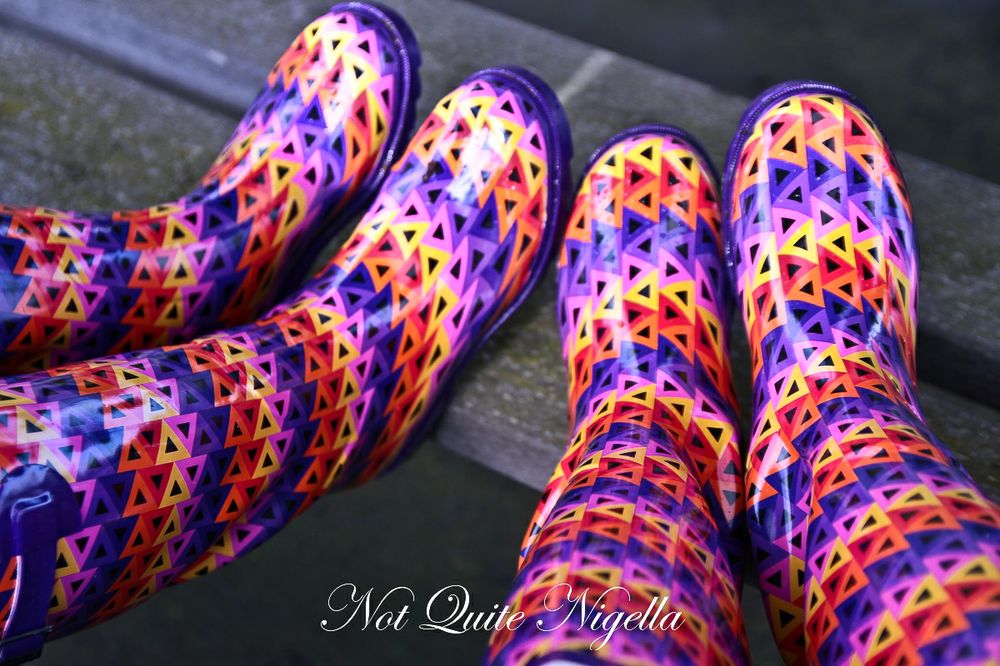 Hastily purchased gum boots
The egg and bacon roll, bircher muesli and poached pears with a crumble topping are quickly devoured on the way to our first stop. The Chestnut Hill farm owned by Croatian born couple Charlie and Ithaca has what has been said to be one of the most prolific truffle growing farms in Australia. Planting the hazelnut and oak trees with the truffle spores in 2003 as a sideline hobby for their wine business, they found their 210 trees on 1.5 acres produced a surprising amount of truffles.
Australia's success farming truffles is borne of a few things. Firstly the weather in areas such as this, Manjimup and Tasmania is ideal which are hot summers and cold winters. Manjimup in W.A. where former test cricketer Wally Edwards first conceived the idea over 20 years ago, is said to have a weather that mirrors the Pyrenees. Truffles are best kept in a place like a cigar box for a maximum of 7 days.
Chef Shannon Bennett
Australia's untouched farmland is also said to be in our favour. Countries like the United States where there is a lot of agriculture, has struggled to farm truffles because of the existing or previous agricultural activity. Truffles seem to like the idea of appearing on cleared land where there has been no activity for the previous 30 years.
The brulee around the tree where grass doesn't grow but may hold truffles
If there are native trees like gum trees with their own bacteria, these will flourish in favour of the introduced truffle spores. Truffles also need a soil ph level of 8. And we're just talking about the black truffles here, white truffles have never been able to have been successfully farmed and only appear in riverbank areas of Italy and Croatia. Australia's truffle industry produces about 2,000 kilos of truffles a year during this short season.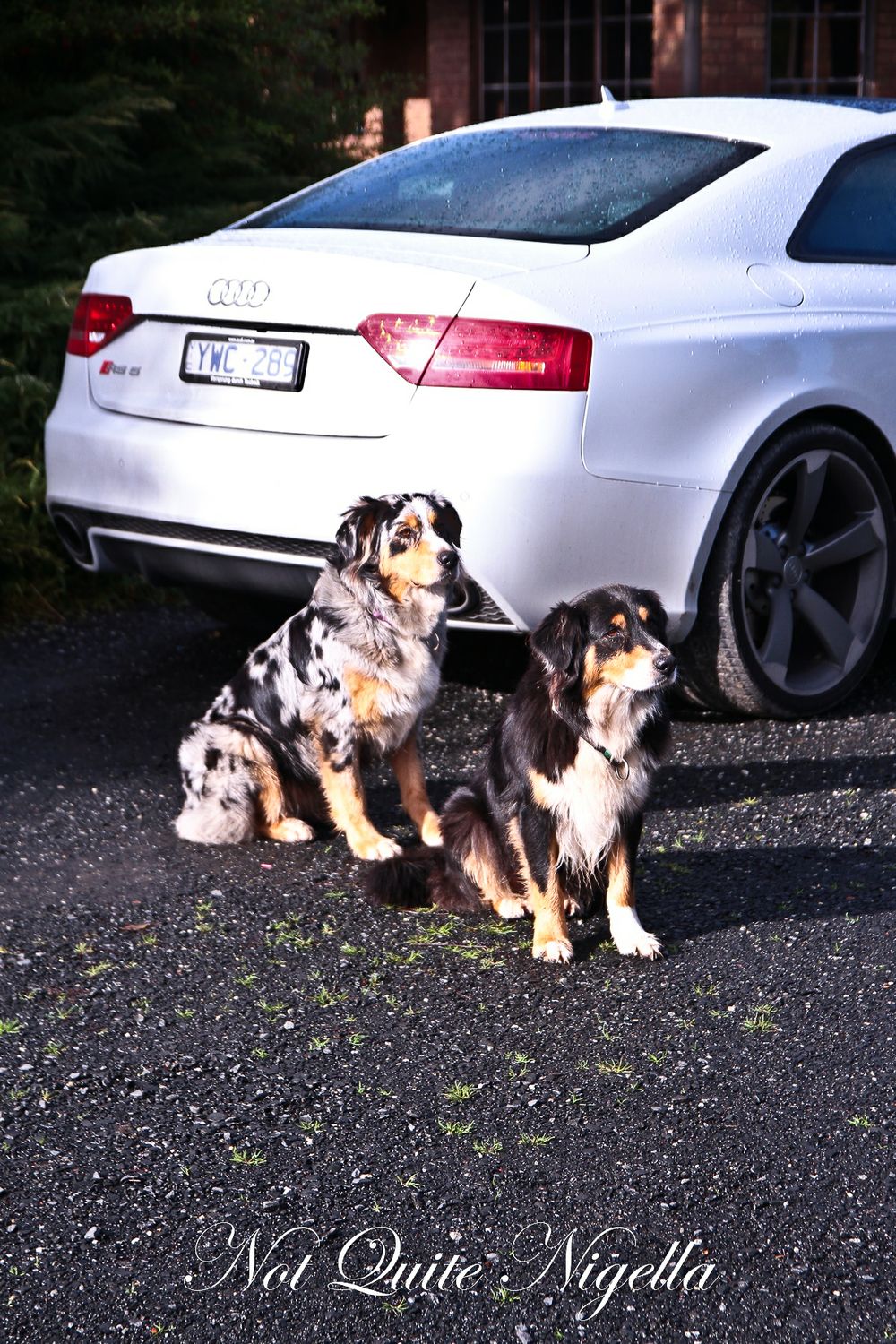 At the farm we meet Spice, the truffle dog. Trained to detect ripe truffles, Spice is a sought after truffle dog.  Indeed, we first encountered Spice and her owner trainer Sue last year at Chateau Yering in the Yarra Valley. Spice has since had a prized litter and Shannon is the proud owner of one of the litter who he is training to be a truffle dog. To train a truffle dog, you introduce the distinctive smell of truffle to the dog and associate it with play and treats. They have an advantage over pigs who were traditionally and first used to hunt truffles as the pigs love to eat the truffles whereas dogs can be trained to hand it over once found.
Wearing gum boots (a last minute not very stylish purchase late last night!), Christie and I set out with Spice, Ziva a truffle dog in training and Spice's offspring Trixie to hunt for truffles. She darts off and before long, she has located a truffle. Each tree has a brulee (meaning burnt) area which is a ring around it where grass no longer grows and this is where the truffles can be found.
Shannon lays a cushion down and bends down to sniff the ground. The scent is good. A dog may lead you to a truffle but you still have to sniff the ground to see whether it is ripe enough or not. Spice is about one season away from being able to detect perfectly ripe truffles. The season is short lasting just a couple of months but she is also trained off season to be able to detect them.
A rotting truffle 
Getting down on their knees, they dig at it with a wooden spoon (for the uninitiated they won't be able to cut into a precious truffle). Paring back dirt, much like excavating a fossil from the ground, they remove enough dirt to be able to gently lift it out of the ground. This one is enormous, almost 250grams and worth about $280. It has a strong aroma and we take this back to be gently cleaned to reveal the beautiful black cross hatch pattern. At Vue de Monde, these are further cleaned with electrolysed water.
Some delicious hazelnut and pistachio cupcakes, wine and some cheese later after warming up next to the outdoor fire, we make our way to Burnham Beeches, Shannon's latest production. A large area of land there are plans to make self contained accommodation, three restaurants, a bakery and plans have just been approved to start a Sunday farmer's market in the area.
For now, there is the start of a trufferie which they are hoping to grow and develop over the next few years. Some of the herbs and produce are grown for Vue de Monde restaurants and Shannon goes off to pick some sheep's sorrel which has an unusual, tart flavour, much like slightly unripe green grape skins.
Sheep's sorrel
He also shows us a building where Princess Diana and prince Charles stayed on their honeymoon which is being refurbished and will also turn into accommodation.
It's a forty minute drive back to Vue de monde at the Rialto for our truffle lunch. With their own check in at the bottom of the building, we are escorted to the elevator where they guide us up to the 55th floor.
Only bar or restaurant patrons can get there as there is no 55th floor button and after some ear popping speed we arrive at the top. The view is magnificent and reminds me immediately of those sky high Hong Kong bars where it's all expansive city view. The MCG sits on one side and Philip Island in another direction. The bar is a mix of luxe baroque furniture with gold chaise lounges, large hard plastic clouds sit atop a shiny bar.
We make our way to the room where we are dining and a large communal table. The settings are in black baroque with what looks to be cutlery sprayed black. The menu sits on the table and there is a three course lunch for us with the entree and main with truffles although the dessert without.
Our first course is brought to us and Shannon introduces it as course that is meant to be eaten with the hands. It's a marron that you dip in truffle cream. To the side is a wafer thin sandwich filled with cold marron meat accented with lemon and there is also some marron salt from crushing the shell with salt although the marron really doesn't need any extra seasoning.
Pemberton marron, truffle and brown butter emulsion served with 2010 Over the Shoulder Chardonnay, Yarra Valley, Victoria
The marron itself is so beautifully tender poached for just one minute and then finished with thyme butter to give it a soft, luscious texture. We use the bread to mop up every single drop of the truffle cream it's so heady and delicious. And you can bet that if I had this truffle cream at home and no bread, there would be no other choice than gathering every last drop with fingers or tongue.
Beef cheek, beetroot, smoked bone marrow served with 2008 Castagna "genesis" syrah, Beechworth, Victoria
The beef cheek, cooked until silky soft with truffles, also had tiny truffle shavings on top and around the plate. It was served with two squat squirts of pommes mousseline, thinly sliced beetroot, baked beetroot segments and onion rings which had a good sharp contrast to the the richness of the beef and sweetness of the beetroot. The sheep's sorrel which we picked earlier sits on top. There was said to be smoked bone marrow there but I didn't see any in mine.
Apple 'tarte fine', caramel sauce, creme anglause served with 2008 Stick Botrytis Semillon, Yarra Valley, Victoria. Shot with a Sigma 17-50mm F2.8 EX DC OS lens, ISO 640, focal length 30mm, 1/400 shutter. 
The  dessert, an apple tarte fine created quite a few oohs and aahs when it was brought to the table, not least because of the size as it could have happily fed two but even happier, it fed one as we were all give our own tarts! There was a thin buttery pastry and thin sugared apples slices which caramelised in the oven. On top was a rapidly melting very vanilla bean ice cream which soon became a creamy sauce for the crispy pastry and soft apple.
Even the coffee and tea is served in a unique fashion. These "cans" are containers that house various types of tea: English breakfast, Earl Grey, Peppermint and Chamomile and along with this are six types of sugar from raw, crystal stick to rapadura.
Petit fours
Like Monty Python, it's the final wafer before we burst, but we can't help ourselves and we help ourselves to the light as air chocolate mousse with liquid raspberry filling. I think I might have struggled to have gotten on the flight had they weighed me! And eating, of course is my other favourite part of winter ;)
So tell me Dear Reader, what excites you about winter? And have you ever cooked with truffles?
NQN and Christie attended the Audi Vue de Monde Masterclass as a guest of Audi
Audi Masterclasses are available for selected customers of Audi dealerships. Other Audi ambassadors are Kylie Kwong, Matt Moran and Collette Dinnigan.