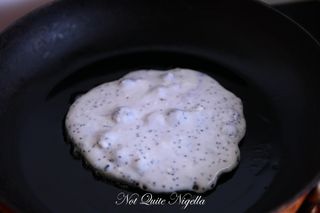 I have to admit Dear Reader, that not everything works beautifully in the NQN kitchen. A couple of weeks ago, I decided to make a raw, vegan cheesecake to try and eat something a bit healthier. It involved an expensive mix of nuts in relatively large quantities and the filling was ground up cashews and macadamias with coconut oil.
Once I ground it all up, I topped it with a luscious cover of antioxidant rich berries. Excitedly, I dug in with a fork.
It tasted like... vomit
Sorry, I know vomit is the last thing you want to read about on a food blog. But there you go. Perplexed by it, I googled what had gone wrong. I had used a recipe from a blog and the comments were overwhelmingly positive. I had spent about $20 buying ingredients for the cake and I had no last minute substitute so I was a bit annoyed at myself. After a bit of tasting and a lot of sniffing, I realise that the coconut oil was rancid.
So my first foray into eating healthily this year wasn't such a success.
My second would hopefully be more fortuitous. I wanted to make some pancakes for Father's Day. When we were as tiny as buds, every year my sister and I would invade (and I say invade as they were fast asleep) my parent's bedroom and furnish them with all manner of misshapen pancakes.
My father is not one of those people that has a second piece of cake. The only sweet that he voluntarily eats are Portuguese custard tarts. He juices, he eats healthily and he looks after himself. He is also into the latest health foods are so I figured that perhaps this version of father's day pancakes with chia seeds (that latest superfood) and antioxidant rich blueberries might pass his test.
This is a fluffy pancake mix made with skim milk  and a couple of tablespoons of chia seeds and blueberries and topped with a rich blueberry sauce. Chia seeds are good, particularly for older people because they are high in fibre and nutrients and Omega 3's and unlike flax seeds, don't need grinding. They also swell up in the stomach to make you feel fuller so that helps with weight loss.  The whole dish including the sweet sauce just has two tablespoons of honey or sugar yet is sweet enough to be satisfying. The only downside? They get stuck in your teeth so check a mirror after you've eaten them. I gave a test batch to Mr NQN and he loved them and a batch is going to my father.
So tell me Dear Reader, what are you making for Father's Day this year? And do things always work out in your kitchen?
Psst! If you want to print out that cute bunting, I found it on this blog and there's a card too!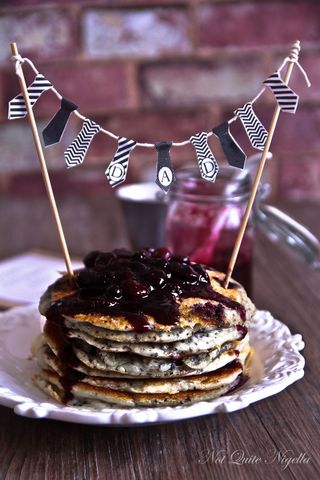 Blueberry Chia Pancakes With Blueberry Sauce
An Original Recipe by Not Quite Nigella
Serves 2
Preparation time: 10 minutes
Cooking time: 25 minutes
1 cup plain flour

3 teaspoons baking powder

a pinch of salt

1 1/3 cup skim milk

1 egg

2 tablespoons chia seeds (I used black ones)

2 teaspoons of vanilla extract

1/2 cup of blueberries plus 1 cup of blueberries for sauce

Oil for frying

2 tablespoons sugar or honey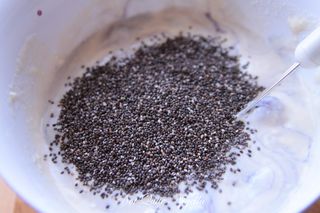 Step 1 - In a bowl mix whisk the flour, baking powder and salt until combined. In a jug, measure the milk, vanilla and add the egg and whisk together. Made a well in the centre of the flour mixture and then slowly pour in the milk mixture whisking to avoid any lumps. Add the blueberries and chia seeds.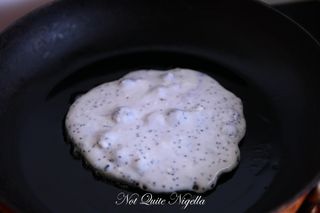 Step 2 - Heat a frypan on low to medium heat. Add oil in the frypan once hot and place the round cutter in the pan and pour in the batter. Put the lid on and watch that it doesn't burn. When bubbles appear, pick up the pancake, cutter and all and using an egg flip, turn it over and cook on other side. Test for doneness by pressing down gently in the centre-if it feels squishy like there is still raw batter there, keep cooking it. The centre should spring back to the touch.
Step 3 - Make the blueberry sauce by heating up the blueberries in a small saucepan and then cook with sugar or honey until thick and syrupy. Serve pancakes with sauce.