People approach flights in different ways. I think you could almost guess the business traveller who almost on rote goes through security, taking off their shoes, keys in the tray with an almost blank expression having done the same several times already that week or month. Then there is the leisure traveller who is so excited because they are on their way to somewhere exciting. And on the plane the former just wants to sleep while the latter may take advantage of everything on offer. When you fly, what would you say is your priority? Is it staying awake and making the most of what is on offer on a plane with food or entertainment? Or is it sleeping and trying to arrive at your destination refreshed? I pondered this while on a flight from Guangzhou to Amsterdam recently.
China Southern Airways is one of the three Chinese carriers in the Sky Team stable. Sky Team is the second largest and youngest airline alliance on the world between Star Alliance and One World. They have recognised the important role that the Chinese market plays for tourism, particularly in Australia, and China Southern connects China with Australia and Europe. Business class with China Southern is just over double the price of economy.
Sky Team queues are marked with red carpets and all but the immigration queues means that you glide through the queues bypassing everyone else. The China Southern plane that we are flying are Airbus A330-200 and we are seated in the business class section in a 2 by 2 by 2 configuration and my favourite business class perk-a fully flat bed! Note: the A330-300 which services Australia to China has a bed that reclines 172 degrees, not fully flat.  We are offered juice, water or champagne and the amenities kit has an excellent Bio Essence lip gloss (which I would actually buy) as well as a thick, airline-friendly face moisturiser. There is also a comb, an eye mask, toothpaste and toothbrush (the toothbrush was a bit flimsy and the toothpaste was a little odd tasting). Slippers are provided at the bottom of the footrest and there is a proper doona provided (I always find blankets insufficient to keep warm on overnight flights).
The leg rests can be raised or lowered with the touch of a button as is converting the seat into a bed. The touch screen entertainment variety could use improvement. There are some films but for television addicts, you will find mostly Chinese television shows and other shows that are mostly unknown outside of China. There is even oddly, a pictures section with a series of photos that you can view and the headphones aren't particularly snug or noise-proof (I'd even swear you could hear the plane more wearing these). Also the television is quite far away for the short sighted.
The fight departs on time at midnight and I'm eager to sleep but also curious to try the food. The food comes out an hour after we take off.
Smoked salmon with parmesan cheese and fresh garden salad
I realised later that I wasn't served the canape mentioned on the menu. There were only three of us in the 24 seat section that ate dinner that evening or technically at 1am. The smoked salmon served fanned on a plate had a lot of oil splashed on it but curiously lacked much flavour. There was some saltiness from the parmesan cheese though. The salad was undressed with slices of black olive. It was only after 10 minutes that they came around with a selection of four dressings to choose from which by then was too late as everyone had finished with this course.
Creamy sweet corn soup
The corn soup was served with croutons and has a small amount of texture from the corn. The garlic bread was as hard as a crouton so I opted for a whole meal roll. It was fairly typical of an airline roll and was exceedingly light.
Stir fried scallops and Arctic surf clam with XO sauce, seasonal vegetables and steamed aromatic rice
The main was scallops with surf clam with XO sauce and vegetables and rice. The sauce wasn't particularly strong in XO chilli sauce or spicy and the scallops were actually quite nice despite the somewhat lonely and isolated appearance of the three components. The surf clam however was way too chewy to eat so that was left behind and the vegetables were also quite soft.
Cheese and opera cake
The cheese is served with crunchy crackers, prunes and Turkish apricots. There was two cheeses, an Edam and Emmental and out of the two, I preferred the Emmental. The opera cake was served with a strawberry sauce which it really didn't need. The cake wasn't too bad at all and had a nice coffee flavour to it although the top layer wasn't quite as glossy as you often see.
Fruit salad
Nicely presented, I didn't try too much of the fruit plate as I knew that ice cream was coming! And ice cream trumps fruit ;)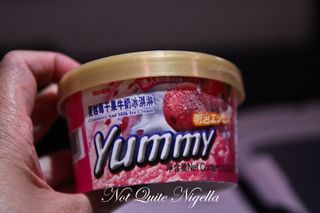 Yummly ice cream
Given a choice between vanilla or cranberry milk I chose the cranberry milk ice cream. Like all ice cream on any flight, it is served rock hard but I really liked this ice cream.
Giving my teeth a quick brush, I recline the bed and settle in for the night. I toss and turn for a while but fall asleep and get a good eight hours sleep in. Thankfully the flight attendants leave me alone until the very end when I wake up and arrive in Amsterdam! I have foregone my breakfast choice of China Southern  deluxe beef noodle soup ensemble but sometimes sleep wins over food.
All in all, the flight was smooth, the planes were new and although the food wasn't quite there yet, we all arrived well rested!
So tell me Dear Reader, does ice cream trump fruit for you? And would you rather sleep or eat on a flight?
NQN tested out the flight as a guest of SkyTeam and China Southern Airlines
Skyteam
www.skyteam.com/
China Southern Airlines
www.flychinasouthern.com/